Our Commitment
The DEI Task Force uses committed sub-groups to tackle each of The Five Pillars while coming together to continue the work of ensuring that U.S. Figure Skating is a welcoming organization for all.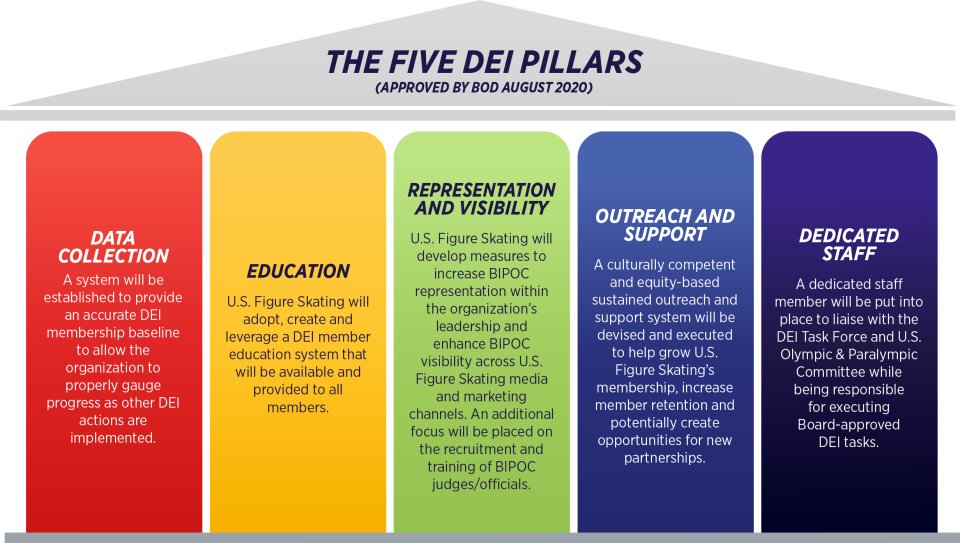 Our Community
U.S. Figure Skating has taken an intentional approach to humanize diversity, equity and inclusion. We stand firmly on the belief that people are the most important asset to our organization and that our differences are meaningful and strengthen our community. 
Our goal is to create an inclusive and diverse environment where all members have equal opportunities to pursue excellence both on and off the ice. We are working to develop equitable practices and policies that foster safety and an authentic sense of belonging for all involved in all areas of our sport. 
We believe that #SkatingIsForEveryone
Member Resources
U.S. Figure Skating's commitment to diversity, equity and inclusion ensures that we take seriously the need to foster an environment where all members can show up as their most authentic selves safely. We are committed in policy, principle, and practice to sustain a nondiscriminatory approach on and off the ice for all members and will not tolerate any acts of discrimination or harassment of members based on race, color, religion, age, gender, gender identity, sex, sexual orientation, national origin, or any other protected class considered by federal, state, or local law. Reports related to creating an unsafe mental or physical environment for members are taken seriously and fall under the responsibility of a Mandatory Report and should be reported (i-Sight Portal)
Your contacts for this area of interest