On June 15, 2020, U.S. Figure Skating took an important first step in addressing the need to become a more welcoming and inclusive organization, specifically for Black, Indigenous and other People of Color (BIPOC). 
That summer, a 14-member Diversity, Equity and Inclusion (DEI) Working Group was formed and presented five initiatives called "The Five Pillars" to the Board of Directors. The board unanimously voted to support in principle the recommendations and to advance the working group into a DEI Task Force.
Today, the DEI Task Force uses committed sub-groups to tackle each of The Five Pillars while coming together as a task force to continue the work of helping U.S. Figure Skating become a more welcoming organization for all.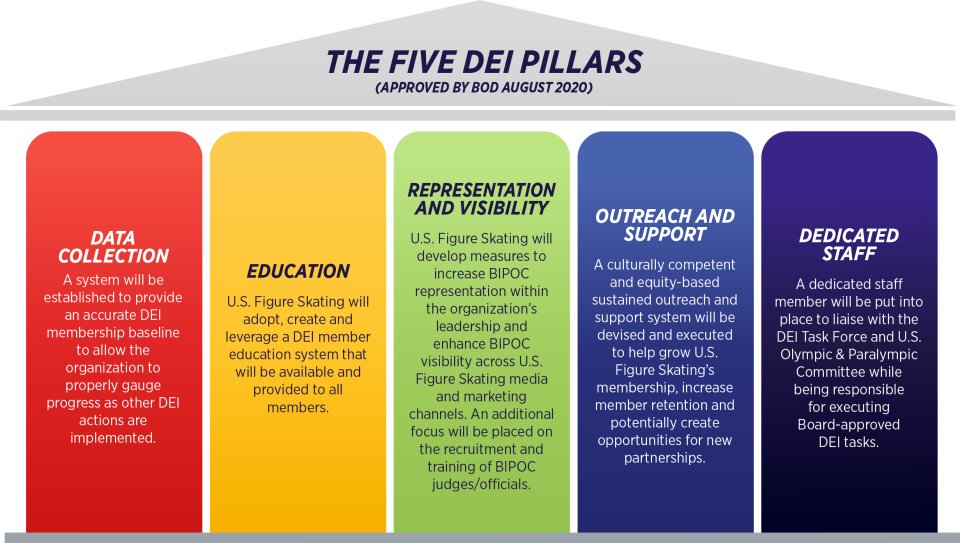 A message from President Anne Cammett
June 16, 2021
Just one year ago, as the demand for social justice echoed across our nation, U.S. Figure Skating embarked on an ongoing journey to make the organization more welcoming, specifically to Black and Brown people. 
During the past year, we have had honest and frank conversations, reviewed policies and procedures and taken much-needed steps as we work toward making all feel appreciated and accepted within the sport of figure skating. 
Working alongside our Diversity, Equity and Inclusion Task Force, we have focused on our initial Five DEI Pillars: Education, Outreach and Support, Representation, Data Collection and Professional DEI Staff.
While there remains much work to be done, we are moving in the right direction.
We have amplified the voices of marginalized people through our Instagram Live series "A Conversation With…" 
Through a generous lead gift by the Lisa McGraw Figure Skating Foundation, the Mabel Fairbanks Skatingly Yours Fund was established to support the training and development of promising skaters who are Black, Indigenous and People of Color (BIPOC).
DEI Task Force members hosted the first of what will be many DEI presentations for clubs during the week of Governing Council.
The board of directors included DEI in the 2021-22 season budget.
We partnered with Guaranteed Rate, which featured Team USA's most prominent BIPOC athlete (Starr Andrews) in its national advertising campaign.
The board of directors has had three educational opportunities, the last being an in-person working session led by our new DEI director.
We have added DEI pages to USFigureSkating.org and Members Only.
We continue to share stories of our BIPOC members across all organizational platforms, recognizing that representation matters. 
With the organization's first DEI director on staff, there will be even more educational opportunities and programs launching in the near future. 
I encourage each of you to join us as we work to make U.S. Figure Skating more welcoming to all.
Sincerely,
Anne Cammett
Your contacts for this area of interest