By: Robyn Clarke

In honor of U.S. Figure Skating's Centennial Celebration, we asked fans to share some of their favorite skating moments. At the beginning of February, we asked, "What is your favorite Get Up® memory?"

The phrase "Get Up" originates from the 2011 film RISE, which tells the story of the 1961 World Figure Skating Team that perished in a plane crash. At one point, Olympian Scott Hamilton looks directly into the camera and says, "Get up."

The moment was the catalyst for U.S. Figure Skating's Get Up® campaign that aims to reposition the sport of figure skating by drawing on the shared human experience of getting back up after we fail.

In the fifth year of the campaign, it's only fitting to take a closer look at three of the skaters whose stories are the epitome of resilience and inspiration.

Tai Babilonia and Randy Gardner

When Tai Babilonia and Randy Gardner were paired to skate together in 1968, a piece of the universe fell into place.

Babilonia was 8, and Gardner was 10. Their coach, Mabel Fairbanks, had to bribe Babilonia to hold his hand. Barbies, doll clothes, candy — Fairbanks pulled out all the stops.

"Whatever it took for me to hold his hand, [she] would use that," Babilonia said.

What had Fairbanks known when she put them together that day? Could she sense, somehow, that they would take the figure skating world by storm?

They won their first of five consecutive U.S. pairs titles in 1976 and went on to represent the United States at the Olympic Winter Games in Innsbruck, Austria. In 1979, they became the second of only two U.S. pairs teams to take home a World title.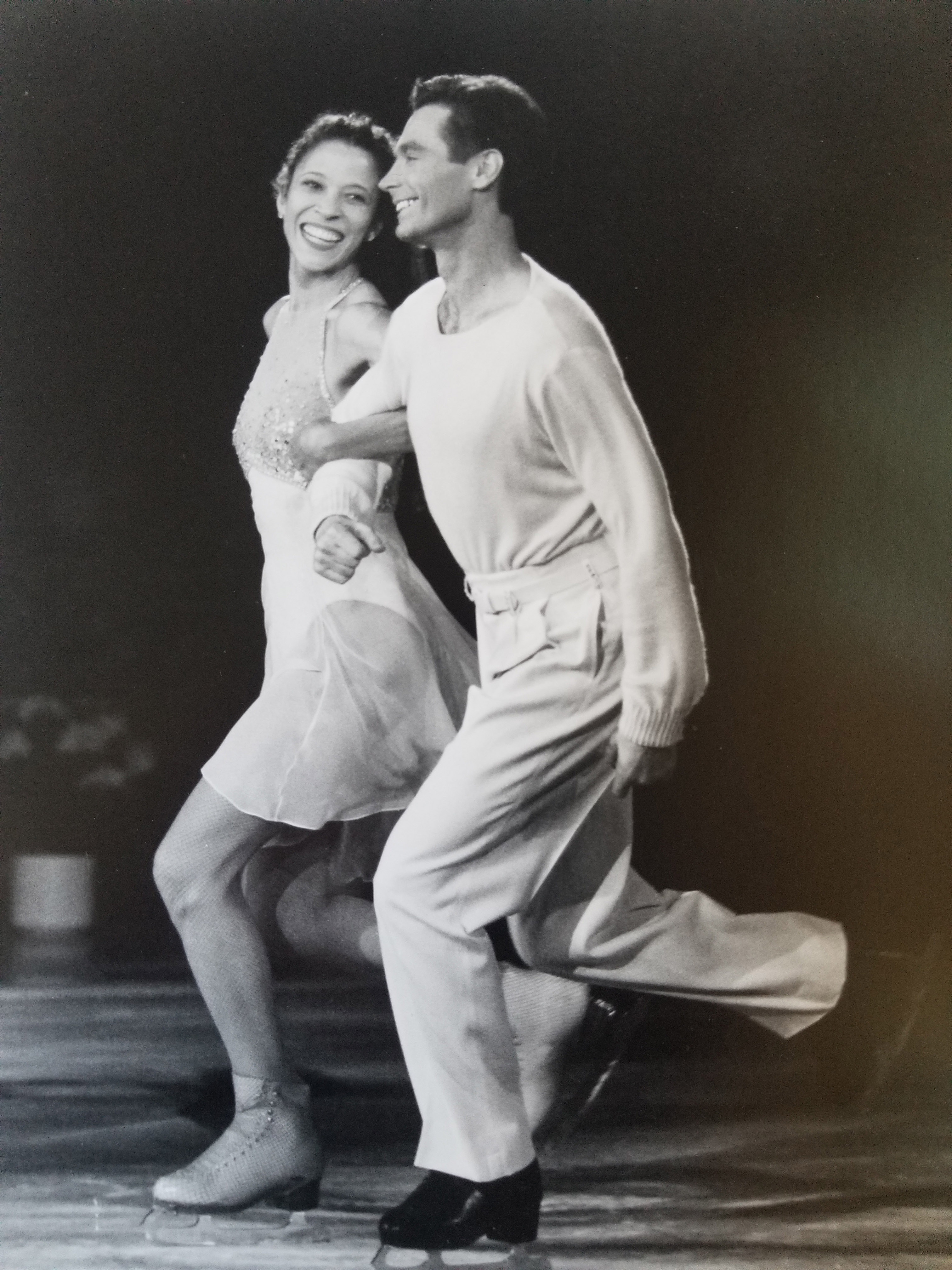 "I was 16 and embracing it and just happy to be there," Babilonia said of the 1976 Olympic appearance. "There was no pressure going into it at all."

The 1980 Games in Lake Placid, New York, were another story.

Babilonia and Gardner felt the weight of the previous year's World title. The media were more intense the second time around, too.

"Those Olympic Games for us were so publicized," Babilonia said. "Press-wise, it was off the charts."

Many outlets predicted they would bring home the gold, but that didn't happen. In fact, they never even got to compete.

A pulled groin muscle left Gardner unable to compete. He and Babilonia were forced to withdraw from the competition.

They were devastated.

"Randy and I had felt we let our country down," Babilonia said.

All they could think of was the hard work their coaches and parents put in. They had done everything they could to help the pair succeed.

Babilonia and Gardner questioned their next move. Should they join an ice show? Should they get new partners? Should they quit skating all together?

While they grappled with their future, support began to pour in. Many fans reached out with encouragement, and the pair even received a phone call from President Jimmy Carter.

Seeing the way everyone rallied around them gave the longtime partners a much-needed boost.

"It was the love from our fans and our family and the support … that helped us get up," Babilonia said.

She and Gardner went on to skate professionally. As their career took off, Babilonia was forced to "get up" again.

She began battling alcoholism. The fight began in the 1980s and continued for the next several years. In 2009, she knew something needed to change.

"I had two choices: I could either get my act together and get sober, or climb under a rock and just go away," she said.

As difficult as it might be, she knew what she had to do.

"I made the decision to stop the madness," she said.

She left her home in Los Angeles and went to Ashland, Oregon, where there were no distractions. No one knew why. Not even her son, Scout.

There, away from everything that could hinder her recovery, she put an end to the war that had lasted nearly 30 years.

Babilonia celebrated 12 years of sobriety on Nov. 4, 2020. Now, she shares her story whenever she can.

It's her way of telling others they can get up, too.


Scott Hamilton

Scott Hamilton has fallen a lot. He's hit the ground 41,600 times, by his count.

He calculated the number a few years ago while writing Finish First, a book that teaches readers "how to achieve success on [their] terms," according to his website.

Some of his falls have come on the ice. The 62-year-old won a gold medal in the 1984 Olympics and was inducted into the U.S. Olympic, U.S. Figure Skating and World Figure Skating Halls of Fame in 1990.

Other "falls" have come outside of the rink. He battled testicular cancer in 1997 and has overcome three brain tumors, most recently in 2016.

Hamilton has a unique hobby of collecting life-threatening illnesses, he likes to joke.

Though he can laugh about it now, there was a time when that wasn't the case. His third round of chemotherapy was especially difficult.

"My life had changed so much," he said. "I just dipped into a depression fueled by exhaustion … I just went into a one-man pity party."

Though it was difficult for him to be positive, Hamilton had a support system to remind him he wasn't alone. He leaned on his family, his friends and his faith.

The experience made him realize how little resources are out there for cancer patients. When he asked his doctor how sick he might become from chemo, he was only told that the side effects would be "moderate to severe." And when he tried to do research into testicular cancer, all he found were research articles filled with medical jargon he couldn't understand.

"Am I too dumb to be sick?" he wondered.

Hamilton decided to bridge the gaps. He became an activist in the fight to cure cancer by launching the Scott Hamilton CARES Foundation.

The nonprofit is involved in a variety of initiatives. It created chemocare.com to teach site visitors about chemotherapy in a language that's easy to understand; it launched 4th Angel, a mentorship program where newly diagnosed cancer patients are paired with survivors; and the foundation invests in immunotherapy, a course of treatment that doesn't destroy the body's cells.

Hamilton feels a responsibility to give to others as a return for all that's been given to him.

"Throughout, if we just take a step back in gratitude and look at all that's been given to us… a logical and personal prerequisite [is to give back]," he said.

He's giving back, making a difference and teaching others the lesson he learned long ago: It's not how many times you fall, but how many times you get up that matters.

Learn more about the Centennial Celebration here.