By Troy Schwindt  
If 2020 has taught us anything, it's to be creative, flexible and safe.
With 2021 right around the corner, rinks, clubs and programs are gearing up to celebrate the 20th year of National Skating Month in January. This anniversary marks a major milestone for U.S. Figure Skating and its annual campaign to promote ice skating as a family activity.
For two decades, U.S. Figure Skating has provided the resources and a blueprint for success to the skating community to attract new skaters and their families to this wonderful sport. 
And while this year's NSM will look a little different because of COVID-19, U.S. Figure Skating is excited to roll out its primary membership drive with enhanced NSM kits and some innovative ideas to get families gliding around the ice or enjoying a virtual experience from home.
"As we celebrate 20 years of National Skating Month, I'm reminded of just how many special moments have been shared and memories made on the ice during these campaigns," Susi Wehrli McLaughlin, senior director of membership at U.S. Figure Skating, said. "Our rinks, clubs and programs have done an amazing job showcasing the joys of skating with their open houses, free lessons, demonstrations and exhibitions. This year promises to be another blockbuster National Skating Month and I can't wait to see all of the ways our skating family celebrates this special occasion."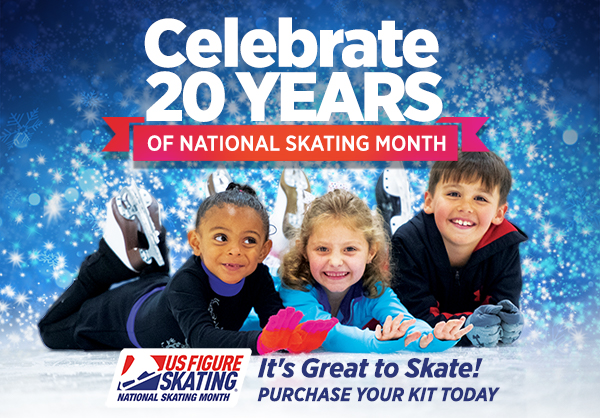 The first order of business for rinks, clubs and programs is to request your NSM kit(s), which will be mailed out at the end of November or in early December. The basic kit costs $40 and includes the following: lip balms, tattoos, a goodie bag, notepad, bracelets, zipper pulls, chip clips, luggage tags, stickers, online marketing materials, printable activities and resources on how to host a safe NSM event.
The $65 deluxe kit includes everything in the standard kit, plus increased quantities of select giveaway items, an invitation to an exclusive marketing and programming webinar series designed to take your NSM event to the next level and inclusion in a 30-day nationwide Learn to Skate USA geotargeting marketing campaign to drive traffic to your website.
With materials in hand, here are some ideas for hosting an NSM event. 
On-Ice Events
If your rink is open, plan an on-ice event with your local, state and rink COVID-19 guidelines in place. One of the most popular events throughout NSM history has been the chance to skate for free. Participants can register for either a free public skating session or free skating with instruction from Learn to Skate USA instructors. Remember to distribute information regarding your program, session times and costs to all attendees.
Consider hosting a physically distanced ice show or skating demonstration. Have skaters demonstrate foundational skills and fun elements such as spirals, Ina Bauers, jumps and spins. Include hockey and speed skating demonstrations, too. If your state has building capacity limits, live stream the event via Zoom or another video platform, or post a video series on social media.
Encourage your Learn to Skate USA or U.S. Figure Skating members to skate a marathon throughout the month of January. Eleven laps around the standard ice rink is equivalent to one mile. Encourage your skaters to complete 289 laps, or one marathon, by the end of the month. Include a prize for everyone participating or enter their names into a drawing.
Off-Ice Events
No ice? No problem! Host an informational session on Zoom about your Learn to Skate USA program. Include icebreakers and activities (stretching class, off-ice demonstrations, etc.) to engage participants. Send registrants a follow-up with more information including how to sign up for future classes. Consider offering a prize or coupon (free skating passes for public skate, free rental skates on next visit, etc.) for all attendees.
Or you can help new skaters start practicing skating skills off ice. Demonstrate basic skills elements via Zoom or another video conferencing platform so that skaters are prepared when the rink doors do open. Again, follow up with more information.
Hold a virtual contest and offer a prize or drawing for all participants. Conduct an online coloring contest or have participants like and share a social media post to be entered for a drawing. Encourage participants to share their favorite skating move or use Learn to Skate USA's "When I Skate I Feel …" template and help it go viral.
Get new skaters excited for their first day with a virtual rink tour. Walk through the facility and demonstrate where skaters will go to get skates, prepare and step on the ice. Demonstrate how to properly tie skates, and walk through the first skills skaters will learn (including how to fall and get back up). Be sure to include any new guidelines related to the COVID-19 pandemic.
To learn more about National Skating Month, go to NationalSkatingMonth.com.