The championship ladies competition closed Friday night at the 2020 Toyota U.S. Figure Skating Championships as Alysa Liu (St. Moritz ISC) became the youngest skater to win back-to-back U.S. titles.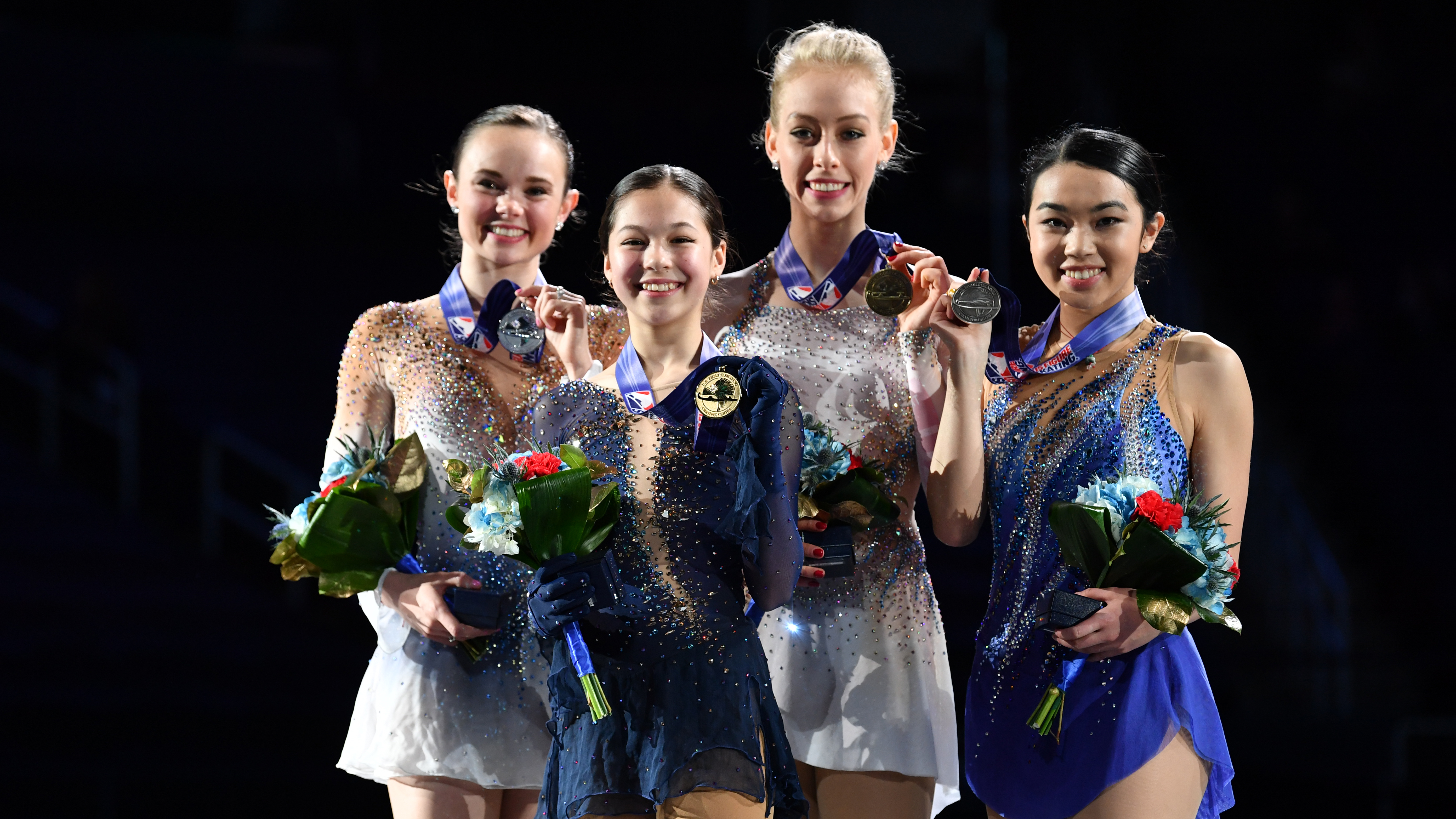 After a historic showing in 2019, Liu continued to set records on the national stage at the Greensboro Coliseum Complex. The 14-year-old became the first woman to attempt a quadruple jump at the U.S. Championships with a quad Lutz (under-rotated) early in her free skate to "Illumination" by Jennifer Thomas. Her 160.12-point free skate and total score of 235.52 were both U.S. Championships records. Liu also landed two clean triple Axels in her winning routine, totaling a technical score of 91.75, also the highest in U.S. ladies competition.

"I think both [titles] feel about the same," Liu said. "This year I was just as happy and very excited. I think last year I was really happy because it was my first time in senior and going to U.S. Championships and I was happy that I even made it. This year I thought a lot about the new decade and [after competing] thought, 'Wow this is a good start.'"

Mariah Bell (Rocky Mountain FSC) also set personal bests on Friday night, winning the silver medal with 225.21 points. In her 151.99-point free skate set to "Hallelujah" by KD Lang, she tallied the highest program components score of the field with 75.37 points. The night was a career-best finish for Bell who won the bronze medal in 2019.

"It's a very special feeling," Bell said. "I haven't had that before in my career. The coolest thing about it was how into it the crowd was. They were so loud and it was so cool. I just love to get to share what I get to do and what I love to do with an audience like that. I feel very fortunate to have had that experience."

Bradie Tennell (Skokie Valley SC) earned the bronze medal with a total score of 220.86. The 2018 U.S. champion won the short program and notched 141.90 for her free skate to "Cinema Paradiso" by Ennio Morricone, which included two triple Lutz-triple toe loop combinations and four Level 4 elements.

"I only really felt like myself yesterday afternoon, so to even come out there and skate a short like I did and even skate this free skate, even with a couple errors I'm still pretty proud of that," Tennell said. "Of course, nobody wants to fall on their best jump, but things happen and we learn from our mistakes."

Returning to the U.S. podium for the first time since 2018, Karen Chen (Peninsula SC) won the pewter medal with a total score of 193.65. The 2017 U.S. champion scored 123.24 points for her free skate.

"I've definitely trained harder and done better," Chen said. "I lost a little bit a rhythm, but compared to the things I put out in the Grand Prix season, this is definitely an improvement."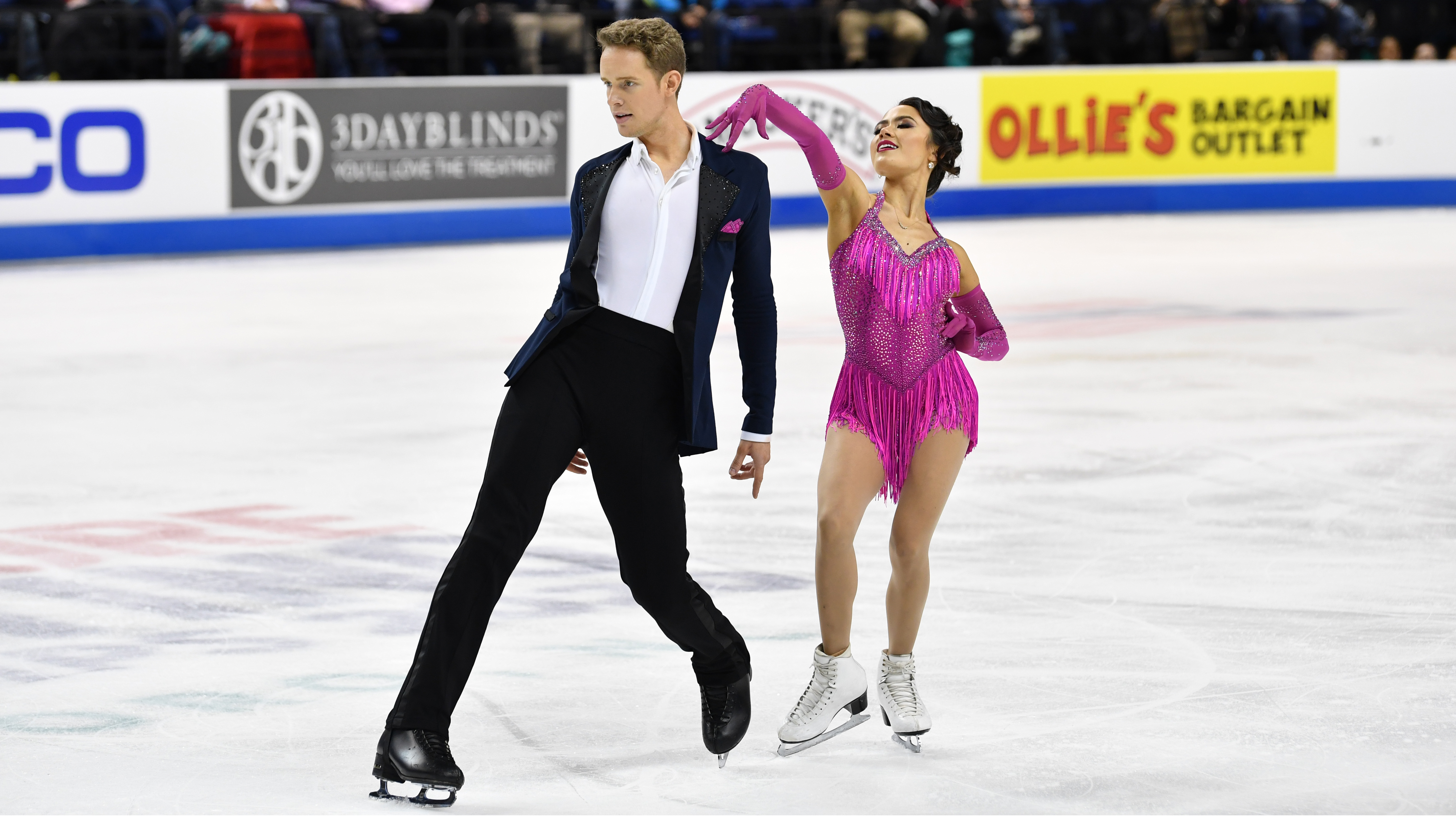 In the ice dance competition, Madison Chock (All Year FSC) and Evan Bates (Ann Arbor FSC), who last won the U.S. title in 2015 in Greensboro, lead with 87.63 points after the rhythm dance. Skating to "Too Darn Hot," by Cole Porter, the duo opened with a Level 4 straight line lift and also garnered Level 4 twizzles.
"[We're] very proud of today's skate," Bates said. "[It's as] free and spontaneous as we've been in this program all season. It's really been a goal for us just to improve our skating in general – performance, quality overall."
Two-time and reigning U.S. champions Madison Hubbell and Zachary Donohue (Lansing SC) scored 86.31 points and are in second place after skating their Marilyn Monroe-themed rhythm dance.
Kaitlin Hawayek (Detroit SC) and Jean-Luc Baker (Seattle SC), who won bronze at the 2019 U.S. Championships, are third place with 82.59 points after their Saturday Night Fever routine.
The top three teams train together in Montreal.

In fourth place, Christina Carreira (SC of New York) and Anthony Ponomarenko (SC of San Francisco) scored 78.02 points for their performance.

The championship ice dance competition concludes on Saturday, Jan. 24, with the free dance.

The 2020 Toyota U.S. Figure Skating Championships will be featured on NBC and NBCSN and is also available live and on-demand on the Figure Skating Pass on NBC Sports Gold.