By Phil Hersh
The most recent decade of figure skating began with a question over whether a man could (or should) win the Olympic singles gold without a quadruple jump.
(Answer below.)
By the middle of the decade, the sport was swept up in a jump revolution so dramatic that the question has now become whether a woman can win the Olympics without a quadruple jump and whether a man can do it without two quads in the short program and at least four in the free skate.
Initially sparked by Boyang Jin of China and then fueled by the exploits of two-time Olympic champion Yuzuru Hanyu of Japan, three-time World champion Nathan Chen of the United States and a pack of young Russian women, the sport's jumping passes have become dizzyingly difficult at an exponential pace.
So let's jump right into the most vivid memories from my third decade of full-time figure skating coverage.
Evan vs. Evgeni
There was a real irony in the war of words surrounding the men's singles competition at the 2010 Vancouver Olympics.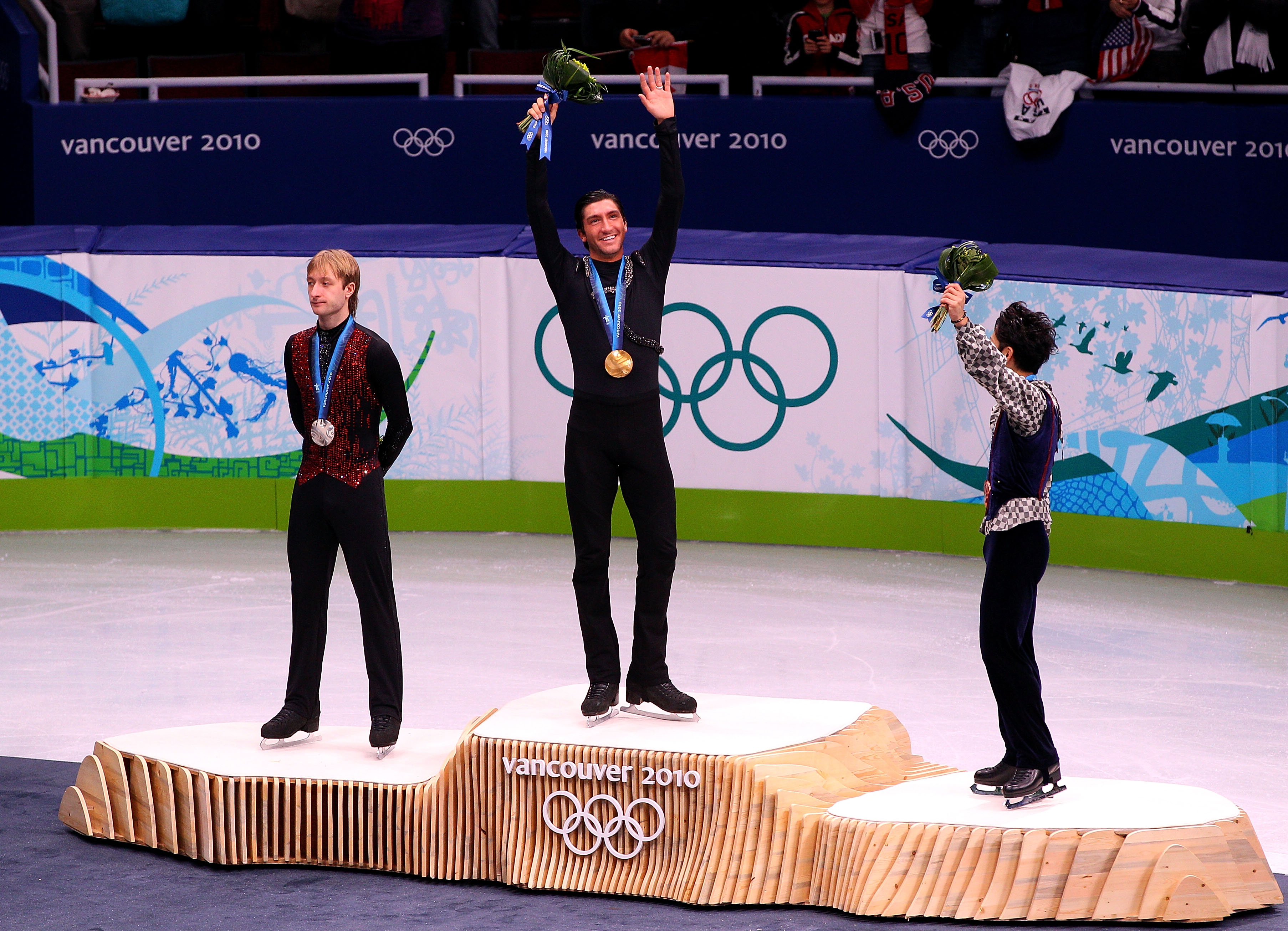 While 2006 Olympic champion Evgeni Plushenko of Russia and his coach, Alexei Mishin, decried Evan Lysacek's programs as "last century" and "ice dancing" because Lysacek did not do a quad, it was Team Plushenko's failure to take full advantage of the new judging system that helped Lysacek become the first U.S. singles gold medalist since Brian Boitano in 1988.
Lysacek's winning margin (1.31 points, the smallest in men's singles in the four Olympics scored under IJS) is accounted for by his having done eight of his 12 jumps in the bonus area compared to four of 11 for Plushenko. And, had Plushenko done a 12th jump, as Lysacek did, it, too, would have erased the difference.
Lysacek's solid performances in both programs of what would be his last competition were emblematic of the consistency in the final six years of his career, during which he made the podium in 20 of 22 events. That included medals in three of four World Championships, including the 2009 title; medals in all 12 Grand Prix appearances, including a gold at a Grand Prix Final; medals in all five Four Continents appearances, including two gold; and a fourth place in his other Olympic appearance.
'Queen Yuna'
The pressure on South Korea's Yuna Kim at the 2010 Olympics was enormous.
That is why what she did in Vancouver was the greatest performance in the 11 Winter Olympics I have covered. Her free skate is one of the rare performances that seems to get better every time I watch it.
This is how I described it that night:
"Skating a stunningly difficult program without an error, floating like a feather in the wind to the airy, jazzy rhythms of Gershwin's 'Concerto in F,' unflinchingly bearing the weight of her country's hopes, Kim crushed her rivals with a performance for the ages."
No wonder she cried after a competition for the first time in her career. Relief and joy poured out of her.
A few months before the 2010 Olympics, I did a lengthy interview with Kim at her training base in Toronto, where she had moved in 2006 to escape already constant attention at home after becoming the 2005 World Junior champion. She insisted then, "I'm doing it for myself, not to win awards for Koreans."
The reality was different.
In Vancouver, she skated with 25 million South Koreans on one shoulder and the other 25 million on the other shoulder as she became her country's first Olympic figure skating medalist. The woman her compatriots called "Queen Yuna" had absolute dominion over her sport.
"She has jaw-dropping magnificence," 1976 Olympic champion Dorothy Hamill told me the next day. "The height of her jumps, the power, the fluid beauty of her skating are like magic."
Before she retired, Kim would win a second World title and finish second at the 2014 Olympics. She won 20 of her 31 senior- and junior-level international events, making the podium in all of them.
She is the greatest women's singles skater of the 21st century, and it will be hard to top her in the 79 remaining years.
Davis and White Break Through
U.S. ice dancing had a breakthrough in 2005 when Tanith Belbin and Ben Agosto became the country's first World dance medalists in 20 years.
Eight years before that, when making the top six at global championships still was an achievement for U.S. couples, an 8-year-old boy named Charlie White and a 9-year-old girl named Meryl Davis had been thrown together as an ice dance team.
Their partnership would last 17 years and produce the biggest U.S. breakthroughs in the discipline: first (of two) World titles in 2011 and first Olympic title in 2014, which remain the only U.S. golds in either event.
The 17 years led to a 2014 Olympic free dance so brilliant and so physically and mentally demanding it left them looking as if they had spent 17 years of energy on the four minutes of skating, unable to do anything but collapse into each other's arms when it was over at the Iceberg Skating Palace in Sochi, Russia.
"You dream of the opportunity and being able to put in the work every day to make it happen is a tribute to our partnership," White said.
Brown's 'Riverdance' Delights
I have seen few audiences go as gaga over a performance as the crowd in Boston did over Jason Brown's "Riverdance" free skate at the 2014 U.S. Championships.
Brown had the TD Garden audience standing, shouting and clapping with 10 seconds left. The judges applauded in their way, giving Brown first place in the free skate and second overall.
That earned him a spot on the 2014 Olympic team after having finished eighth, ninth and ninth at the three previous U.S. Championships.
The Boston audience was just one of those Brown dazzled with the program. By the time he got to Sochi a month later, the winning free skate had nearly four million YouTube views.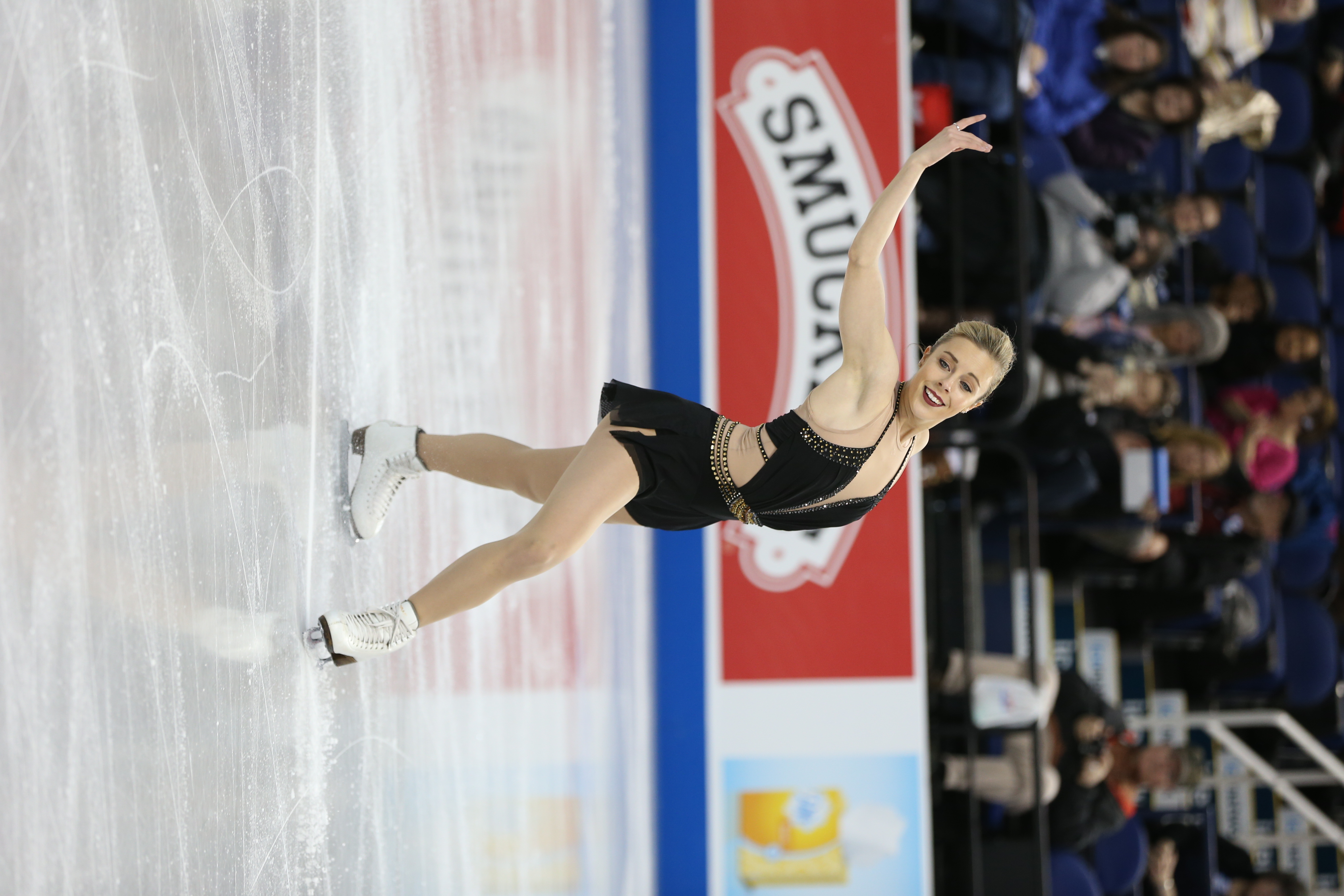 No Almost About It
When she barely missed the 2010 Olympic team, Ashley Wagner began to call herself the "almost girl."
That epithet applied again when she almost failed to make the 2014 team after having won the previous two U.S. titles. Many who did not understand the selection system blasted the decision to put her on the team over Mirai Nagasu, who had beaten Wagner at the 2014 U.S. Championships.
So her third U.S. title in 2015, won with an exceptional free skate, was a chance for the outspoken Wagner to call out her critics.
"This is the one that means the most," Wagner said. "It shows every single person who doubts me, says I'm too old, that I'm not capable of being a leading lady, that they should shut their mouths and watch me skate."    
A year later, when she still was joking about being an old lady (then 24) in a discipline increasingly dominated by ever-younger teens, Wagner used her maturity to win a World silver medal, the only World medal by a U.S. women's singles skater since 2006.
The winner was 16-year-old Evgenia Medvedeva of Russia.
"I'm like a fine wine, getting better with age — or at least that's what I like to tell myself," Wagner said. "I'm not old, I'm experienced."
Wagner earned silver by presenting a program to music from the film Moulin Rouge! with an élan and artistic confidence that the judges rewarded with the highest program components scores of the field.
No almost about it.
Russian Women Reign Supreme
When Sochi, Russia, was selected as the 2014 Winter Olympic host in 2007, the country's then prime minister, Vladimir Putin, made it clear that Russia should prepare to win a bunch of medals and backed that with financial support.    
No Russian athletes have been greater beneficiaries of Putin's diktat than its female singles skaters.
This was a country (in various Olympic incarnations) that, prior to 2014, had yet to win an Olympic women's singles title and whose top women's finisher at the 2010 Winter Games was ninth.
In 2014, it began utter hegemony over the event with one phenom after another, a reign begun by the stunning performances of 15-year-old Yulia Lipnitskaia to help Russia take gold in the inaugural Olympic team event.
"At the beginning of the season, her name wasn't even at the top two of the women's list to make the Olympic team," said Oleg Vasiliev of St. Petersburg, the 1984 Olympic pairs champion. "Now no one is talking about anyone but her."
And not only in Russia. The story in which I quoted Vasiliev got two-thirds of the front page of a Sunday edition of the Chicago Tribune.
Yet another Russian, Adelina Sotnikova, won the 2014 singles gold.
Since then, Russia has won the women's singles title at another Olympics, five of six World Championships and the last four World Junior Championships.
In the 2018 Winter Olympics, Alina Zagitova, then 15, and Evgenia Medvedeva, 18, won gold and silver with the two most technically accomplished performances ever in the women's singles event.
"It is the beginning of a wave, and they are going to be good for years to come," 1992 Olympic silver medalist Paul Wylie told me.
While that was going on, 13-year-old Alexandra Trusova was landing a quad Salchow in the Russian Cup junior final.
Trusova would go on to land five clean quads at a Russian test event in September 2021.
The second Russian revolution was in women's skating.     
Triple Threat
I was sitting in the stands, idly chatting while watching the next-to-last practice before the women's final at the 2018 Olympics, when something suddenly compelled my full attention.
It was so startling I had to ask friends sitting nearby if I had really seen what I thought I had.
Alina Zagitova of Russia had done a triple Lutz followed by a triple loop and another triple loop and another triple loop and another triple loop. A combination of FIVE triple jumps.
She executed them all seamlessly, giving no indication that it was particularly difficult or remarkable for her.
Among those who verified my eyes had not deceived me was 1984 Olympic champion Scott Hamilton.
"Who can do that?" Hamilton said."It just shows how different these Russian women are."
Mirai: 'Never Give Up'
Mirai Nagasu took a journey from 2010 through 2018 that was a roller coaster of overwhelming emotions for both her and those who followed it as journalists or as fans.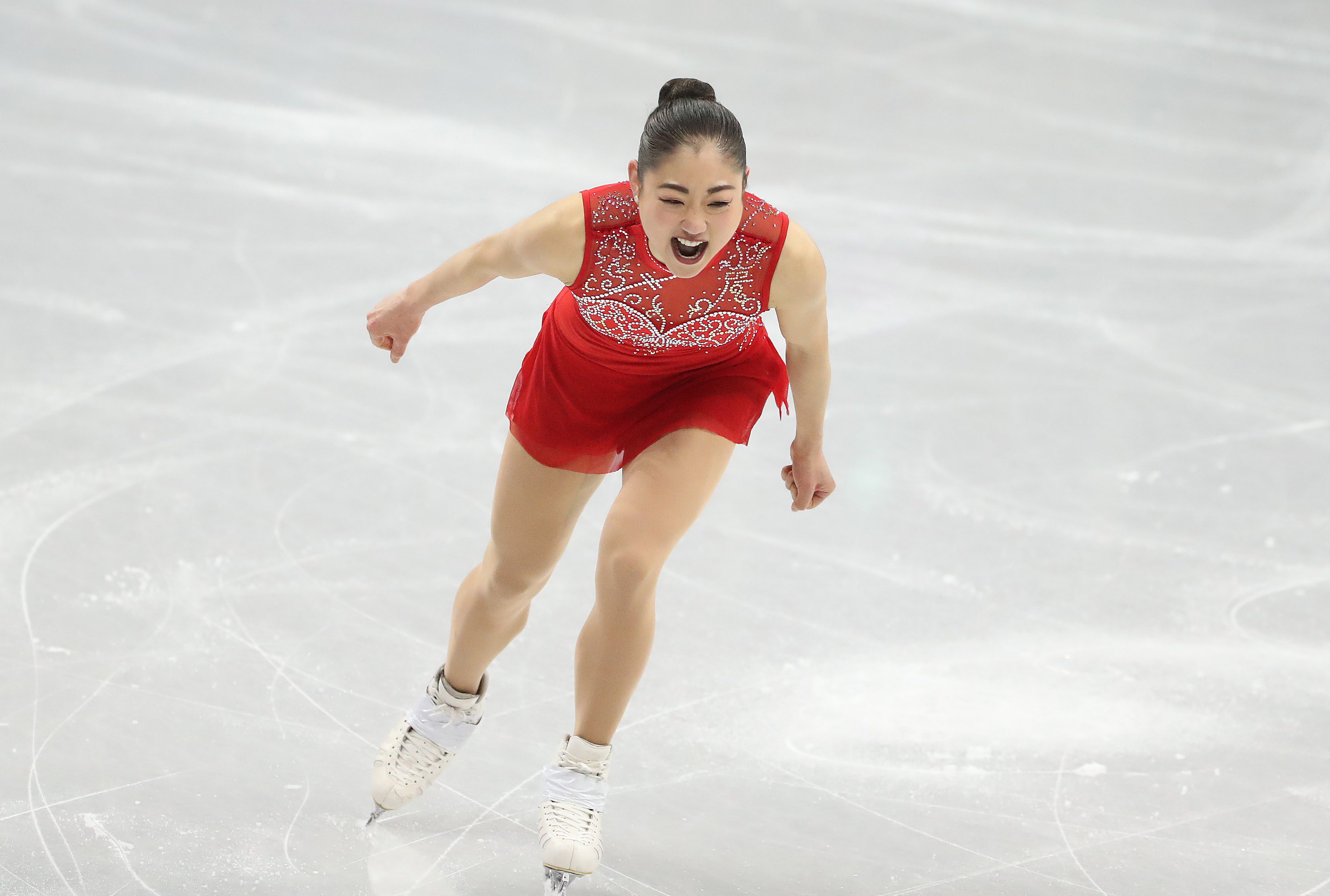 In 2010, two years after winning the U.S. title at age 14, she was an insouciant delight at her first Olympics with a no-words-barred approach and stream-of-consciousness ramblings. And she finished fourth, to boot.
Four years later, following consecutive seventh-place finishes at the U.S. Championships, she surprisingly put herself into position to make the 2014 Olympic team with a third place at the U.S. Championships. When that wasn't enough to sway the selection committee, we saw her pain as she skated through tears at the exhibition gala.    
When others might have said enough, especially after finishing 10th at the 2015 U.S. Championships, Nagasu bravely forged ahead. In her early 20s, she set herself the goal of learning the triple Axel, a jump few dare try to master beyond their teens.
She would attempt the jump eight times in competition before the 2018 Olympics, failing to land one cleanly but refusing to back down as she made the U.S. team headed to South Korea with a strong second place at nationals.
And then, at the Olympics, she gave herself and the world a moment that was emotionally overwhelming and exhilarating by nailing a huge triple Axel in the team event free skate. The jump drew a big positive grade of execution (1.57), and she became the first U.S. woman and third ever to land the jump in the Winter Games.
"When I saw her at the team event with a triple Axel as big as many men's, I said, 'That girl came for one thing, to prove she is part of history,'" Tomas Verner, 2008 European champion and Czech TV commentator, told me.    
"I stand to show that people shouldn't give up," Nagasu said. "You've got to just keep going until you succeed."
'What a Talent'
One funny thing about Alysa Liu's historic ascent to the top of U.S. women's skating in her senior national debut is how unsurprising it was.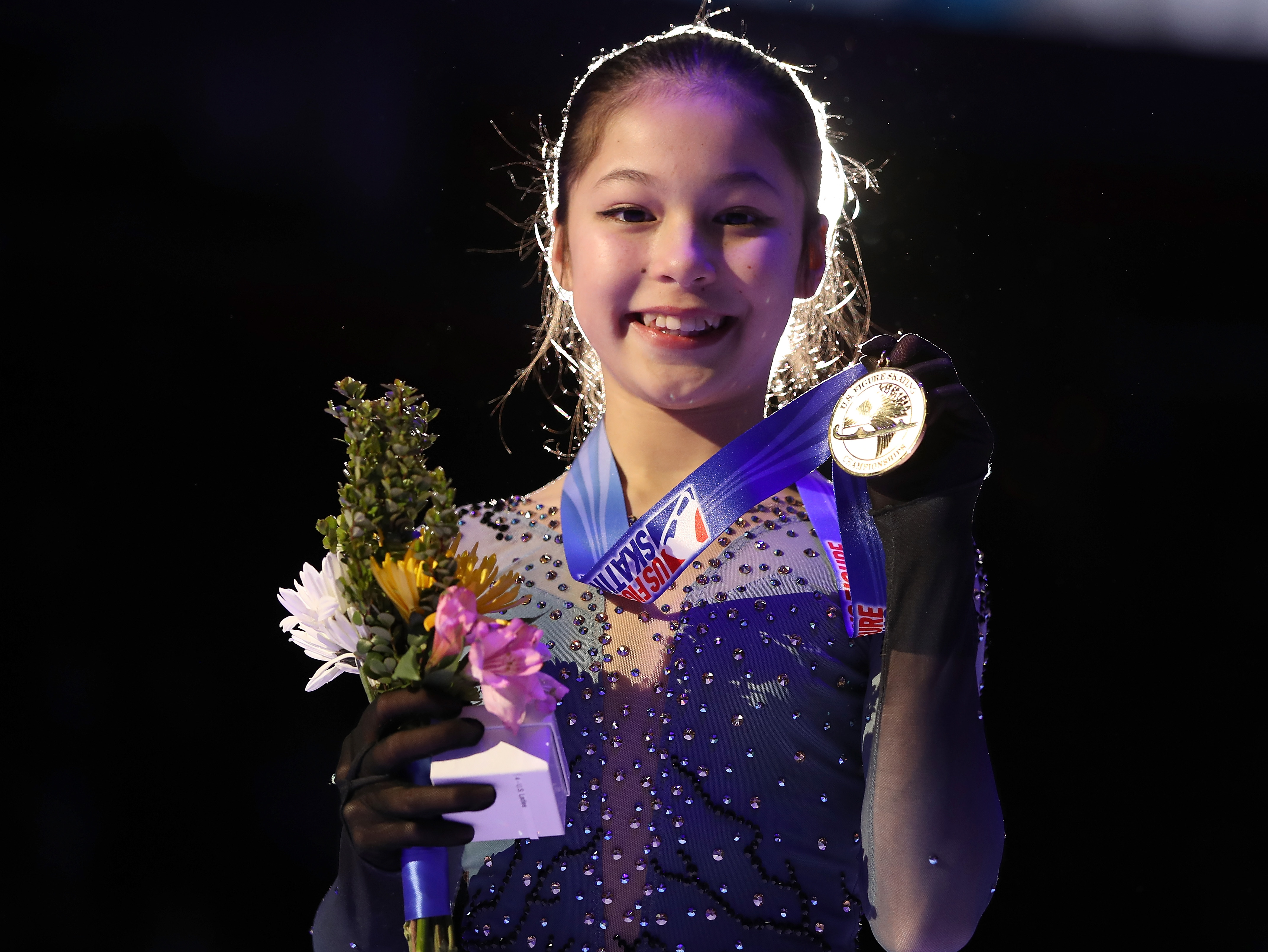 And another funny thing was Liu needing a hand from each of her closest rivals to reach the top step of the awards platform after she won, because it too high for her to jump onto.
It was no surprise that after jumping into the record books, Liu had trouble ascending the podium with a body just 4 feet, 7 inches tall when she became, at age 13, the youngest U.S. senior champion ever, in 2019.
A few weeks before the U.S. Championships, the woman she replaced as the youngest U.S. champion had predicted such a possibility.
"If Alysa does all her elements, she has a very real chance to win the event," Tara Lipinski, 14 when she won the 1997 U.S. Championships, told me. "I think we will definitely see her on the podium unless something goes terribly wrong."
Not only did Liu perform without a major error, she became the first U.S. woman to land a triple Axel in a short program and two triple Axels in a free skate.
"What a talent," Lipinski said. "Twenty-two years ago, I tried to push the technical envelope and now Alysa has taken it to the next level."
And Liu would not be age eligible as an international senior for two more years. In the interim, she became the first U.S. woman to land a quadruple jump and the youngest to win consecutive national titles.
Philip Hersh has reported from the last 11 Olympic Winter Games, 35 U.S. Figure Skating Championships and 20 World Figure Skating Championships. He spent 31 years as the Chicago Tribune's Olympic writer and now is a contributor to nbcsports.com. In 1998, U.S. Figure Skating recognized him for Distinguished Journalism.