By Jillian L. Martinez 
    
Anastasia Worthy, 23, first took to the ice as a toddler at the insistence of her mother, Kym Worthy, a longtime fan of figure skating. Since joining the sport nearly 20 years ago, Anastasia has become a role model for not only her sisters, who are active figure skaters, but for fellow Black skaters, particularly in synchronized skating.          
    
"Anastasia has sickle cell disease, so I was told from a very early age to get her involved in sports," Kym said. "I had been a figure skating fan back to the 1980s when I used to watch [1986 World champion] Debi Thomas, so I thought we would try it. And, quite frankly, I wanted her to try some sports where there were not a lot of African Americans in the sport." 
    
For 10 years, Anastasia competed as a singles skater and worked her way to the intermediate level. Along the way, though, Kym said the Worthy family was met with racism and discrimination from fellow skaters, families, coaches and judges.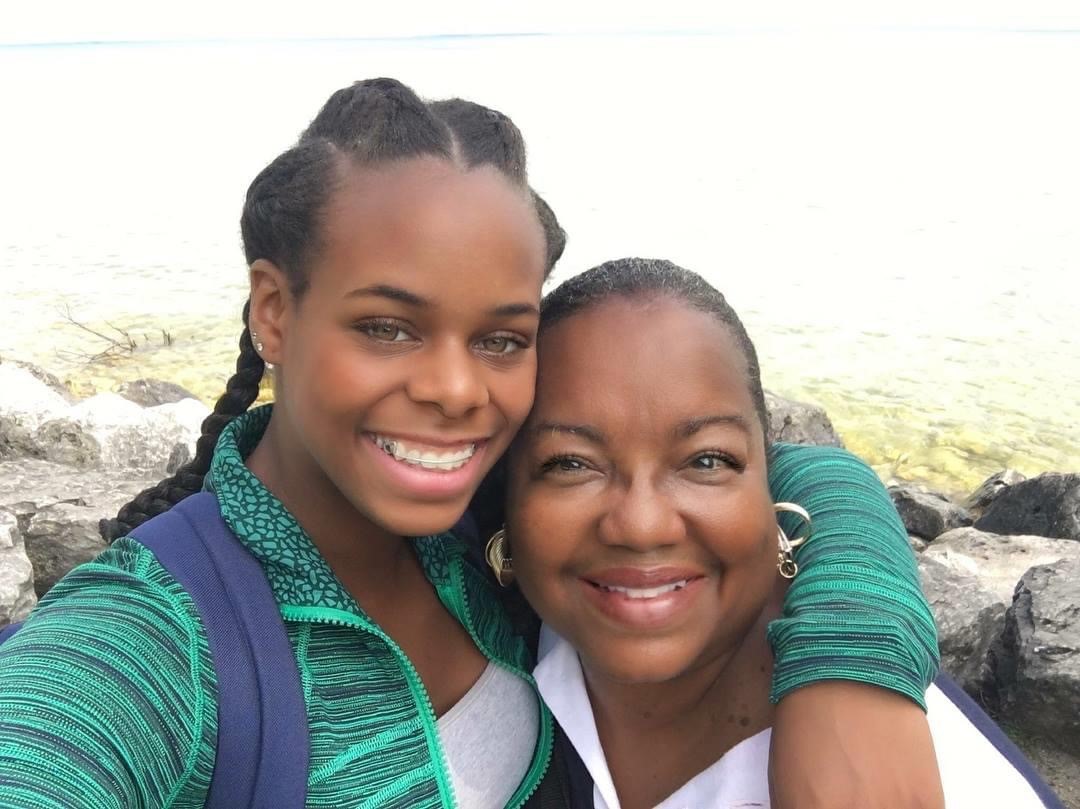 "I didn't know any people of color in the sport. The second rink we went to, the parents of the rink would not speak to me and I was not welcome," Kym said. "Eventually, I met another woman of color [a fellow skating parent] and we became friends because no one else would speak to us." 
    
Currently, Kym is in her fifth term as the elected prosecuting attorney of Wayne County (the largest county in Michigan and home to Detroit) and is the first Black woman to serve as a county prosecutor in Michigan. A prominent national figure to decrease gun violence, advance social justice and bring those who commit violence against women to justice, her work for Wayne County has garnered attention nationally and internationally. Since becoming a well-known figure, the Worthy family's experiences at the ice rinks has changed and become relatively more positive. 
    
"I tried shielding [Anastasia] from it, but this sport was brutal in the beginning," Kym said.   
    
Reflecting on their experiences, the mother-daughter duo recounted instances of coaches trying to remove Anastasia from the ice during lessons; unpleasant parents who did not think she deserved to win; and judges who scored unfairly despite her having higher technical moves than some of her white competitors. Finally, after they sought out two Black coaches at other ice rinks and encountered a more diverse environment in Dearborn, Michigan, the Worthys found the community for which they longed. 
    
Since joining the Dearborn Figure Skating Club, Kym has become a club board member responsible for contracts and handbooks, as well as a volunteer with U.S. Figure Skating's Diversity, Equity and Inclusion (DEI) Task Force. Anastasia, after transitioning from freestyle, became a member of Team USA with the Dearborn Crystallettes and competed with her teammates on the national and world levels. 
"It's funny, I thought it was going to be less stressful," Anastasia explained when discussing her choice to switch disciplines. "There is still that same amount of pressure because you do not want to stand out and make mistakes that cost the rest of the team."
Regardless of the skating discipline, being a Black, Indigenous and People of Color (BIPOC) skater is often still the exception. On a synchronized skating team that focuses on sameness, likeness and similarity, the exception can seem even more pronounced.
    
"Being a Black/African American skater makes you stand out. There is no hiding it," Anastasia said. "No matter how hard you try, you are surrounded by other people who look nothing like you. People's eyes go straight to you." 
    
Because synchronized skaters are supposed to match in every aspect (from costumes to choreography), for years, Anastasia found herself in meshes and tights identical to the skin complexions of her white teammates. It was not until she was skating with the University of Michigan synchronized skating team that she was asked what color mesh and tights she wanted to wear. 
    
"I was in awe! The coach went out of her way to try and find a color that was suitable for me and would make me feel comfortable," Anastasia said. "No one had gone that extra mile before." 
    
When she returned to the Crystallettes, she pushed them to start offering different mesh and tight options to their other BIPOC skaters. Unfortunately, not all clubs have been as receptive to change as the Dearborn Figure Skating Club, whose diversity efforts include community outreach and financial assistance to keep BIPOC skaters involved. 
    
"A lot of African Americans debate whether they can be a part of the sport, and [figure skating is] not something they really think about," Kym said. "People really don't think there is a path for them in the sport."
    
For nearly 20 years, the Worthy family has repeatedly watched young BIPOC skaters leave the sport due to financial barriers, body image issues, and lack of representation and role models. Even as an adult skater, Anastasia said she still gets excited every time she sees a BIPOC official, coach, audience member or skater at the ice rink.
    
"When I see a young Black girl out there skating in a lower level, it is empowering to think, 'If I can do this, you can do this,'" Anastasia said. "We're in this together."
    
As the next generation is watching Anastasia and looking up to her, Kym is demonstrating how BIPOC families can also be a part of the sport and be advocates and voices for their children. Her decision to be a part of the U.S. Figure Skating DEI Task Force has been fueled by the adversity she and her family have faced, but she hopes her experiences and knowledge will contribute to change. 
    
"[In the past], U.S. Figure Skating has lagged behind other sports when it comes to diversity and inclusion. I am glad they are now taking it seriously, and I think their level of commitment is pretty unparalleled," Kym said. "They have to make this change [and] they want to make this change."