By Lois Elfman
Three-time U.S. champion, two-time Olympian Johnny Weir and his dance partner Britt Stewart have made it through two dances — the cha cha and the tango — and this season's first elimination. As they head into week three of "Dancing With the Stars," the partnership is blossoming as they prepare to take on the rumba for the show's always popular Disney Week.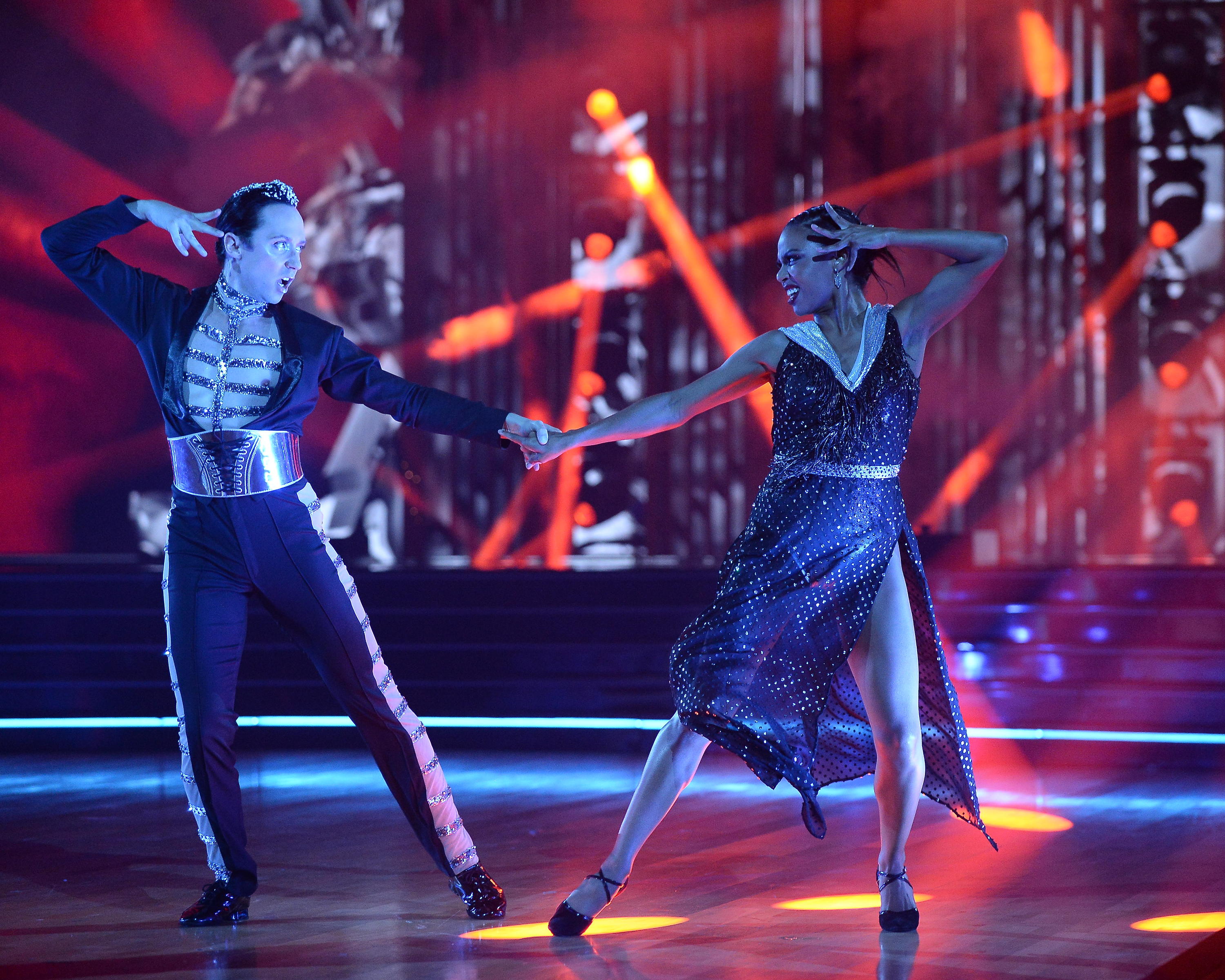 Given the previous success of figure skaters on "DWTS" — Kristi Yamaguchi, Meryl Davis and Adam Rippon all claimed the mirror ball trophy — when a figure skater joins the cast expectations are always high. Stewart is well aware of those expectations, but lest people label Weir a shoo-in, she reminds them that while Weir has incredible musicality, he didn't have dance training as part of his skating career. 
Also, he was a late cast and they only had a week to rehearse before the first show. There was minimal get-to-know-you time, as Stewart dove immediately into technique and choreography. Weir's training mindset made up for the lack of time.
"He is an absolute dream to work with; he is such a hard worker," Stewart said. "He is a perfectionist. He loves details. On top of that, he loves to be involved creatively in our aesthetic from week to week, which is brilliant.
"As far as dancing is concerned, I'm proud of him. Yes, Johnny has a relationship with movement, but I'm almost having to break a lot of the habits that he's spent 24 years of his ice skating career learning. There are some things that just don't translate onto the dance floor."
Due to the large number of couples to start the season — 15 as opposed to the 12 or 13 of past seasons — combined with social distancing, the couples only get three hours of studio time per day to train. Safety protocols are clear.
"We are only allowed to have our masks off while we're in the studio together," Stewart said.
Masks must be on if anyone enters the studio. If they interact with other couples training at the facility, they must have their masks on and be at least eight feet apart. She said that keeps them focused in their #TeamBriJo bubble.
Production as even created camera set-ups to film rehearsals that don't require camera operators. Stewart said it's fascinating.
"There are no crew people in the room with us, but they now have these automated cameras set up," Stewart said. "There are four or five cameras in each studio and they automate them from a different studio. There's a loudspeaker overhead, so whatever producer we're working with that day will say, 'Johnny, can we do a quick interview with you?' or 'Can we do a sound bite here?' Everything is operated from a distance."
Even the post-show press line is done remotely. After the show, Weir and Stewart go to one of their trailers and do Zoom press. 
There are no spectators in the ballroom for shows. The only people present are the judges, crew and new "DWTS" host Tyra Banks.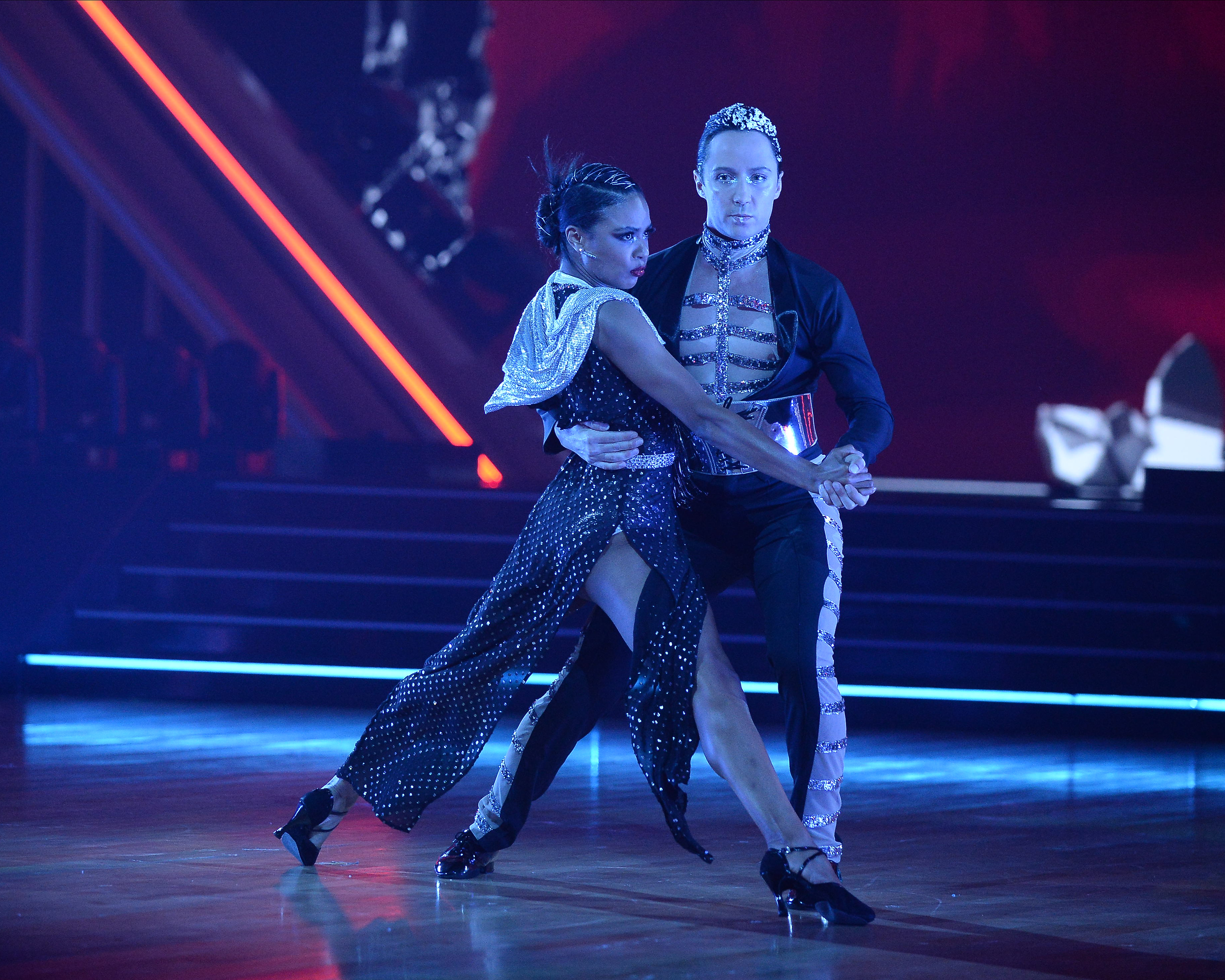 "Johnny and I talk about this often because we both have experience performing in arenas around the world," said Stewart, who was one of Katy Perry's core dancers for three years, including the Super Bowl and Perry's Prismatic World Tour. "There is nothing like the adrenaline of a live audience, but in this season it's quite interesting. It gives Johnny and I an opportunity to really connect as a partnership and have our performance be focused on what we're sending across. All we're trying to do is bring love, laughter, light and emotion and make people feel something for our journey together."
While Stewart has been part of the "DWTS" cast in past seasons as a member of the troupe (dancers that performed in production routines), including performing alongside Nancy Kerrigan when she appeared, this is her first season with a celebrity partner. For that, she is making history as the first African-American female pro in the show's history, which Stewart said is a huge honor.
Dancing since she was 3, Stewart danced professionally for more than a decade before being cast on "DWTS." She immersed herself in ballroom technique when she had the opportunity to join the troupe. To heighten her knowledge of ballroom, she actually competed to understand it more fully. 
Stewart knows a thing of two about figure skating, saying her mother is a diehard skating fan who wanted her to take up the sport. Unfortunately, her first time on the ice didn't go well. She is enjoying Weir's insights into the skating world. 
This week, Weir and Stewart will be dancing a rumba to the song "Reflection" from the new live action Mulan film. She said Weir's lyrical movement is beautiful and this dance will showcase his elegance.
Although the teams don't hang out in the sky box like in seasons past, Stewart said there is great camaraderie among the couples, but this is still a competition. 
"We don't like being middle of the pack; we wish we were top of the leader board," Stewart said. "I'm looking forward to showcasing Johnny's journey and making him shine."