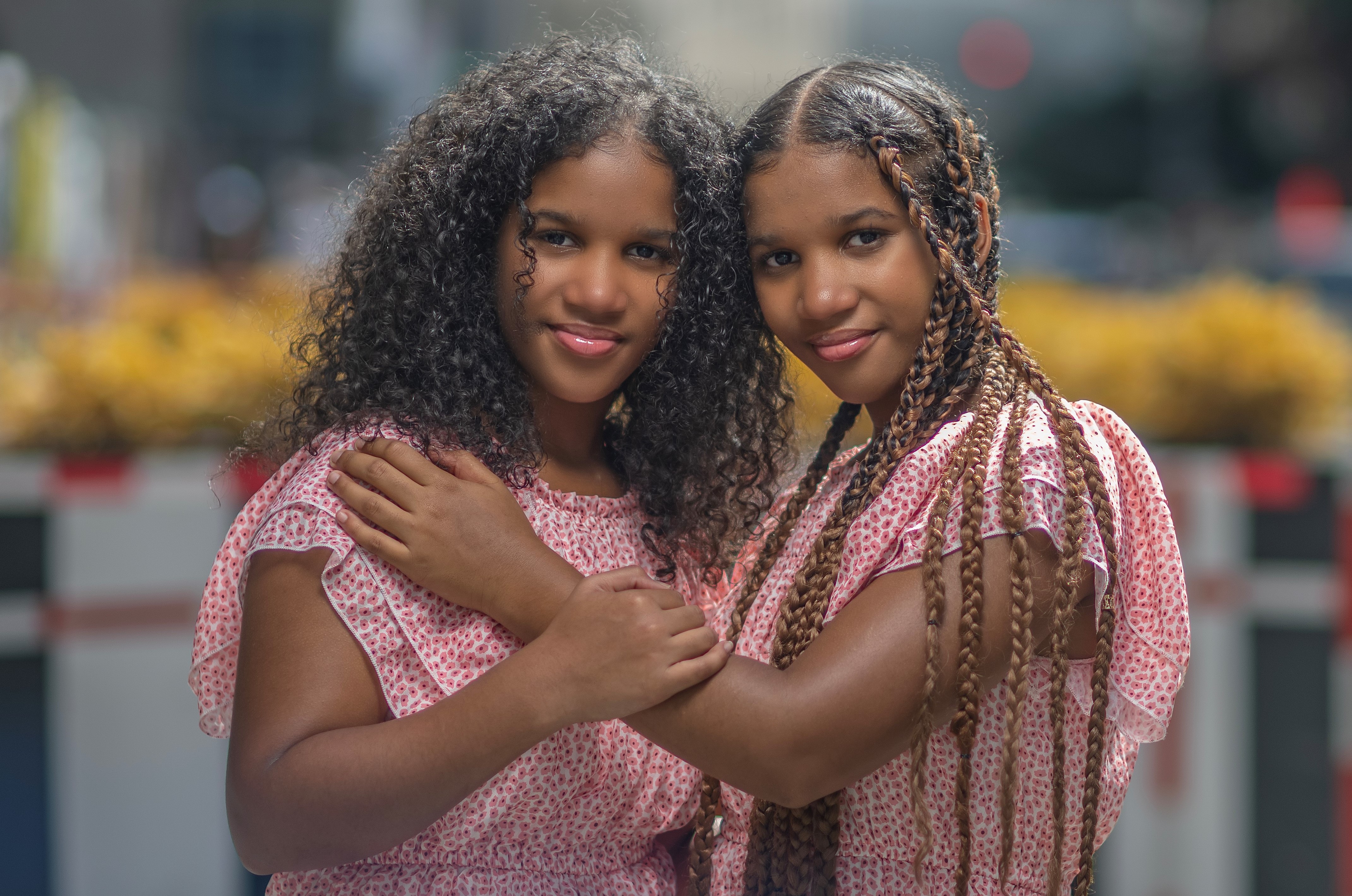 Thirteen-year-old twins Andrea and Selena Alphonse, with the help of their older sister Sherlana Alphonse, have built an Instagram following of more than 46,000 on their joint Instagram account @andreaselenatwins, where they chronicle their figure skating journey as shadow dancers.
Their large following caught the attention of the organizers of the Wollman Rink season opening and invited the girls to perform alongside Camden Pulkinen and ice dancers Emily Renzi and William Lissauer in New York City's Central Park.
"It was such a good experience performing," Andrea Alphonse said. "Actually, the year before we performed, we went to go watch the opening of Wollman Rink and I thought it would be so cool to perform there one day and then they asked us to perform. We were literally so excited."
The sisters took home gold at the 2022 National Solo Dance Finals last September at The Cube Ice and Entertainment Center in Valencia, California, with a score of 38.12 for their preliminary level canasta tango.
"It was our first competitive season for figure skating, so it was really cool winning Nationals," Selena Alphonse said.
They have since moved up to the pre-bronze level. Their next competition is in April in Chesapeake City, Maryland. Last season, they also won a national gold medal as a member of the Skating Club of Wilmington's Blades synchro team at the preliminary level.
"We saw some older shadow girls at our rink and we were like, that is so cool," Selena Alphonse said of how they got started in shadow dance. "We're twins, so we should try it."
"It was a rocky beginning, but we got better and better," Andrea Alphonse admitted.
Their "twintuition" enables them to speak in unison and finish one another's sentences. It comes in handy to help them stay in synch on the ice, but because they like to match their outfits each day, it becomes a funny challenge to choose what to wear. But they do have individual styles. Selena Alphonse gravitates toward black clothing, while Andrea Alphonse prefers color. So, how do they choose? A hilarious game of rock, paper, scissors!
"It's kind of hard for them to play rock, paper, scissors because they already know what each other's going to do," their sister Sherlana Alphonse said. "They do reverse psychology and they reverse it and it ends up being the same thing."
Looking toward the future, Andrea Alphonse will search for a male ice dance partner in the future and Selena Alphonse is also pursuing singles skating. She has already landed her Axel and is working on her double Salchow.
The Alphonse twins are also capitalizing on their social media stardom in hopes of sparking an interest in Black children to give figure skating a try. While they said they haven't seen much change yet at the rinks they skate at, they are hopeful that will soon improve. They are typically the only Black skaters on the ice, except when they help out with Special Olympics and there are sometimes one or two Black adaptive skaters.
"Maybe they think it isn't an inclusive sport," Sherlana Alphonse theorized. "I think if there's more awareness, maybe they'll feel more inclined to come and be figure skaters."
Andrea Alphonse encourages people who might be hesitant to lace up to "learn a new sport. [Try] something different."
Selena Alphonse added, "It's really fun learning new skills on the ice."
All three sisters agree figure skating teaches patience, confidence, determination and persistence.
Off the ice, the sisters are just as busy as they are on it. All three of them are actresses. The twins had the opportunity to play twins in the Netflix movie Holiday Rush.
"It was really, really fun being on set," Selena Alphonse remembered. "We love being in front of a camera and it was really fun because we got to do it together and play twins and not a lot of times [do] twins play roles together, so that was really cool."
They have also appeared in commercials and print advertisements for Gummy Bears, Girl Scouts, and Babies R' Us. They landed an appearance on "Sesame Street" as their first acting gig at the age of three.
Andrea Alphonse was especially excited to meet Elmo.
"I love Elmo so much," she said. "I have a collection."
Since it is currently pilot season, the girls are busy auditioning. They have some upcoming projects in the works, but are not at liberty to discuss them quite yet.
To accommodate their busy acting careers, the family lives a nomadic lifestyle, splitting their time between New York, Delaware and New Jersey. This has made them expert packers and most of us could all use a good packing hack.
The twins are currently seventh graders in virtual school. Andrea Alphonse loves reading and writing, so her favorite subject is language. Selena Alphonse's favorite subject is science and she loves doing experiments.
They both enjoy experimenting in the kitchen with baking pizza, cakes, cinnamon rolls and other pastries. Their other talents include gymnastics, tennis, piano, violin and singing. Before leaving gymnastics to concentrate on skating, they made it up to Level 4. The flexibility they gained from the sport can be seen in their skating and Instagram reels. They even enjoy doing cartwheels on the ice! Selena Alphonse even gave an enthusiastic, "Yes!" when asked if she'd like to one day learn a backflip on the ice.
Their diversified skillset is an asset on an acting resume because it opens up a lot of possibilities of roles they can audition for. They closely read character descriptions when considering a part to see if they fit the criteria. Their dream acting job would be playing a figure skater in a film or on TV.
Their on-the-go lifestyle and tight-knit family that consists of a momager and sistager has a lot of the key ingredients of a reality show. Would they be on board for "Keeping Up with the Alphonses?" Sherlana replied, "I think it'd be really funny."