Above: Jordan Cowan of On Ice Perspectives films Starr Andrews' tribute performance to Mabel Fairbanks. The performance is one that will be shown during the Figure Skating in Harlem virtual gala this month. 
By Lois Elfman
While the pandemic has brought another Figure Skating in Harlem (FSH) gala online, the enthusiasm for this year's gala remains high. The 2021 Champions in Life Virtual Gala, which will pay tribute to skaters of color who broke barriers from the 1930s onward, takes place on April 22. 
"Our girls are incredible," FSH Founder and Executive Director Sharon Cohen said. "We were able to keep skating. We never ended education; we had it online. They showed up no matter how difficult it was."
The event will honor the late Mabel Fairbanks (she passed away in 2001), who graced the February cover of SKATING magazine. Fairbanks discovered skating when she moved to New York City, but as an African American in the 1930s she was unable to access any skating clubs. She taught herself and then received lessons from renowned coach Maribel Vinson Owen, who taught Fairbanks afterhours in secret.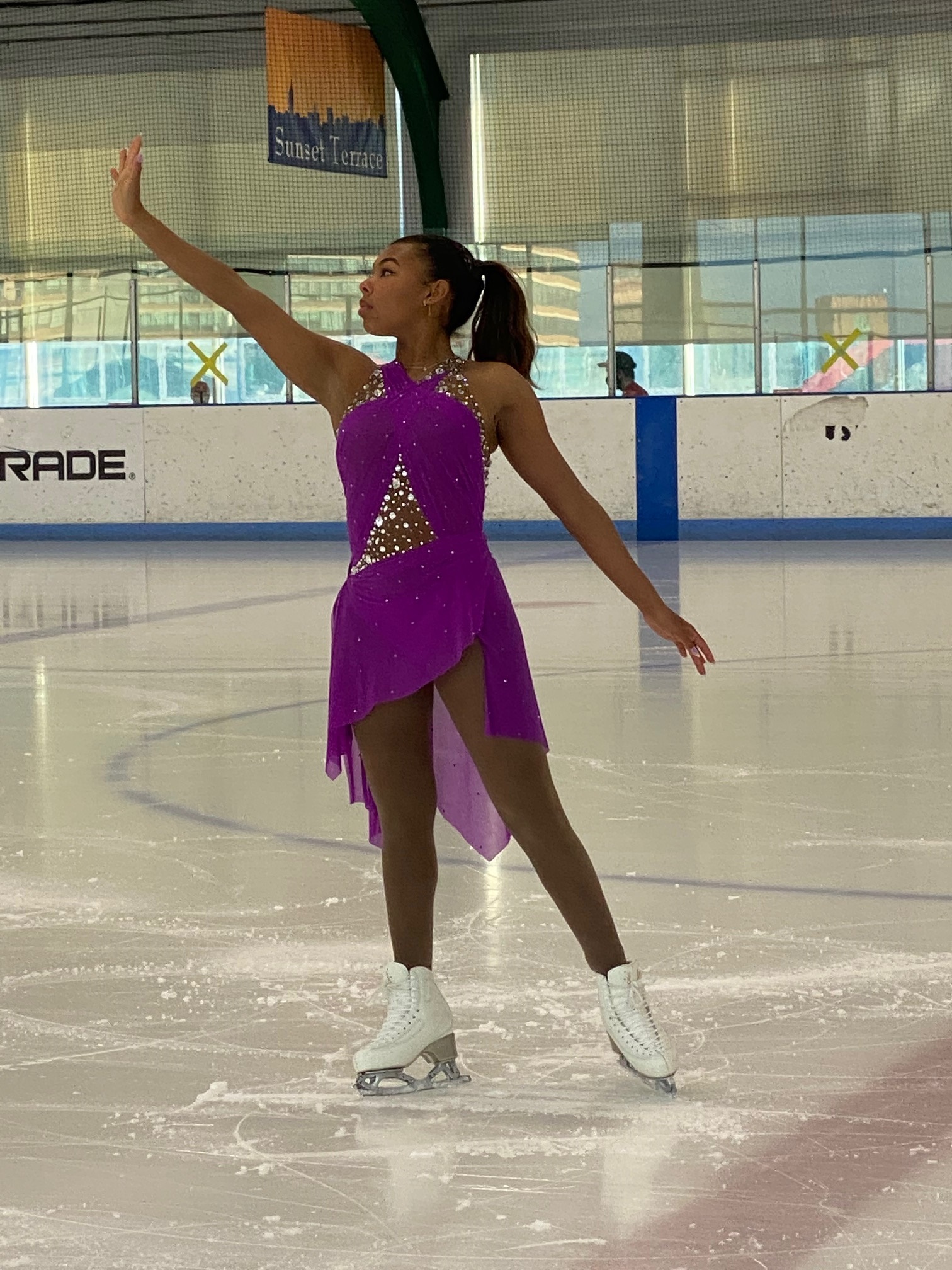 After a career skating in shows, some built around her, Fairbanks settled in Los Angeles, where she nurtured the talent of young skaters of color, including Atoy Wilson, 1966 U.S. novice champion, the first Black skater to win a national title. Wilson is one of the honorees at the gala. The other honoree is Skating Club of New York President Susan Kittenplan, a longtime supporter of FSH.
"To bring Mabel's story to life and to light is the greatest privilege," Cohen said. "She is the energy behind this gala. We are giving the first Mabel Fairbanks Legacy Award to Atoy Wilson."
Wilson has been involved with FSH since its inception. 
"The contribution that I have hopefully made with my skating initiates a sense of inspiration for them and recognition that I developed into a national champion and an elite performer in the world's biggest ice shows," Wilson said. "To have this organic link between my teacher, coach, mentor, inspiration and guiding light, Mabel Fairbanks, and FSH, being honored with her means a lot to me." 
Established in 1997, FSH serves girls age 6 to 18 with skating and extensive off-ice support, including tutoring, guidance and a general sisterhood. While the off-ice programming has taken place virtually this past year, the skaters were able to continue training. The time on the ice provided much needed bonding, exercise and inspiration for FSH participants.
"Since I'm an only child, not only has Figure Skating in Harlem opened so many opportunities and doors, but I've also been able to create a sisterhood," said Emily Delbrun, a high school sophomore who has been in FSH since she was 6. "Being on the computer all day gets you stressed out. When I found out we'd be able to skate, I was excited."
Senior Nia Moore said she's been doing online school for the past year, so skating is a welcome part of her week. 
"We have to break into smaller groups and in different timeslots, which I think is a good system," Moore said. "It's great that I get to leave my computer."
Cohen credits FSH staff with coming up with creative ways to keep the educational programming interesting and engaging. She said emotional support was a huge component. The virtual tutoring was done one-on-one.
A highlight of the gala will be a special tribute performance to Fairbanks, choreographed by Derrick Delmore and performed by U.S. senior competitor Starr Andrews. Andrews is the inaugural recipient of an award from the Mabel Fairbanks Skatingly Yours Fund and a student of Delmore's. Three-time Olympian Vanessa James also performed a tribute program for Fairbanks, choreographed by Delmore. Wilson had input into the music selected.
French champion Maé-Bérénice Méité was also supposed to participate but was injured at the World Championships. Instead, she filmed a video introducing Andrews' number. 
"The way that we tell Mabel's story is more in depth," Cohen said. "I think it will be entertaining and a learning experience for everyone. I couldn't be more excited."
Andrews was filmed in New York by Jordan Cowan of On Ice Perspectives. James was filmed by another videographer in Canada under Cowan's direction. Cowan edited the entire piece. 
"How Jordan works is so amazing," Andrews said. "He knows how to move around people even if doesn't know the program."
Andrews loves the choreography process, and said she so appreciates the music that Delmore selected. She's excited to see the finished product and James' portion. She met with FSH skaters at the U.S. Championships a few years ago and has words of encouragement for them going forward.
"Believe in yourselves to the fullest and keep pushing," Andrews said. "Love what you do."
Also, appearing at the virtual gala will be actress Gal Gadot, who portrays Wonder Woman; actress Tamara Tunie of Law and Order: SVU, a longtime supporter of FSH; Pulitzer Prize winner Doug Wright; actor and Queer Eye cast member Jonathan Van Ness, who appeared in the Netflix series Spinning Out, for which he learned to skate; and Olympian Adam Rippon.
FSH did not do its annual show, but the skaters performed their routines and were filmed. The programs were about the elements — fire, water, earth and air. Part of it will be shown during the gala.
"I hope we get the biggest possible audience so they can really learn the story of Mabel Fairbanks," Cohen said. "They will be both entertained and it will be meaningful."
People can register to see the gala at no charge here.