By Lexi Rohner
All clubs and much of figure skating is subsisted largely by volunteers. Most clubs have that one person, sometimes two, who seem to manage everything. The one volunteer position that is often overlooked? Test chair. The challenges manifested for this position in 2020 included having only 400 of 1,600 nationwide rinks open mid-year, most with restrictions, some permanently closed. Tests were scheduled, canceled and rescheduled, but test chairs persevered for their skaters.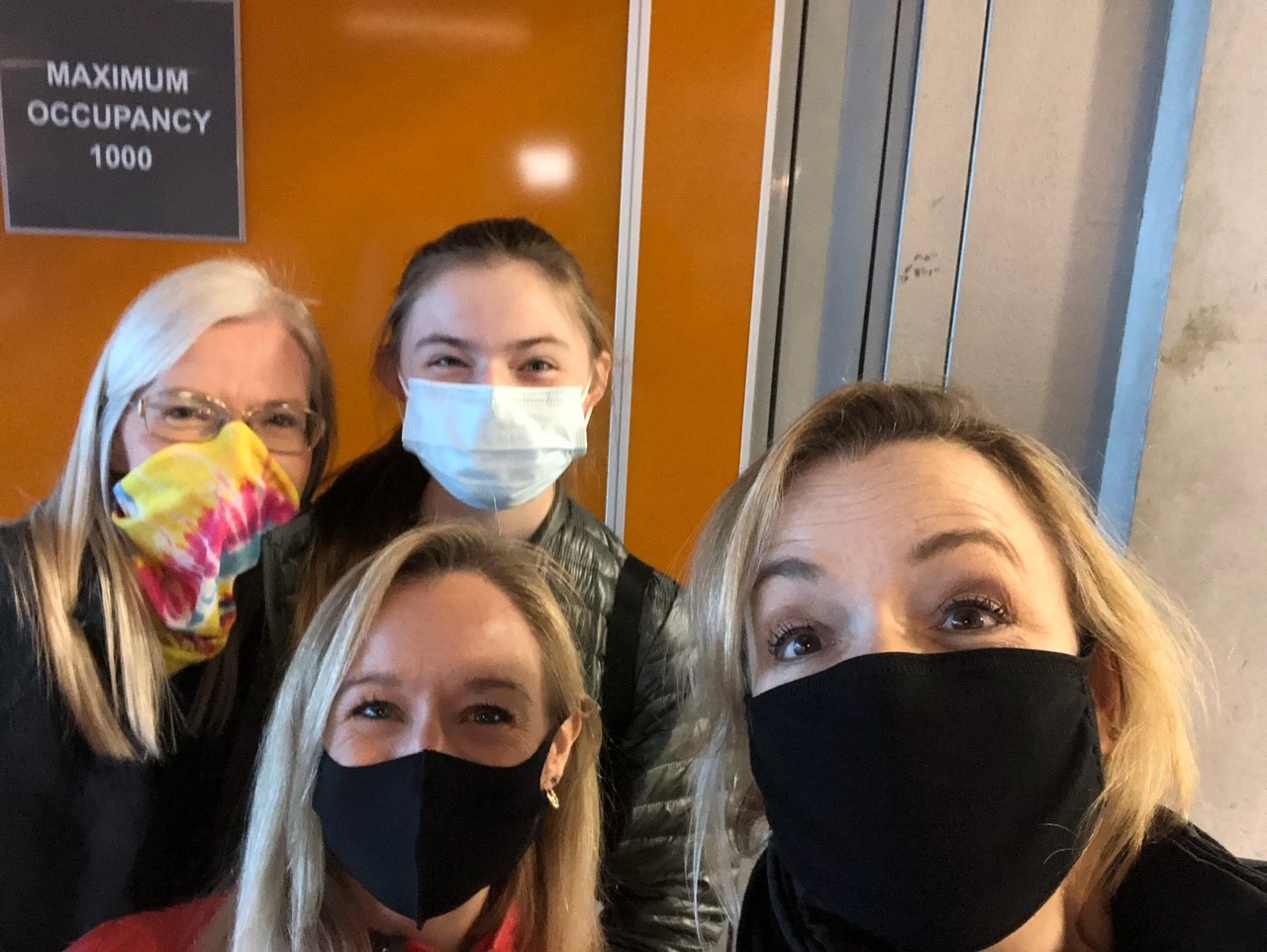 The job
Putting together the test session puzzle with all of its pieces — qualified judges, ice time and volunteers — may sound less challenging than it is. With a pandemic, not everyone is available, healthy or willing. In Illinois, the Skokie Valley Skating Club (SVSC) has three individuals sharing the load. Marion Taicsich handles moves and free skate, while Paul Scheuer conducts dance tests. Lois Todd backs them up.
"We have monthly sessions on different days," said Taicsich, who prefers an online registration system to Scheuer's paper entries, both able to accommodate a large testing volume. "I'm firm about deadlines, rules, scheduling and fees, learned from being a skate mom and teacher, though I do try accommodating special requests." 
At Hickory Hill FSC (HHFSC) in New York, June Bird counts scheduling as most difficult. With tests at the Harvey School Rink, the club also offers membership/tests at nearby Palisades Rink. 
"I'm head test chair and Wendy Mlinar, who was dance test chair for 35 years, advises me," Bird said. 
"It's always difficult organizing correct ice time and tests," Mlinar said. "Also, managing schedules to keep coaches happy."
Todd also serves as test chair for the Skating Council of Illinois. The Council hasn't hosted recent sessions, though SVSC remains busy with three synchronized skating teams requiring dance/moves tests. 
"We break down jobs, so work doesn't fall on one person," Todd said. "Alternating low/high levels monthly also offers bronze/silver level judges opportunities."
Volunteers
"Ideally, I like three volunteers minimum, especially since COVID began," said Jayne Rendel of the All Year FSC (AYFSC) in Southern California. 
Taicsich educates parents on test session complexities, which can lead to her getting more volunteers. 
Todd's volunteer list:
Contacting/booking judges
Chair scheduling skaters/running session
Skater check-in, keeping session on time
Runner collecting papers, making copies, distributing results
Recording results, providing chair completed papers
Music for free skate 
Skaters and judges
Under typical circumstances, Rendel cites ineligible skaters or registration for tests already taken, and non-compliant coaches, as the biggest challenges.
"Given rink closures and cancellations, the most positive change is using an online registration system," Rendel said. "We've been able to establish waitlists, fair processing and test more skaters." 
State guidelines vary, and clubs lucky to have ice adjusted the best they could. 
"Our October test session was unique, with skaters preparing and waiting outside," Bird said. "Results were texted or called to lessen contact, and paperwork scanned and sent. No one complained, and everyone was considerate."
Todd's clubs adhered to U.S. Figure Skating and Illinois guidelines. 
"Coaches, parents and skaters have been cooperative," Todd said. "Everyone wants to participate. Other factors are judges' ages, physical status and personal feelings about going out, even with implemented protocols."
SVSC has allowed Taicsich to run sessions as she sees fit, and thus far, there have been no positive COVID cases reported, though some Chicago clubs have been less fortunate. Some rinks remain open for activities and individual training. Protecting everyone, honoring state and healthcare workers' pleas to stay home and monitoring COVID requirements is cumbersome but necessary.
"Most are supportive, even when skaters have to be excluded for quarantines," Taicsich said.  
Rinks
AYFSC has seen testing demand rise exponentially since ice reopened. 
"Mid-week judges aren't easy to find, especially since our club hosts tests at seven arenas, spanning six counties, each with a test chair and set of health guidelines," Rendel said. "The first chair able to offer sessions post-quarantine wrote a comprehensive protocol and held Zoom sessions to ensure everyone's comfort. All arenas we work with are incredibly gracious and supportive." 
SVSC scheduled tests monthly during less busy times with cost breaks, though rinks were closed March to July and again Nov. 20. A Dec.  4 opening was postponed with future sessions canceled and uncertain. 
"Parents aren't allowed inside; testers must arrive with skates on, and enter/exit ice in different locations," Mlinar said. 
To accommodate testing, HHFSC allowed lower tests during open club ice, aiding testers and club ice turnout. They re-opened in September and remain open.
Restrictions
Illinois counties' restrictions vary based on infection rates. Like AYFSC, tracking rules is difficult. Cook County (SVSC) is often more restricted than outlying counties. 
"Our main rink is in a park district and has followed every requirement," Taicsich said. "Everyone submitted online waivers before the July session." 
Six weeks out of chemotherapy and more cautious than most, Taicsich ensured all protocols were met. 
Taicsich's session rules:
Only skaters/coaches in the rink, 10 minutes prior to warm-up
Everyone required to complete COVID-19 self-certification health questionnaires and voluntary waivers/liability release 
Skaters enter fully dressed and ready to skate 
Masks worn at all times by everyone, except warm-up and testing
Maintain six feet of distance at all times
Skaters/coaches leave upon completion; results delivered outside, or other instructions provided 
Stay home if experiencing symptoms (fees refunded)
Collaboration
"I correspond with another club's lead test chair frequently and we compile [a list] of available judges," Rendel said. Southern California Interclub maintains a test calendar, which prevents any overlap of judges and resources. 
Chicago- area clubs do something similar; though nearby states' clubs have run tests with fewer restrictions, including dance partnering. 
"We coordinate with two other clubs," Mlinar said. "Our rink is owned by a boarding school, so we're at their mercy but usually work things out." 
"Being test chair is definitely a labor of love, but everyone's gratitude is well worth it," Rendel said.