Editor's note: Check out the August-September issue of SKATING magazine for complete coverage of the 2021 U.S. Adult Figure Skating Championships. 
Above: (l-r) Physical therapists Dr. Abigail Skallerud, Dr. Kristen Schuyten and her husband Dr. Phil Schuyten (who also served on the medical team). 
By Troy Schwindt
It seemed most everyone who competed or attended the 2021 U.S. Adult Figure Skating Championships in Rochester, Michigan, in late June enjoyed the four-day event and relished seeing each other again after last year's competition was canceled due to the pandemic.
Although everyone still had to wear face-coverings and provide proof of vaccine or a negative COVID-19 test, it was obvious that U.S. Figure Skating's first live event back with spectators was a joyous occasion.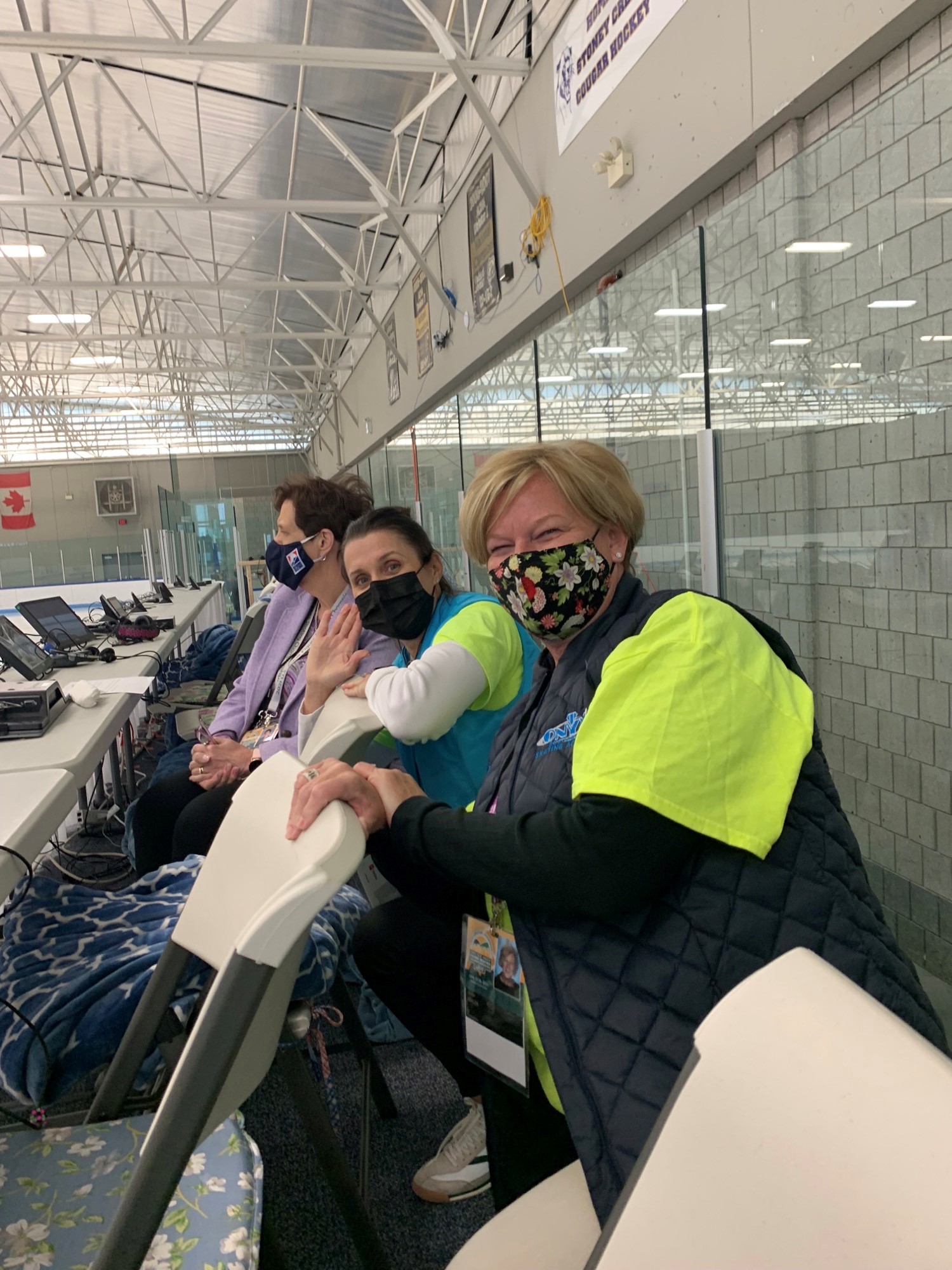 Making it happen, though, took a monumental team effort by the local organizing committee, chief referee, chief medical officer, adult committee and U.S. Figure Skating. In just six weeks after learning that the event would indeed take place, this group of volunteers and headquarters staff worked tirelessly to produce a safe and memorable competition. 
"The overall vibe in the arena was so positive," said Daniel Palmeri, who with Jeanette Daskas and Jennifer Schneider served as the chairs of the local organizing committee. "Sitting in the stands and walking around the facility, listening to the people interact was something. They were happy to sit together, cheer together, talk together and be together for an in-person event.  There was so much positivity and camaraderie."
Palmeri admits that the lead-up to the event caused a rollercoaster of emotions for organizers with the host Onyx Suburban Skating Academy as they didn't know if the event would happen or not. 
"We felt like we were holding our breath, so we were relieved to finally get the official go," Palmeri said. "It was difficult to plan an event with multiple possible scenarios and to go through the planning process knowing nothing might actually happen. 
"We were thrilled to be the come-back competition for the adult qualifying circuit and feel privileged to have had the opportunity to host."
More than 30 years of collective experience in hosting events by the LOC, Palmeri said, proved significant in pulling off this feat. 
"Time may not have been our friend this time, but our experience got us through," he said. "If we didn't have that, we would have been goners."
One example of that experience came from Schneider and her husband, Randy, who spent 20 hours over five days pulling together the event program at the last minute.
"We knew how much it meant to our athletes to have this piece of memorabilia from the event," Palmeri said.
The everchanging local, state and federal mandates and guidelines regarding COVID-19 proved to be the biggest challenge, especially for chief medical officer Dr. Kristen Schuyten. 
Dr. Schuyten was tasked with making sure the event could go on safely, receiving and disseminating information provided from various health agencies across the country.
"Leading up to the event, the unknown of what was going to happen not only in Michigan, but in the nation, was a scary thing," Dr. Schuyten said. "Navigating through what we would be able to do in a larger-scale competition like Adult Championships, with skaters traveling from all over the country and how that would be balanced with what was safe for the athletes in competition and performance was a strong concern for us.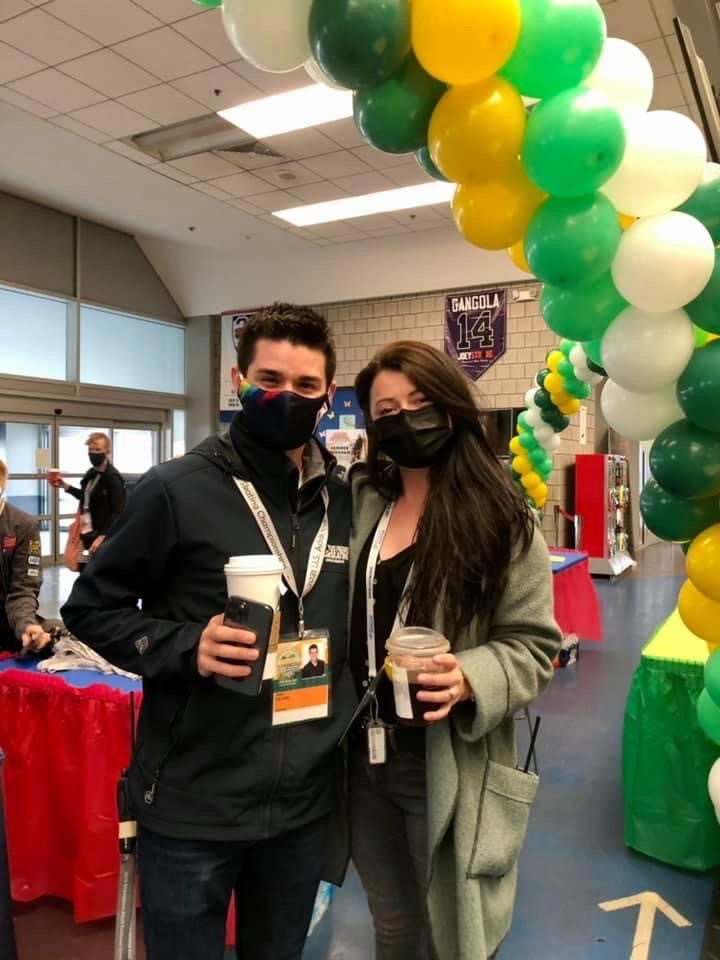 "This balance, working to make this event work while keeping all possibilities of infection low was definitely challenging. Thankfully, we had open communication with county health departments, integrating state and CDC recommendations, along with the recent experience from junior and senior U.S. Figure Skating Championships, to assist us in this process."
Overall, Schuyten said, skaters, officials, volunteers and fans followed the protocols that included mask-wearing at all times inside the facility.   
"But there were a lot of questions regarding the regulations in place and consistencies with some of the skater's home states and what they were doing," she said. "U.S. Figure Skating set its mandates to keep everyone safe and with this being the first national competition that allowed spectators, we were all impressed by how well the participants, their families, their coaches and all the volunteers participated in these protocols." 
Also managing the everchanging dynamic of the event, chief referee Sue Miller committed to making sure the comprehensive schedule worked for everyone, including the officials who covered dozens of event categories. 
"As referees we are always thinking through options, whether we are creating the schedule of events or developing officials assignments," Miller said. "All of those skills and more were necessary this year during the months of planning leading up to the competition. What would the schedule look like if we had to assign competitors specific times when they could enter or leave the building?  Would locker rooms be able to be utilized? Could we have spectators? What were the minimum number of volunteers and officials that would be needed to conduct the event should the building occupancy be severely restricted?  How would we ensure the health and safety of all involved?   
"The key was flexibility and I found myself constantly thinking through 'what if' scenarios and drafting a series of schedule options as the health and safety situation in Michigan, as in the rest of the United States, was constantly changing."
Fortunately, as the event drew closer, uncertainty turned into hope. Thanks to the guidance of Dr. Schuyten and Dr. Kristin Abbott, chair of the U.S. Figure Skating Sports Sciences and Medicine Committee, the event received the green light.
"Many of us remember our disappointment when the 2020 U.S. Adult Championships were canceled so the atmosphere was one of gratitude that all of the hard work of planning and preparation resulted in a successful event," Miller said. "Personally, I felt like I had come full circle as I had been a competitor at the first U.S. Adult Championships at the Skating Club of Wilmington in 1995, and now I had the privilege of serving as the chief referee for the 26th U.S. Adult Championships." 
Lori Fussell, national vice chair of the Adult Competitions Subcommittee, and Aviva Cantor, chair of the Adult Skating Committee, commended everyone for their hard work and efforts behind the scenes.
"I believe that everyone who attended, in every capacity, will remember this year as one of our best," Fussell said. "We did it."