By Joanne Vassallo Jamrosz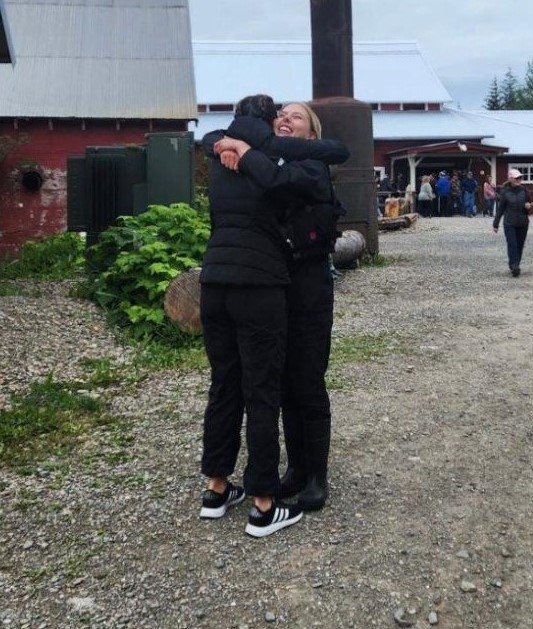 When adult skater Jessie Pulliam left Arizona in April to work as a seasonal kayaking guide in Alaska, little did she know that her skating life would follow her.
Pulliam is a member of the Skating Club of Phoenix in Peoria, AZ., and returned to skating after several years in October 2021 with coach Lisa Warren.
"Jessie's goal was to get to adult nationals, so we tested her to get her to the appropriate level," Warren said.
Pulliam worked on each pattern and virtually passed six tests in ten months. She also achieved her goal of competing at the U.S. Adult Figure Skating Championships and medaled in three events. After passing her adult silver singles in April, she left for Alaska.
Meanwhile, Warren had plans to present her skater's last test papers and badge.
Warren and her husband always wanted to cruise to Alaska and take one of Pulliam's excursions. It was also the perfect opportunity to present the treasured papers.
"Let her be the teacher and me the student, and that's exactly how it was," Warren said. The kayaking trip was a dream come true, and learning she passed her adult silver singles was equally thrilling for Pulliam.
"Right before we had to do our safety briefing about the kayaking tour, we went down to the water, and I told her I had a surprise for her," Warren said. "I pulled out the test papers and badge, and the happiness on her face was infectious. It was the coolest presentation of test papers I had ever done."
Unfortunately, there aren't any nearby rinks for Pulliam to skate in Alaska. However, when she returns to Arizona in November, Warren said they will hit the ground running and prepare for the adult gold test.
"Skating and coaching aren't about the sport itself," Warren said. "After 25 years of coaching, this was a great reminder of why I love the sport, my students and the amazing experience being a coach and a skater can bring you."
For Pulliam, returning to skating after a long hiatus was one of her best decisions.
"It also helps when you have a coach who will go to the ends of the earth just to deliver your test papers," Pulliam said.