In honor of U.S. Figure Skating's Centennial Celebration, we've asked fans to relive some of their favorite skating memories. This month, we wanted to know: What is your favorite hobby outside of the rink?

For Michael Solonoski and Starr Andrews, the answer is found within lyrics set to a melody. Both sing and have used their vocal abilities to enhance their performances on the ice. Let's take a look at the way both skaters have intertwined skating and singing.
***
To convey the proper message on the ice, first a skater must find the perfect song. A program's music sets the stage for the impending performance and primes the audience for the spectacle that is about to take place.

According to Michael Solonoski, music is what sets figure skating apart from any other sport.

"Music is what really makes skating more than sport," he said. "[Music] is what makes it an art as well. And I think that's why audiences fall in love with it, because it's phenomenally impressive in its athletic capacity, but it's also beautiful to watch. It has emotion behind it within the actual performance.

"I can't think of another sport that equals that."

Solonoski would know. He sings in his spare time and has since he was a little kid. Initially, belting into a microphone was a childhood hobby, but a night at Philadelphia's Tavern on Camac as a college student led him to take the craft more seriously.

He had not planned to hop onstage, but when one of the band members heard him singing a little louder than everyone else, he suggested Solonoski take the mic for a song. Providing lead vocals reminded him how much joy he had found in singing as a little kid.

"I think that really reignited my passion for singing and for music," he said.

He first brought his musical talents to the ice in 2011, after someone suggested he sing part of George Michael's "I Can't Make You Love Me" as he skated to the tune. At first, he was unsure how performing in two ways simultaneously would work.

"I thought, 'Well, that's crazy. How can you sing while you skate?'" he said.

However, he quickly realized that people sang while they danced all the time. Figuring dancing and skating were not all that different, he decided to give it a try. Now, he believes singing during a performance helps him to form a deeper connection with the audience.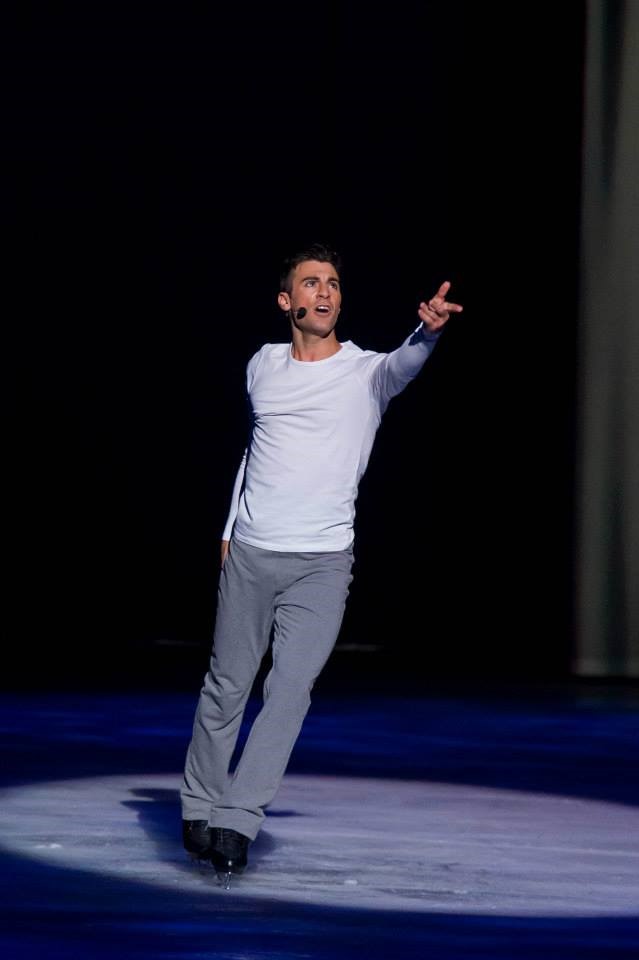 "[Singing while you're skating] is something that's unexpected," he said. "I think people sit up and pay a little bit more attention when they see you with a microphone, and they see you looking right into their eyes as you're singing the notes you're performing to."

Solonoski isn't the only one whose musical talents make their way onto the ice. Starr Andrews, a Team USA skater, also skates to her own music. Like Solonoski, she sings. When performing to her own music, she records vocals in a studio and sets them to an instrumental of her chosen piece.

She describes the first time she heard her own voice come through the speakers during a competition as "surreal."

"It's a little hard to explain because it's like, 'That's me singing right now,'" she said. "[I thought], 'That's me singing and I'm skating to myself singing right now.'

"It's so, so cool."

Andrews was performing to Whitney Houston's "One Moment in Time" at the 2018 U.S. Figure Skating Championships. She had chosen the piece because of its message.

"[Skating to that song] meant a lot, because you never really know what the artist is singing about," she said. "[But] when I sang it, I knew what I was singing the song for. And it was for my moment on the ice— my one moment on the ice.

"And it just made that program that much more special."

She and Solonoski agree that music and skating have commonalities. For Andrews, both avenues of art have helped her learn to persevere through adversity.

"Sometimes, everything won't be perfect, because in skating, you make mistakes as well as in singing," she said. "If you can't hit the note, you get frustrated, but honestly, it really just takes practice…. It's just like skating, if you can't do one turn or part of your footwork, you have to compromise and change it to where it's comfortable."

Solonoski, on the other hand, has noticed shared characteristics between being behind a microphone and skating in front of a crowd.

"There's a kinship between a great singer and a great skater," Solonoski said. "There's definitely a similarity in how they are able to hold an audience's attention, whether it's for a song that they're performing, or a song that they're skating to. In the end, it's still a performance."

Whether it is being blasted through speakers at a piano bar or being danced to at a skating rink, music opens the door to leaving an impression with the audience that will last long after the last note fades.