Above: Chloe Adam received her Eagle Scout from her Mom, Tami, her troop leader. Photo courtesy of Tami Adam.
By: Joanne Vassallo Jamrosz
Chloe Adam sees a similarity or two between skating and scouting.
Yes, scouting, as in Scouts BSA. The 15-year-old from Midland, Michigan, is not only a dedicated skater, currently working on passing her novice moves and pre-juvenile free skate, but she is also an Eagle Scout.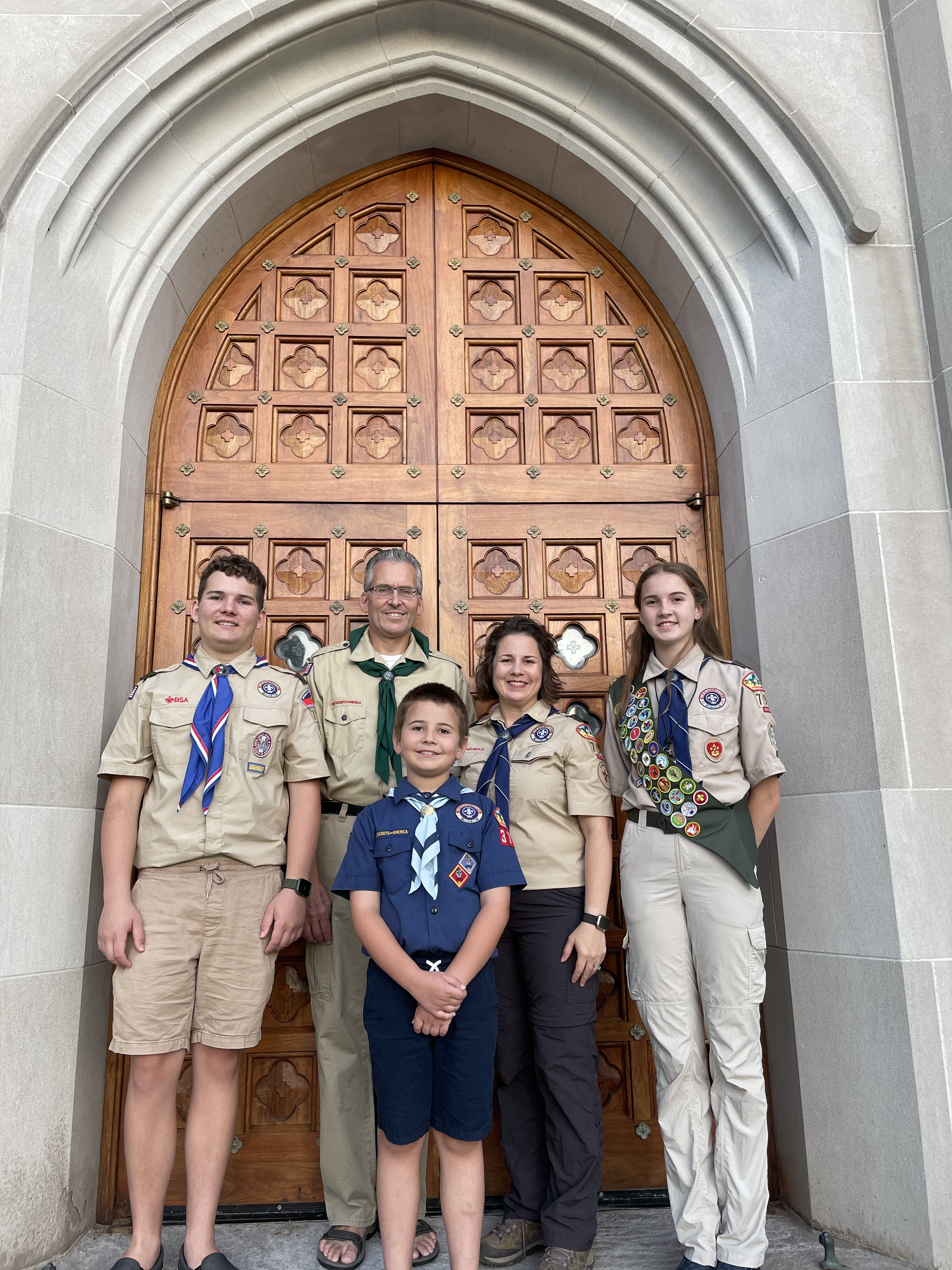 Adam is the first female Eagle Scout in Midland County and the second in the state's Heartland District. She achieved this honor all while under COVID protocol, adding to the challenge of reaching this very ambitious goal.
Adam always wanted to be a part of scouting, especially watching her brother and the many activities scouting offered.
"I wanted to join him so I could do the activities he got to do, like biking, camping and hiking," Adam said. "When I first wanted to join him, girls were not yet allowed to be a part of Scouts BSA. My parents sadly kept telling me that girls weren't allowed in that group."
But in 2019, that all changed. Girls were allowed to join and form their own troops.
"I begged my mom to start a troop for me," Adam said. "It took plenty of paperwork to do so, but finally, on my 12th birthday on October 25, 2019, my girl troop became official. I could now do the activities my brother got to do that I wanted to do alongside him, and we could continue together to reach the rank of Eagle Scout."
Scouting is a big part of Adam family. Mom Tami is her group's scoutmaster, and dad Richard is the scoutmaster for her brother's group.
The spark to achieve Eagle scout first came at Adam's first in-person camp in 2021. During COVID, all camps were virtual.
"They had a special ceremony at the end of the week. We were there when all the Eagle Scouts, young and old, were recognized,"  Adam said. "As they stood up one by one, there wasn't a single girl standing with them. I wanted to be that girl standing with all the guys and showing younger female scouts that they can reach the Eagle Scout rank too if they set their mind to it."
The journey was a tough one. Adam had to earn her merit badges throughout the pandemic.
"There was a time when one of my closest friends, who is also a figure skater and scout, would come to my house, and we would hold 'meetings' in my garage or in my backyard," Adam said. "We wore masks and sat on opposite ends of a six-foot table where we would work through our merit badges. That was pretty difficult because I never got a real summer camp experience or normal meeting environment until over a year after I joined the scouts. Even then, it wasn't quite the same as what it was before I had joined."
But Adam was determined and earned all the merit badges needed for Eagle Scout plus 15 more than required. When it was time to pick out her final project for Eagle Scout, Adam's passion for skating served as her inspiration.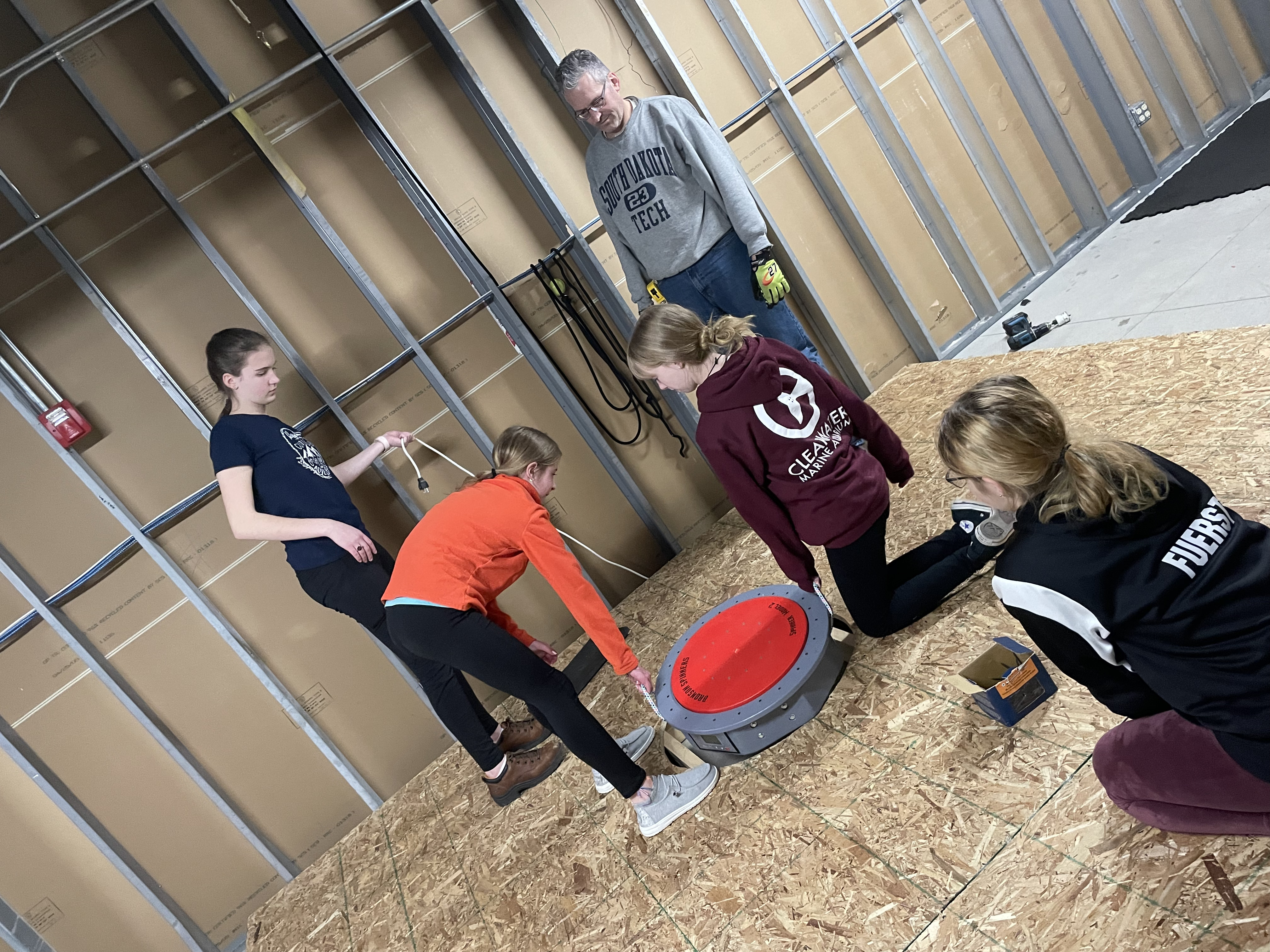 "My mom then brought up to me how the club office at the rink needed extra storage and how it would be cool if I could somehow make a spinner and platform, as that was something that our club skaters had to drive at least two hours to Detroit to have access."
Adam gave the project a lot of thought because it was nothing like other Eagle projects. After some thought, she realized the spinner could benefit skaters at her club, the Midland Figure Skating Club, and other skaters from nearby clubs.
"I decided I wanted to do this project because I would be able to see the impact it has by watching many skaters' jumping improve dramatically," Adam said.
Quite a bit of fundraising followed, and $4,000 was raised to purchase the spinner, platform and shelving material. With the help of 17 fellow scouts, skaters and other volunteers, and over 175 hours of planning, building and installing the shelving and spinner platform, the project was finished.
Adam officially became an Eagle Scout on July 6, 2022. Her ceremony on October 24 was held one day before the third anniversary of her scout troop and her 15th birthday.
"I think scouting and skating are similar in that both require you to push yourself, and if you really want to achieve something, you need to be determined to get there, or you aren't going to get where you want to be," Adam said.
With head coach Teri Haag, she continues challenging herself to meet her skating goals, including passing her senior moves before high school graduation.
"In skating, I love that I can challenge myself to work hard, have fun with my friends and work on a variety of elements like jumps, spins, choreography dance and more, "Adam said. "It's nice that there's always something to improve or work on in skating, so you never get bored."
She also loves the adventure of scouting and is proud to be the first female Eagle Scout in her county area.
"I would like other girls to know that if they push themselves, they can accomplish whatever they want to no matter what anyone else says," Adam said. "My ceremony was called the 'Lighting the Eagle Trail.' It talks about the perseverance needed to climb the Eagle trail. Now I will help light the way for future Eagle Scouts."