By Troy Schwindt
Caitlin "Kitty" Carruthers Conrad thought of her longtime skating coach Ronald "Luddy" Ludington earlier this summer during a golf lesson. She was trying too hard and over-thinking.
"I told my husband, Luddy used to look at me before we would compete and say, 'Kitty, this is no time to start thinking. Skate dumb!' He always knew exactly what to say."
Ludington passed away in May, leaving behind an army of former students who revered their coach as competitors and cherished him throughout their lives. A story on Luddy's life appears in the Aug.-Sept. issue of SKATING magazine.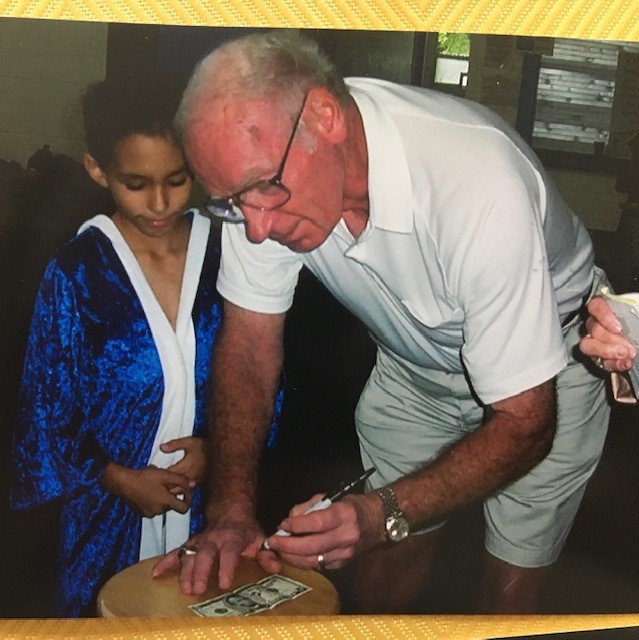 Carruthers Conrad, who won an Olympic pairs silver medal in 1984 with brother, Peter, kept Luddy prominent in her life.
"I have so many wonderful memories that have not much to do with skating," said Carruthers Conrad, who coaches in the Houston area. "He came to my wedding, held each of my four children, coached my son, BJ [Conrad]. He was the first person to call me during Hurricane Harvey."
In 2008, Carruthers Conrad brought some of her skaters to the Skating Club of Wilmington for a competition. They arrived early to work with Luddy.
"That was probably my most cherished memory," she said. "My son landed his first Axel and Luddy autographed a $5 bill to recognize the accomplishment. Special."
Many others have similar stories. Former student Lynne Freeman, who became a skating official, often bumped into Luddy at major events where she was judging.
"He would say, 'What's taking you so long to get up in the ranks?'" she said. "He made me laugh. He was a strong, steady coach.  Always there. Always calm. That is what I feel the most and what I carry with me."
Former elite competitor and fellow coach Diane Agle said she and Ludington worked side by side for more than 25 years and never had a fight.
"He spent many holidays with our family, to the point if he missed a Christmas, my boys would say, 'Isn't Mr. Ludington going to play his trumpet for us for Christmas? It won't be Christmas without him.' He was larger than life, a force and a great friend. 
"For 50 years he would call me with the latest news, and I would call him. Luddy lived life on his own terms and he left on his own terms. He taught skating until the Patriot Center shut down because of COVID-19. He closed the door of his large home himself as he went to the hospital. He didn't have to go through the hassle of moving to assisted living, which would not have been his style. He was loved by his students, and he loved the sport til the end. To everyone who loved him, he loved you back."