By Paige Feigenbaum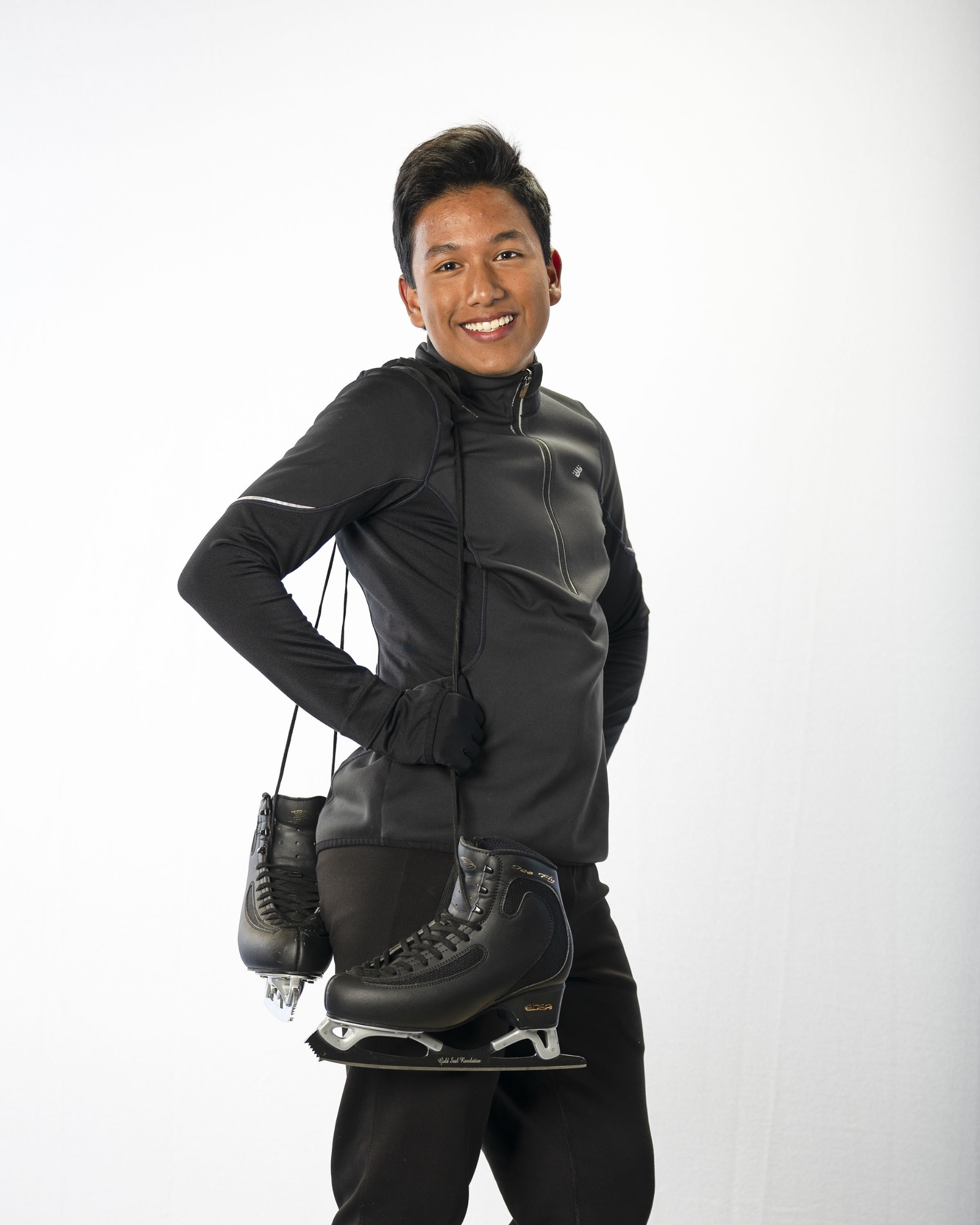 When he's not tracing edges on the ice, Henry Dingman is tracing his ancestry.
Henry Dingman descends from the Mayan people, an indigenous culture that lives in Mesoamerica. According to his birth records and genetic testing, he is almost full-blood Mayan with a little German mixed in.
Henry Dingman is originally from Guatemala, but his quest to find his roots is more complicated than asking his elders. He lived with a foster family in Nevada from the ages of 1 to 4, at which point he was adopted by his parents, who are raising him in McCall, Idaho.
Lucky for him, his parents have worked in and around Native American reservations in the Western United States, so they are well versed in tribal issues and cultures. His mom, Sandee Dingman, works in tribal relations for the U.S. Forest Service.
The family hasn't been able to travel down to Guatemala yet to experience the Mayan culture firsthand, but they hope to visit the Mayan highlands between his junior and senior years of high school.
In the meantime, they remain connected to Native American culture the best they can by attending Nez Perce Tribe of Idaho events. Although every tribe has their own traditions, there are similarities, and the Nez Perce are a lot closer to home than the Mayans.
On a recent trip to Montana, Henry Dingman and his family saw a sign for a Native American Powwow in Missoula, so they decided to attend.
"It was weird because I looked like one of them. I was like, 'These are my people,'" Henry Dingman said. "It was cool to see that pure, pure, pure culture. It was cool to see the dancing and all the traditional clothing, all the traditional food that they had, and that they were selling. As an adoptee, I try to keep up with my culture as much as I can, whether it's learning about it or participating in anything that I can that gives me [a sense of] who I am."
In 2018, the family went on a cruise that stopped in the Yucatan, so Henry Dingman and his mom went on an excursion to tour Mayan heritage sites and ruins, experience the culture and find out his Native American name.
"The Mayan guides recognized Henry as being tribal," Sandee Dingman remembered. "The Mayan language is not written in Arabic letters, so that makes it hard. It's a spoken language, it's an oral tradition language and it's a symbolic language, so he had an artist there write his name and birthdate on the Mayan calendar. It doesn't translate to an English word. It's like looking at Egyptian hieroglyphics."
While Henry Dingman has yet to learn what his Native American name translates to, retired U.S. ice dancer Naomi Lang, who is a member of the Karuk Tribe of California, is named "Maheetahan," which means "Morning Star." When she became the first Native American woman to compete in the Winter Olympic Games in 2002, Henry Dingman wasn't even born yet!
Despite the age gap, Henry Dingman knows all about her and was even introduced to her recently by a fellow skater's mom who is friends with her.
"She is genuine," he said. "It was a really cool conversation to have with her. I had watched her performances. She's a gorgeous skater."
Henry Dingman has been skating for seven and a half years now. His family moved from Cascade, Idaho, to McCall when he was about 7 for better medical care for his brother who has muscular dystrophy. That's where the family discovered an ice rink and Henry Dingman felt inspired by seeing male skaters, including Jeremy Abbott, in the rink's winter carnival ice show. Henry Dingman soon enrolled in Learn to Skate USA classes at age 8, found coach Lori Benton and the rest is history.
The high school sophomore is wise beyond his 15 years and uses the media attention he's received as a platform to create awareness and inspire others.
"As someone who is a person of color, who identifies as gay, who is a male figure skater, all those things can give just me alone so many stereotypes," he said. "I want to let people know that males can skate and that anyone can skate. You can do anything if you want to do it if you're committed, if you work hard for it, and honestly everyone should look at any new situation with an open heart."
Henry Dingman also doesn't want age or physical disability to be a barrier to pursue the sport.
"A life with regret is not a life worth living," he said. "Ignore the stereotypes of the sport. There's no point to be under the pressure of a stereotype in any way, shape, or form. That is definitely something that I've struggled with for a lot of years. I was harassed by the hockey players and I was harassed by kids in school. I eventually had to learn [to] have a lot of confidence in myself. I realized that I need to stop caring how other people think and just how I think of myself. If you can't love yourself, how are you going to love anyone else? Skating is honestly my escape from the real world and how I feel my feelings."
Henry Dingman has some experience with the U.S. Figure Skating Adaptive Program, which provides opportunities for individuals with physical and intellectual disabilities to learn how to skate. Especially since he has a brother who has muscular dystrophy, this is a cause close to his heart. He has interacted with adaptive skaters at his rink and plans to continue to do so.
That isn't the only way he wants to use his skating to brighten the day of someone going through an illness. He knows firsthand how the Make-A-Wish Foundation can mean the world to a child. His brother was granted a wish by the organization — the 2018 cruise that passed through the Yucatan.
"I've seen someone [who] got to meet the whole [Disney on Ice] 'Encanto' cast and it just makes that kid's dream come true," he said.
While Henry Dingman realizes competing in the Olympics isn't in his future like it was for Lang, his skating future looks very bright. He loves show skating more than anything and enjoys participating in his rink's annual winter carnival. He competes in national showcase and will also be entering U.S. Figure Skating's Excel Series with a novice-level free skate.
Henry Dingman, who uses his routines to express himself and cope with the stresses of adolescence, has mastered all his doubles except the double Axel and double flip and loves performing flashy, showstopping skills like the victory, hydro, Russian split and butterfly. He's in the process of adding the coveted backflip to his toolbox.
"I have to work on my core strength, and I've been having to do off ice," he explained. "We went to Boise to a gymnastics studio and to work with a gymnast."
His mom Sandee Dingman is confident he'll get it in no time.
"Figure skating was a good fit for him because he already had that athleticism and hand-eye coordination and body control and then you add into that the gymnastics and dancing and the musicality piece, and it was just a natural combination," she said of her son who used to play a variety of sports as a young boy.
She added that she uses the French phrase "Joie de vivre," which means "joy of life," to describe her son's personality and finds that it translates to his skating.
Henry Dingman plans to turn pro after graduating high school and would love to join a touring production of Disney on Ice, Holiday on Ice or Cirque du Soleil.
"When I was younger, the idea of all of my favorite Disney characters coming to life on ice and doing what I love, that was something that I was definitely very intrigued by," he said.
When thinking ahead to the roles he might be cast for, it all comes full circle back to his Native American heritage.
"From a show skating perspective, Henry's genetics lend him a look that's highly adaptable. He can portray any number of characters that are brown with black hair. He can be Black Panther, which is African origin, he can be Aladdin, which is Middle Eastern origin, he can be Coco of Mexican origin, or one of the characters from 'Encanto,'" Sandee Dingman said. "It gives him a versatility for sure, so that's kind of cool."