National Get Up Day is Feb. 1. Through the month of February, U.S. Figure Skating will be featuring its eight Get Up ambassadors. The following story appeared in the February issue of SKATING magazine.
By Ed Rabinowitz
Anya Ramrakhiani, now 19, was determined to land her jumps consistently. And being highly competitive, she became frustrated when perfection was not achieved.
Then she noticed that many of the girls at skating camp who were more advanced were also smaller than she was.
"I made the connection that because they were smaller, they were able to land their jumps," Ramrakhiani says. "So I decided to start restricting my food intake."
It was a decision that took her down an unhealthy path.
Ramrakhiani was 8 years old when her mother signed her up for Learn to Skate USA classes at the Fort Wayne Ice Skating Club in Indiana. She progressed from the bridge Aspire program to the Academy program, and in addition to the thrill of practicing new moves and choreographing new programs, she relished the relationships she built.
"I went to a very small school, so when I went skating I met a lot of other kids from the public schools and got to hang out with them," she says. "The friendships I developed were what kept bringing me back."
But when Ramrakhiani saw some of her older friends having to compete in nonqualifying versus qualifying events because they had not yet moved from the juvenile to the intermediate level, her competitive and perfectionist nature took over.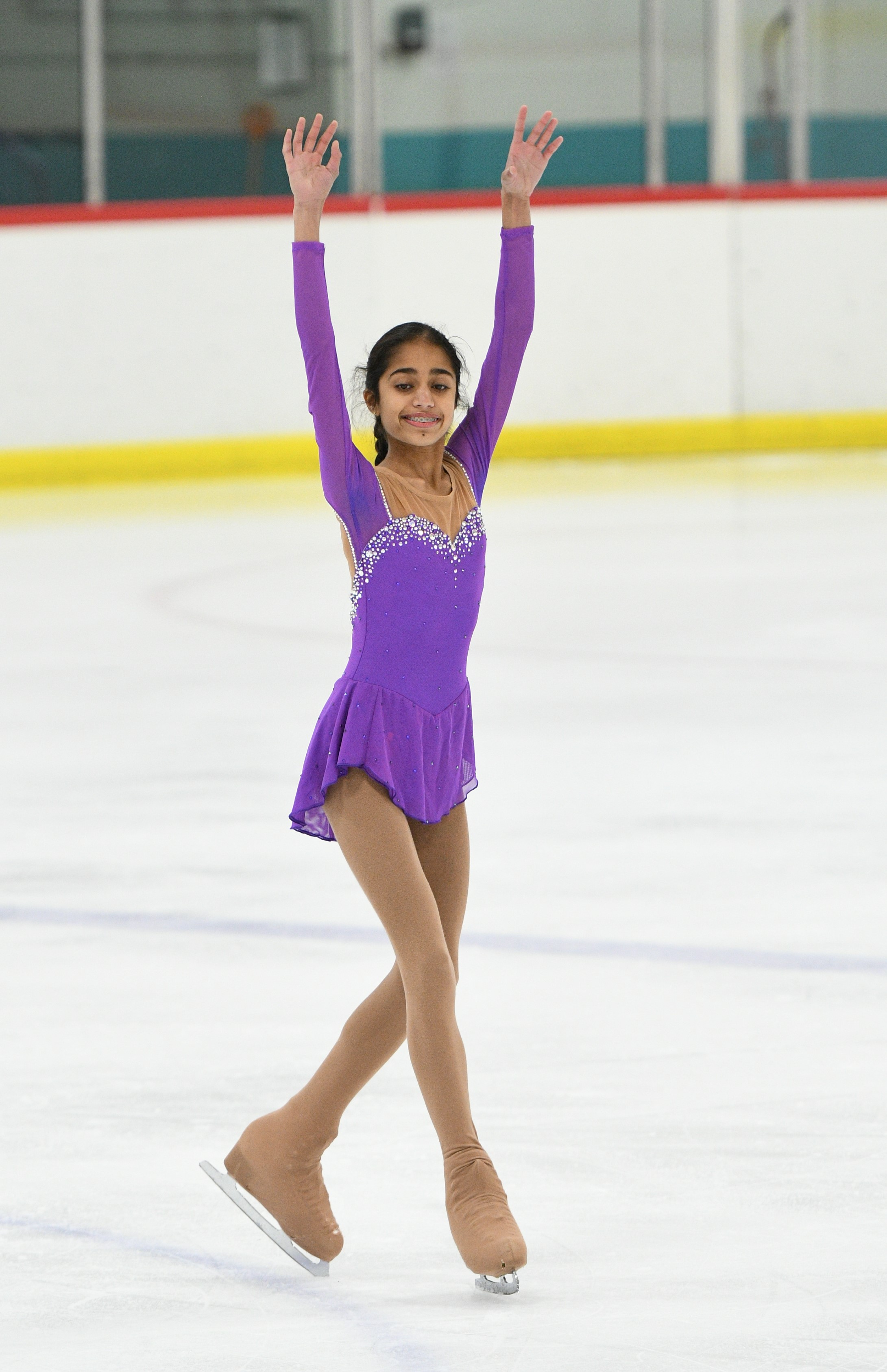 "I didn't want to be stuck if I wasn't able to move up from the juvenile level," she says. That's when she developed the mindset that being lighter would make her a better skater. "I didn't realize that it was technique and not weight that was affecting my program."
Ramrakhiani fell into an unhealthy cycle. At dinner she stopped eating foods that she loved. She says it became a game, where she told herself that if she ate less, she won the game.
Until she began feeling exhausted on the ice even before starting her program.
"I was consumed by my disorder," she says. "I realized something was wrong but didn't know how to fix it."
Her coach noticed the substantial weight loss, spoke with Ramrakhiani and her parents, and sessions with a counselor and a registered dietitian were initiated.
"Anya was driven to be perfect in all things," says Linda Smith, MS, NCC, CCMHC, LMHC, LMFT, CEDS, principal at L. Smith Counseling, LLC. "But once I introduced to her that making a mistake could be her greatest teacher, she became much less rigid. And she recognized that she wasn't going to be able to participate in anything unless she was able to reclaim her life in a very healthy way."
Before the counseling sessions, if Ramrakhiani fell on the first jump while practicing her program, she immediately thought the entire program would be bad. But counseling helped her develop a new mindset. She recognized that one fall wasn't going to ruin the program unless she allowed it to.
"Now if I fall on a jump, I get up and focus on the next jump," she says. "Focus on what I can change in the moment."
Ramrakhiani also engaged a registered dietitian, Ann Reidenbach, MPH, RD, to help in her recovery. Smith, her counselor, noticed the improvement.
"Now that she's eating properly she has her strength back, and there's much less rigidity and much more elasticity in that beautiful brain of hers," Smith says. "She can make better choices. And she's been able to reclaim her life in a healthy way."
"My team showed me the way out of my eating disorder that consumed my life, giving me the hope that I could come out the other side," Ramrakhiani said.
That kind of collaboration is always encouraged, Dr. Gretchen Mohney, director of medical and performance services at U.S. Figure Skating, says.
Ramrakhiani has taken the lessons learned and applied them to multiple aspects of her life, including cross-country running, playing the violin and schoolwork. Now, if she takes the first mile of a race too fast, she knows she can make adjustments for the remainder of the run.
Similarly, she no longer gets mad at herself if she makes a mistake on a math exam.
"I've realized that it's OK, that I know the material but in that moment I made a mistake," Ramrakhiani says. "I learn from it and stay focused."
Staying focused has helped her earn early acceptance from Dartmouth College in New Hampshire, where she hopes to continue skating.
"I still have my junior and senior moves in the field to finish off and get my gold medalist jacket," she explains. "But in college I hope to join a skating team or club. And I was thinking of trying synchronized skating, because I really like the footwork."
Editor's note: If you or anyone you know is struggling with their mental health, reach out to your primary care physician, school counselor, National Eating Disorder Association or National Alliance on Mental Illness to seek referral.