Photo courtesy of Cynthia Slawter Photography
By: Kama Stigall
When Natalie Tan stepped onto the ice at the 2022 National Solo Dance Final in Santa Clarita, California, it had been six years since her last competition.
"I had not competed in quite a long time," Natalie Tan said. "I had learned over the years how to handle pressure better and to harness that nervous energy. However, it all becomes a blur once you get on the ice."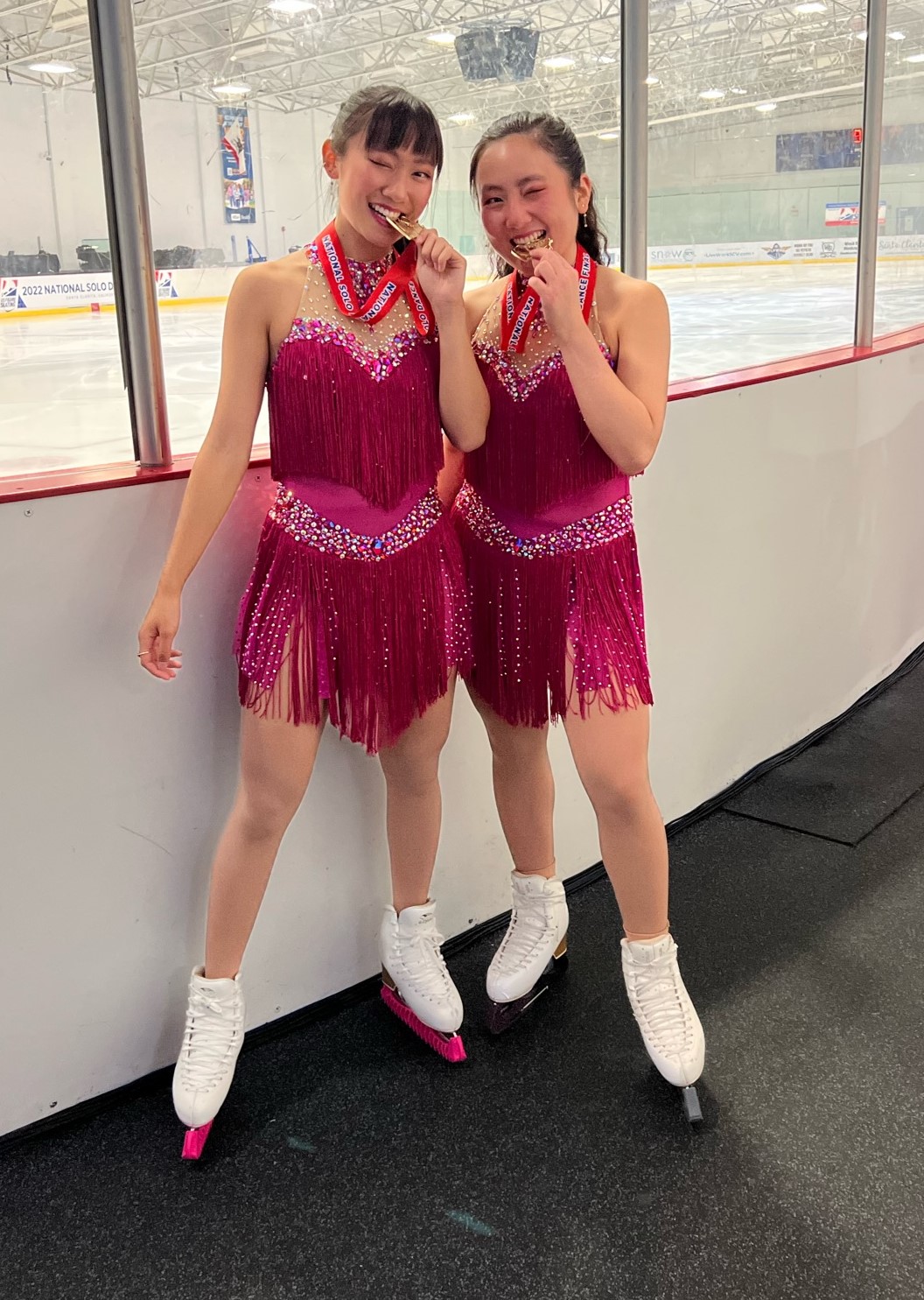 Luckily, she wasn't alone. Tan competes with her younger sister, Chiara Tan, in the shadow dance division. It was their special connection and tenacity that carried them to the top spot in Santa Clarita. The sisters, who compete on behalf of the Skating Club of New York, won the gold medal with a total of 41.05 points.
In shadow dance, two ice dancers perform a pattern dance side-by-side and are judged on their unison, how they mirror each other and distancing.
"Shadow dance is a good way to be able to work with someone," Chiara Tan said. "It also offers a whole other opportunity outside of solo dance to compete."
For Natalie Tan, shadow dance is a chance to challenge herself. 
"When you are trying to do an element with someone else, it's a totally different experience," Natalie Tan said. "Solo dance has a lot of pressure, but shadow dance is the perfect balance."
Both sisters have previously competed in numerous solo dance competitions. Chiara Tan has won several medals at the national level in solo dance. She also competes for the Boston University Figure Skating Club, which won gold at the 2022 National Intercollegiate Final in April.
For their winning program, the team skated to "Straight to Memphis" by Club des Belugas, a tribute to African-American performers of the last century.  
"We were definitely shocked when we won," Natalie Tan said. "We didn't know how to gauge how everyone was doing because we had only competed alone throughout the season. We've both been the sport for so long, and it's nice to have something material to represent our time spent in the sport. It feels like we can give something back to the sport." 
They credit their coach, Joel Dear, with taking their performance skills to a deeper level.
"Working with Joel has helped us improve so much," Natalie Tan said. "We are able to feel ourselves much more while skating."
In addition to their skating success, the sisters are quite accomplished off the ice. Chiara Tan is a violin performance student at the prestigious Boston University School of Music.
"It's a super rigorous schedule," Chiara Tan said. "People are shocked when I tell them I am both a full-time music student and athlete. It's just not done very often."
Natalie Tan is in her second year of medical school at the Albert Einstein College of Medicine in the Bronx.
"I feel like I live two lives," she said. "In the mornings, I will start skating around 5:15 a.m. or 5:30 a.m. and end around 7:30 a.m. The rest of my day is spent studying. Compartmentalizing is an important part of my life."
Though skating with a sibling can be challenging at times, it is also one of the sisters' greatest strengths as a team.
"If you have ever worked on a group project with a best friend, you understand," Natalie Tan said. "You have a mutual understanding and respect for each other and can put aside any hard feelings. We are in alignment when it comes to our goals and know what's attainable."
Figure skating has provided an important foundation for the sisters, and they find themselves drawing upon this knowledge off the ice as well.
"It has taught me how to maintain a calm mindset, and I have applied those skills to everything in my life," Chiara Tan said. "Skating has also taught me that there's no 'end' to practicing because there are so many new things that you discover everyday and that you always can find something to work on. It gives me motivation to get better."  
And perhaps more importantly, the sport has given them a healthy perspective.
"Our violin teacher always likes to tell us to never say 'good luck,'" Natalie Tan said. "You prepare as much as you can and push yourself hard every day. It's a mindset to have in every single part of your life. It takes away so much pressure from trying to be perfect because you've already done the work. Go do it."