By Lois Elfman
February is Black History Month, a time to celebrate the outstanding accomplishments of African Americans in every imaginable field — from politicians to scientists to artists to athletes.
For Black History Month 2022, we spoke with four adult skaters; each has a different connection with the sport, but they are unified by their love of performing and competing.
"Adult skating is growing globally," Karissa Williams said. "I've been blessed to meet a lot of people in the adult skating world, a lot of adult skaters of color.
"With adult skating becoming more popular and growing, you do see more people of color coming into it. My hope is they're able to continue increasing their skills so we can see more higher-level skaters of color at the gold and masters levels. That's what I hope to see as the sport continues to grow."
History Maker
Larry Holliday
A competitive skater since his youth, Chicago native Larry Holliday competed several times at the U.S. Championships, including at the senior level. He recalled his years as a national competitor as a wonderful time in his life.
"I had so many great experiences, and I met so many amazing people," said Holliday, who toward the end of his competitive days had supportive sponsors. "If anything may have been a disappointment, it was the injuries that I had. Around 1991 is when they started. I'm going to attribute that to the elimination of school figures."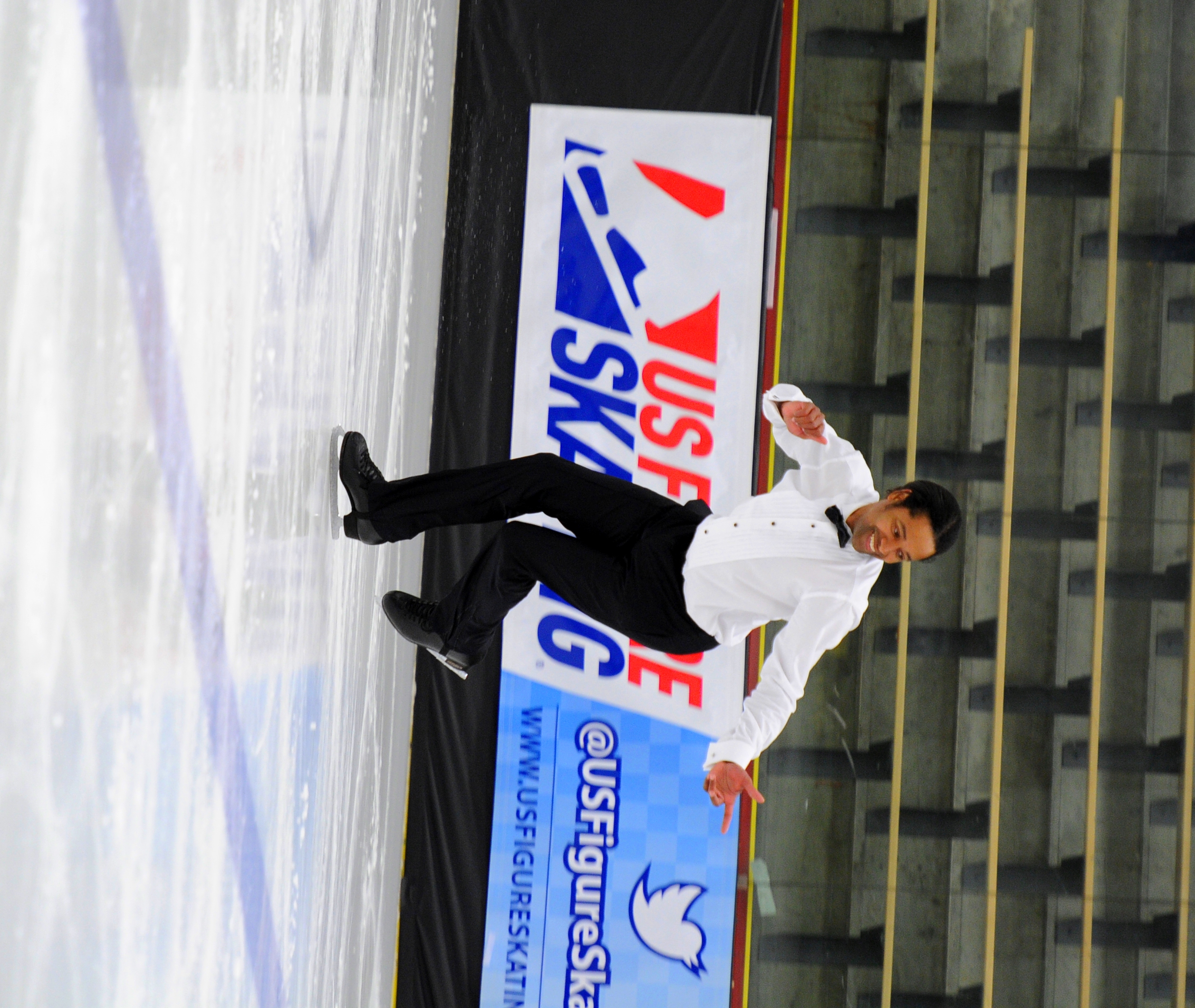 About a year after the elimination of compulsory figures and no longer doing 60 to 90 minutes of patch at the start of each day's training, his injuries started. At his last U.S. Championships in 1994, Holliday was forced to withdraw after the short program due to painful knee problems.
His love of skating, though, never diminished. In 1997, Holliday was competing at the U.S. Open when he suffered a devastating injury, ripping his patellar tendon off the bone while doing a triple Salchow. His recovery from the surgery took two years, and he believed he would never skate again. Even as he began to regain his strength, the very thought of jumping gave him panic attacks. In time, that faded, and by 2001 he regained his jumps, including the triple Salchow.
"For me, it was all about going out to perform," Holliday said. "It was an excitement. I never lost the love for skating or competing, I just didn't think there was an outlet to do it.
"Then I realized there are the adult competitions. It excited me that there was an outlet where I could actually perform before an audience and give an audience something to cheer for and make them feel a certain way."
He actually felt in better shape after his knee surgery, which alleviated the pain that had plagued him in his 20s. At age 37, Holliday made history at the 2002 U.S. Adult Figure Skating Championships, becoming the first competitor to land a triple jump in adult competition.
"When I landed that first triple at adult nationals, I was exhilarated," he said. "It was pretty consistent, so I had a feeling I would land it, but the ice is slippery; things happen."
He knew this was a masters event, so he felt the sky was the limit. Holliday didn't realize that first triple would be such a big thing, but people still talk to him about it 20 years later.
The competitive categories were subsequently revised, and skaters with experience at the junior and senior levels compete separately from those with intermediate- and novice-level experience.
Since that remarkable first title, Holliday, now 57, has competed at the Adult Championships 11 more times, winning 11 medals total (only in 2013 did he finish off the podium). "I never lost that desire to perform," he said.
He has witnessed the level of adult competition rise, and in 2021 Michael Solonoski landed five clean triples in his program. Although switching to the international judging system was not without glitches, Holliday feels that change has elevated the level of skating, noting the intricate footwork sequences now being performed.
"I love how we have to do that in order to get the points," he said.
Sometimes, Holliday, who coaches, has had his skaters come to see him compete. Competing helps inform and fuel his coaching.
"When you coach and you don't continue to compete and perform, you kind of forget what they're going through," he said. "It helped me coach in a more caring way."
Nowadays, Holliday coaches part-time. He works for Hertz, and when the pandemic hit, things went into overdrive. Despite the company's financial woes, it remains busy with a lot of cars in the inventory being sold.
He hopes to start spending more time at the rink, both coaching and training, so he can return to competition. It shows other African American skaters that this is a sport for everyone, and lets all skaters know that you're never too old.
"When [young skaters] see me going out at my age, they get a kick out of it," Holliday said. "I'll do a double flip and challenge them to do it. They've told me I inspire them. It helps them wake up in the morning, thinking, 'Larry's getting up, we should be able to do this, too.'"
Finding Her Passion
Arlanna Moshfeghi
Dr. Arlanna Moshfeghi is a pediatric ophthalmologist at Children's Hospital of Los Angeles, focusing on the medical and surgical diseases of the eye in children. Prior to age 40, she had never skated. She considered herself tall, lanky and nonathletic, but something magical happened. Skating showed Moshfeghi, now 47, that she actually has the spirit and grace of a dancer, and she is pretty athletic.
She's intrigued by stories of former skaters who went to college and medical school in their 20s and 30s. Moshfeghi sees herself as the reverse. She was totally focused on her education and becoming a doctor when she was young, and then discovered her passion for skating at a later age. While former skaters found themselves in classrooms with teenagers, Moshfeghi found herself on the ice with children.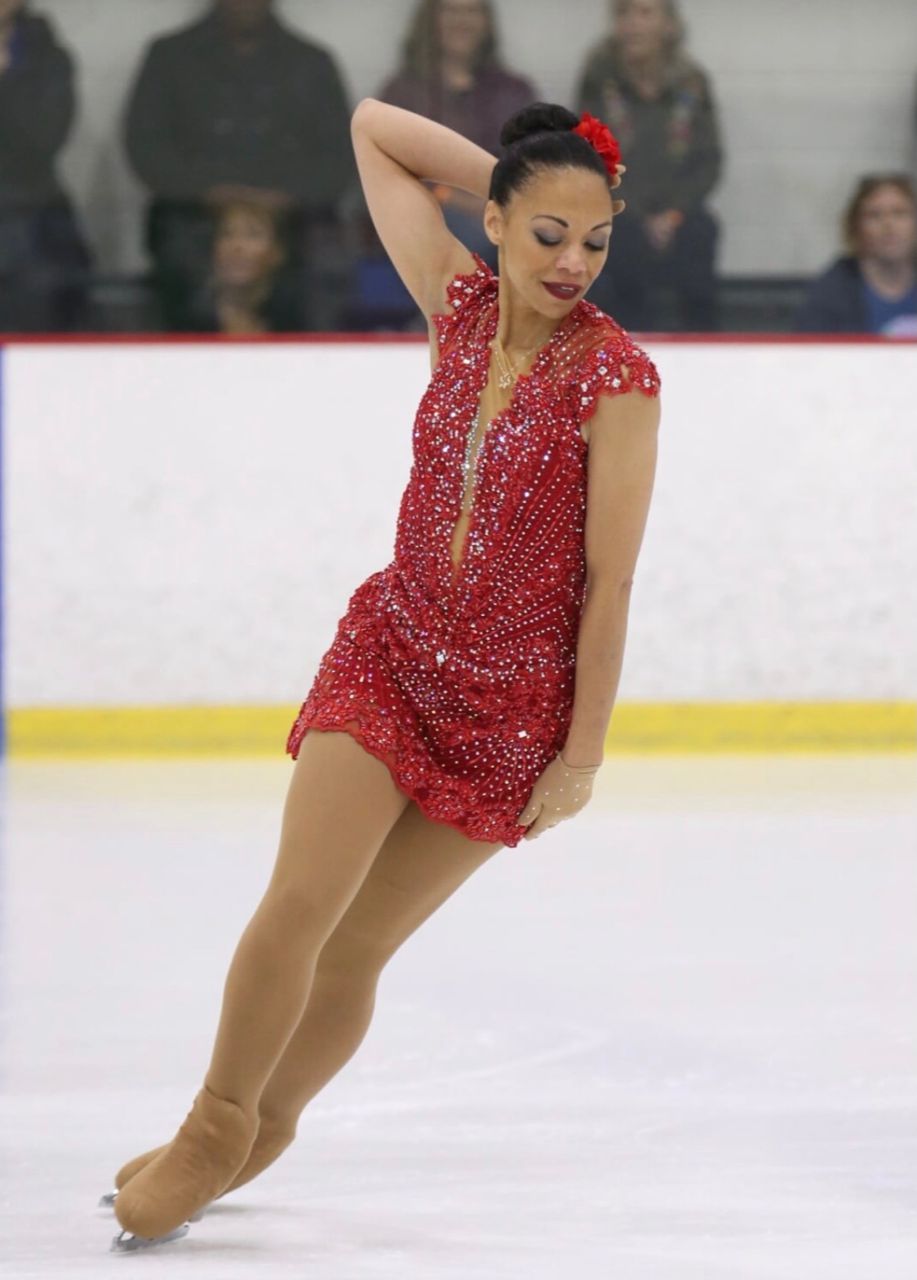 "There is a huge level of courage that most people do not possess to go out and do something they want to do, humble themselves and start at the beginning when they're not on the appropriate time scale," she said.
The first time Moshfeghi ever watched skating was during the 1994 Olympic Winter Games, and the person who stood out to her was Oksana Baiul. She was mesmerized by how in tune Baiul was with the music, not a second of her programs wasted.
When Moshfeghi was 40, for the first time in her life, she was waiting for a job to start and there was a void usually occupied by work.
"I started thinking about Oksana Baiul, her movement and her connection to music and how precious that was to me," she said. "I remember googling ice skating rinks. There was one nearby. I emailed the coaches there. A coach responded to me."
When the coach mentioned that some adults compete, a light went on for Moshfeghi.
"From that moment forward, I knew that figure skating and combining body movement with music and sharing that with people were going to be a huge part of my life," she said.
Her first steps on the ice were in Lexington, Kentucky. A few months later she, her husband and two children moved to Pasadena, California. There she found long-term coaches at the Pasadena Ice Skating Center and began seriously studying the sport. For a while she worked with Natasha Adler DeGuzman, who taught Moshfeghi crossovers, to have confidence in herself and to feel a sense of belonging in skating. After Adler DeGuzman moved away, she started working with a coaching team of Naomi Poor, Peter Kongkasem and Themi Leftheris.
"I'm a really timid individual, but I loved the ice so much I couldn't help but interact with other adult skaters," Moshfeghi said. "Skating is hard, so it's nice to have someone there to encourage you to keep going."
Over her first few months in Pasadena, she started getting the phone numbers of other adult skaters who skated in her rink. She became the adult skating committee chair of the Pasadena FSC, and she helped put together an adult skating party, which was held at her house.
"Adult skaters may come and go, but there's always this common core of togetherness," she said.
Once she started competing, she found an encouraging community. California has a big adult competition called Mid-Winter Warmup. From competing at that event, sectionals and one trip to the U.S. Adult Championships, Moshfeghi has met so many people.
"The circle goes round and round, and it's just so powerful. I can't turn my back on it," she said.
Moshfeghi likes to skate five days a week, usually first thing in the morning on a freestyle session. If she has time in the afternoon, she may return to the rink and skate on a public session. Sometimes, she'll talk about skating to her patients to put them at ease or forge a connection. Unfortunately, her children, ages 10 and 12, aren't into being in a cold ice rink.
A perfectionist her whole life, Moshfeghi admitted that she initially brought her perfectionism from medicine into figure skating. When a knee injury and then the pandemic forced her off the ice, she took time to work on her mental health and focus on herself.
"I have made skating my happy place," she said. "I can care about what the music is asking me to do. I can care what my coaches' comments are on something I'm doing. … Skating has become my place. It's the place I can focus on me and what's important to me."
Love Connection
Christopher Williams
Dr. Christopher S. Williams, 58, a pediatrician, has been skating much of his life. His connection with the ice began as a child in North Minneapolis, Minnesota, where his parents gave him skates and skating lessons for Christmas. Initially, he thought it would be his entry to hockey, but watching amazing figure skaters on ABC's "Wide World of Sports" was so inspiring, he ended up doing both.
"I did both the figure skating and hockey through high school," Williams said. "I can't say that at that time I mastered either, but I enjoyed both."
Part of what kept him from achieving his figure skating potential was that he "skated on a budget." He did a lot of skating on public sessions and got only the occasional private lesson, but he made the best of what he had. As a physician in practice for 29 years, he is able to live out those dreams.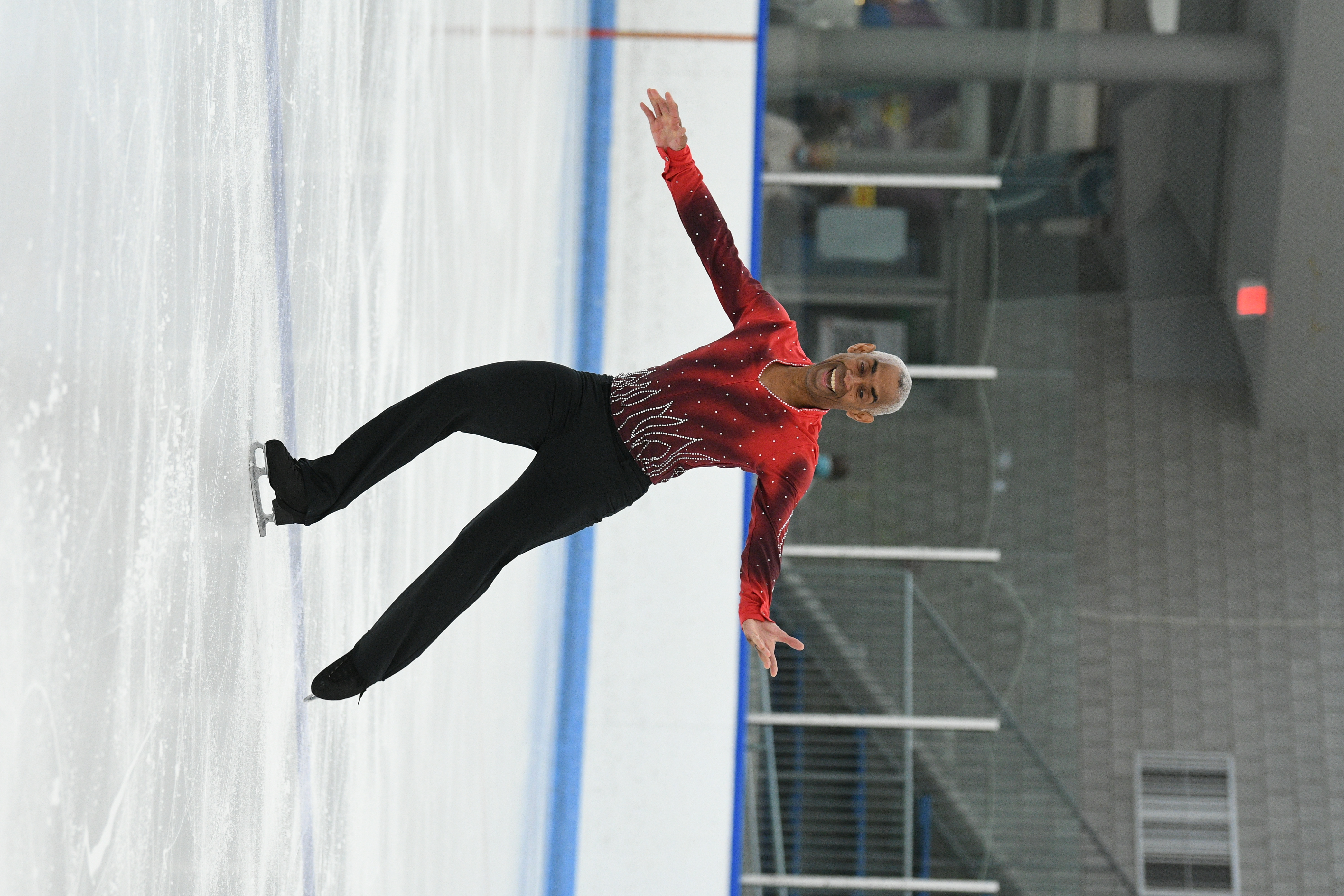 In college at Northwestern University, he played on the club hockey team for four years. When he returned to Minnesota for medical school, he helped create a hockey program for low-income youth that still exists in the neighborhood where he grew up.
After residency, he moved to Detroit and began teaching skating and hockey with a community group at an outdoor rink. He gradually resumed his own skating, even taking lessons at a rink a few blocks from where he worked. His coach talked him into testing and trying some adult competitions. He made his debut at the U.S. Adult Figure Skating Championships in 2001 and has returned every year since.
Skating gives him something to focus on, helps him stay in shape and gives him an artistic outlet. As much as he loves practicing medicine, he has always wanted something additional to keep him inspired. He sets goals for his skating, such as developing interesting programs for competition.
"The music is the most important element and it needs the most attention," said Williams, who lives in Minnesota. "Over the years, I have skated to classical music, big band, jazz, R&B and even James Brown. The last few seasons I've skated to an original composition based on the Negro spiritual 'I Want Jesus to Walk with Me.' I enjoy taking music that is not often heard at ice rinks and doing programs that are not the style many are used to seeing.
"I represent my whole self; that's the fun of skating. I was sitting in church and daydreaming, and the pianist started playing 'I Want Jesus to Walk with Me,' and he played several variations of it. I pictured the skating that I would do with it. The whole concept."
He worked with the pianist to create a piece usable for a skating program.
The sport provides a sense of community, which Williams realized the first time he went to the U.S. Adult Championships. "Sort of like having a skating family," he said. "We welcome the new people coming in."
Skating even brought about a love match. Williams met his wife of 10 years, Andrijana, at the 2009 ISU adult competition in Oberstdorf, Germany. Their son Marko, 9, is into hockey, and Williams coaches Marko's team. Son Lazar, 6, likes to fly around the rink and will soon be learning how to safely stop. They can work on that skating skill in the backyard rink that Williams creates each winter Williams also has an older son, Hugh, 25, an MIT graduate, who loves dance and music, but was never into skating.
Williams obviously also skates indoors, usually two mornings and two lunchtimes a week. When he skates the midday session, he often has the ice to himself. While the extra space is nice, he misses having someone to skate with.
"It's nice to have someone else on the ice to help set the pace," Williams said. "We motivate each other."
There aren't many skaters of color in the Twin Cities, but whenever Williams encounters someone, he tries to encourage them. He has worked with Brownbody — an arts organization founded by Deneane Richburg — and attended the group's Learn to Skate USA sessions to encourage the participants. Recently, several other Black skaters joined them.
"It was so nice to have us all together," Williams said. "In Minnesota, we don't get that very often."
Heart of a Champion
Karissa Williams
When asked what she loves about skating, Karissa Williams said, "The spiritual freedom."
"When I'm on the ice, I feel free. I can be my true self," she said.
Williams' first time entering the U.S. Adult Championships was in 2007, shortly before her graduation from the University of Michigan. Needless to say, it was a hectic time in her life and there was little room in her packed schedule for training and preparation.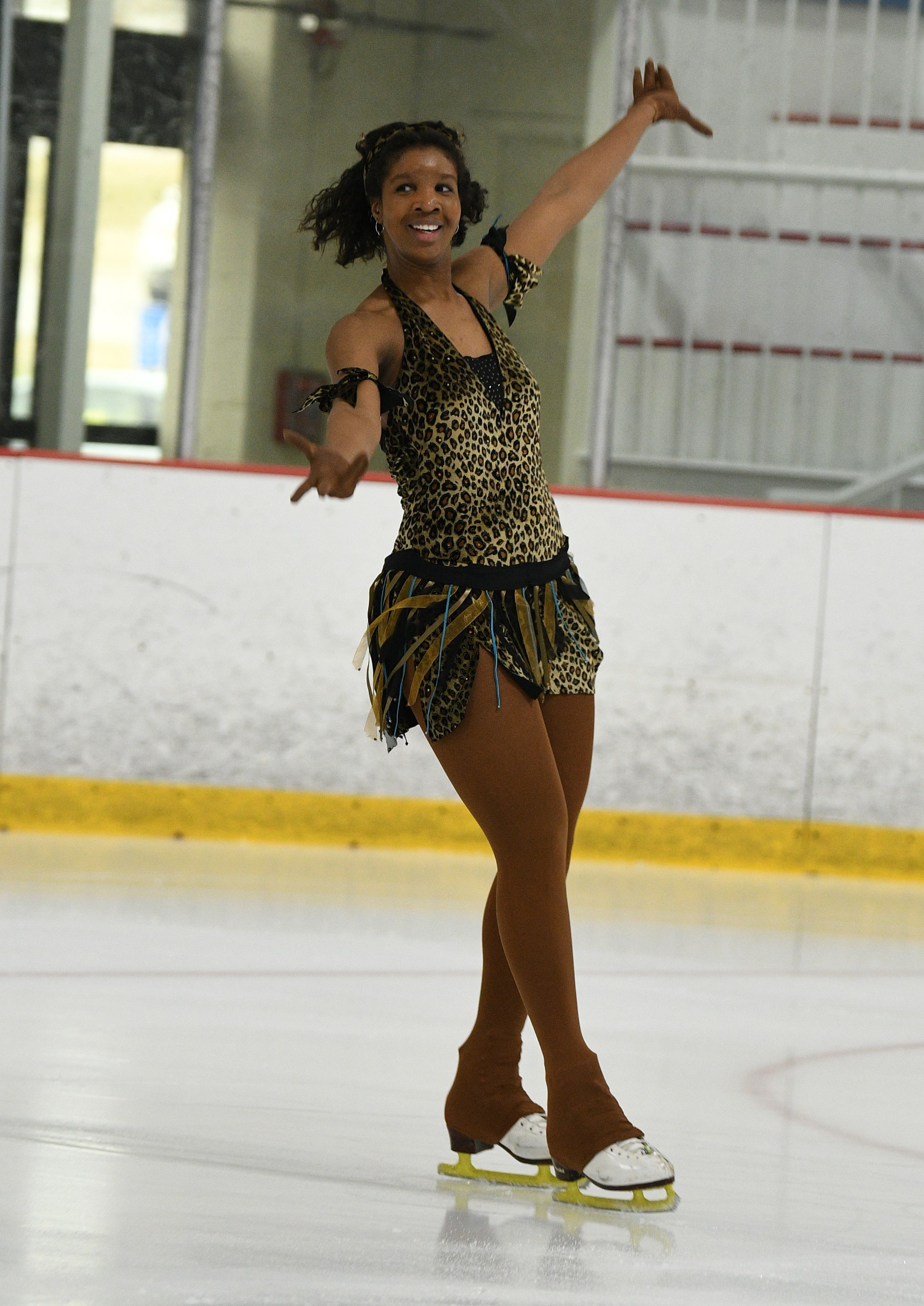 The masters level, at that time, included anyone who'd passed the intermediate through senior level tests, making it that much more daunting. Williams had skated since childhood, but growing up with a single mother in the metro Atlanta area, she couldn't afford the amount of coaching necessary to reach the elite levels. Despite the constraints, Williams set goals for herself to improve.
"The sport became my life," Williams recalled. "Although I did have private lessons, I mostly learned by watching other skaters and coaches, then trying new moves on my own and presenting those moves to my coaches.
"I felt a sense of pride as a figure skater, but I also understood the burdens of being the only Black person on the ice or in the skating club."
After moving to a new rink, Williams found a few other Black skaters, but the number was still small. She began coaching at age 15 to earn money for skating, but despite her best efforts she was not able to advance past the South Atlantic Regional Championships.
"This fueled me to continue my skating beyond my high school years, into college and as an adult," she said.
Williams applied to both the University of Michigan and Michigan State University because they had competitive skating teams. After being accepted at both, she chose the University of Michigan.
She tried out for Michigan's freestyle and synchronized skating teams. Although she made both, she chose freestyle. Despite some negative treatment from her teammates, Williams skated for Michigan all her years as an undergraduate but switched her focus to the Adult Championships her senior year.
Remaining in Michigan after graduation, where she still lives, Williams continued to train. Once the masters group was split into intermediate/novice and junior/senior, her chance to excel increased. In 2009, she qualified for the championship level at nationals.
"I was very proud of myself because I was coaching at different rinks, working odd jobs, skating on my own, coaching myself and running through my programs on public sessions with headphones," she said.
When the stress became too much, Williams, who coaches skating full time and is also an event planner, stepped away from adult competition. She resumed training in 2015, not only qualifying for the championship events at the U.S. Adult Championships, but capturing a pewter medal in 2016.
"Then came the silver medal in 2017, and in 2018 I won the championship masters intermediate-novice event," Williams said. "This made me only the third Black skater (after Larry Holliday and Christopher Williams) and the first Black woman to win a national championship for adult skating in U.S. Figure Skating history."
Her students are inspired by seeing her skate, and by continuing to train and compete, she acquires knowledge and information that she shares with them. This includes everything from skating history to competitive options, such as synchronized skating and showcase, to technical information to how to build a competitive mindset.
"I don't want to see anyone leave the sport because they didn't have the information they needed," Williams said. "I want to make sure they have the knowledge and they can take that and do whatever is best for them to do."
She is excited by all her students, but she definitely feels a distinct connection with young skaters of color and tries to motivate them with her outlook and positive attitude, making sure they know skating is fun. The sense of community among those in the adult skating world makes it that much more special.
Injuries and the pandemic have slowed down her training, but as she has slowly returned she has embraced compulsory figures and inline skating outdoors.
"I'm finding there are so many amazing things I can do with the sport and pass down to my students," said Williams, who plans to return to competition. "The pandemic forced me to reach out to so many others like me in the sport that were looking for inspiration to skate, and I'm glad I was able to do that."
Being present as a Black female trailblazer in skating makes her proud.
"Even when I'm having a less-than-good day, I keep in mind that any struggles or challenges I'm facing today are things that the next generation of skaters who look like me won't have to face," she said. "That keeps me going in the sport."