By Harry Thompson
Good things come to those who wait, and for the skating community in Reno, Nevada, that waited more than a decade for a new rink, it was more than worth it.
As the Reno Ice – Jennifer M. O'Neill Community Ice Arena celebrated its second anniversary in January, Joanie Malarchuk is already counting the days until the facility can add a second sheet of ice to accommodate the growing interest of aspiring figure skaters, hockey players, curlers and others.
Malarchuk, the skating director at the facility, says things are busting at the seams as more skaters of all ages flood the ice from the early morning until midnight seven days a week.
"We have about 500 in our Learn to Skate USA program, and we probably have that or more in the hockey program," says Malarchuk, who has called northern Nevada home for nearly 20 years.
"We're doing a pretty good job of retaining them. You lose a lot because at some point it's just not their thing. They want to ski, or they want to just be a public skater and have fun with it. But we seem to be retaining a lot of them."
Before Reno Ice opened its doors in January 2021, locals involved in ice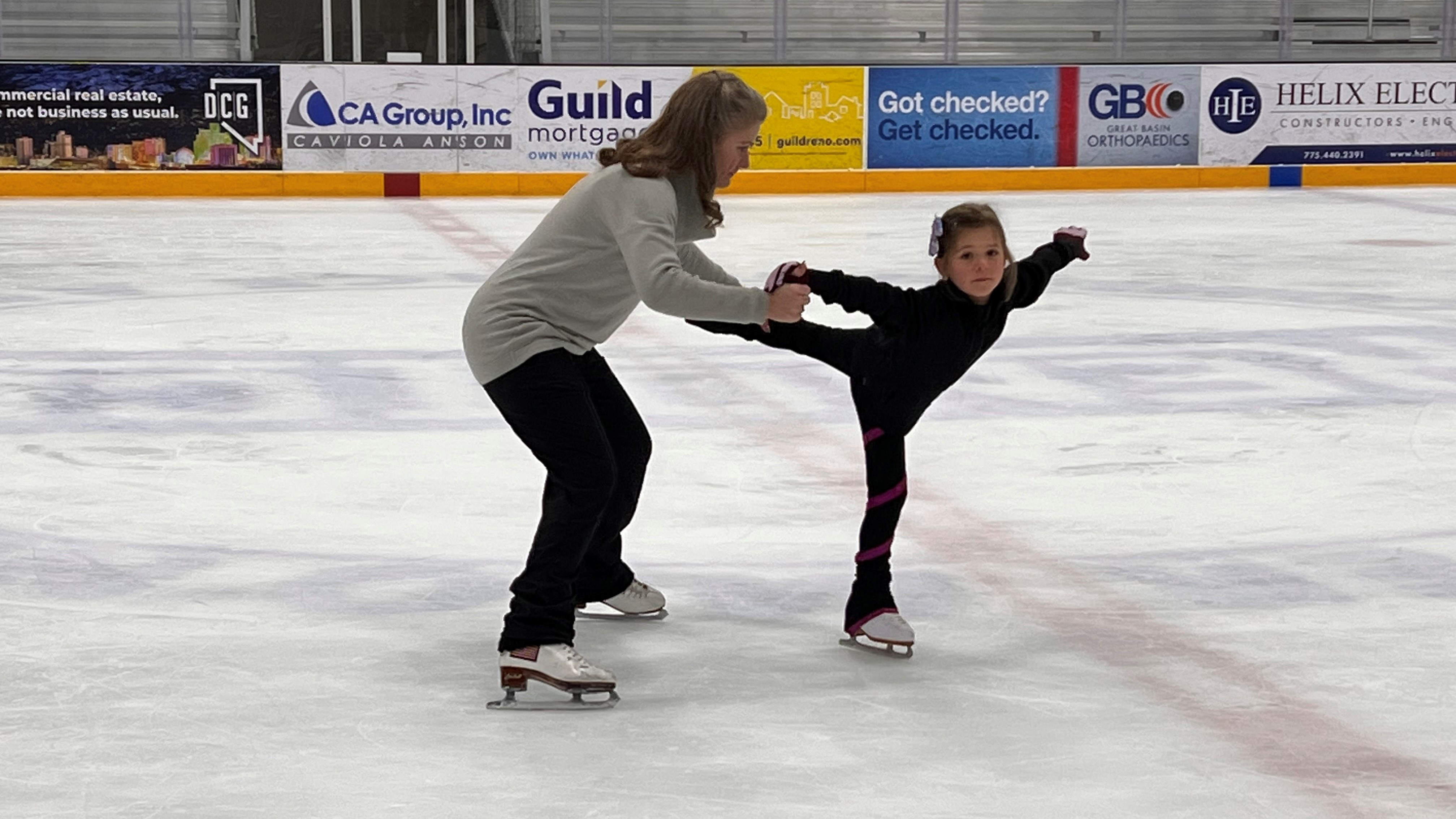 sports had to make an hour-long commute to Lake Tahoe to find the nearest rink.
With growth comes the typical growing pains. There are not enough hours of ice time in the day or enough coaches to help teach aspiring young skaters as they progress from the Learn to Skate USA curriculum and want to take their skating to another level. There's also a flourishing youth hockey program and a semi-pro adult team, the Reno Ice Raiders, vying for their share of the ice. 
Malarchuk does what she can by providing lessons when she can while also building up a talented staff that includes Laura Galindo-Black, the older sister of 1996 U.S. champion Rudy Galindo.
"We've got people asking for lessons and we're starting to run into the problem where we don't have enough people and enough time to teach them all," says Malarchuk, who also teaches power skating to local hockey players.
"We're building and we're still adjusting everything as it goes. We're changing the program to fit the community. As the kids grow and get better, we're going to change our program to suit their needs."
To spur the growth, Malarchuk is tapping into the relationships she's made during 37 years of skating that started under the tutelage of legendary coach John Nicks in California. After her competitive career ended, Malarchuk worked as a coach in Minnesota before settling in northern Nevada with her husband Clint, a former NHL goaltender.
"We just had a good group of coaches. Everybody worked together and everybody fed off each other. Everybody helped each other out," Malarchuk says of her days in California.
"So that's my goal for this rink. And it's funny because all my connections when I was younger, everybody I knew, it's kind of coming full circle and I'm hoping to build the same program here."
As Malarchuk ticks off the names of some of the legends of U.S. Figure Skating that she shared the ice with, people like Tai Babilonia and Randy Gardner, Mark Cockrell, Rudy Galindo and Kristi Yamaguchi, she looks forward to the day when a young skater from Reno makes his or her mark on the international stage. Having a place they can call home is a big first step, adding a second ice sheet will be another. After that it's only a matter of time.
"My goal as the figure skating director is to get somebody from our rink that makes it to sectionals and the U.S. Championships," she says. "That's when people can say, 'Oh look, she came out of Reno.'"