Above: Photo by KrPhotogs Photography
By Jillian L. Martinez
Librarian. Minister. Queer. Three words you might not expect to describe one adult skater, but Rebecca Yowler is proud to show every part of herself.
Born and raised in rural Kentucky, Yowler began her ice skating journey as a college student at Transylvania University in Lexington, Kentucky. The small liberal arts college required students to complete two athletic credits to graduate. Yowler and a group of friends decided to enroll in figure skating lessons at the local ice rink to fulfill the requirement.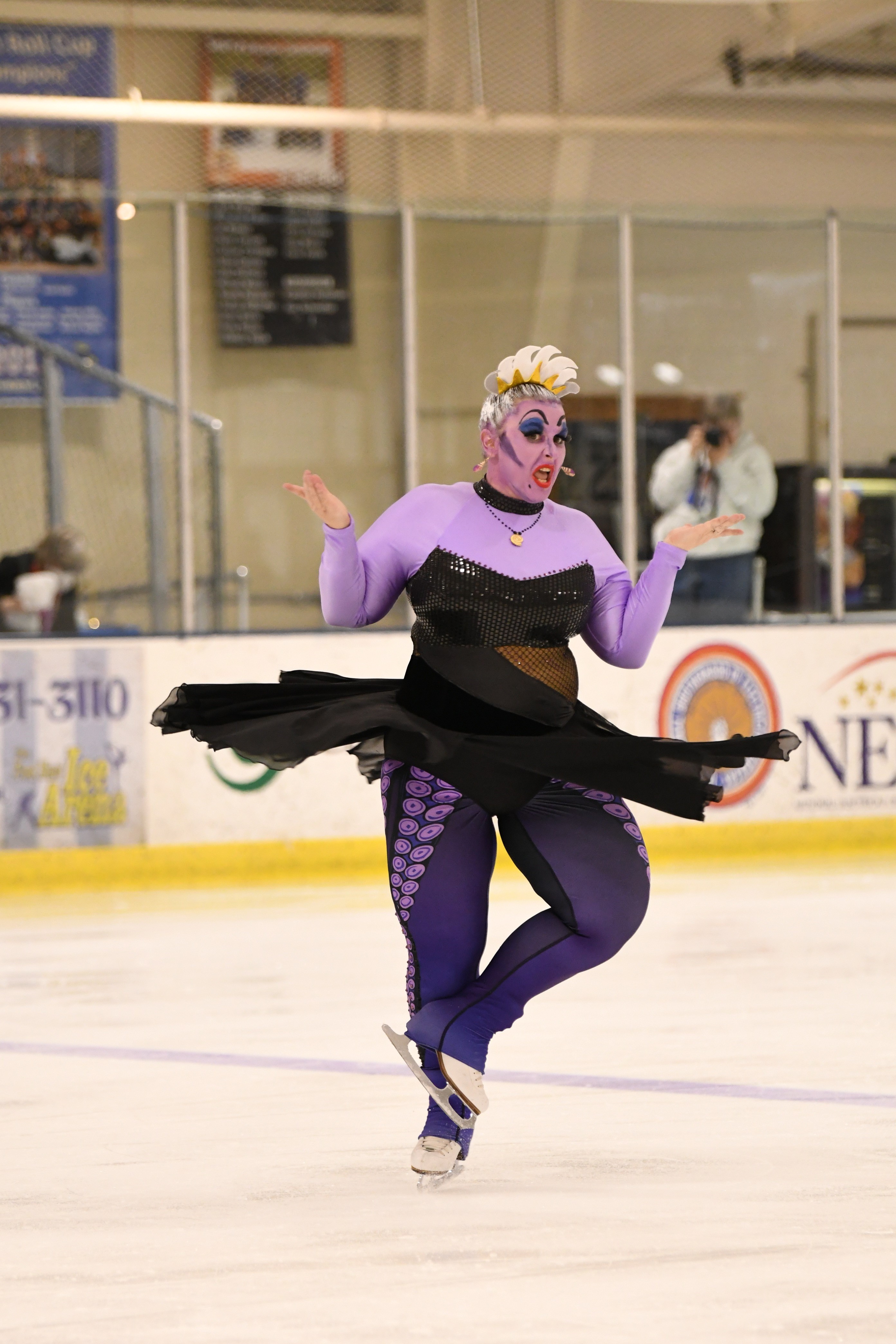 "I loved it [but] I was 19, it was the [early] 90s, and I couldn't compete as an adult with U.S. Figure Skating at the time," Yowler shared.
Adult tests were not introduced until the mid-1990s, and the first U.S. Adult Figure Skating Championships was not held until 1995. As a result, Yowler competed with the Ice Sports Industry (ISI) throughout college and, eventually, passed her first U.S. Figure Skating test in 2001.
Shortly after, Yowler decided to step away from skating to attend graduate school. Once she received her Master of Divinity and certificate in youth ministry, Yowler served as a youth minister in Indiana. Following her Christian Church (Disciples of Christ) ordination, Yowler served as a Director of Christian Education at a Methodist church in Illinois.
Unfortunately, the position ended in 2009 when Yowler was maliciously outed for being queer and, subsequently, fired.
"When I lost my job, I was doing a lot of trying to figure out what I wanted to do with my life. What else do you do when you get outed and fired for being who you are," Yowler chuckled.
Earlier in 2009, Yowler had rejoined ice skating at the insistence of a friend who recommended she join their local adult synchronized skating team. Despite not knowing what synchronized skating was, Yowler fell in love with the discipline and decided to also return to singles skating. After being fired, Yowler was also serving as a learn to skate instructor and coach at a number of ice rinks in an attempt to make ends meet.
"I remember driving to one of the rinks and thinking about what I liked best about college and Seminary. What I liked best was doing the research and being in the library," Yowler reflected. "Then, [on the radio], there was an advertisement that said, 'Our programming is brought to you by the School of Library and Information Science at Dominican University.' I thought that might be my sign."
After attending an information night at Dominican University, Yowler decided to pursue her Master of Library and Information Science degree and become a librarian. Now, Yowler serves as an Assistant Librarian for Research and Instruction at Knox College's Seymour Library in Galesburg, Illinois. She only preaches part-time.
"I don't hide that I am an ordained minister. I'm proud of it," Yowler shared. "A while back, someone locally was looking for someone to do a Good Friday service and help with Monday and Thursday services."
According to Yowler, there are many churches in Galesburg, and her return to preaching was a "happy accident." Before the pandemic, Yowler served as a pulpit supply preacher and filled in for other pastors as needed. Once establishments began reopening in 2021, Yowler was recommended to lead Sunday worship at a local retirement home.
"I went to meet with the residents and told them I'm gay. I needed them to know that. And, internally, I didn't want to go through what I went through again," Yowler explained, referring to the attack more than 10 years ago that caused her to lose her job. "They just shrugged and said it was OK."
While there has been limited overlap in Yowler's responsibilities as a librarian and a minister, she is thankful for the supportive LGBTQ community on Knox College's campus and in the large Galesburg community. Although there is no annual Pride parade, the small town hosts an annual Pride picnic.
"I feel very lucky to have landed here. It's very progressive."
In 2019, Yowler paid homage to activists Marsha P. Johnson and Sylvia Rivera, both of whom were trans women of color, and the 1969 Stonewall Riots in a special Pride Sunday sermon. In the sermon, Yowler recognized the 50th anniversary of Stonewall and the launch of the gay rights movement.
"It was a powerful moment to be able to stand in a pulpit wearing a gay pride stole and preaching a Pride sermon – especially as a queer woman who had once been outed and fired from ministry," Yowler said. "It was a real reclaiming, full-circle moment… What a difference 10 years makes."
As a queer minister, Yowler has used her position as an opportunity to stand up against those who have used religion as a means to harm the LGBTQ community. In all of her work, she emphasizes the importance of sharing how deserving of love and grace and special LGBTQ folks are. Beyond her community on campus and in town, Yowler has been embraced by the adult figure skating and adult synchronized skating network.
"Going to Adult Championships [for the first time] this year was a big goal, and it was so great to meet so many other adult skaters," expressed Yowler, who drives more than 40 minutes to the closest ice rink four times a week. "There is something special about Adult Championships. Everyone is there to cheer for one another. I had never felt so supported as I did there."
Yowler further believes U.S. Figure Skating visibly supporting LGBTQ athletes and uplifting their voices have been strong examples of allyship. Like many, Yowler appreciated the public announcement of U.S. Figure Skating supporting Timothy LeDuc as an openly non-binary athlete at the Winter Olympics and hopes it will encourage more skaters to be open about their identities.
"The more athletes at the higher levels who are willing to come out and willing to be a voice is where we have hope. People can see themselves in a Jason Brown, in an Amber Glenn, and in a Karina Manta. The more we celebrate LGBTQ people, the more opportunities up-and-coming skaters have to see themselves in the sport."