By Megan Sauer
Nearly every synchronized skater in the U.S. has made the annual pilgrimage to Michigan for the Dr. Porter Classic. During that first weekend in December, the Ann Arbor Ice Cube fills with over 1,000 athletes and fans, who sit shoulder to shoulder and cheer on teams from around the country.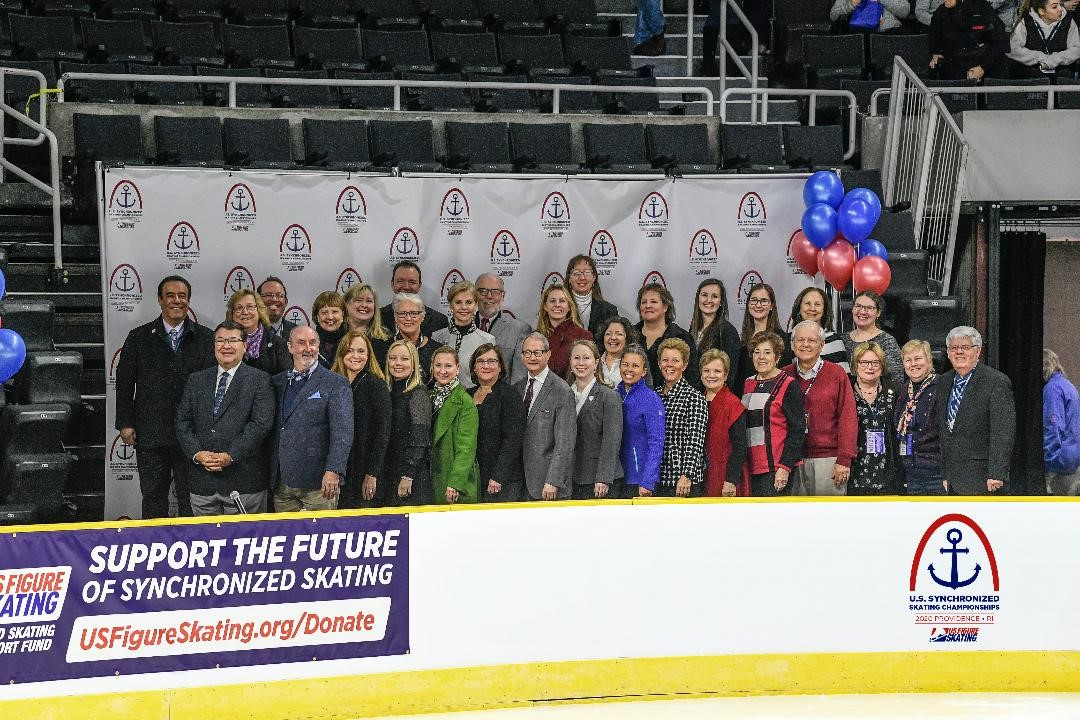 It's a unique environment, one that thrives off the sport's close-knit community — but beyond the medals and sheer pandemonium is the humble birthplace of synchronized skating. While some evidence indicates Europeans practiced "combined figure skating" in the 19th century, Dr. Richard Porter formed the first "precision skating" team in 1956. 
In less than a century, synchronized skating has transformed from groups performing in between periods at hockey games to teams of world-class caliber. 
"Back then, it was all about the lineup," recalls Wendy Enzmann, who is an international judge and a former Haydenette. "Now, the sport has evolved into something completely different."
Today's teams — which typically consist of 16 skaters — still execute classic elements like connected lines, blocks and circles. Before the 1990s, however, no-holds, lifts and death spirals were not only unheard of but impossible to perform with 30 athletes on the ice. 
"We couldn't fit a whole line across the rink, so we'd have to be in a basket weave formation," Enzmann said. "Although there wasn't a lot of depth of edge or power, the formations were incredible."
The sport gained traction in 1984 when the first U.S. Precision Championships were hosted in Bowling Green, Ohio. Although interest in synchronized skating was growing, an exponential rise in talent led teams to whittle down into groups of 28, 24 then 20. With fewer people on the ice, skaters had room to perform faster and with more creativity.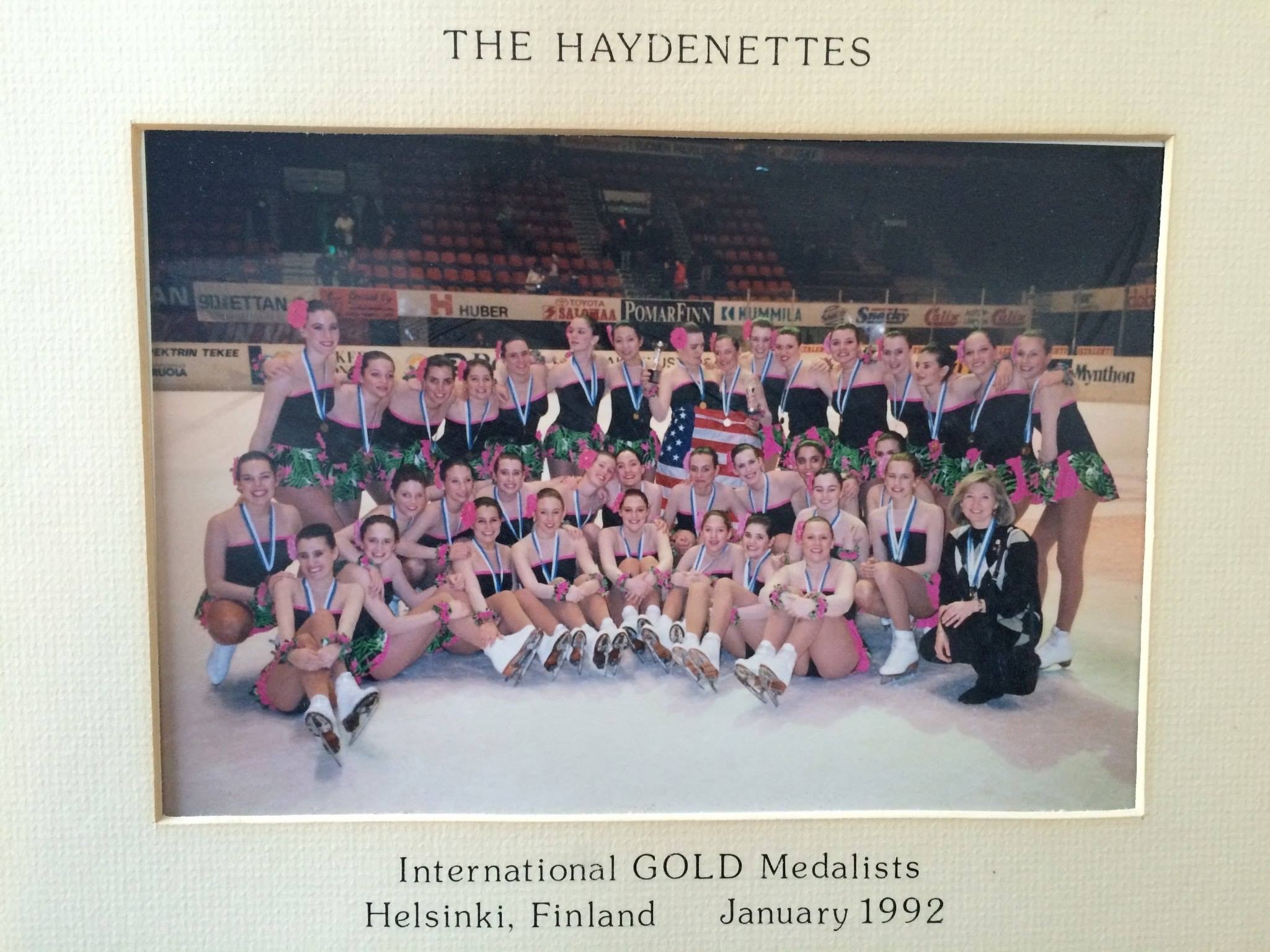 Before the first official World Synchronized Skating Championships in 2000, teams were competing internationally. In 1991, Enzmann traveled with the Haydenettes to Helsinki, Finland. The U.S. was the leader of the sport at the time, but its success was quickly followed by Finland and Sweden, then eventually Canada and Russia's interpretations. 
"Those teams came on so strong with a great deal of speed," said former Team Elan coach Jeannine Weinschrod, who was also at the Helsinki competition. "Then, they started creating tricks that were unbelievable." 
Into the mid-1990s, the growth of the sport continued. Leaders in the sport, like beloved official Patricia French, were instrumental in achieving the International Skating Union's recognition in 1994. By then, the three powerhouses representing the U.S. were Lynn Benson's Haydenettes, Weinschrod's Team Elan and Vicki Korn's Miami University. 
The trio's collaboration reinforced the necessity of strong skating skills and athleticism. Both were also a result of increased training and older athletes. Previously, skaters often boxed up their dresses and trophies at 18 to work or go to college. That changed in 1996 when Miami University's synchronized skating teams were awarded varsity status as a result of Title IV legislation. By creating an opportunity for athletes to continue their while pursuing a degree, Korn fostered and increased participation in skating.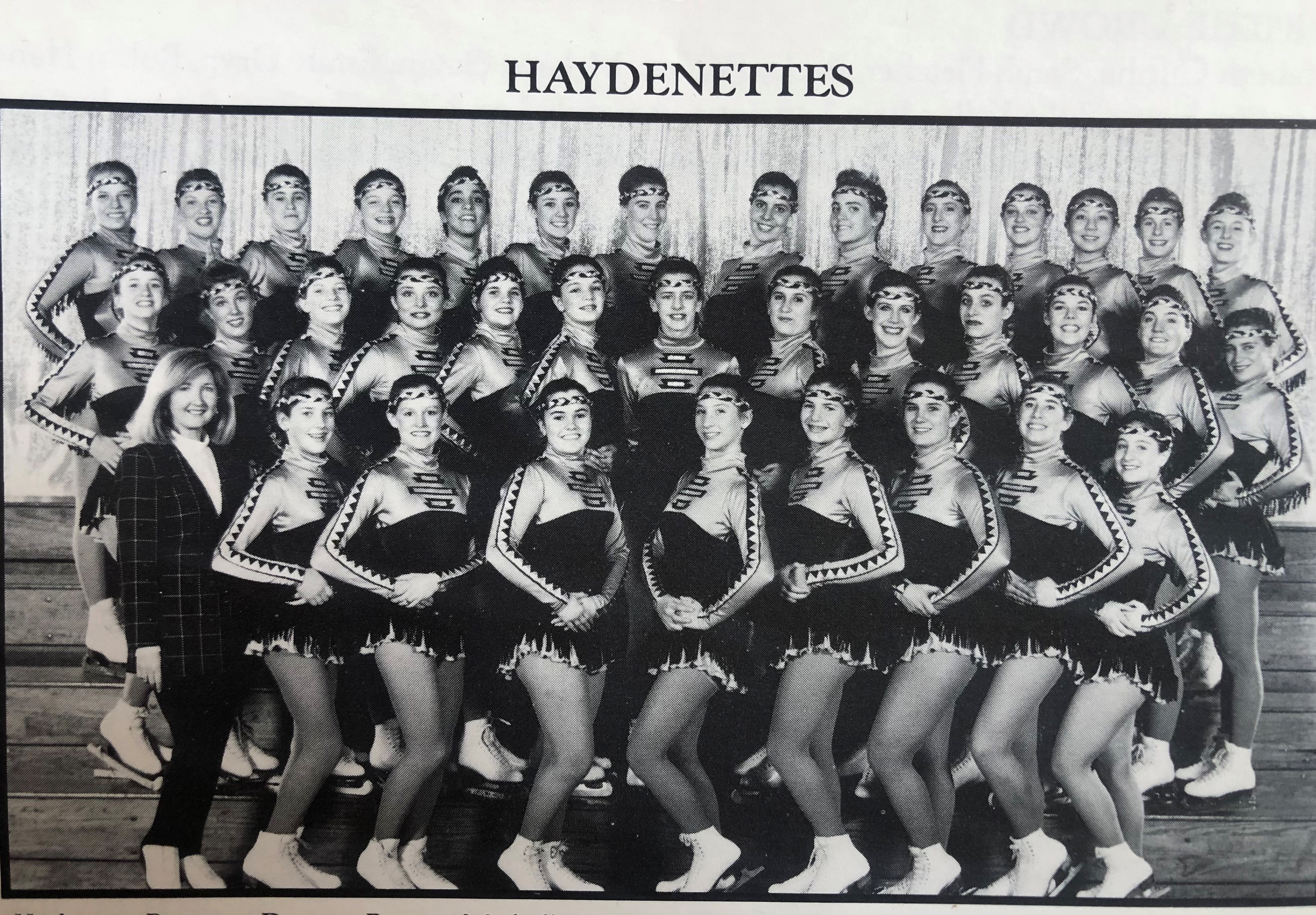 "She created a lifelong investment in this sport," said her daughter, Ashley Korn, who is an academic counselor and an assistant synchronized skating coach at the University of Michigan. "I think Miami's program is why collegiate and adult divisions exist." 
Because skaters had more opportunities to compete in their 20s and beyond, there was more room for choreographed elegance and thrill. Weinschrod describes this time period in the '90s as a "free for all."
"The choreographers were running the sport," she said. "[A team] would perform something really cool, then each group would put their own twist on it the following season. Whatever we were putting on the ice entered the rules." 
For instance, when lifts were declared "legal" elements in 2003, Team Elan performed a fairy-themed program. Weinschrod's skaters not only practiced traditional lifts but were propelled into the air during blocks and circles. The next year, Weinschrod said limits were placed on how many times skaters could "leave the ice." 
"There had to be measuring stick because it was so ambiguous," she said, noting the regulations helped communalize the sport across its several teams. 
The frequent adaptions to program requirements illustrate just how rapidly the sport has changed. As an official, Enzmann has observed how the rules don't necessarily sculpt the progression of synchronized skating — rather, its teams' innovation that directs its evolution.
"Creative elements always have the element of surprise," Enzmann said. "The first time I saw a skater flip out of a lift, I thought she was going to hit her head."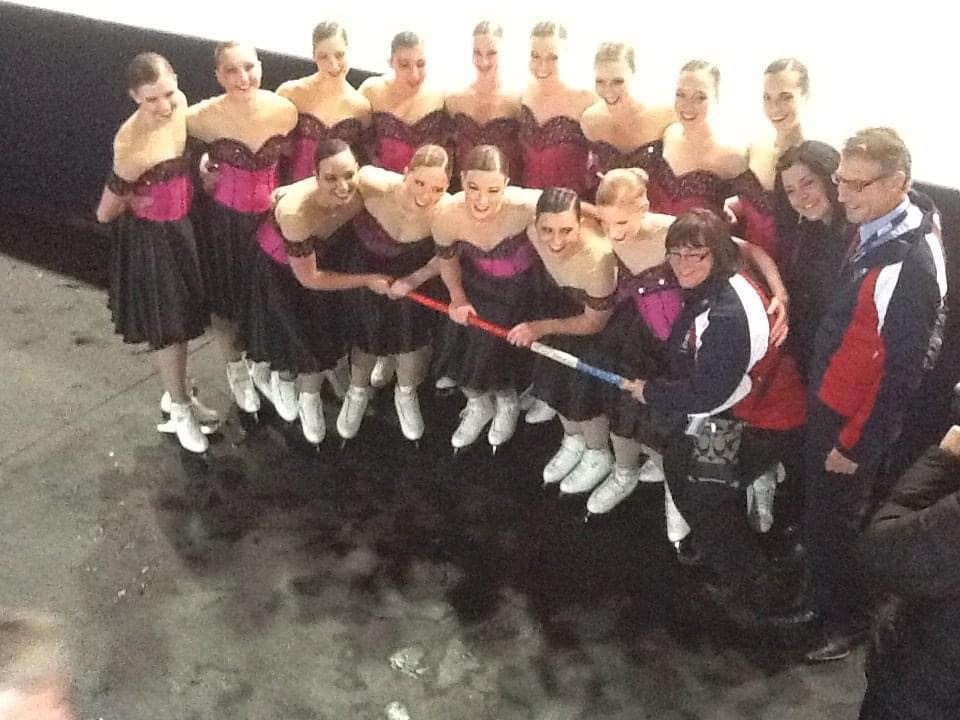 Now, an executed "change of position with a 360-degree rotation" while exiting a lift means a team achieved a higher level and more points. 
However — the ISU and all federations are tasked with designing rules that foster creativity while ensuring athletes' safety. 
"Awhile back a team from Canada did back spirals through an intersection, and it was breathtaking but so dangerous," Enzmann said. "The rules changed the next season to make that illegal, but every season the bar is pushed higher and higher as the quality of skating gets stronger." 
Through the 2000s, the 2010s and into the 2020s, the evolution of synchronized skating continues to move forward. There is a push from the community to get the sport into the Olympics, as its incorporation of powerful no-holds, intersecting duck-under spirals and gravity-defying pair elements have transformed not only the athletes but broadened its fanbase. 
"I don't think we've seen where synchro is going to end up long term," Enzmann said. 
Beyond creativity and athleticism, synchronized skating also fosters inclusion. Today, there are over 600 teams in the U.S. who compete across 18 different levels. Following the lead of the first U.S. World medalists Miami University, over 30 schools have collegiate or open collegiate teams. And while there is a significant range in age, interest and skill level, the love of the sport is what connects the entire synchronized skating community. 
"In my career, I've coached at least 1,500 athletes, and I can't think of a skater that came on board and said, 'Synchro just isn't for me,'" Weinschrod said. "Everyone recognizes it's not so much about skating, but what you can do as a group. When you realize how much you can achieve within a team — it's life-changing." 
This year, U.S. Figure Skating is celebrating its centennial anniversary as it recognizes those members, clubs and fans who have given so much to U.S. Figure Skating over the past 100 years. Follow along for more stories and content like this on the Centennial Celebration section of our website.