Above: The Adaptive Skating class at New Ulm Figure Skating Club, including skaters, coaches and assistants. Photo Courtesy of New Ulm Figure Skating Club
By Joanne Vassallo Jamrosz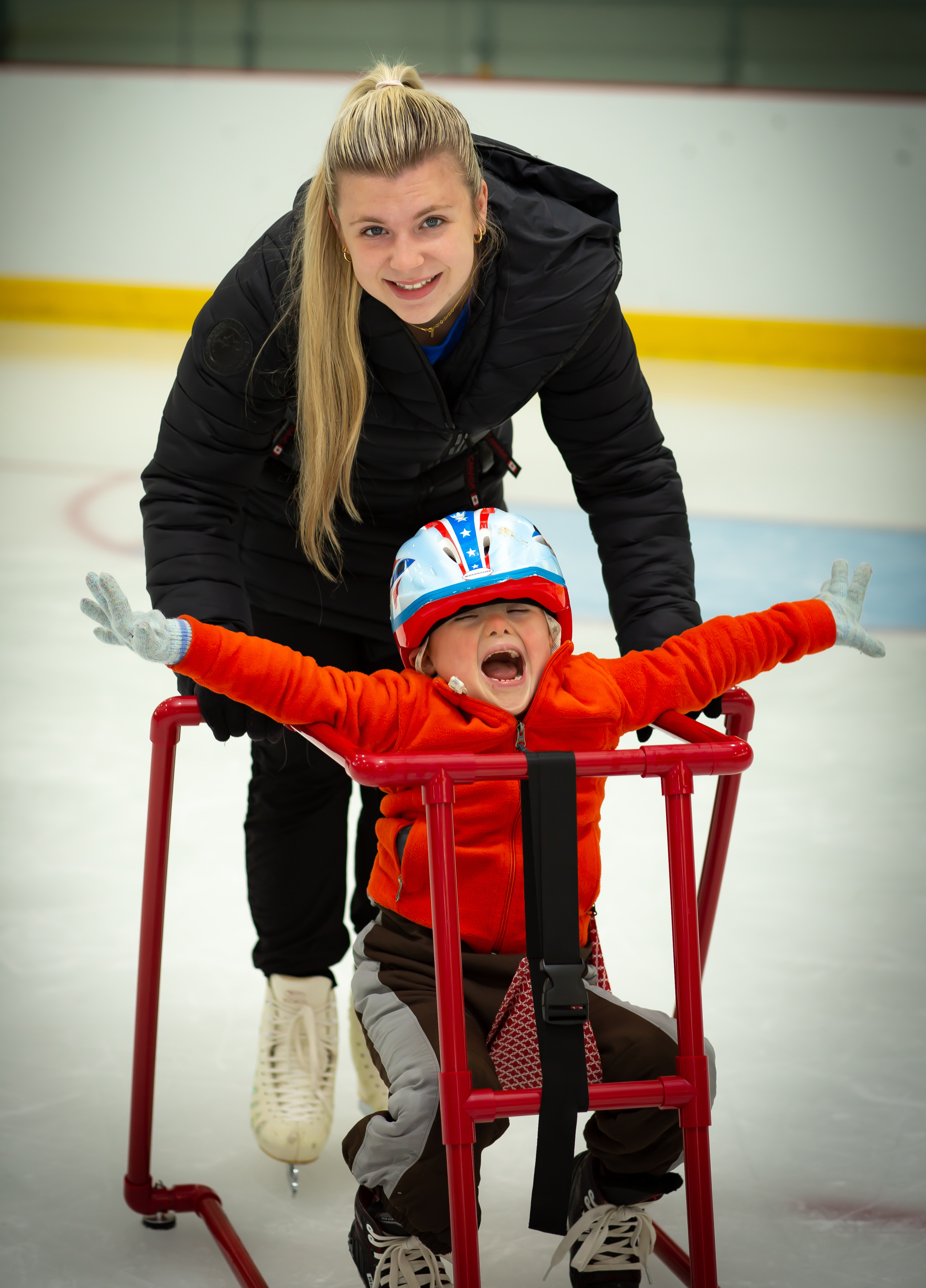 The New Ulm Figure Skating Club in New Ulm, Minnesota, believes that if an idea benefits their community, it's a good idea.
With that mindset, the club decided to introduce an Adaptive Skating program.
"Living in rural Minnesota, we realized there are limited options for children with disabilities," Club President Traci Larson said. "With our community in mind, we have been working to find ways to make skating inclusive for everyone in our community. We want to find a place on the ice for all ages, abilities and goals."
With their new goal set, they immediately got to work. The first step was plenty of research. A virtual meeting with Courtney Fecske, the lead for Skate United on the Adaptive Skating Committee, was set to start the conversation. A message was also sent to club members to see if anyone would be interested in helping with the program.
"Rachel Hoffmann is a registered nurse and club vice president, and Kara Beranke has a doctorate in physical therapy. They both skated in the past and agreed to help start this program with their experience in health care," Larson said.
Club Coach Gabi Roloff was also interested in helping children with disabilities.
"Gabi agreed to be the head coach to oversee the skaters and assistants while on the ice," Larson said. "Carolyn Borgen, another club member, agreed to apply for grants as we felt it was important to offer this opportunity free of cost. After the grant was approved, we immediately used Kara's knowledge to order various adaptive equipment and started getting the word out."
The new Adaptive Skating group lessons are offered on Saturday mornings.
"We wanted to ensure the class would be offered in the middle of the schedule to ensure we had enough help getting the skaters fitted for their skates, and there is appropriate equipment," Hoffmann said.
Because it was the first time running this program, the club limited the class to eight skaters for two four-week sessions.
"We wanted to ensure one-to-one support for each person, so their experience is exceptional. Each class is 30 minutes long. We set the age to 18 and under, and we plan to offer our skaters to be in our spring ice show," Hoffmann said.
For Larson, the new Adaptive Skating program helps make their club's skating program more inclusive, something they strive to achieve.
"We feel it is important to ensure all kids are treated as equals," Larson said. "No child should be left out of any activity due to a disability."
The club spread the word on social media and local TV, but word of mouth drew attention to the program, and according to Larson, it has been very well received.
 It's a new program the entire club is proud to call its own.
"New things are always fearful, but with the help of Courtney from U.S. Figure Skating, she eased all of our concerns and questions. She made it easy to find resources, provided us with education and helped us create a sign-up with appropriate questions to ensure our skaters had the correct equipment and our coaches and assistants knew a bit about the kids – what makes their day brighter." Larson said. 
Larson is also grateful for how well the program has been received.
"It has been touching to see how happy parents and skaters are to be part of something they never thought possible. Our coaches, skating families and community have been very positive about this opportunity," Larson said.