Above: A local delegation joined Olympic champion Tenley Albright and her daughter Rhys Gardiner at the memorial site honoring the 1961 U.S. World Team near Brussels. (l-r) Kevin Cleynhens, Gerry Croon, Hubert Verstraeten, Tenley Albright, Willy De Laet, Rhys Gardiner, Hugo Schoevaerts and Monica Surlano
By Troy Schwindt
Olympic champion Tenley Albright and daughter Rhys Gardiner's European river cruise vacation in March took an unexpected turn that left them feeling somber, yet grateful, for the opportunity to see the sacred place where the 1961 U.S. World Team's plane went down near Brussels, Belgium, at 10:05 a.m. on Feb. 15, 1961.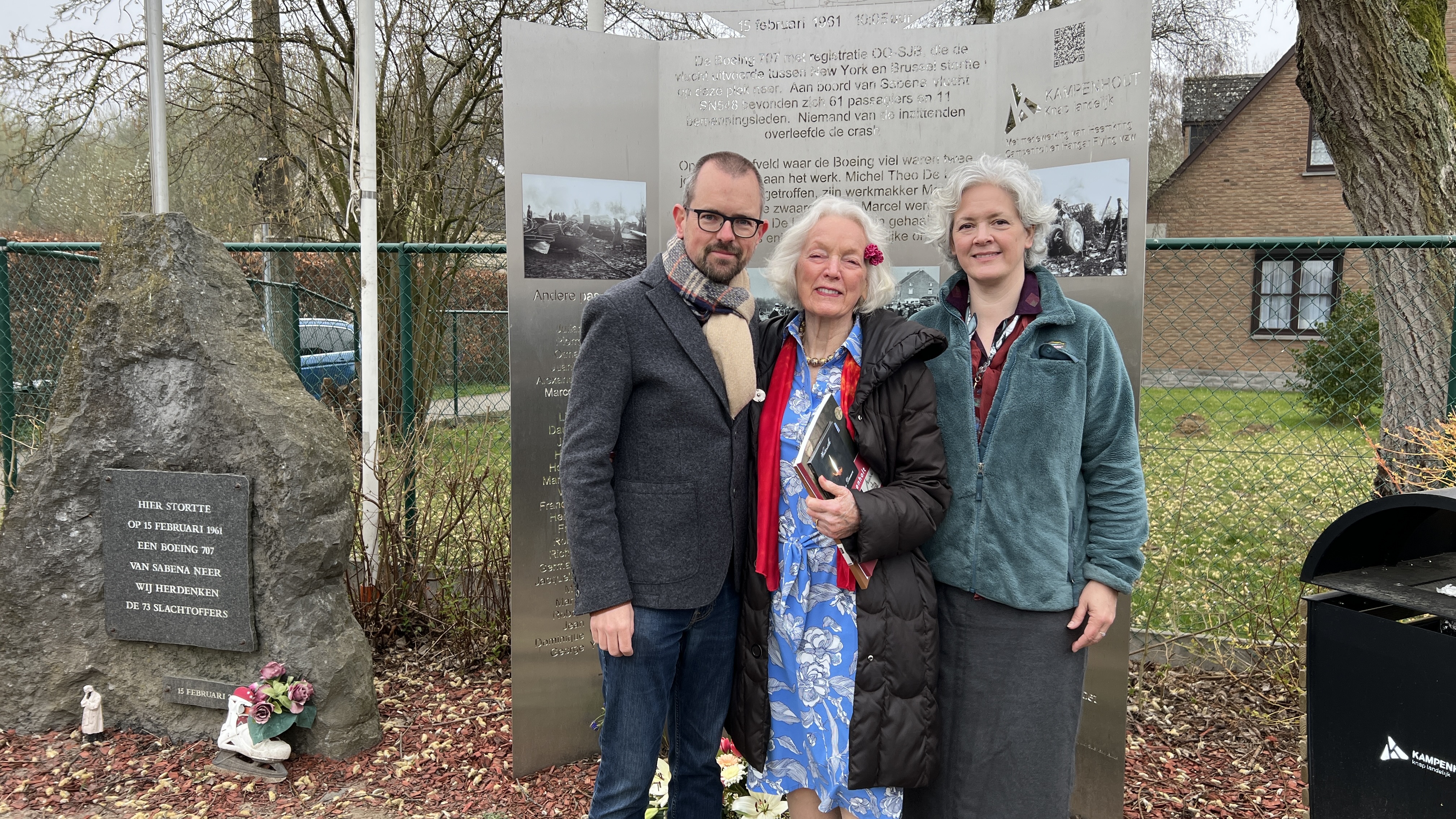 With just two days' notice, and with the help of U.S. Figure Skating's Barb Reichert, the women coordinated a visit with a small contingent of local historical society members and aviation aficionados who relayed stories of what transpired on that fateful day 61 years ago in the village of Berg-Kampenhout, about 45 minutes outside of Brussels.
"It went from being sort of a history pilgrimage and the idea of just laying some flowers to bringing color into a black-and- white movie," Gardiner said. "The difference of standing in a scene and taking in a 360-degree view rather than looking through a window. It really personalized it."              
Everyone on board Sabena Flight 548 and one person on the ground, 73 people in all, perished in the crash. A total of 34 made up the skating delegation. They were headed to Prague, Czechoslovakia, with a stop before in Brussels. Many of those lost were friends and former coaches and officials of Albright, who had retired from skating and was finishing her medical degree at the time of the accident.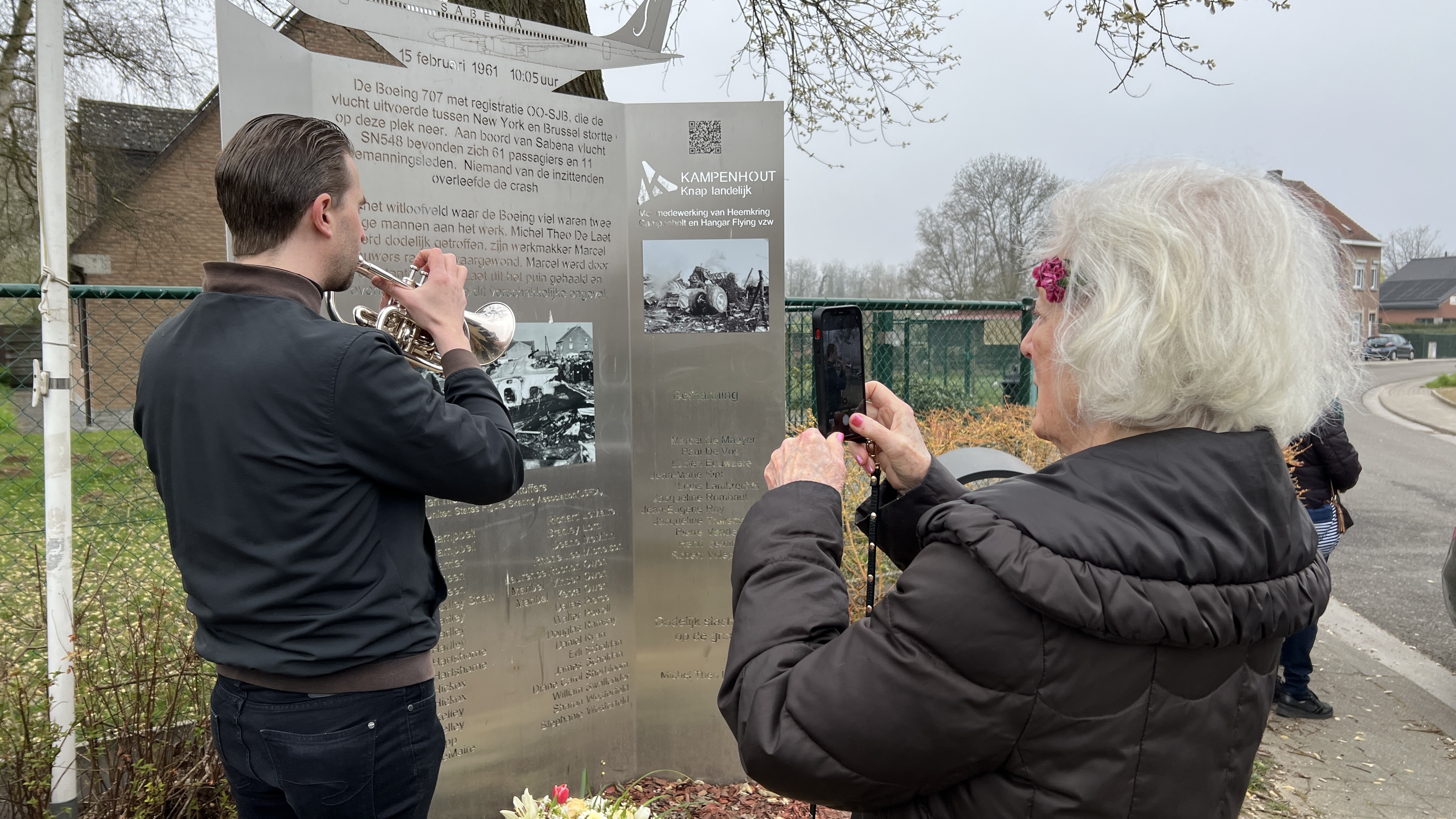 The U.S. Figure Skating Memorial Fund was started just days after the tragedy in memory of those who died and in honor of the current generation of skaters who are pursuing their dreams on and off the ice. 
A small vigil at the site of a new metal monument that was unveiled during the 60th anniversary of the crash in 2021 provided one of many poignant moments during the women's visit.
"It was fascinating being there and standing there," Albright said. "I had remembered it as an open field and where the monument is now is at the corner of two small streets; there is no huge field, anymore. It's a lovely residential neighborhood. It used to be vast fields of endive.
"People who organized the new enlarged memorial plaque said few people moving into the neighborhood have a sense of the history there — something that was so essential to the town's consciousness and identity — and they felt it was really important to put a clarifying monument there that explains the history." 
In 2001, a stone monument had been erected on the 40th anniversary to mark the place and time of the crash. The new mural monument, which is adjacent the stone, is complete with the names of all the victims and features a QR code that can be scanned for more information.
In February, a monthlong exhibit at the neighborhood's new community center "De Krop" (the crop) helped tell the story of the crash and the people who had been on the plane.
Honoring the other victims
This unplanned stop to the memorial site also allowed Albright and Gardiner to learn about some of the other 39 people who died and pay their respects.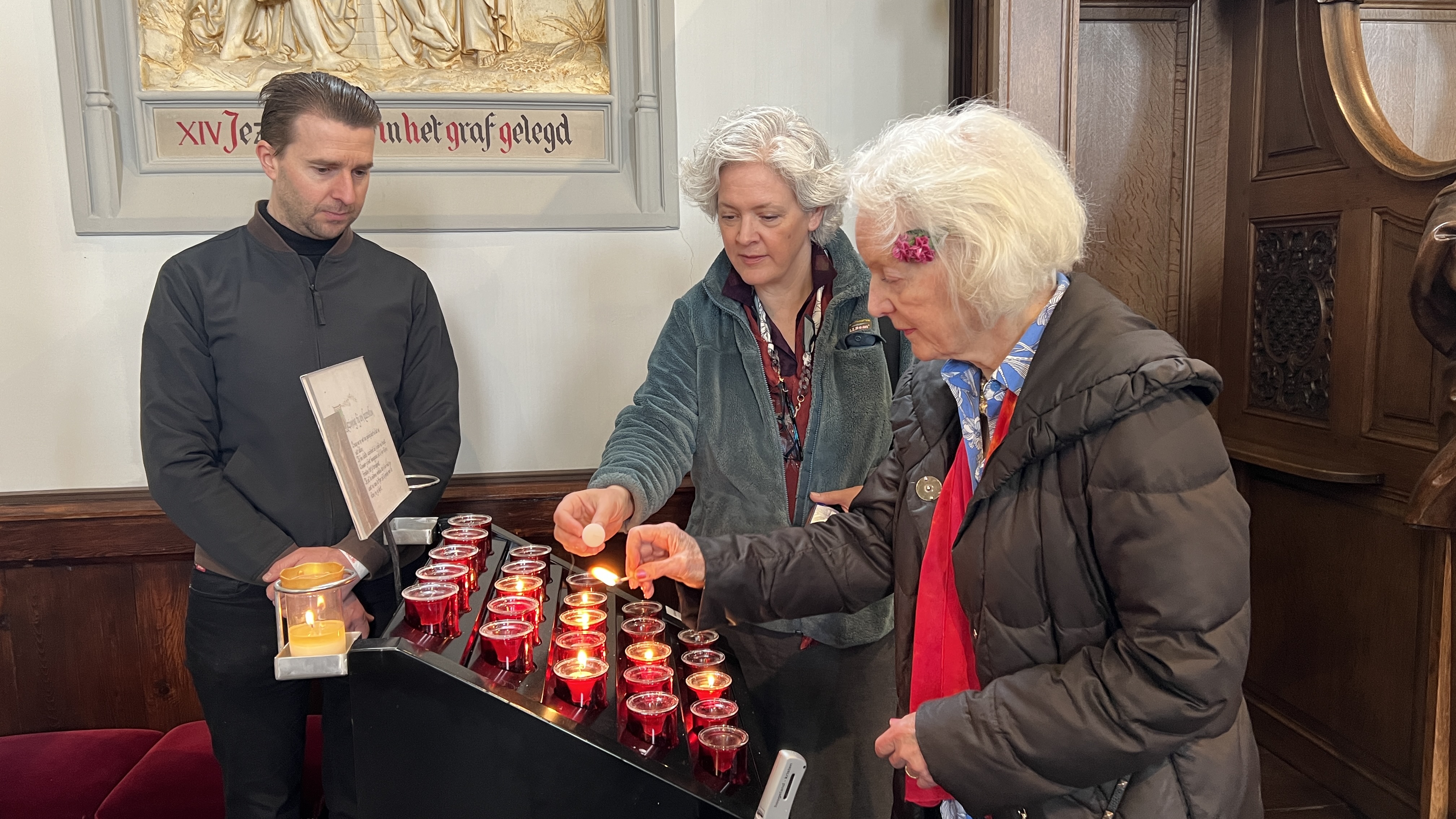 The greeting committee in Berg-Kampenhout included Kevin Cleynhens, a member of Hangar Flying. He's authored a book in Dutch that gives background on those aboard the plane and specific details surrounding the crash. Gerry Croon served as the point of contact for the women. He works for the community of Kampenhout and is a board member of the local history center. He played "The Last Post" on his cornet while they laid flowers at the monument. Hugo Schoevaerts, a local historian, recounted many stories from that day. And Willy De Laet, who lived near the crash site, shared what he recalled.
On that overcast Sunday, the local delegation, plus some neighbors and a few others, came together to give Albright and Gardiner a moving and unforgettable experience.
"A cousin of the young farmer killed in the field that day stopped by," Albright said. "They said, 'He [Willy De Laet] is walking toward us.' I ran across the street with tears in my eyes and hugged him. He had no idea who I was! But by the end of the visit, I think it meant a lot to him to share the story.
"He was at least a third-generation farmer who had grown up in a house that still stands right across the field from the crash site. He pointed out exactly which houses were standing then and where it had gone down. His mother, cousin Michel Theo and friend Marcel Lauwers were having coffee just before the crash. He said if they had coffee for five more minutes, Theo would still be alive. Marcel survived, but lost a leg."
Albright and Gardiner were taken to the farmer's grave at the local cemetery where they paid their respects.
In visiting with Cleynhens, the women learned about the plane and 11-member Belgian air crew. On the day of the crash, the weather was perfect, with cloudless skies and bright sunshine. The plane reportedly attempted to land at the airport twice before the pilot pulled up as mechanical problems ensued. The Boeing 707 minutes later plunged nose-first into the ground, instantly killing everyone.
"It's very complete," Gardiner said of the book. "It gives testimony that there was no operator error. The pilot was a decorated World War II pilot. All the staff were highly trained on this new kind of plane."
They learned about a priest who ran over to help the crash victims.
"He found all he could do was give last rites," Albright said. "We visited his church and lit candles."
Tears still fall for friends lost  
Although Albright had been gone from competitive skating for several years when the accident occurred, she was friends with or knew well many of the current-day skaters, officials and their families who perished.
She remembers beloved coach Edi Scholdan; she took lessons from him whenever she was in Colorado Springs, Colorado, at the Broadmoor World Arena preparing for a summer ice show.
"I just loved it," she said.
Albright remembers the last conversation she had with former U.S. Figure Skating president and international official Walter Powell, at the 1953 World Championships in Davos, Switzerland.
"He walked down this huge outdoor rink, through snowplows and everything, and called me over. He said, 'Now young girl, you are not going to do those silly steps tomorrow are you?' It was a competition. I said, 'Yes, Mr. Powell, I am.'"
She recalls watching Laurence Owen train at The Skating Club of Boston; she has a picture of herself and a 4-year-old Owen skating outdoors. She speaks with reverence of Owen's mother, Maribel Vinson Owen, who took lessons from Albright's primary coach, Willie Frick. Owen, a nine-time U.S. champion, also gave lessons to Albright.
"She was a marvelous individual and a remarkable woman," Albright said. "She had that attitude but was never self-promoting."
Some of her fondest memories were with 1961 U.S. pairs champion Dudley Richards. He took Albright to her first Harvard dance when she was just 14 years old, taught her how to drive a car and was the Eastern senior pairs champion with her.
"I was struck that all of the people who my mother might have discussed this with or gone to for comfort — that so many of them were among the people who had vanished," Gardiner said.
The fate of the families who were on board the plane, Albright said, added even more depth to the sorrow she has felt. She sadly reflected on Scholdan and his young son, James; official Edward LeMaire and his son, Richard; and men's skater Gregory Kelley and his sister, Nathalie.
"Just to think what the families went through!" Albright said.
Last year, Albright and several members of The Skating Club of Boston gathered at the new facility in Norwood for an online panel honoring the 1961 U.S. World Team.
"So many of us realized that we had never processed what happened," Albright said. "We all felt numb. I thought I was the only one who felt numb; I didn't go to the funerals, I just couldn't. There were so many, and I was in my final year of medical school. But other people felt the same way; they were numb and they didn't feel they could take it either. So for us to share our feelings was amazing, and then to be able to be there and see it. It really has been with us. ..."
Albright said LeMaire's daughter, Diana LeMaire Squibb, was among those at The SC of Boston for the remembrance.
"She never knew the facts of what happened," Albright said. "Her mother would never talk about it. She said it was such a relief to her to know what it had been."
Another of Albright's daughters, Elee Kraljii Gardiner, wrote a poem titled "Final Flight" that appears as the last entry in her poetry book Serpentine Loop.
"When I wrote it as an elegy for the U.S. Team and the others who died, I made a mental pledge to share it as a small act of reverence or witnessing," Kraljii Gardiner said. "This means I made the choice not to read it at public poetry events or places like bars or noisy venues. I have only shared this poem twice: once in the lounge at 1240 at The Skating Club [of Boston] among the friends and family of the people on the flight, and once on Zoom during the panel memorial. That Zoom panel was among the few public events that gathered friends and family, and it was extraordinarily moving to learn I was revealing details that some family members never knew."
Albright and Gardiner are forever grateful, they said, for the kindness and sensitivity shown to them by the local delegation in Berg-Kampenhout. The opportunity, Gardiner said, meant so much to her mother.
"I grew up hearing about all these friends and respected adults in my mother's life in this sort of abstract kind of Camelot time of skating and then they all vanished with no trace here," Gardiner said. "It was really moving to see my mother go to the place where it actually happened and finally get some context to put it in."