Above: Madeline Stammen (right) performs in the Cirque du Solei show CRYSTAL. 
By Rachel Lutz
As a toddler, Madeline Stammen was on the front page of her local newspaper, photographed as a participant in one of the first Learn to Skate USA® programs offered by a brand-new rink in her suburban Chicago hometown.
After a lengthy competitive career, she skated in professional shows around the world – including with Cirque du Soleil. Now, she's experiencing a full-circle moment teaching Learn to Skate classes at a brand-new rink in Savannah, Georgia, where she's a first-year student at the Savannah College of Art and Design.
Growing up, Stammen described herself as a nervous skater, someone whose early career in skating didn't earn her spots at advanced levels of competition. But her coach was familiar with show skating, and thought she may be a good fit.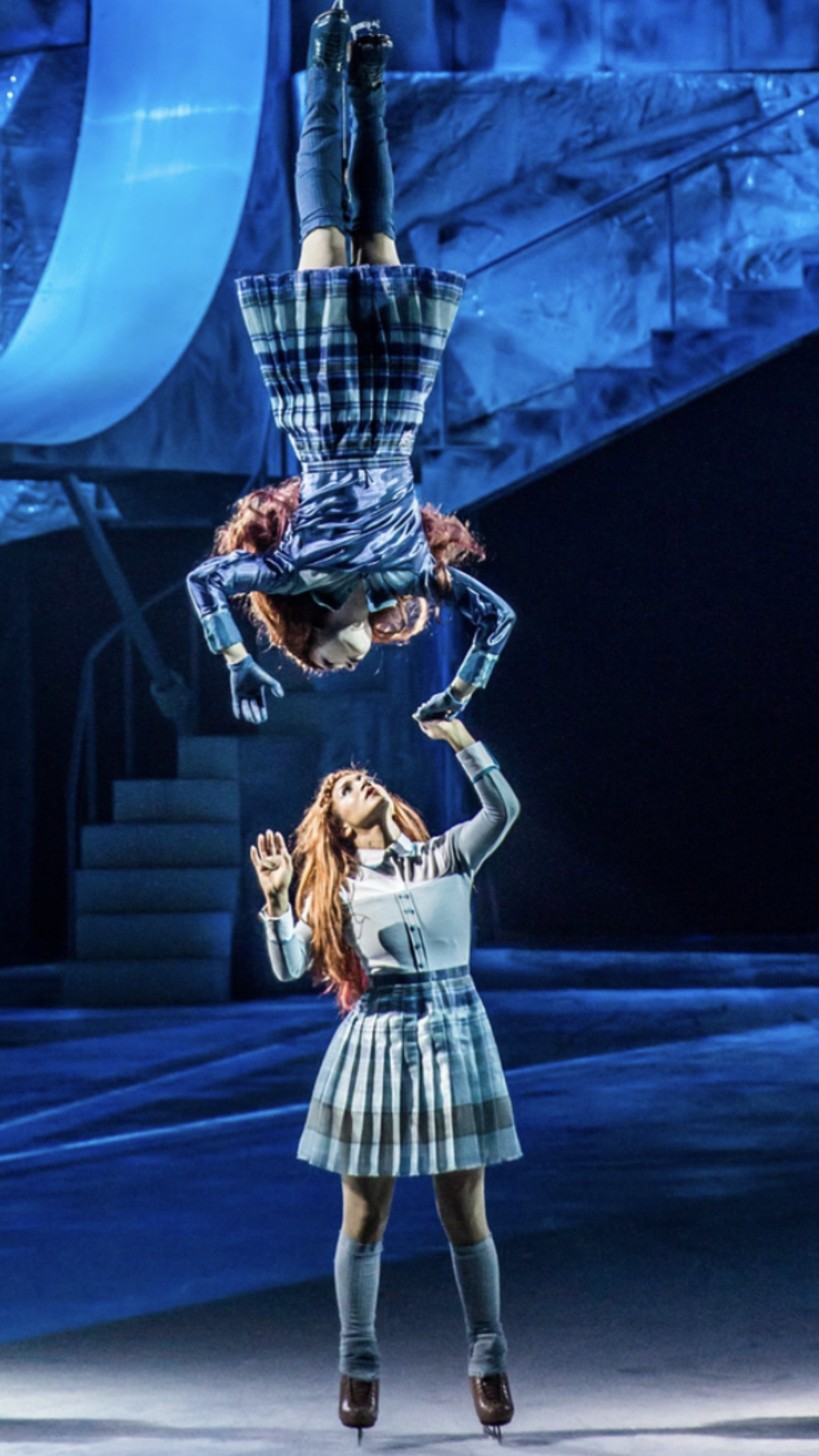 At 18, she signed her first professional skating contract, deferring college. She skated for Royal Caribbean on four ships over four years, which took her around the world, before performing in overseas shows in other troupes.
"Sometimes skaters retire from competing and then they do shows for fun," she said in a recent interview.
But she took the opposite approach.
"I took shows really seriously and that was my Olympics," she said, noting that skating in shows improved her skating immensely. "I flourished as a skater in my 20s. I've always been a really good performer, really artistic. I finally started skating consistently. That really helped me on ships."
After a six-year professional career, Stammen began to consider her next steps, such as returning to school. But a buzz was circulating in the show skating world: Cirque du Soleil was creating a new type of show, based around the ice.
Those in Stammen's circle suggested that she audition, but she had not planned to apply. A friend called her from his own audition, urging one final time. After sending in a demo tape, she heard back from the team, who requested that she skate to a piece of music from the movie "Moonlight." They only wanted to see something artistic, nothing technical, she recalled.
"That was perfect for me; it was right up my alley," Stammen said.
She was hired.
On the first day she arrived, she saw all the skaters' headshots on the wall, but not her own. She kept walking down the hall, and under "main character" she was surprised to see her own face.
"I guess I am leading this show!" she remembered thinking. "It was one of those meant-to-be moments because the role I was hired to do was both technical and artistic, and also heavy in acting. Those were all my strengths."
Unlike her other professional experiences, where she was hired for a role that already existed, one of the most rewarding parts of being part of the Cirque process, she said, was being able to participate in the show's creation.
A mix of about 40 artists made up the cast, including about 10 skaters. The goal of the show was to mix disciplines and try and do something different.
"We taught the acrobats how to skate and they taught us how to do aerial," she said. "In the show, I was skating, acting and flying."
CRYSTAL was created in Montreal, where Cirque is headquartered, in about four months – their fastest show creation ever. The skating sequences were created with input from Kurt Browning, Ben Agosto and Alissa Czisny, familiar names to those who follow skating at the national and Olympic levels.
"[Those three] were the three skating people that were helping us," Stammen said. "They did some of the choreography, but most of my track was self-made. That was so rewarding because I got to perform it on stage every night. It was something I made. That was incredible. I never was given that creative freedom in other shows."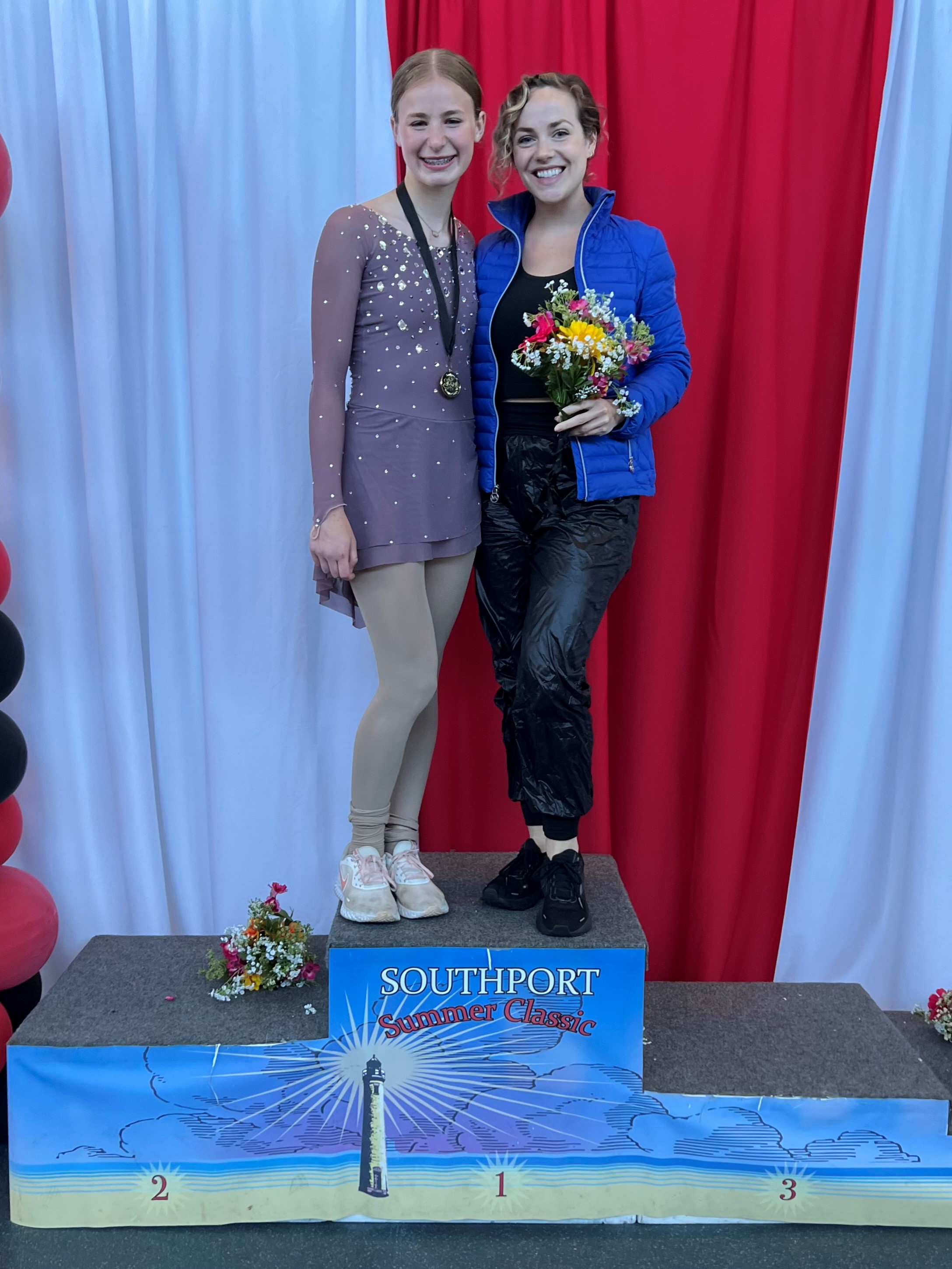 After the pandemic hit and Cirque was unable to tour, Stammen moved home to Chicago and was recruited to coach alongside Rockne Brubaker and Stefania Burton at the rink she grew up in.
Two years later, school beckoned. She selected the Savannah College of Art and Design for their major in production design for themed entertainment, because she wants to create and produce ice shows. But moving to Georgia was scary because she thought the closest ice was a two-hour trek to Jacksonville, Florida or to Charleston.
When she got to Georgia, though, she noticed that a semi pro hockey team had formed. Where there is hockey, there must be ice, she figured. She eventually connected with the Ghost Pirates and reached out to the skating director. The Learn to Skate program launched that same week, and Stammen has taught those classes.
All types of new skaters have arrived at the rink, Stammen said. Some even saw CRYSTAL when it toured through Savannah. Without Stammen knowing, the cast performed in Savannah the same week she was visiting to evaluate how she liked the campus.
"A lot of the skaters that come in say, 'Oh yeah, we saw the show. Did we see you skate?' or, 'We saw the Cirque show in April! It came here!'" she said. "Then they get really excited when they find out I helped create it. That's been pretty cool."
One of Stammen's goals while she is in Savannah is to continue to build the skating culture at the Ghost Pirates and throughout the city. At Savannah College of Art and Design, she's working towards creating a figure skating club.
But her experience, her degree and her time in Savannah are leading towards one thing – getting the message out that there are many types of skating careers, including show skating.
"The world of ice shows is an amazing career path to pursue," she said. "I traveled the world for 10 years and got paid to skate. I felt like when I was training competitively, I didn't know about those opportunities, so I never thought that was an option for me."
For Stammen, it's about "spreading the word that ice shows are still alive and well, and they provide an amazing quality of life. They can also be a goal for a skater to work toward."