Members of U.S. Figure Skating continue to make a difference in their communities during this global pandemic. 
They are sewing protective face-coverings, risking their lives as first-responders, feeding healthcare workers and so much more.
Their selfless commitment to helping others is inspiring. We share the stories of a few of those individuals who are doing their part to help their fellow citizens in these unprecedented times.
Orange County FSC skaters rise up during crisis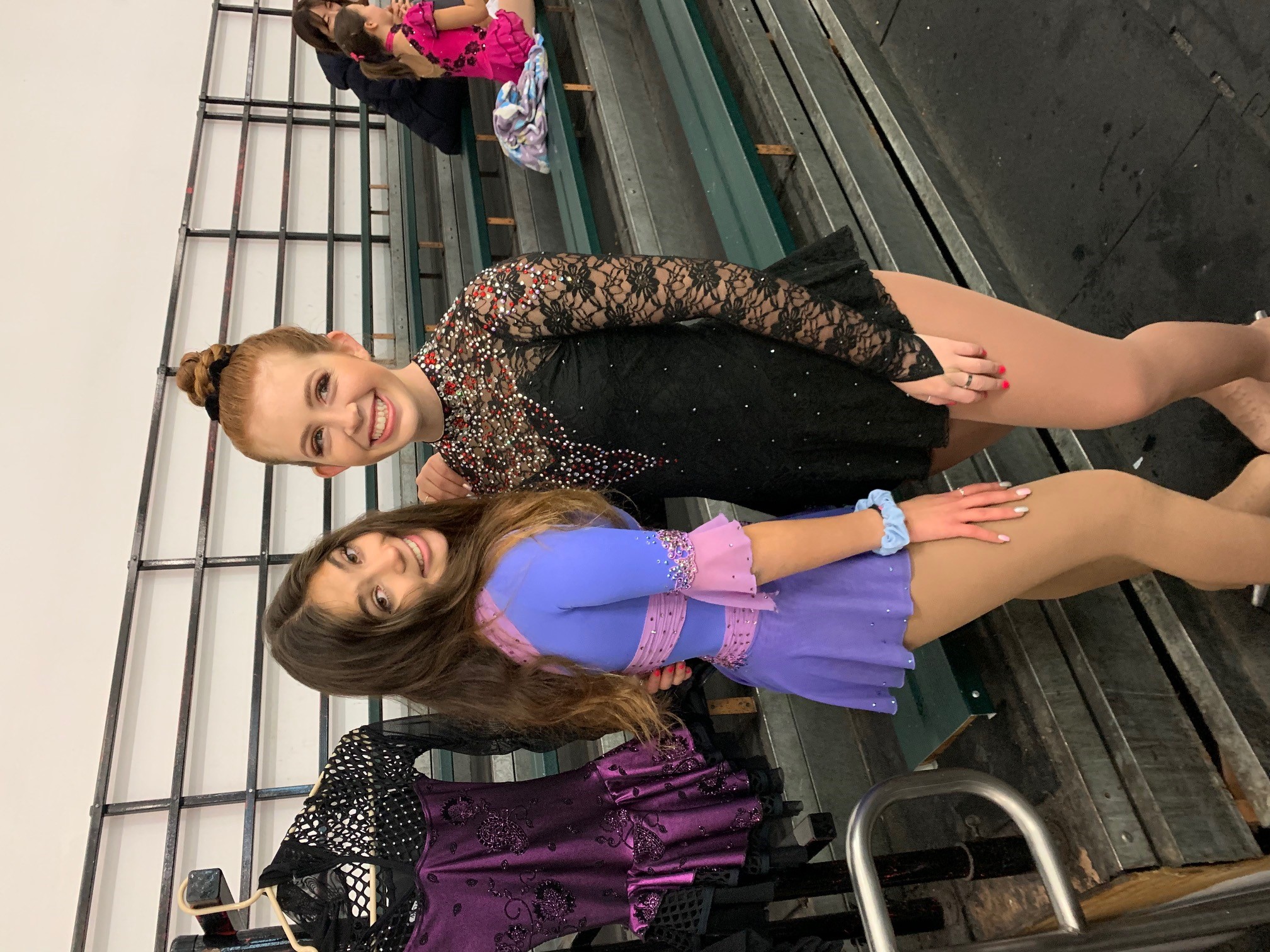 Two Orange County FSC members have made more than 1,400 protective masks for Naval Hospital Camp Pendleton, Breastlink, Sun Mar Nursing Center, Orange County Rescue Mission and other local organizations and individuals.
Lleyden Collins of Laguna Niguel and Morgan Horvath of San Juan Capistrano created a nonprofit called MaskingOC; they make and deliver free, reusable masks for those in their community. They started this community service on March 22. Local business Hoffman Fabrics donates fabric to the girls.
"As skaters, commitment and dedication is who we are down to the core and now that we are helping the community in such a crazy time, we feel so privileged to be a part of something bigger," Collins said. "Helping the community during this challenging time has given us great satisfaction."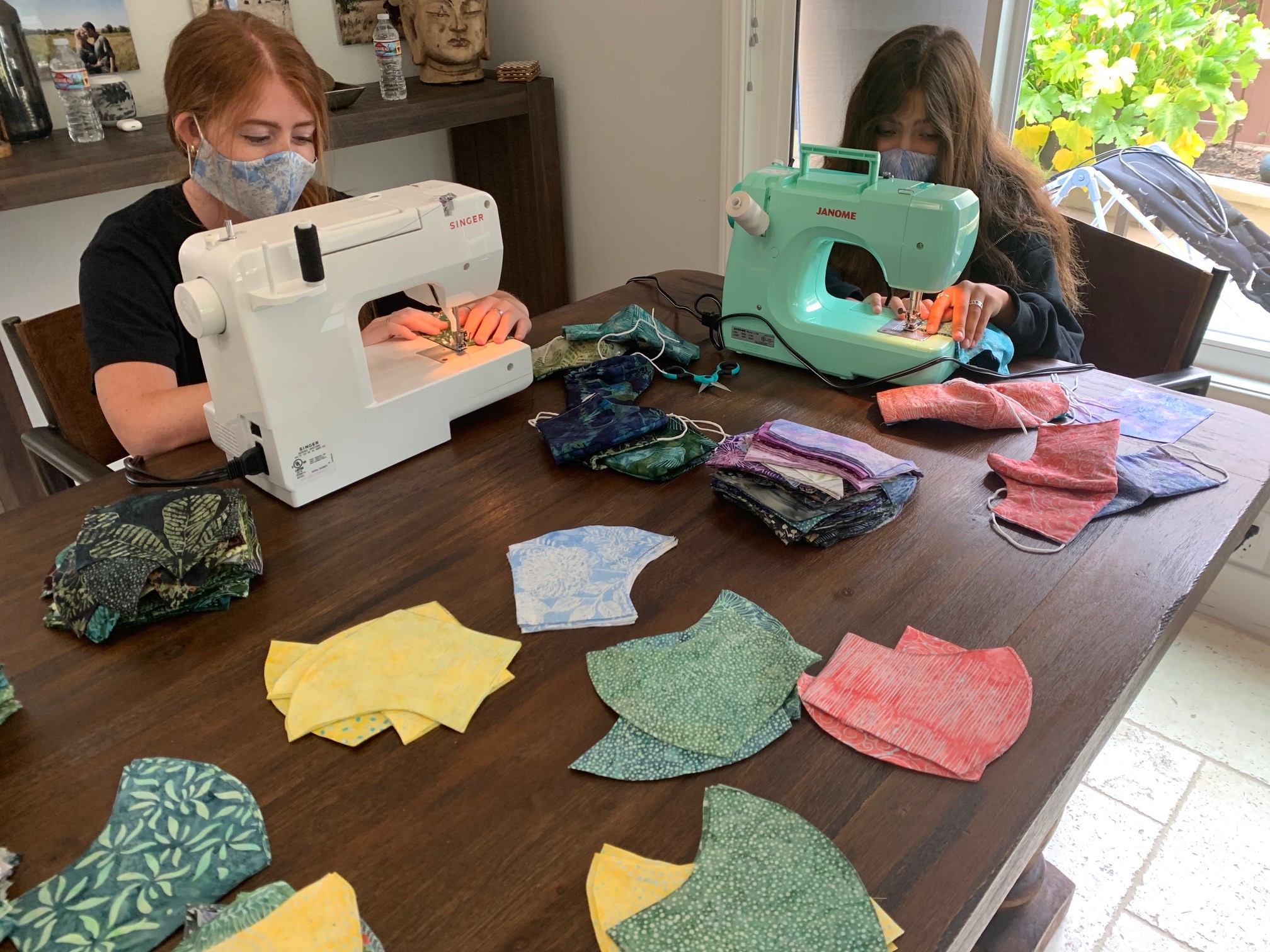 Collins recently received the JSerra Christian Service Award for her 231 hours of community service. The girls are using their sewing skills from skating to help keep their community safe.
A story about them appeared in the Orange County Business Journal.
Ohio EMT finds peace on the ice
Wooster (Ohio) FSC member Danielle Gregoire works as a first-responder in her community. She is a member of Rittman Fire and Rescue, serving as an emergency medical technician.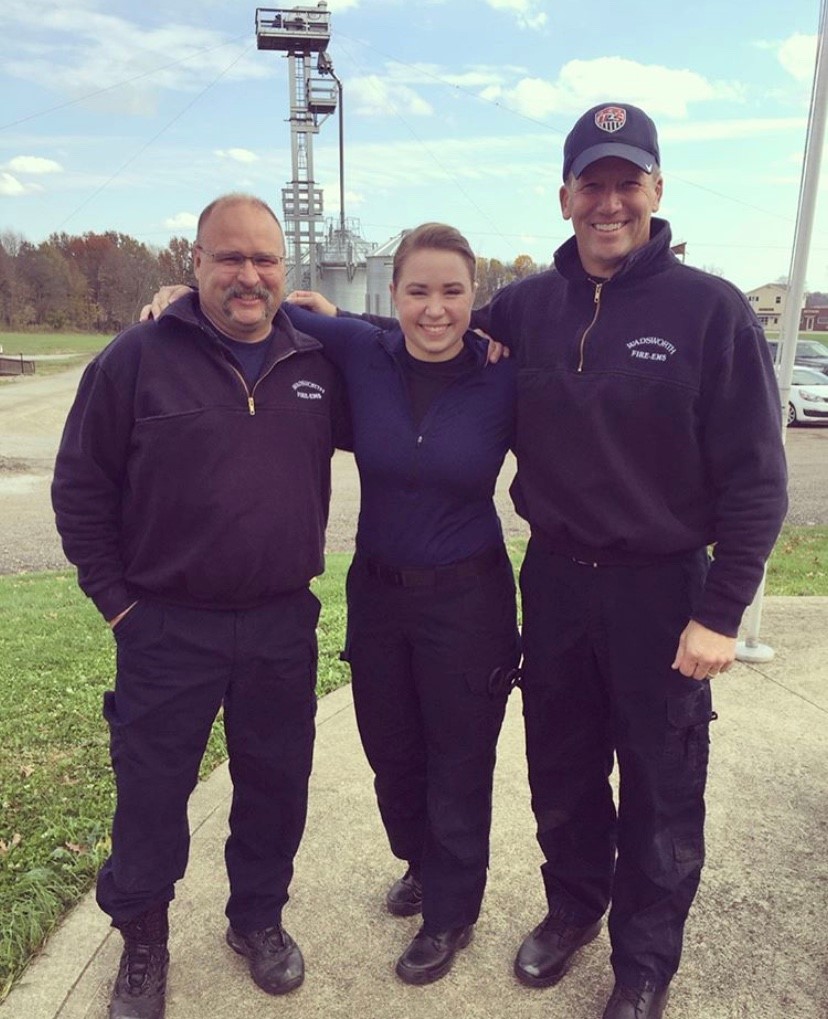 "I just finished my first year at the fire department and as heartbreaking as it has been to witness some of the direct effects of COVID-19, I am thankful that I can help.
"People are often surprised when they find out that the girl who gets a dress and makeup on to go figure skating also wears a uniform and personal protection equipment. I am a minority on the department as the fire service is a male-dominated profession. After a rough call or difficult week, the ice is my happy place and where I unwind. Figure skating helped make me into the strong woman I am today and I will always be thankful for my club and U.S. Figure Skating."
Boise FSC member baking a difference
Boise Figure Skating Club member Arya Barnes-Kelley has been baking cookies and brownies to raise money for a local homeless shelter.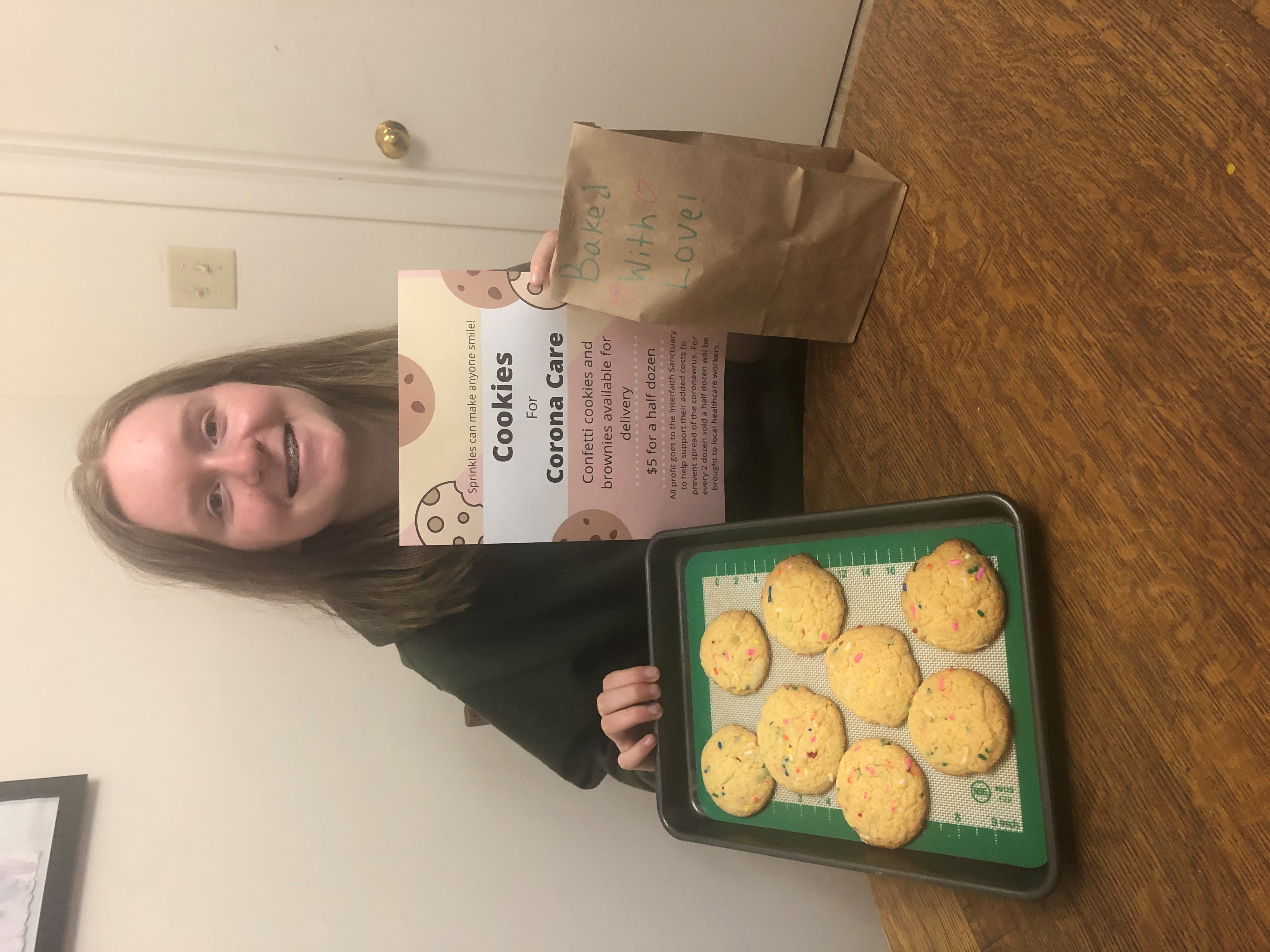 "Homeless shelters are having a lot of trouble right now due to the lack of volunteers and extra precautions necessary to keep everyone safe," Barnes-Kelley said. "I love to bake and wanted to use my talent to help."
Barnes-Kelley is also bringing cookies to area healthcare workers as a personal donation.
      
Skating friends feeding those on the front lines
Vaca Valley FSC member Jenny Contreras and skating friend and coworker Jean Martin are using their careers in the culinary and hospitality fields to provide tasty and nutritious meals to emergency room staff at Queen of the Valley Hospital in Napa, California; and Kaiser Permanente Vacaville Medical Center in Vacaville, California.
They are employed at Trinchero Family Estates, which is one of the premier wineries in the Napa Valley. Contreras is the executive sous-chef and Martin is the director of hospitality operations.
"She runs the service aspect of the program, and I run the kitchen," Contreras said. Contreras' club mate, Kelli McDaniel, a nurse within the Kaiser Permanente family of hospitals, suggested Contreras and Martin contact Kaiser Vacaville's emergency room coordinator about donating meals.
"We and our hospitality crew have been providing 150 meals a week to front-liners since the start of lockdown," Contreras said. "It has meant the world for us to continue the Trinchero family's legacy of giving back to the community.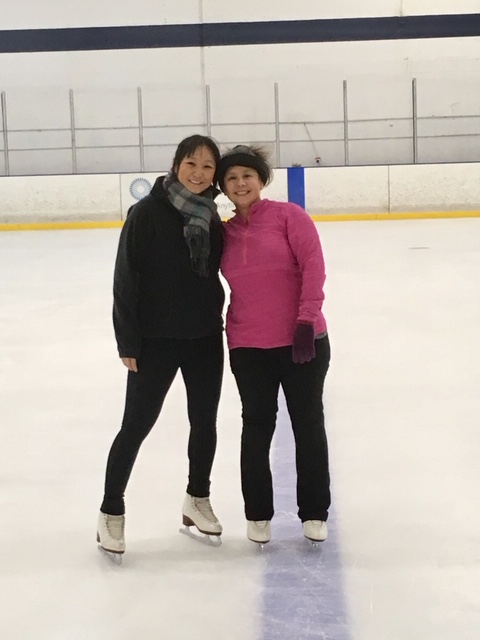 "It means that we get to help in the best way we know how, and give the ER crews at both hospitals the transformative and restorative experience of being able to enjoy a good meal in these pandemic times of high stress."
To date, the team at Trinchero Family Estates has provided almost 2,000 high-end gourmet boxed lunches to the emergency room staff at both hospitals.  
"We are able to show the front-liners that somebody cares for their physical and emotional well-being, just as they care for ours," Contreras said. "It means we literally serve those who serve."
Contreras and Martin's skating paths actually crossed for the first time while at work. Contreras had her club jacket draped over her chair in their shared office. 
"Of course, only another skater would recognize a club jacket and the unique world it represents," Contreras said. "She [Martin] burst into the kitchen to ask, 'Who belongs to that skating jacket?' Little did she know it belonged to me. That is how we connected. Since that day, we've not only worked closely together, we've also gone skating together; and sometimes our husbands (both recreational hockey skaters) join us." 
Contreras picked up the sport as a middle-aged adult looking for something athletically challenging, while Martin (maiden name Han) was a competitive skater in her youth and represented the Los Angeles FSC. 
"I'm old enough to be Jean's mom," Contreras said jokingly. "We have skating to thank for us becoming not just coworkers but friends, and are a real example of the bonds skating forges among people of such hugely diverse backgrounds and life stories."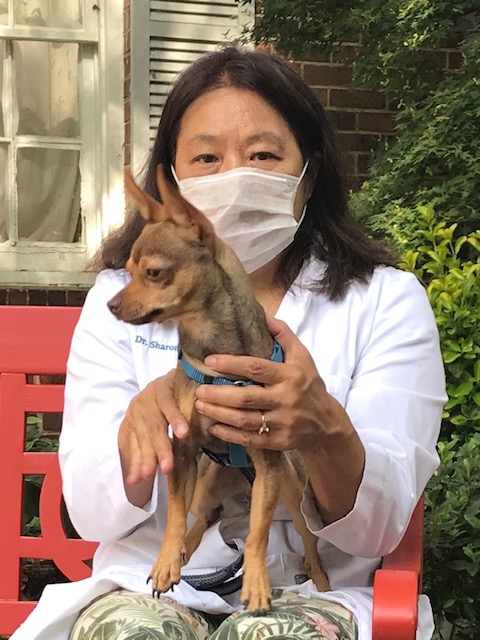 Atlanta FSC member helping pet owners
Atlanta FSC member Sharon Wong is a veterinarian going the extra mile to help her clients during the pandemic.
"Many people have been afraid to go to the veterinary clinic due to the risk of COVID-19," Wong said. "People have been more comfortable with me coming to their homes and seeing their pet outdoors. I help medically fragile clients obtain groceries, dog food, pet supplies. For another pet owner, I wrote a health certificate so an emotional support pet could fly home."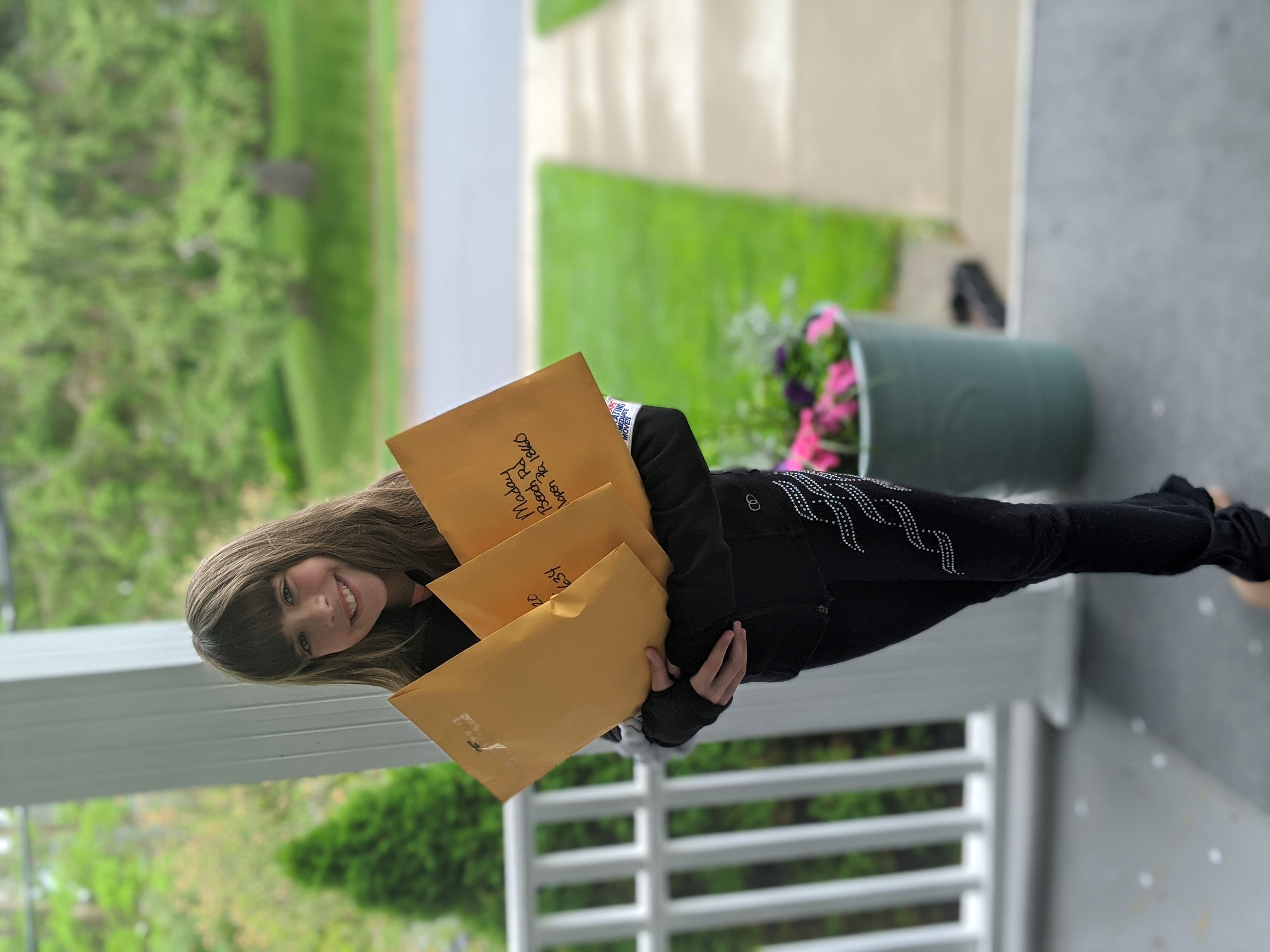 Wong has also been involved in her husband's medical practice office transition to telemedicine and curbside appointments.
As a member of the Atlanta FSC, Wong perfects her craft as an ice dancer.     
Diamond City FSC member sends 'Happy Mail'
When the pandemic hit the country in March, Diamond City FSC member Gabrielle Carpenter and her mother Laura discussed what they could do to make an impact while quarantined in Clarks Summit, Pennsylvania. 
They came up with the idea of "Happy Mail." 
"What child doesn't love to get something from the mailbox," Laura said. "It is the ultimate surprise."
Working as a team, Laura would purchase some of 12-year-old Gabrielle's favorite things such as bracelets, candy and art items. Gabrielle would write a personalized card and stuff the packing envelopes, which went to club members and friends.
To see the excitement and smiles from those receiving the Happy Mail packages was priceless, Gabrielle said.
"Gabrielle has learned it is the little things during hard times that deliver the biggest punch and for a 12-year-old that is pretty amazing," Laura said.