Toshawa Andrews, the mother of Team USA skater Starr Andrews, is one of eight Get Up Ambassadors. The Get Up Ambassadors were nominated by fellow members of the U.S. Figure Skating community and are individuals who embody the "Get Up" spirit.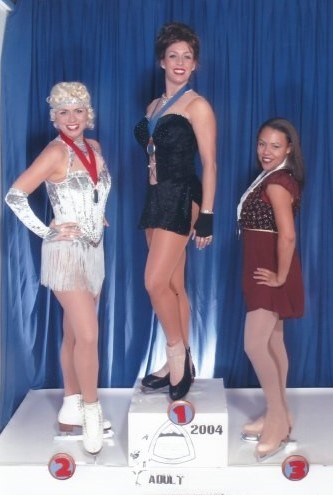 Here's a sneak peek of Andrews' "Get Up" story. For the full feature, check out the June/July issue of SKATING magazine.

Q: Why is it important to you to keep skating despite adversity?
I love it. And you know, I don't know what it is. I don't care how sick I am. [As] soon as I get the moment where I feel good, I'm back on the ice and it makes me happy. There's a love for the ice that I cannot explain.
Q: What is it about the ice that makes you so happy?
I feel like when I'm skating, I'm flying. There's a sense of freedom [and] joy. It's almost like therapy. When I'm on the ice, I don't think about anyone … there's such a sense of freedom on the ice. It's almost like this effervescent feeling that you never get enough of, and you're always craving more, more, more.
Q: How have you been able to stay positive in the midst of adversity?
Well, I think I've always kind of looked at it [in a positive light]. Just because I have such vitality. Like, I have a strong desire to live … Even though it's been really challenging, and having to go through 13 heart attacks … Every time the doctor says, 'Oh, you know, you've had another cardiac event,' of course, there's a fear factor there. Like if I'm pushing myself on the ice, not knowing if that's going to trigger an event—that's always scary. But even though I know that those possibilities are there, I'm not afraid to the point where I stopped skating. I'm just a little bit more cautious.
Q: How has the adversity you've faced shaped you?
My condition has shaped me because it's taught me a lot of things. First of all, I am a serious fighter. I've had three near death experiences. I think it has shown me patience [and taught me not to] sweat the small stuff.
When you have a condition where you get to those moments where you think you're going to die, it'll change anybody's perspective. So, for me, just the gratitude for life in general is such a gift and I think ... a lot of people, we live every day not realizing how blessed we are to wake up and breathe air, and when there's people struggling and fighting for their lives ... I think most of all, the gratitude for life is the greatest gift that this has taught me.
Hear more about Toshawa's story: