By Sarah S. Brannen 
Maribel Vinson Owen had so many accomplishments and titles that it's hard to choose how to identify her. Nine-time U.S. ladies champion. Six-time U.S. pairs champion, with two different partners. 1932 Olympic bronze medalist. World medalist. First female sportswriter at The New York Times. A coach of Olympic champion Tenley Albright. Mother and coach of U.S. ladies champion Laurence Owen and U.S. pairs champion Maribel Y. Owen.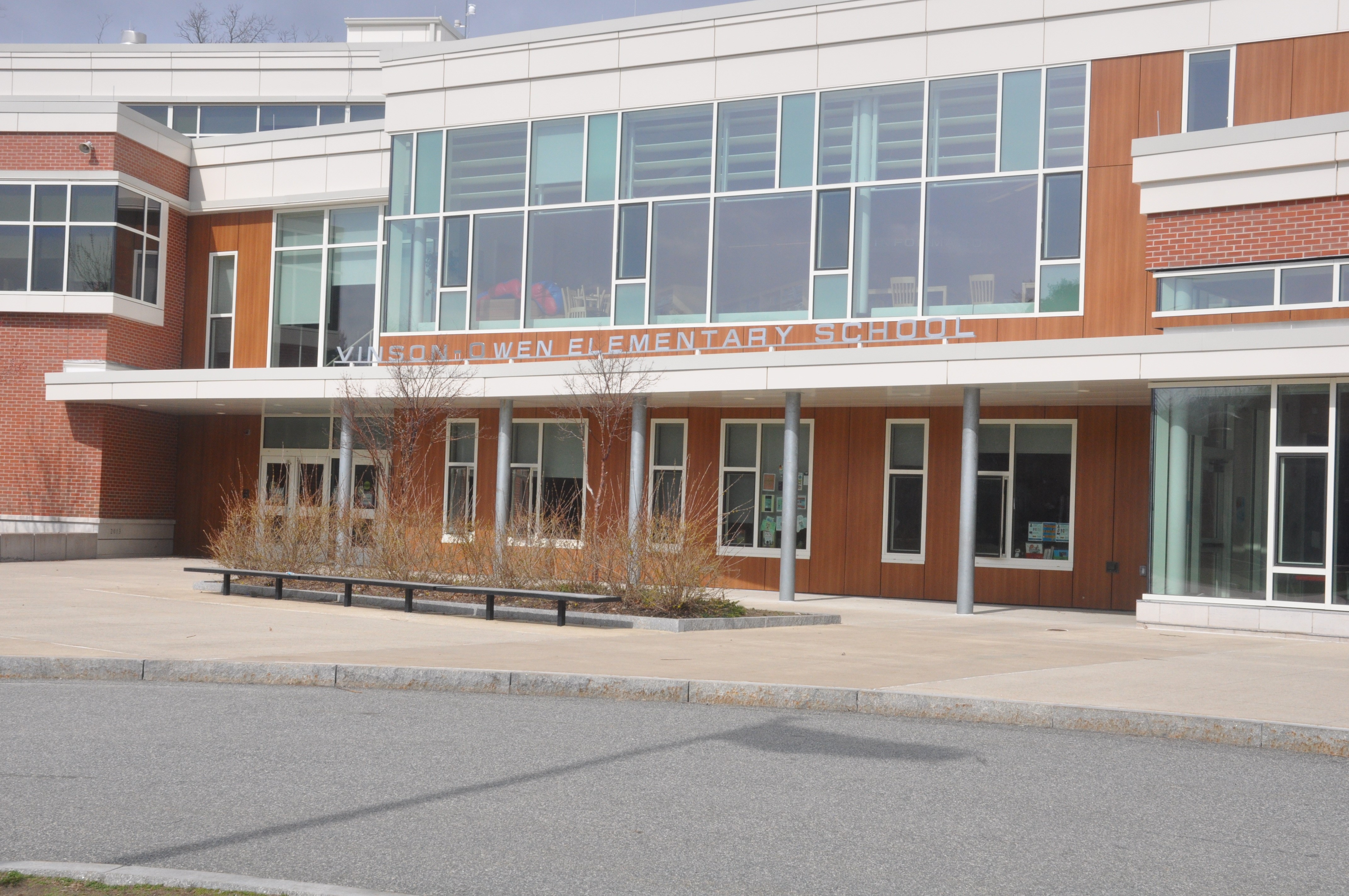 Before she earned any of those accolades, Vinson Owen grew up in the small town of Winchester, Massachusetts. In 1952, after the death of her father, Vinson Owen and her daughters moved back to Winchester to live with her mother. She coached at various rinks in Boston until she and her daughters, along with the entire U.S. World team, were killed in the crash of Sabena Flight 548 on Feb. 15, 1961.
In 1960, the town of Winchester built a new elementary school to accommodate the growing population of students in town. The new school opened in January 1961, on land quite near to the location of the Vinson family farm. It was named the Vinson-Owen Elementary School later that year to honor the memories of the famous figure skating family. (The name is hyphenated to include both the Vinson family of Winchester and the family name of Vinson Owen and her daughters).
The school is now in a much newer building, but it has kept the name. The sign in front of the school is decorated with a pair of white figure skates. In the main atrium, a green banner over a wide staircase tells the story of the Vinson Owen family's skating prowess, and there is a large photo of Vinson Owen and her daughters outside the media center.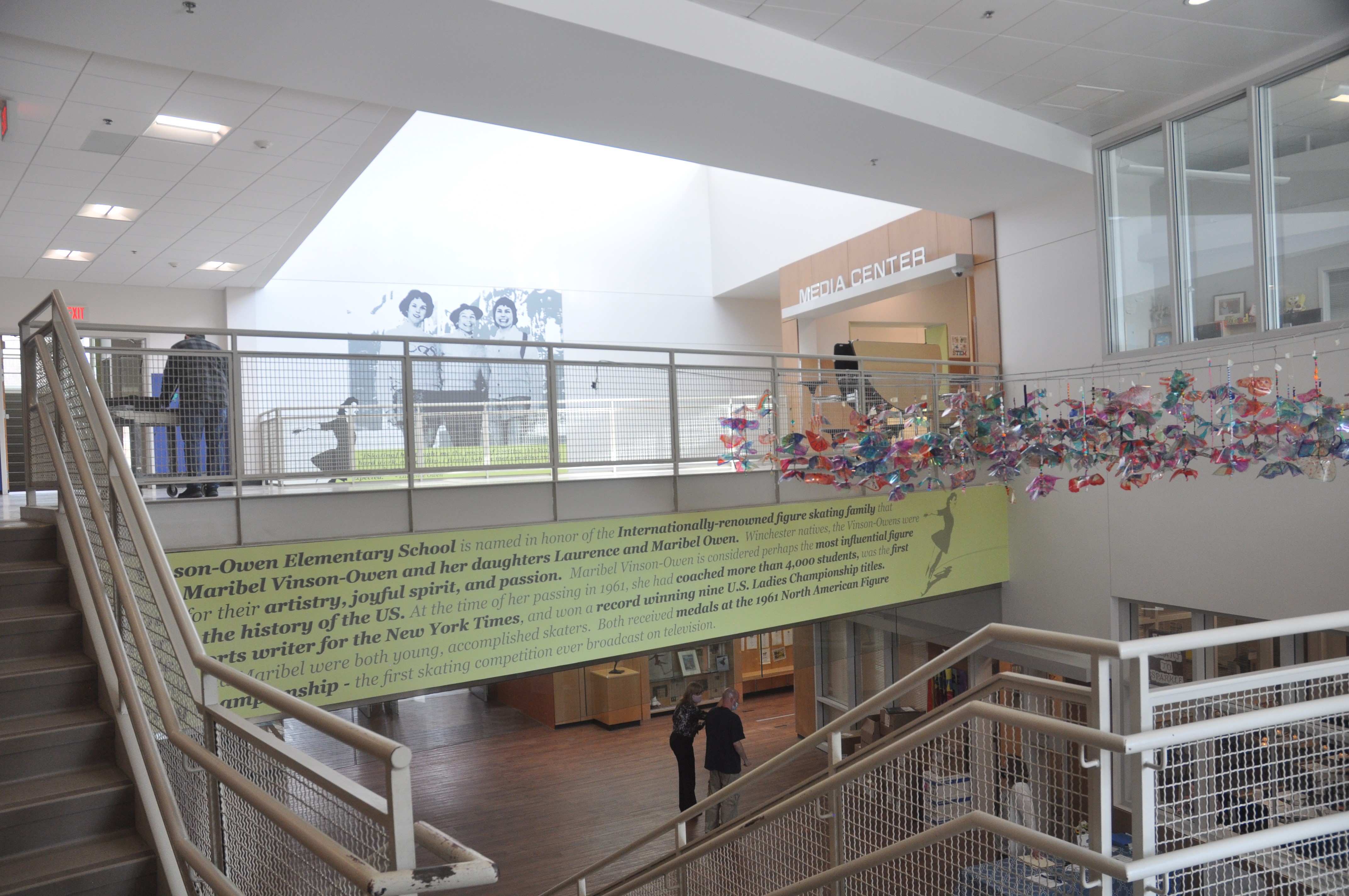 In a decades-long school tradition, the day before February vacation is ice skating day. After a school-wide assembly, students are bused over to a nearby rink, two grades at a time. Skates are provided for any children who don't have their own, although most of them do. 
"This is a big hockey and ice skating town," principal Lisa M. Cormier said. "This year, with COVID restrictions, we had to reimagine this celebration and had a whole school Zoom assembly sharing the life and accomplishments of the family. We also created a document, 'Arctic Adventures,' that outlined a variety of winter-related outdoor activities." 
Administrative assistant Helen Fenerlis' own children attended the school in years past, and she has fond memories of ice skating day.
"When we were a much smaller school, the whole school would go at once, to the Stoneham rink," Fenerlis said. "Once we got too big, it was almost too dangerous to have everyone at the same time, so we started going to the Flynn rink. It's a fun public skate, all morning, in memory of the Vinson Owen family."
Fenerlis said that there was usually a figure skater among the older students, who would do a short performance. Then all the fifth-graders would go onto the ice holding a Vinson-Owen banner.
"That's always a big deal for them, and we take a picture of them that would always make it into their fifth-grade yearbook," she said.