By Jillian L. Martinez
On Jan. 4, 2017, the original Tucker Road Ice Rink (TRIR) in Fort Washington, Maryland, was destroyed by a fire; the close-knit community was devastated. The rink was more than a facility where athletes could learn and practice. Rather, it was a place in which people felt like they belonged. 
Unified and resolute, the local skating community rallied to rebuild the rink and continue fostering multicultural representation in Fort Washington.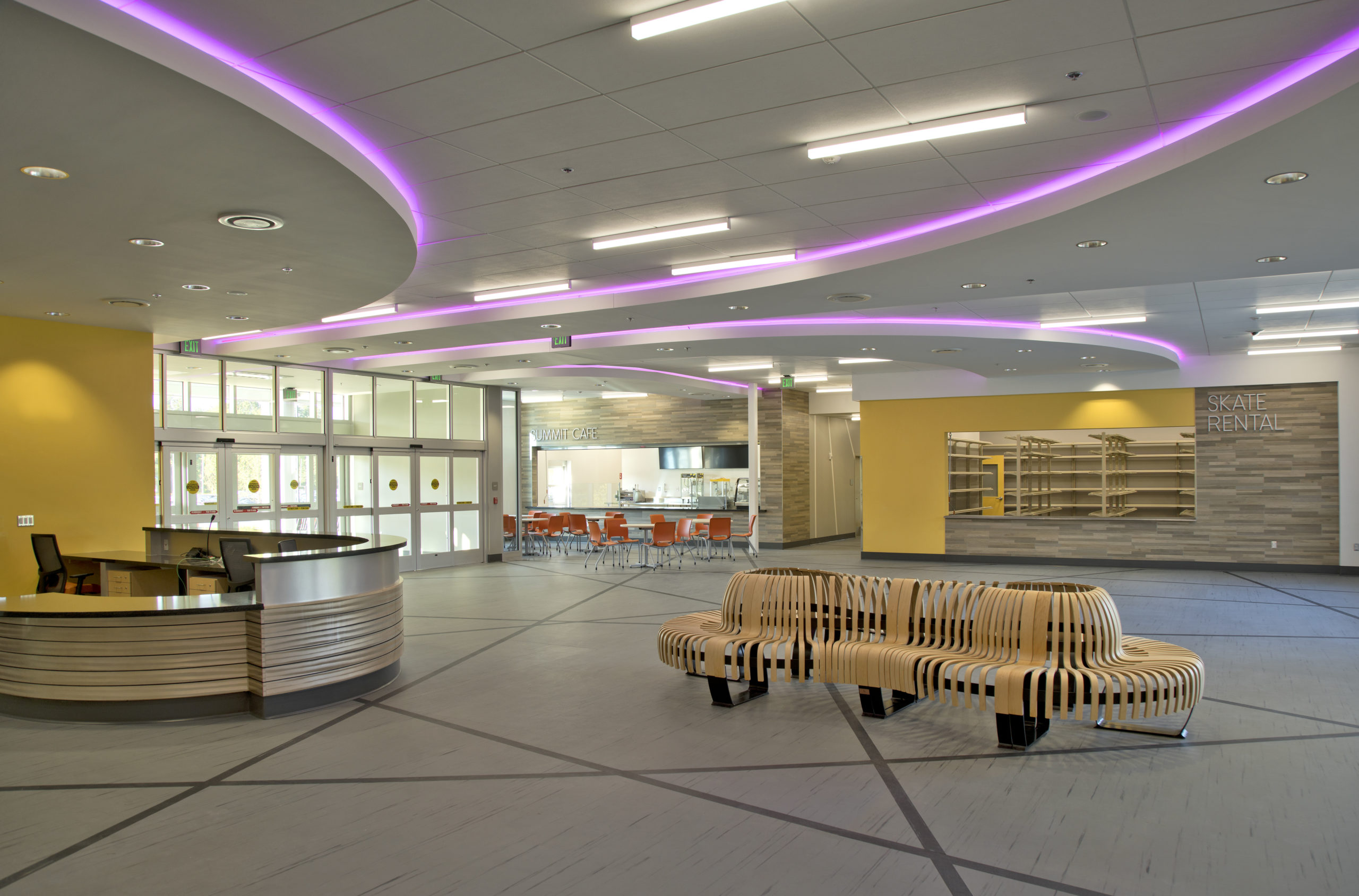 "One of the things that comes up often [in the TRIR community] is 'I feel accepted here and I feel like I can fully be myself here,'" said Jasmine Snead, who grew up skating at the original TRIR and is the new TRIR director. "When the fire happened, life at the rink paused, but the community lasted." 
Snead, who is also the co-founder and chief financial officer of Aurora Tights, is one of the many who once trained at TRIR and has returned to the community as an adult and staff member to keep the spirit of Tucker Road alive. 
"[After the fire], folks on the board kept pushing for a nicer rink," Snead said. "We really wanted to make sure that we were building a strong program and a strong foundation for the people in this community to really excel in the sport."  
Four years after the fire, a new $28 million, 48,860 square-foot facility stands in the place of the former rink. The replacement facility is equipped with a National Hockey League-sized ice rink, dance studio, heated bleachers, room for future expansions and pays tribute to Black Arctic explorer Mathew Henson, who was born in Maryland and considered the first person to reach the North Pole. 
"The cool thing about Tucker Road is that it's a county rink [and is operated by the Maryland-National Capital Park and Planning Commission's Department of Parks and Recreation]," Snead said. "So, it's really made for the community. Prices are actually much more affordable for ice skating, which increased the access for the people within the community who are extremely diverse."  
Prince George's County, where TRIR is located, has a population that is 63 percent Black and African American, 16 percent Hispanic and 14 percent white, according to Greater Greater Washington. There is also a large Filipino population in the area. 
"[Snead] and I both grew up in Prince George's County, and it is a bubble of diversity. So there were always people who looked like me," said Leatrice Bulls, a Team USA synchronized skater and cochair of the U.S. Figure Skating Diversity, Equity and Inclusion Task Force. "When the rink reopened, I just remember stepping on the ice and thinking, 'It feels exactly the same.' It was almost as if no time had passed." 

Bulls and Snead, who both identify as Black, emphasized the importance of training in a community that honored and celebrated cultural and ethnic differences and provided a safe place for them to grow as athletes. 
"When I was skating at Tucker Road, I wasn't a Black skater. I was just another skater," Bulls said. "That was something that was incredibly unique to my skating at this rink."
Because diversity was (and continues to be) so ingrained in the environment of TRIR, diversity was never tokenized. Rather, it was natural and fluid. Bulls and Snead fondly remember participating in a rink skating production of The Wiz, brainstorming other programs like Dream Girls and having one family at the rink regularly bring in traditional Filipino food for the athletes. 
"There was another rink 10 minutes away from my house, but Tucker Road was always where we would schedule most of my freestyle lessons and training sessions," Bulls said. "It was 30–35 minutes away, but I felt the most empowered there. There was a comfort level there, and my friends were there. It all comes back to the community."
TRIR officially hosted its grand opening celebration on Aug. 28. As the new director, Snead is looking to grow a strong foundation for all skaters and provide an inclusive environment for them to thrive. 
"I want to emphasize the inclusivity and enjoyment of skating no matter [a skater's] shape, their size or their skin color," Snead said. "We want to embrace all of that so that our skaters feel seen and heard. Fostering that love of the sport is definitely tough, but I'm focusing on the full life cycle of a skater. To me that means providing support on the ice and off the ice."
TRIR has long been a rink in the area known for its support of BIPOC athletes and instructors. Snead's approach to holistic support coupled with TRIR's affordability and culturally supportive environment will continue to be a home for former and current skaters, their families and the surrounding Prince George's County residents. 
"When you foster a community that is welcoming and inclusive, you're going to see diverse populations and diverse people coming and flourishing," Bulls said. "When you have a rink in a diverse community, BIPOC people are going to come and they're going to stay as long as they are feeling seen and heard."