Above: Leadership at the City of Palms Skating Club in Fort Myers, Florida, help out after the devastation of Hurricane Ian. Photo Courtesy: Koren Gibson at City of Palms FSC/Fort Myers Skatium.
By Abby Farrell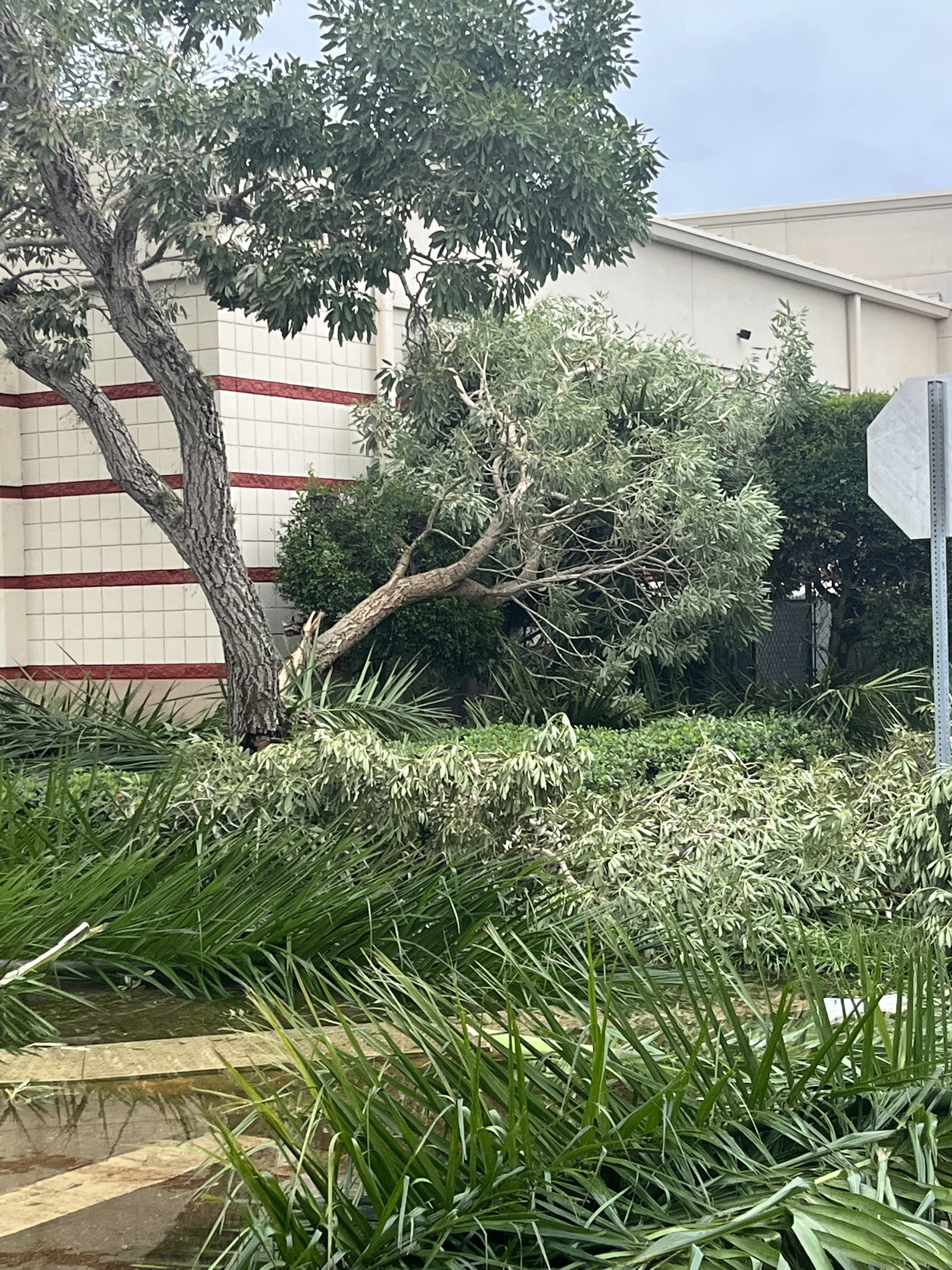 Just a few weeks ago, two Florida area ice skating rinks were operating business as usual. With the aftermath of Hurricane Ian, one is now a shelter and the other is a donation center for the thousands of people whose homes were completely destroyed or damaged. 
Ian made landfall on the coast of southwest Florida on Sept. 28 as a Category 4 storm with winds up to 115 mph. Heavy rainfall and strong winds caused severe destruction to thousands of homes and businesses. Among those impacted, but still positively influencing their communities, were rinks for two clubs: Florida Everblades Figure Skating Club in Estero, Florida, and City of Palms Skating Club in Fort Meyers, Florida.
Florida Everblades Figure Skating Club
Hertz Arena has been the home of the Florida Everblades Skating Club for more than 25 years. The club runs a Learn to Skate program with 700 members as well as 10 teams that compete internationally.
When news spread that Hurricane Ian was heading toward Fort Myers, the Skatium closed. The rink became a donation center for clothing, toiletries, pillows, blankets and other supplies. Currently, it is also being used as a shelter for members of the community who lost their homes.
"It feels good to be able to help and it allows people a safe place to go," Kandis Hawkins, director of Figure Skating at Hertz Arena, said. "We've had a lot of local restaurants donating. The Red Cross did end up coming in and taking over, but our operations teams are working 24 hours a day. They're sleeping in the building just to keep the community safe and comfortable. It's a nice feeling that we can be able to give back to them." 
For members of the skating community, this has become personal. 
"I don't know how many of our Learn to Skate or figure skating families have been affected because I haven't been able to connect with everyone. The Wi-Fi is really bad right now, and a lot of people are just starting to get their cell signals back," Hawkins said. "I'm sending emails, but I'm not getting a lot of responses back, so we don't know how many people have been affected from our program yet. I know a few that have just lost everything. It's going to be unknown at this time how many people are going to be able to return to the program after what's happened,"
Helping those in need of a place to stay at Hertz Arena has become a priority, but for many skaters and their families, the ultimate goal is to get back on the ice. 
"My personal skaters all want to get back on the ice. We all use the ice as an outlet for our stress level so unfortunately, we're not able to do that," Hawkins said. "I have some clients that are driving two hours each day just to be able to have some normalcy. So I think that's what everyone's looking for is that normalcy. We just don't have it yet but we're being patient."
City of Palms Skating Club 
City of Palms Skating Club has called Fort Myers Skatium the home of its Learn to Skate and figure skating program.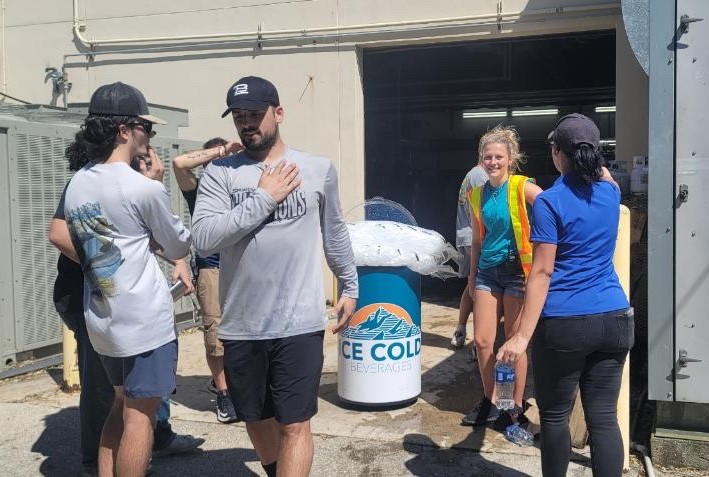 In the wake of Hurricane Ian, it has also been a donation center for supplies like diapers, food and toiletries delivered daily.
"I don't know how much is shown on the news, but the damage here is substantial," said Koren Gibson, program coordinator for the City of Fort Myers and President of City of Palms Skating Club. "It doesn't look like home again. But knowing that you can do this small gesture of sorting things and giving it to people feels good. It helps to not only pass the time, and it makes you feel good."
Even though Fort Myers was one of the areas hit hardest by the hurricane with widespread flooding, the rink escaped water damage and significant harm, other than some roof damage. 
To stay on top of the demand and to stay connected, families of skaters have been diligent about constantly checking in with each other to make sure they all have everything they need. Since the building is cleared for skaters, everyone is eager to get back to the ice. 
"We want to get the kids back skating because it's part of their normal life," said Maureen Dalton, president of the Florida Interclub Council and U.S. Figure Skating National Accountant. "They're used to going to the rink three days or five days a week. They're anxious to get the kids back to that even though the parents might not have everything that they need."  
Stronger Together
Despite having to pick up the pieces from Ian, both clubs are optimistic about the future. 
"The devastation here is huge, but we have become stronger as a group due to it,"  Gibson said. "It's wonderful to see our skaters, our skating parents and our coaches all communicating. So even though we are in the midst of a really hard time, there is definitely a coming together."
Symbolic of the hope as well as the way the community has come together and is still standing, is the sign outside City of Palms Skating Club.
"The coolest thing though, about the damage, is that we have a sign for the buildings, and it says Fort Myers Skatium," Gibson said. "It's still in perfect condition because our skaters are strong. It's really cool to see."
Fortunately, the skies are looking clearer for the two rinks and they both have plans to reopen soon. Hertz Arena will reopen its doors on Oct. 17, and Fort Myers Skatium will be able to welcome back skaters Oct. 14. The City of Palms Skating Club is also hoping to be able to host their annual Christmas exhibition, and instead of charging an admission fee, they are looking forward to continuing to give back, encouraging families to donate to local organizations to assist with relief efforts.