By Harry Thompson
Growing up in what has been called "the first Black family of hockey," Kyle Boyd discovered early on a love of skating. Now the Eden Prairie, Minnesota, native and son of Minnesota Wild team physician Dr. Joel Boyd is passing that joy on to a new generation as the director of fan development for the NHL's newest franchise, the Seattle Kraken.
But reaching the masses in the Pacific Northwest takes more than just putting skates on local youngsters' feet and teaching them a few basic skills. It means selling the sport and all its goodness to parents who may have never stepped foot inside an ice rink before.
"I believe that one out of five Seattle residents or King County residents was not born in the U.S., and one out of three speak a second language in their household," said Boyd, who came to Seattle four years ago with his wife and bumped into future Kraken CEO Tod Leiweke at a public skating session.
"So how do we bring those other family members along and make them feel like they can participate and know a little bit about what's going on in terms of skating."
To do that Boyd helped to create a Learn to Skate USA guide that is written in five different languages (English, Spanish, Chinese, Vietnamese and Somali) and features illustrations of kids from various ethnic backgrounds.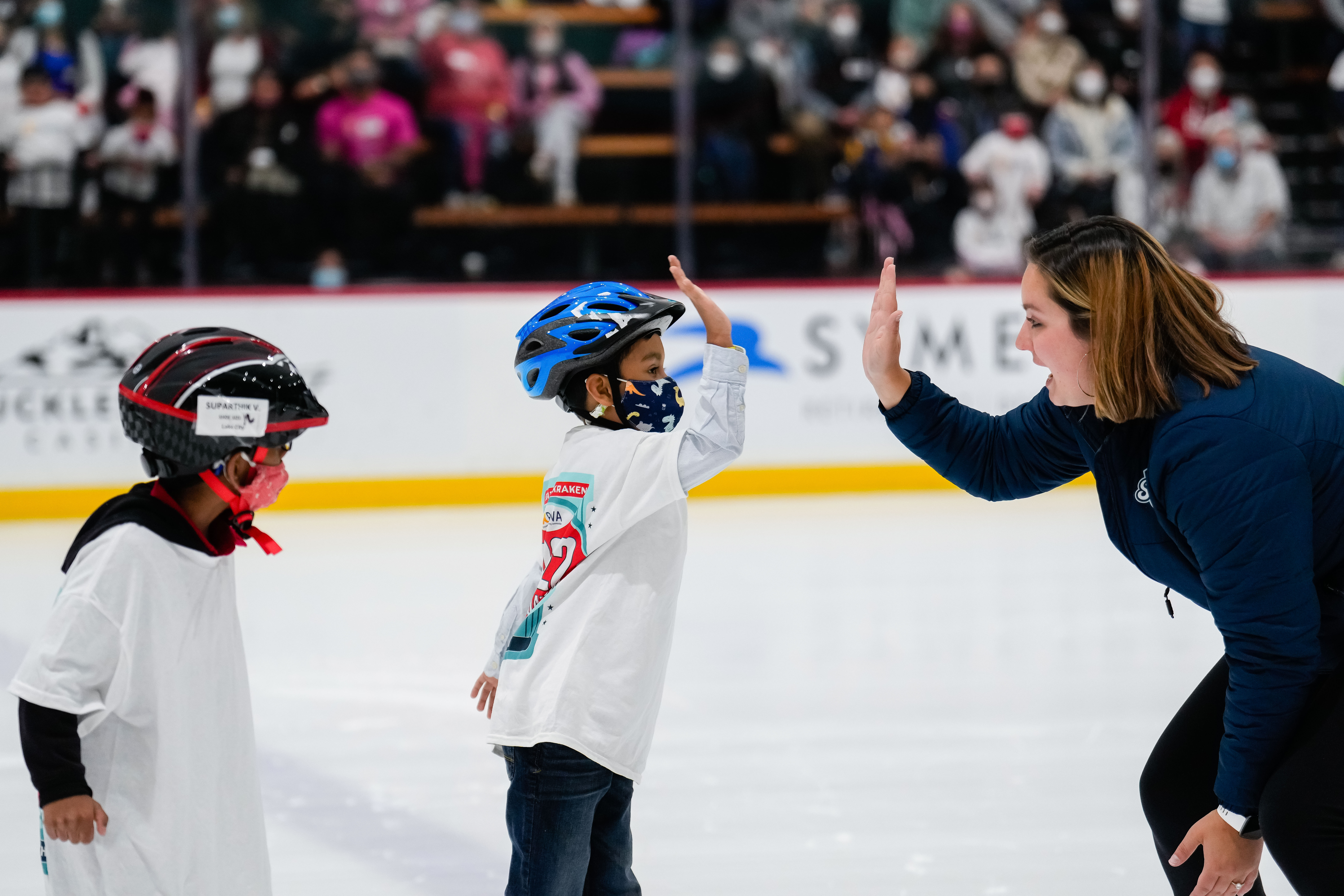 The books have been sent out to schools and various social groups in the community to encourage everyone to join in the fun. They are also handed out to parents and other family members so they can follow along as their sons and daughters progress through the Learn to Skate USA skating curriculum.
"It's another tool in the tool belt," said Boyd, whose sister Kendall Boyd-Tyson also works for the Kraken as a senior vice president of finance and business intelligence. "We're really focused on this curriculum being a key part of seeing more growth amongst youth of color, families of color and folks from non-traditional hockey communities and folks who might speak multiple languages. I think this is really going to help those groups in particular and help us attract more families and community members and advocates."
So far it seems to be working as more than 2,800 aspiring skaters of all ages have signed up in the first 10 months of the program.
Chad Goodwin is the skating director at the three-sheet Kraken Community Iceplex and even he is pleasantly surprised at the success the program has enjoyed, especially with attracting older skaters and people of different backgrounds.
"We're just here to make skating fun and make the rink a fun place to be," said Goodwin, who came to Seattle after serving in a similar role with the Vegas Golden Knights. "When kids walk into the building, we want them to know that we're going to have some fun, we're going to get some exercise and we've got to do a little work. It takes some time and dedication to get going."
Once kids master the basics of skating there are pipelines for them to choose to pursue a path forward in figure skating or ice hockey. The goal is for everyone to enjoy the freedom and fun of gliding across a fresh sheet of ice.
"In the end it's really about the sport overall, both hockey and skating. We want this to be a sport of the future," Boyd said. "We want everyone to feel like that the Kraken really care about our entire greater Seattle community and state of Washington, the Pacific Northwest, and they're really invested in making this awesome sport something for everybody."