Above: Lisa Lax visits with Olympic champion Scott Hamilton prior to the shooting of RISE. 
By Mimi McKinnis
"I get chills just thinking about it."
Even though the tragedy of Sabena Flight 548 occurred 60 years ago, filmmaker Lisa Lax is still moved by the legacy of those who perished — a legacy she chronicled with her identical twin sister Nancy Stern Winters in RISE, which commemorates a decade since its premiere this month.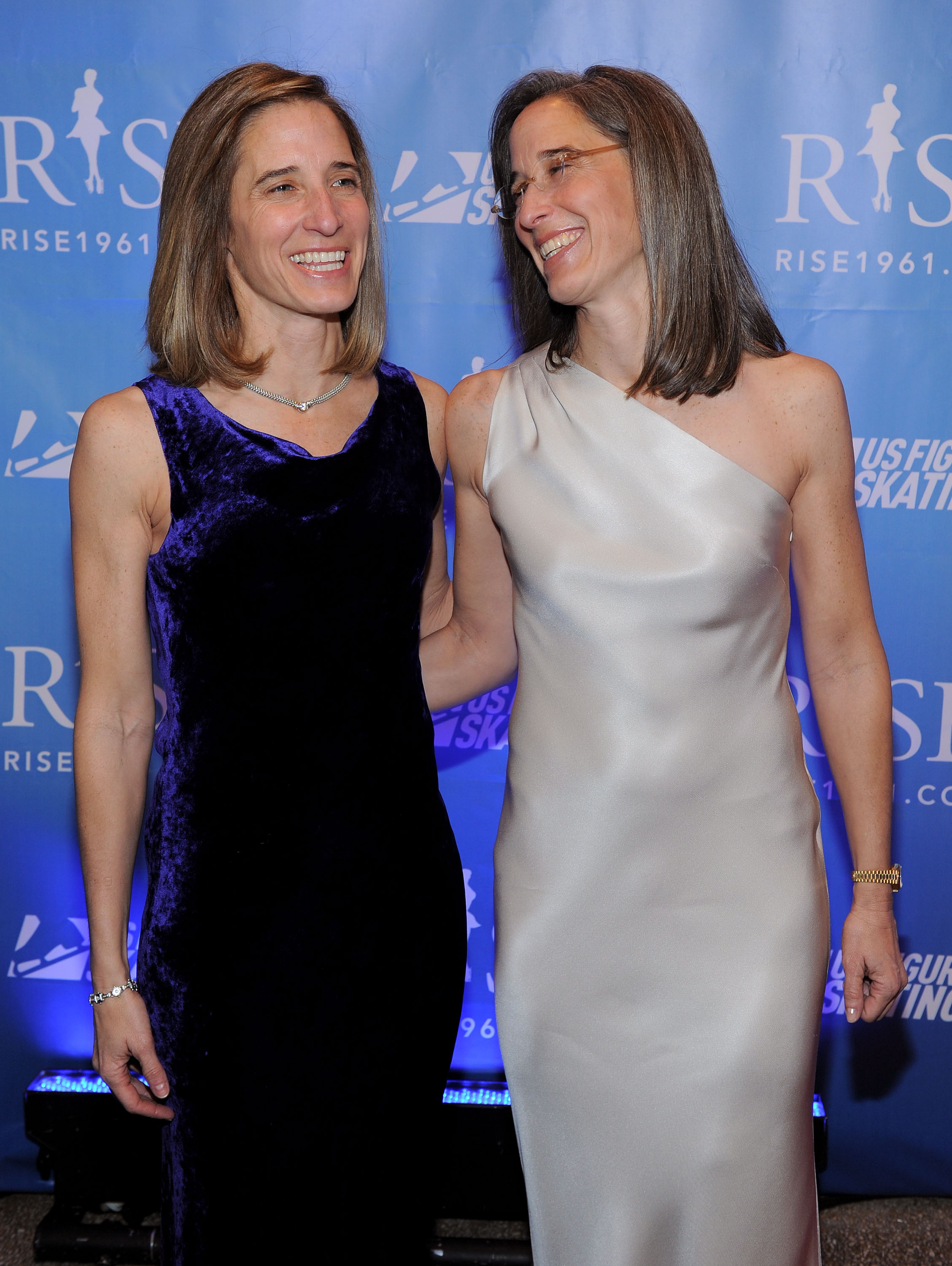 "I hadn't watched the film in 10 years," Lax continued. "I watched it again two days ago, and I was crying at the end. It touched me again 10 years later."
A visual time capsule for both skaters and skating fans, RISE documents stories about the 1961 U.S. World Figure Skating Team through the eyes of skating legends Brian Boitano, Peggy Fleming, Dorothy Hamill, Scott Hamilton and Michelle Kwan. And while those who lost their lives are honored through the U.S. Figure Skating Memorial Fund, RISE proves that their stories live on through their successors, immortalized on film by the twins' aptly named Lookalike Productions. 
"This project is different because it tells figure skating stories on this level of importance," Lax said. "It celebrates and makes you think back over 50 to 60 years in the history of skating, which is something pretty special. The story is told through generations, and it was so easy booking anyone we spoke to, because everyone wanted to be a part. Everyone was passionate about the subject. That's really what brought the film to life, which is all you could want when you're telling a story."
Narrated by skating's greats, RISE conveys personal accounts filled with lessons passed down, highlighting the connections within the sport that span more than half a century of its history. Case in point: Maribel Vinson Owen, who lost her life in the crash, coached Frank Carroll, who coached Kwan, who stars in the film.
"We got to figure out the connections between then and now," Stern Winters said. "That's definitely unique to skating. It's the idea that Frank's coach was Maribel, who passed her knowledge to Frank, who taught Michelle and so many other greats — even the skaters we're watching today, who will pass on their knowledge to the next skaters after that.
"Skating is a very tight-knit family. All of these people are connected, and the lessons they've learned are passed down from generation to generation. Everyone shares a connection to the greats and to those lost in the crash."
Each account throughout the film proves that lessons taught on the ice often become lessons applied to life off of it — lessons Lax and Stern Winters learned when creating their film.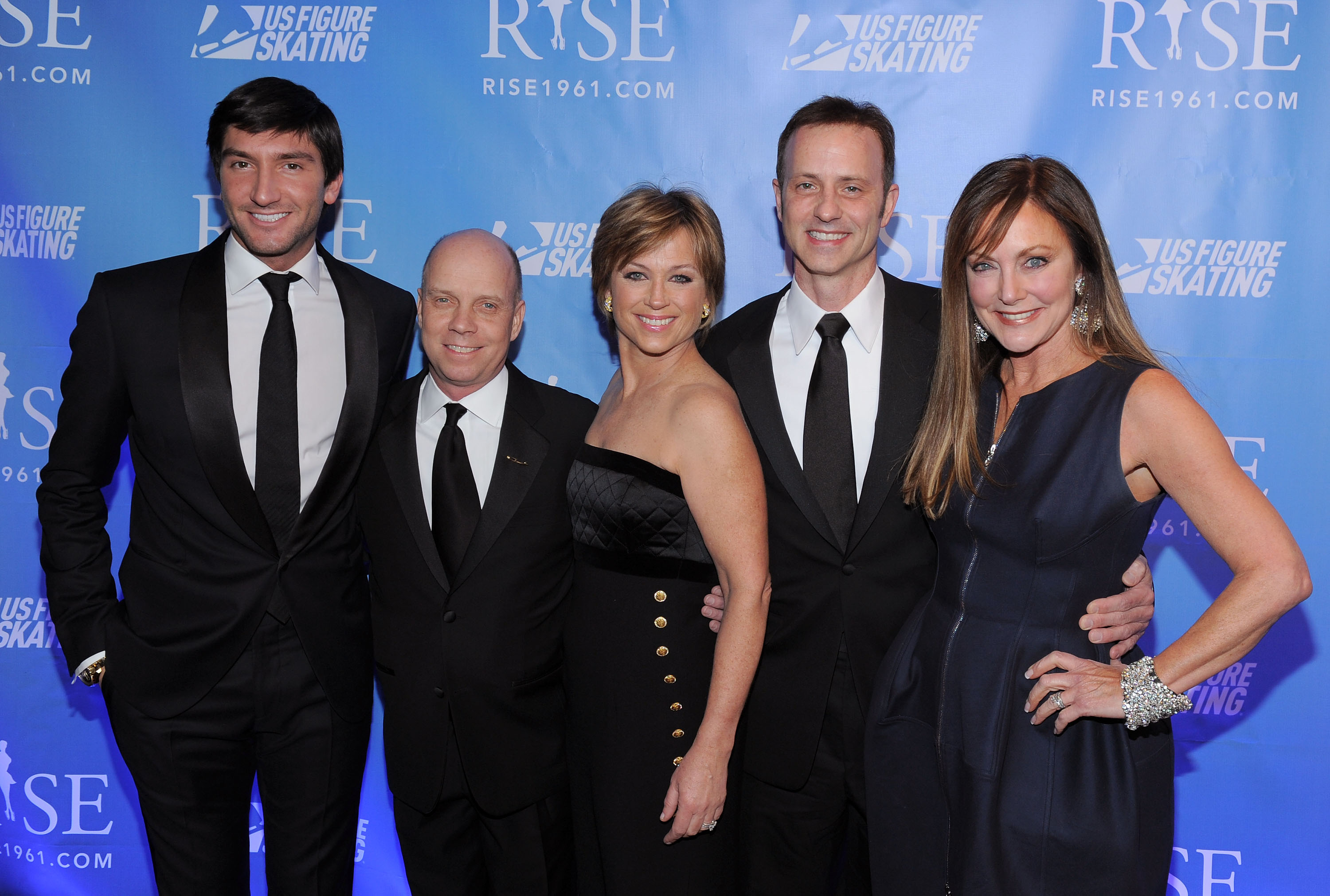 "There's something about Scott Hamilton's last line, 'Get Up,'" Lax said. "He looks straight into the camera. It's all about resilience, and perseverance. It's the lessons from life and that you learn through figure skating. That's what sticks with me the most.
"As a parent, another big takeaway for me is the unconditional love that's shown along the way. That and appreciating what you have. Enjoy your time and appreciate the things often taken for granted. Everything could be gone in an instant."
Beyond imparted wisdom, RISE is highlighted by an appreciation for the past that celebrates the future of figure skating through the relationships built within each story — relationships that continue to reach across the 10 years since the film's premiere.
"The camaraderie between skaters is remarkable," Stern Winters said. "That's a difficult thing to do. I think it's a true testament to the way these athletes feel about their sport and its history."
Another testament? The number of skaters and members of the skating family who turned out for the film's 2011 premiere and gala celebration in New York City, including all 13 Olympic champions, who gathered together for the first time at the event. They were joined by several Olympians and U.S. champions, including Peter Carruthers, Linda Fratianne and Ron Ludington.
"We're all in here as a family," Carruthers told SKATING at the event.
While RISE debuted 50 years after the tragedy, the stories told on screen carry the legacy of those on board into the present, preserving them for generations to come. And while 10 years have passed since the film's debut, it continues to serve as a reminder of the importance of the connections highlighted — connections both Lax and Stern Winters hope RISE can show the next generation of skaters to come through U.S. Figure Skating's pipeline through 10 more years and beyond.
"I really hope this younger generation of skaters sees and appreciates the special family they're a part of," Lax said. "I hope that people will start to watch it again, like I did, and that the next generation will get the chance to see it. Everyone in the sport has something to learn from these great athletes and from the sport's past."
To honor 60-year anniversary of the 1961 World Team tragedy, RISE will air on NBCSN on Feb. 11 at 10 p.m. ET.