Above: Casey Ouellette and the Skyliners at the ISU World Synchronized Skating Championships 2019 in Helsinki (Courtesy Casey Ouellette).
By Karen Rosen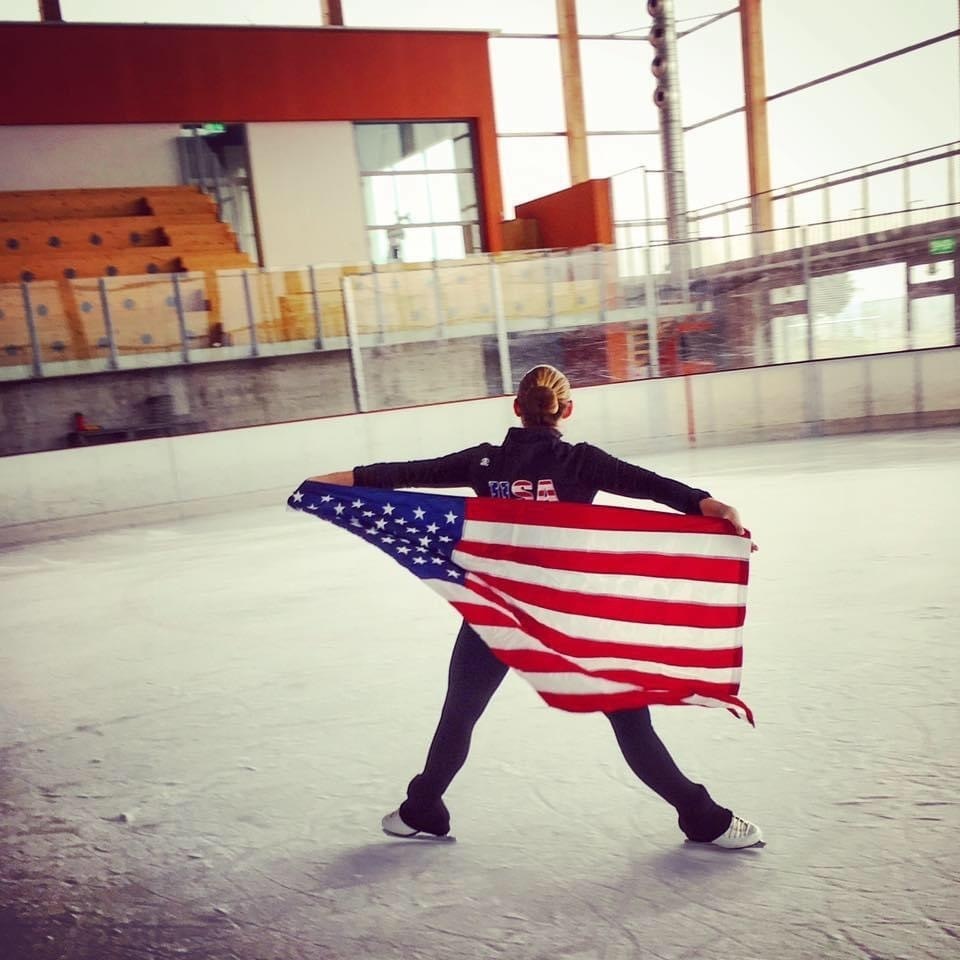 When Casey Ouellette found out the ISU World Synchronized Skating Championships 2020 were canceled due to COVID-19, she felt somewhat adrift.
"I was trying to find something to do," said Ouellette, who was then a member of the Skyliners, one of two senior synchro teams qualified to compete for Team USA at Worlds. "I've always been super patriotic. For me, being able to have the opportunity to skate for our country was such an honor and I wanted to pay that back. I always felt that I should serve it.
"I was already able to represent our country, so now I'm doing the same thing — just in a different uniform."
Veteran's Day is particularly meaningful for Ouellette this year because the following day she will graduate from Officer Candidate School in Newport, Rhode Island, as a newly commissioned Naval Flight Officer.
Ouellette, 26, of East Granby, Connecticut, is ranked No. 1 in her class of 94 students. 
Her experience as a synchro skater — including 13 years as part of Team USA — prepared Ouellette for her new life in the U.S. Navy.
"It's very funny how similar everything here is to synchro," she said. "Marching is just like doing a no hold block. We have matching uniforms and our hair is always in a gelled bun, just like we had for practice or competitions."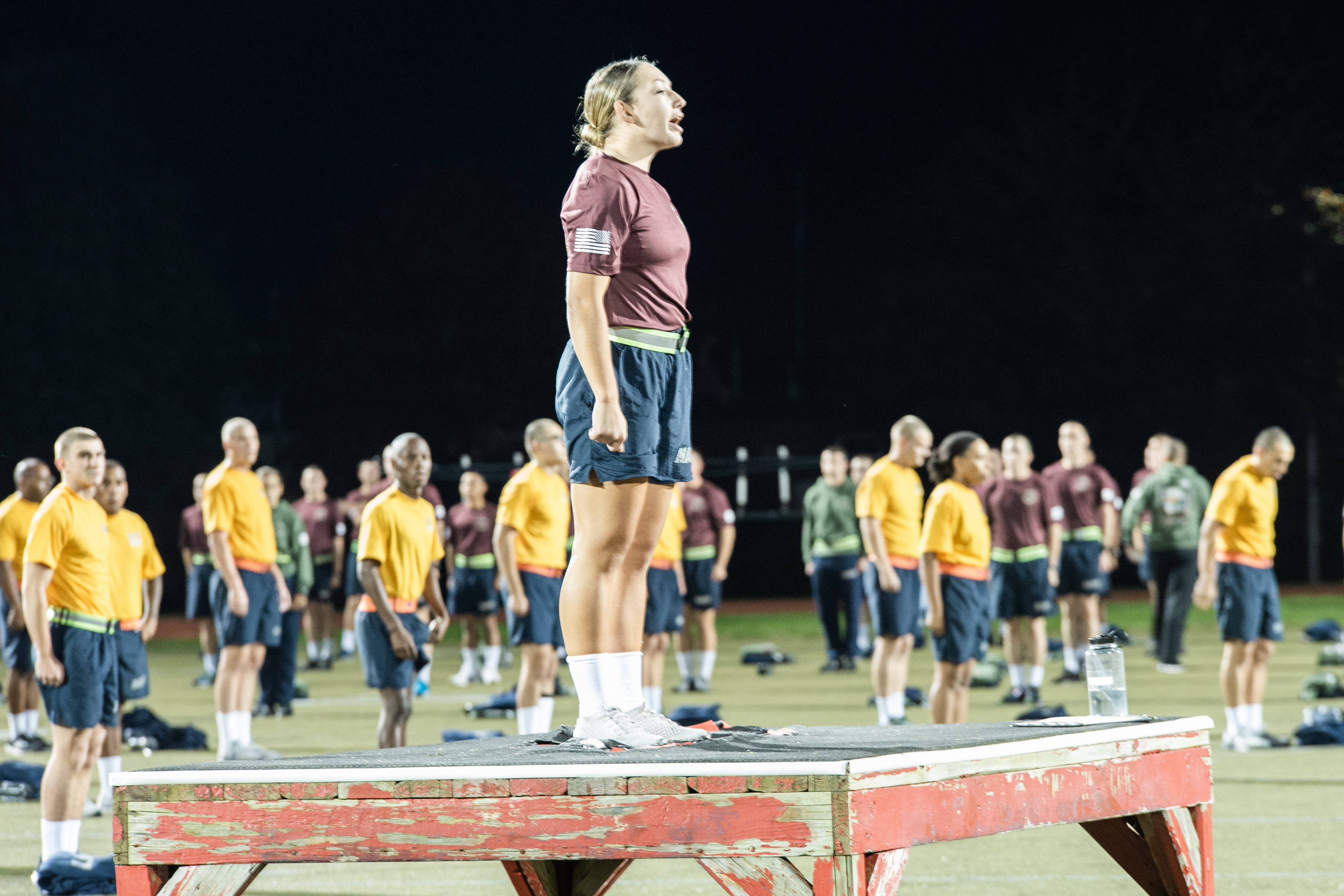 Ouellette's work ethic also gave her a leg up in her new world, although she did not expect how integral teamwork would be.
"It's really nice because it's kind of providing me with the same team environment that I'm used to having," Ouellette said. "I feel like I'm so well-prepared from skating — everything from constantly being on time and being very meticulous and detail-oriented. All the things that were instilled in us — the hard work and the same dedication that all my teammates have is what everyone going through training with me here has as well."
Her Skyliners teammates, whom she considers family, wrote letters of encouragement for about 13 weeks until Ouellette got her phone back.
And while she is no longer a Skyliner, Ouellette will be navigating a line through the sky. She will soon report to Naval Air Station in Pensacola, Florida, for flight training. 
"If you've seen Top Gun, I'm more like Goose, the person in the backseat," Ouellette said, "so you're basically in charge of controlling the weapons and navigation."
With her yen to fly, why did Ouellette choose the U.S. Navy instead of the U.S. Air Force? 
"The really cool thing to me is my hometown has 3,000 people and an aircraft carrier holds 6,000 people," she said. "And landing a plane on a boat sounds incredible."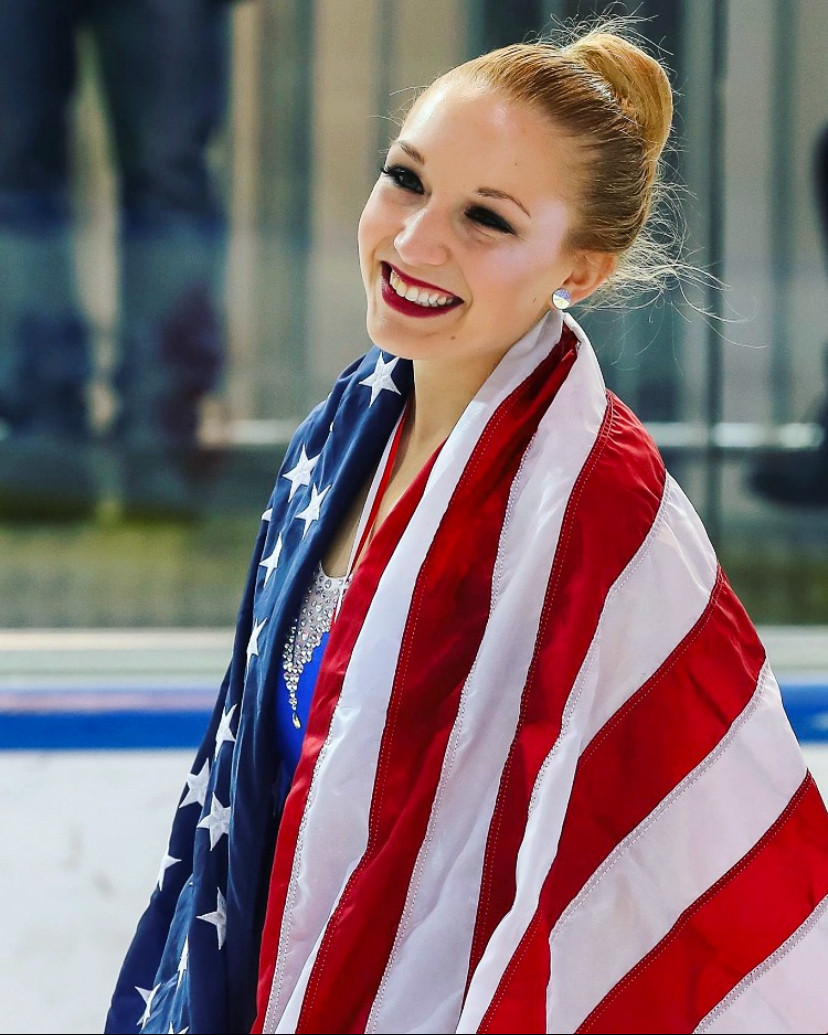 The amount of travel the Navy offers was also attractive to Ouellette, who loved that aspect about skating.
Ouellette was only 2 or 3 when her mom brought her and older sister Nikki to a rink for lessons. She tried synchro at age 6 and skated for Team USA for the first time as a 12-year-old novice with the Ice Maids.
In 2013, Ouellette qualified for the World Junior Synchronized Skating Championships with the Lexettes, and as a Skyliner she went to the World Synchronized Championships in Stockholm in 2018, placing ninth, and again in 2019, finishing eighth in Helsinki.
Ouellette also skated singles until she was about 14 and did ice dance all the way through college at the University of Rhode Island, graduating with a degree in kinesiology.
"Synchro was always my favorite," she said, "because I thrive off the team camaraderie."
Synchro is also where Ouellette got her first taste of leadership as a mentor to the younger skaters. At Officer Candidate School, she has been in charge of running physical training for the entire squadron.
While upper body strength was a priority for skaters because they had to do lifts, now Ouellette is more focused on endurance.
She hasn't been on the ice since the Skyliners placed second at nationals in 2020 and does miss it.
"Skating is just an escape," Ouellette said.
Now she has a new mission with the military. 
"It's been something that I've always really looked up to," Ouellette said. "The dedication and sacrifices we've seen other service members make so we could have the incredible opportunities that we have has always touched me and inspired me."
Watch below to find out what it's like to train at Officer Candidate School like Ouellette.