Above: FSH founder and CEO Sharon Cohen with members of the senior class.
By Lois Elfman
"It's so beautiful to come together with friends who support the organization and want to see it thrive," said Sharon Cohen, founder and CEO of Figure Skating in Harlem (FSH), of the first in-person gala since 2019. "To be together and celebrate a milestone 25th anniversary is a beautiful thing."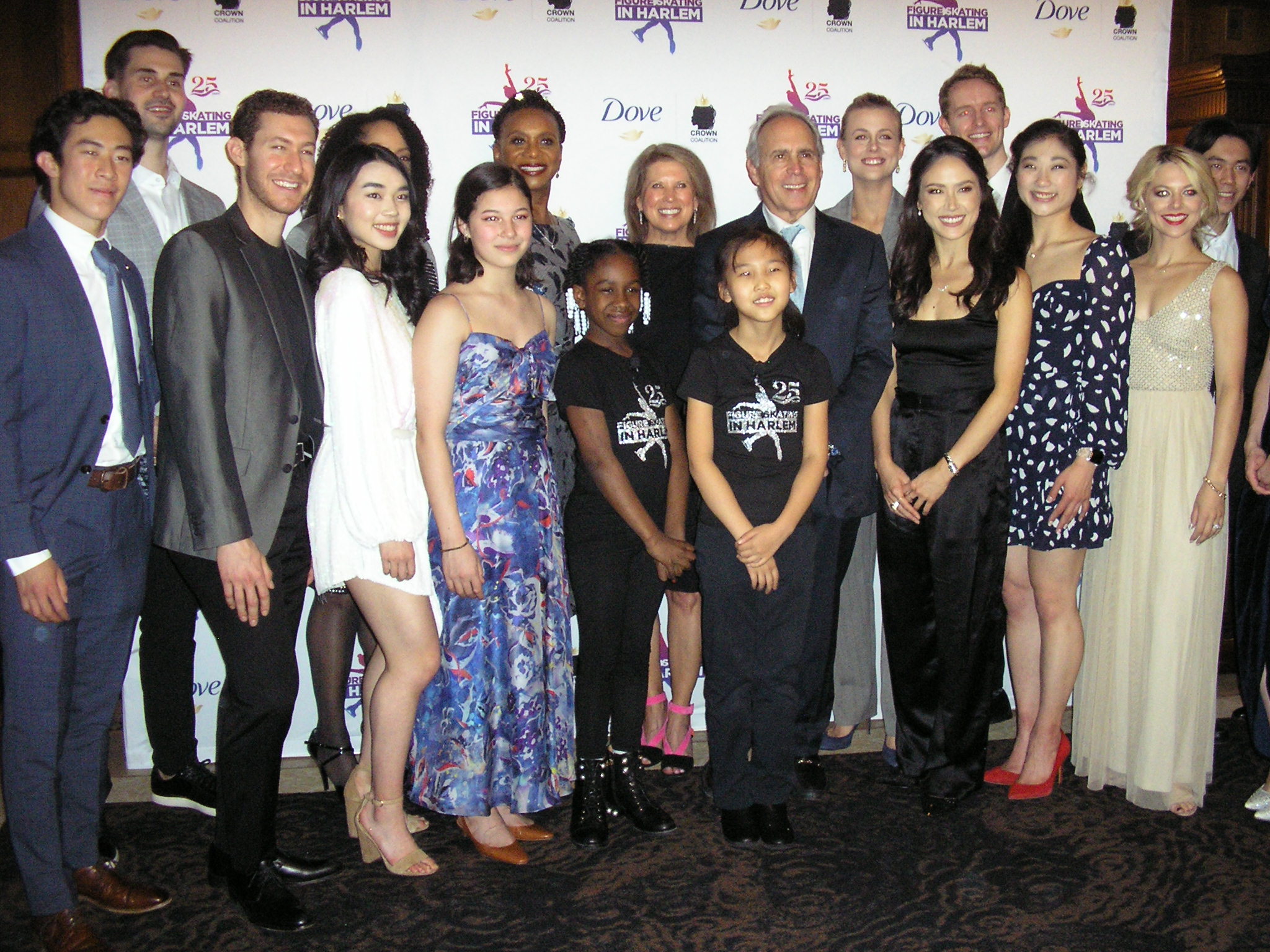 The theme of the gala was Celebrating 25 Years of Excellence and Sisterhood. This year's honorees are cosmetics industry innovator Esi Eggleston Bracey, venture capitalist Lorine Pendleton, FSH dean of students Bernice DeAbreu, Whoopi Goldberg, Valerie Simpson and 2022 Olympic champion Nathan Chen. Joining them were members of the 2022 U.S. Olympic figure skating team as well as Atoy Wilson, Tai Babilonia, Paul Wylie and JoJo Starbuck.
Two tables at the gala were filled with FSH alumnae, who mingled with attendees and shared stories of how the organization impacted their lives. Meiling Jabbaar, a teacher and learning specialist, has been serving as the alumnae project manager for the past several months, building up the alumnae network.
"Two big projects I've been leading are the Gems Project and the alumnae reunion," said Jabbaar, who was in FSH for nine years and said the program helped her gain poise and confidence as a young Black woman. "The Gems Project is a photo series of 25 alumnae showing the impact of the program and the legacy of where these alumnae are now. We coordinated with Flo Ngala (FSH alumna), who is a popular photographer. We're curating a virtual gallery and a social media campaign."
The alumnae reunion, held two days prior to the gala, was attended by around 80 former FSH participants as well as counselors and coaches. The reunion and the gala marked the launch of FSH's new alumnae project, which will provide networking and mentoring opportunities to program alumnae ages 18 to 30.
In addition to resuming its annual skating show at Riverbank State Park before an audience, FSH had some other interesting experiences this year, notably skating while Alicia Keys sang live at Rockefeller Center. They also had a great career week, meeting people from innovative new companies. The Harlem Ice synchronized skating teams won two bronze medals at a competition in Lake Placid, New York.
"The mission has remained rather steady for all these years because the need still exists to diversify skating and to help young women have opportunities," Cohen said. "The need to proactively support young people hasn't changed."