By Joanne Vassallo Jamrosz   
Stan Kimer had hoped to go to 2020 Guaranteed Rate Skate America in Las Vegas before the pandemic changed the sports landscape. Like many skating fans, he looked forward to one of his favorite pastimes of attending marquee events: reuniting with skating friends.
Kimer, who lives in Raleigh, North Carolina, has attended several major events over the past 10 years, including 10 U.S. Championships, two Skate America(s), Worlds, a Four Continents Championships and even Finlandia Trophy.
"Normally, I take my mother and sometimes my father [they are both in their 80s] with me, and there are several friends I often attend and meet up with," Kimer said. "There are also more than a dozen fans I make sure to see at each event, and I always make two or three new lifelong friends at each event I attend as well."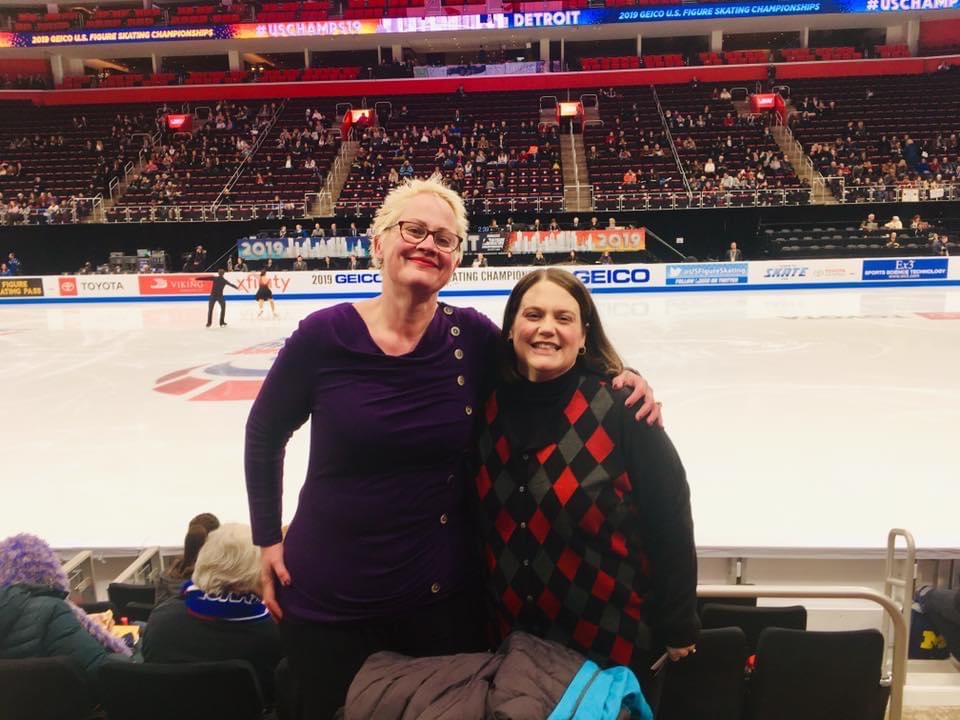 Sibbie Adkins, of Owensboro, Kentucky, met skating fan Doug Linneman at the 2006 U.S. Championships.
"We had all-event tickets and he sat next to me for the entire event," Adkins said. "Doug started attending nationals every year, as well as other competitions, and met a group of skating fans called the 'Splinters.' They had attended events together for many years, first as part of an organized tour group before splintering from the group and staying together informally." 
Adkins soon joined their group.
The Splinters will sit together, stay in the same hotel, sometimes travel to and from events together and go sightseeing.
"The great thing about this group is we come from all over the country," Adkins said. "We are diverse in age and occupation, but we are united by our love of skating and devotion to the sport."
Jennifer Comeaux lives far from any ice rink in Gretna, Louisiana, but has traveled to skating events since 2001, including 20 U.S. Championships, 14 Skate America(s), seven International Challenges, three Worlds, two Four Continents Championships, Skate Canada and the 2010 Olympic Winter Games.
"My friend Sylvianne has joined me at every event since we met at the 2009 World Championships," Comeaux said. "I also have a few other friends, Debbie, Sandra, Kristin, Lauren, Nordyica and my sister Melissa, who I meet up with at many of the events. We usually sit together or hang out during practices and after events to chat all things skating."
With no spectators at 2020 Skate America, this trio of skating fans found creative ways to stay in touch with friends and still feel a part of the competition.
Kimer, who enjoys sharing stuffed-animal tossies with the skaters, found a way to do just that.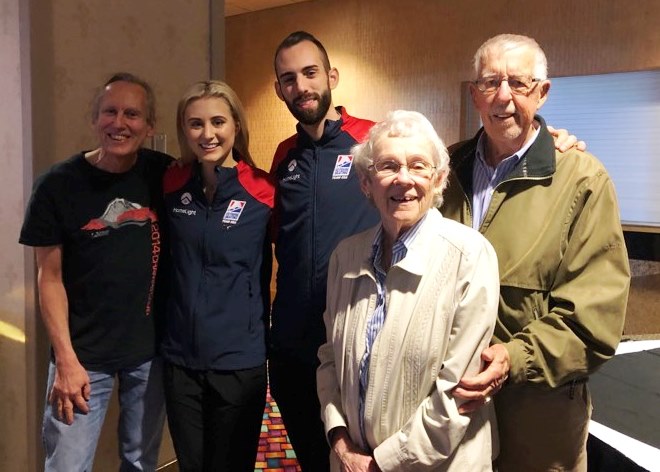 "I most often connect with all my skating friends, including several of the athletes, through Facebook," Kimer said. "Since fans cannot attend Skate America, I will send a short video greeting as a member of Friends of Figure Skating. I'll even throw a tossie into my PC camera while taping."
After Worlds in Montreal was canceled in March, Adkins set her sights on attending Skate America.
"I even reached out to some friends about sitting together," Adkins said. "I did do a cutout. I thought it was a cute idea. I can't wait to see the virtual Sibbie. I've seen it in NBA and MLB games, and some of the virtual fans are really neat. I plan on watching the events on NBC and will probably subscribe to Peacock Premium. I'm sure I will be posting and commenting on Facebook and keeping up with events and friends, too."
Comeaux and Sylvianne also purchased front-row cutouts, and she plans to watch many of the Grand Prix events on TV. Although nothing compares to being there in person, Comeaux is grateful for the friends she's made through skating.
"My skating friendships are so special because we share the same deep love for the sport and have made so many amazing memories at events," Comeaux said. "The friendships I made through skating are some of the most enduring friendships I've had in my life, and I cherish them greatly."