By Karen Rosen
In their first senior season, Molly Cesanek and Yehor Yehorov were thrilled to be sharing the same ice during 2020 Guaranteed Rate Skate America warmups with athletes they had seen on television.
"I almost ran into the wall because I was watching Madison Hubbell and Zachary Donohue," Cesanek said. "They were just mesmerizing."
Yehorov deftly steered his partner out of harm's way.
"He always has my back," Cesanek said. "He is my best supporter."
They went on to place fifth at Skate America® as well as fifth at the 2021 Toyota U.S. Figure Skating Championships in January, a promising senior debut for the young ice dancers. 
"It's just been the most unpredictable, yet extraordinary year and we couldn't have predicted it at all," Cesanek said, "and that's beautiful to us."
And to think that just three years ago Cesanek, 20, and Yehorov, 21, were living on different continents and did not even know the other existed.
Cesanek was training in Leesburg, Virginia, while Yehorov was in Ukraine.
"We don't really know exactly how we got together," Cesanek said, "but we feel very fortunate to have found one another."
Yehorov couldn't agree more.
"I had three partners before I found Molly," he said, "which I'm thinking is the best thing that ever happened in my life."
As best they can piece it together, Yehorov was looking for a new partner and his coach showed him a video of Cesanek, who had also skated with three previous partners. 
"I looked at the video, I really liked her, I was really interested and we decided to give it a try," Yehorov said. "And Molly's coaches just reached out to her, 'Hey do you want to try out with the boy?'"
He followed Cesanek on Instagram and by April 2018 was on his way to the United States, not knowing if it would be a short trip or a new life.
"I just came, Molly and her parents picked me up and we just started," Yehorov said. "I think it was two weeks when we decided, 'Yes, this is a perfect fit -- we are skating together.'"
They were surprised by how easily they connected emotionally as well as physically on the ice.
"We both have a lot of drive on the ice, we both have that same vitality in our spirits and in our skating," Cesanek said, adding that even though she is 5-foot-2 ½ and he is 6 feet tall, "We mesh together very well."
And she's very easy for Yehorov to lift, which contributes to their creativity.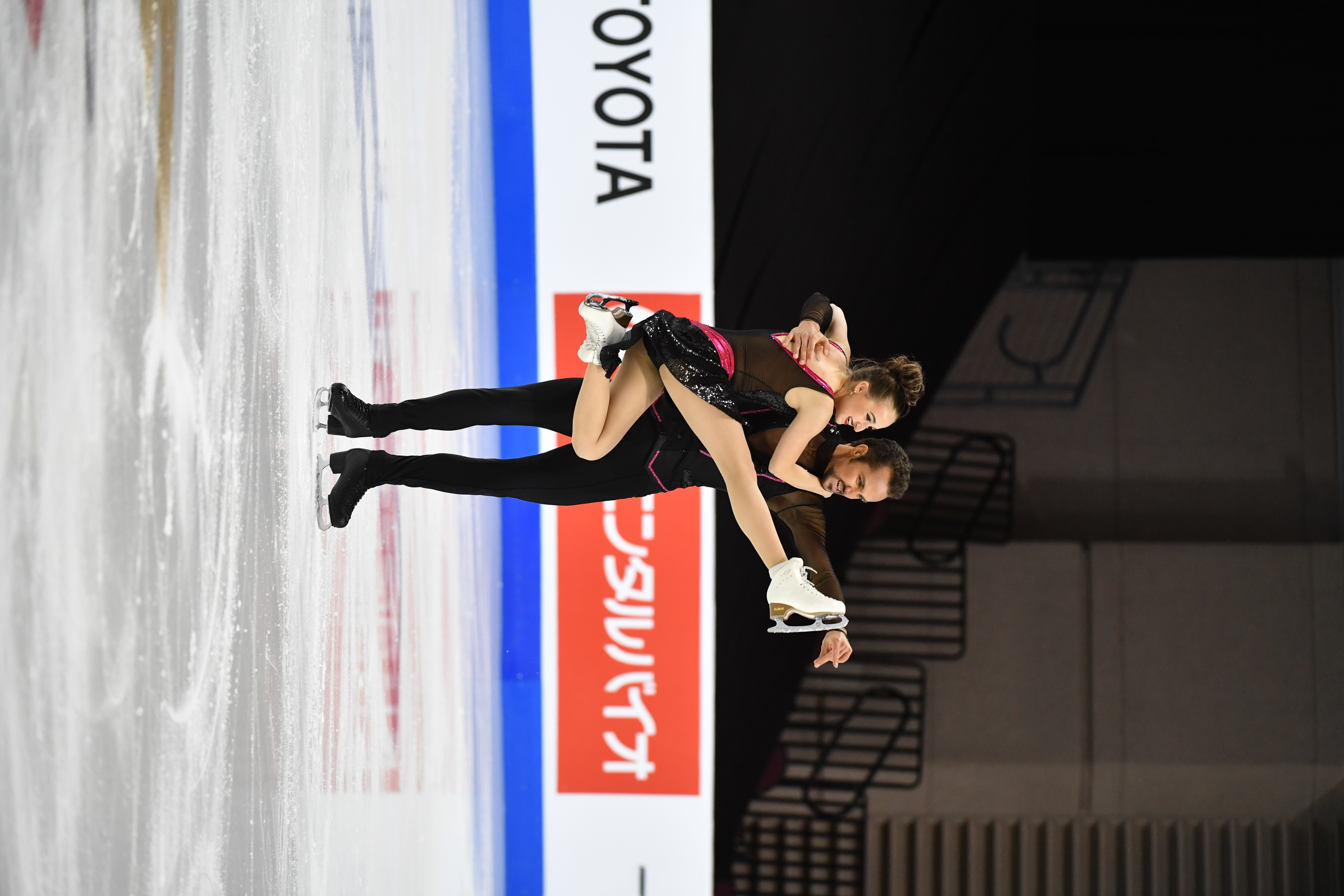 "I never skated with a partner that small," he said, "but it felt really comfortable. I just bend my knee and our lines are together. We connected all the dots, and when all dots are connected, a very successful result happens."
As juniors, Cesanek and Yehorov were fifth in their first U.S. Championships in 2019 and fourth in 2020. They were making the jump to seniors as the pandemic took hold.
"That kind of forced halt allowed us to really have nothing else to think about or worry about and instead we just took the time to create and explore different feelings and dances," Cesanek said. "We learned a lot with our time together."
Yehorov, who by then had moved to the U.S., and Cesanek would sit outside on the grass listening to music with their eyes closed. 
"We would end up just opening our eyes and we'd just start dancing," said Cesanek, who at age 12 was too shy to skate with a partner and has a background in solo dance. "We were finding the purpose of what we do, enjoying that process and we translated that onto the ice. I think we discovered something inside of ourselves that is very unusual and I think something that we're very inspired by."
They kept the same music from their free dance from the prior season, "Make it Rain" and "Take Me to Church," but changed everything else. 
"Our program just took off and embodied this completely different form and feeling," Cesanek said.
They had to learn the Finnstep for their new rhythm dance performed to "Shout" and "Walking on Sunshine."
"We're just really enjoying this process of creating, learning and skating," Yehorov said. "We can do five steps an hour, just five steps, we're repeating over and over, and we're not even noticing how time flies."
Yehorov's learning curve has been steeper because of the language barrier. He spoke a little English and knew some skating terms when he arrived in the United States. Since then, he has become fluent. 
"I am grateful to Molly for her patience," he said. "She genuinely wants to help me. Even in quarantine last year, she was giving me different homework she printed out from the Internet to study and learn English."
Cesanek has learned a little Russian and practices during video chats with Yehorov's parents in Ukraine, who she hopes to eventually visit.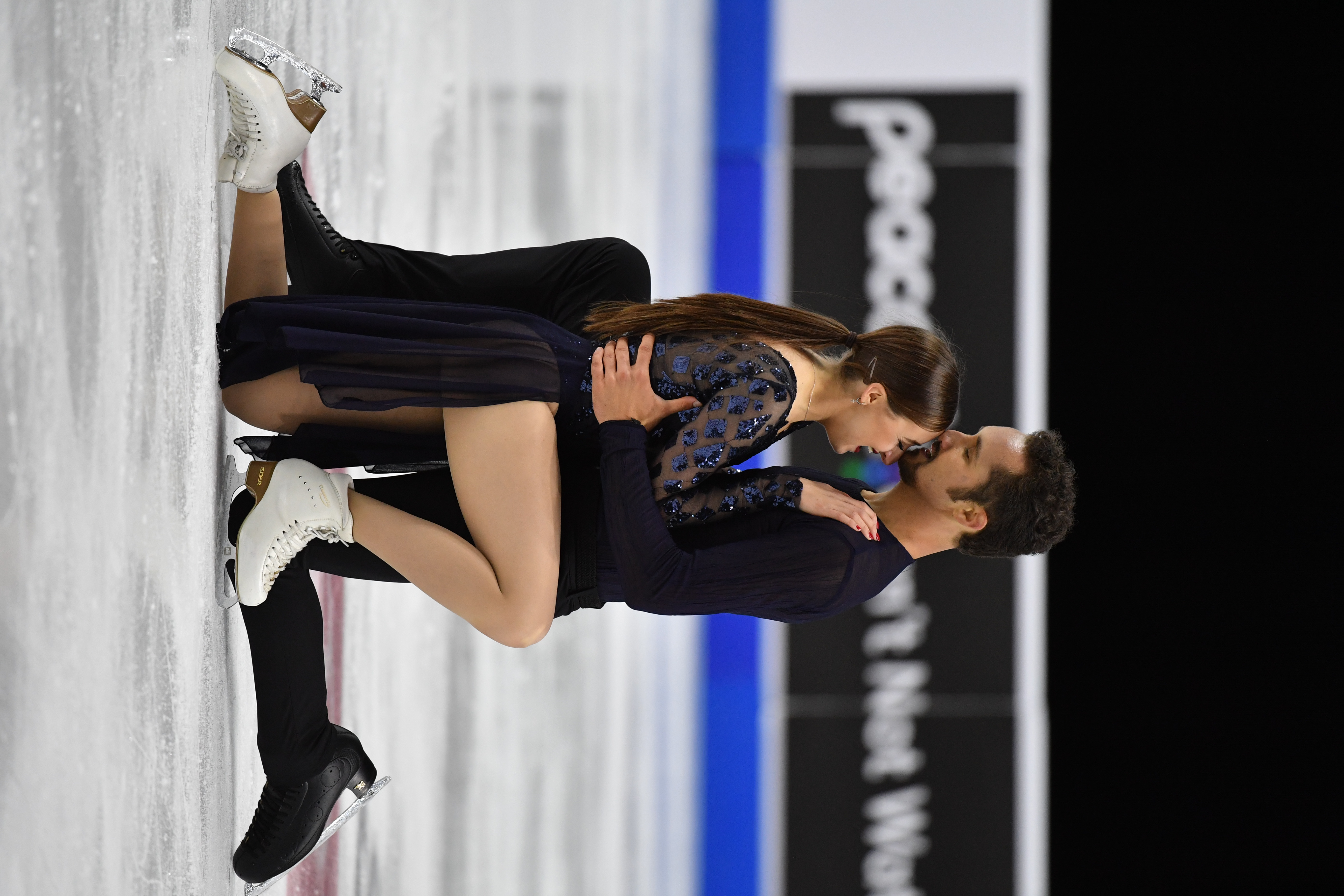 They have also bonded off the ice, with Yehorov teaching Cesanek how to fish. 
"He gets so happy whenever I catch something," she said. "He acts like it's the biggest deal in the world, but he catches very big fish that I am so impressed with."
While they say they never get tired of being together, they know when to give each other space. Cesanek is a sophomore at American University studying health promotion while Yehorov is pursuing a degree from the National University of Physical Education and Sport of Ukraine and said he hopes to eventually open a skating academy in the U.S. with Cesanek.
"We're having so much fun together," he said. "We really feel each other without speaking on the ice and off the ice we are best, best friends."
Yehorov is working on becoming a United States citizen so he and Cesanek can represent Team USA at the Olympic Winter Games. In the meantime, they are eligible for the World Championships and other international competitions and were alternates for 2021 Worlds.
"Ultimately, we would love to go to the World Championships and the Olympics for Team USA," Cesanek said, "but we really desire to bring something bigger than that which is just to have people feel something when they watch us, to make them feel what is inside of you and your soul. We want to cause a big audience to get lost in the moment, escape their lives for a few minutes and live something through our programs."
As they took their first steps onto the international scene last season at Skate America®, Cesanek said that skating with more established couples helped them gain maturity. 
"It allowed us to not feel afraid," she said, "and it allowed us to realize that they are so special, and they made us feel like we were special, too."
While growing up in Ukraine, Yehorov thought about competing in the Olympic Games – "I did dream big" – but never imagined that path would go through the United States. 
"I love the United States so much," he said. "Everything is surprising, everything is different, nothing is comparable to the place where I was born.
"It's been a big, long journey."
And in Cesanek, Yehorov has the right partner for what lies ahead.
This year, U.S. Figure Skating is celebrating its centennial anniversary as it recognizes those members, clubs and fans who have given so much to U.S. Figure Skating over the past 100 years. Follow along for more stories and content like this on the Centennial Celebration section of our website.