Above: RiverWalk Adult Camp coaches (photo by Heidi MacDonald)
By Joanne Vassallo Jamrosz
For a group of dedicated adult skaters, the month of November provided a reason to give thanks. The Adult Skate Camp at RiverWalk Resort in Lincoln, New Hampshire, returned.
Started in 2018, the camp was the brainchild of coaches John Mucko, Elin Schran and  RiverWalk Skating Director Heidi MacDonald.
"We saw a need for an adult camp that was geared toward the recreational skater but also had something to offer competitive skaters. A safe place to enjoy the sport of figure skating," MacDonald said.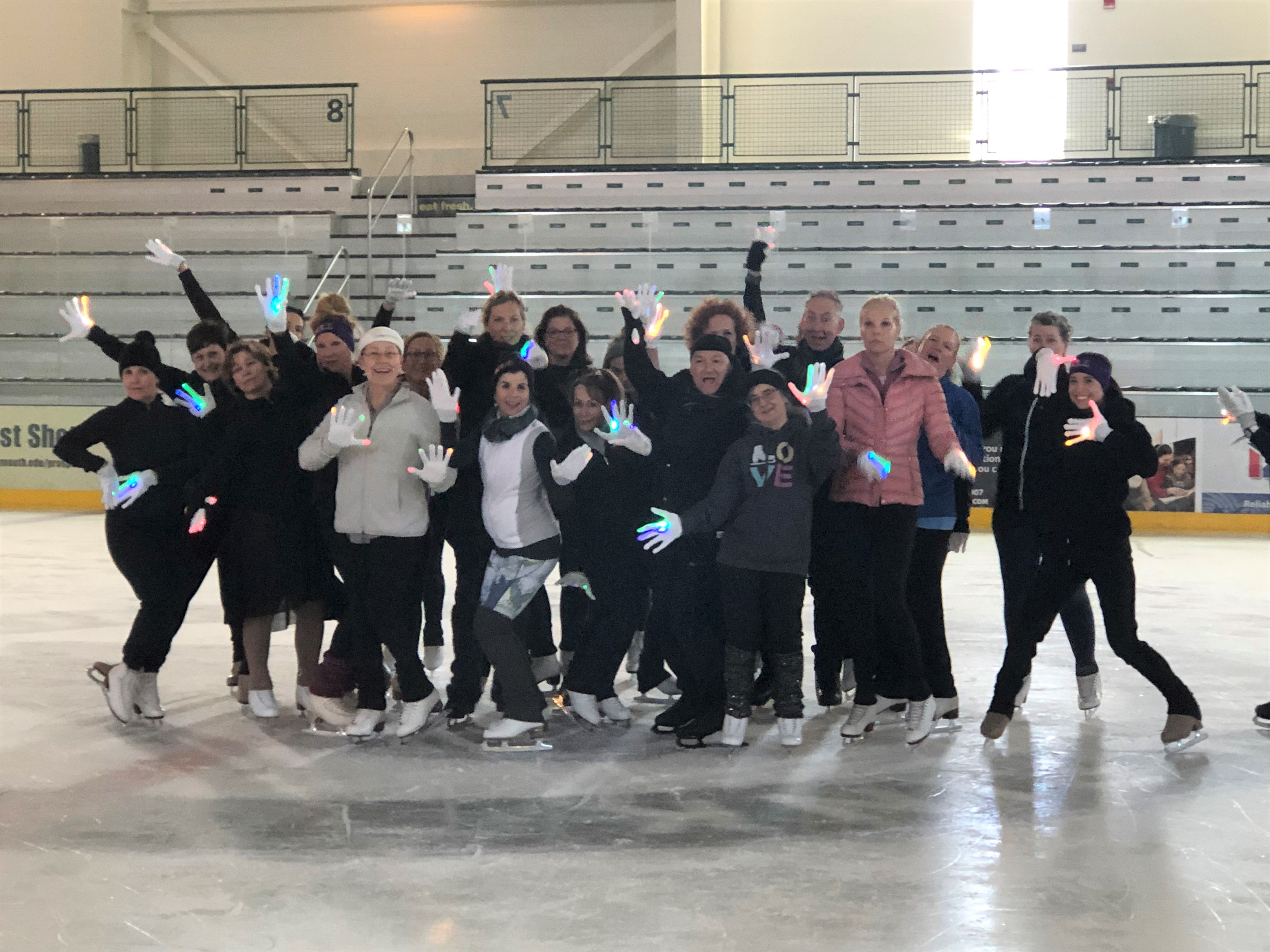 The first year, coaches Schran, Mucko and Peter Carruthers welcomed 10 skaters from around the country.
"Most of them were veterans of the Dorothy Hamill Camp previously held in New England," MacDonald said. "Those original skaters helped us learn, grow and improve our camp each year. I take that as a compliment."
The camp, however, would feel the blow of the COVID-19 pandemic. In fact, the Plymouth State University Rink, which campers used as an alternative rink if mother nature didn't cooperate with outdoor ice at RiverWalk, was turned into a hospital morgue.
"That really hit home with most of us," MacDonald said. "I kept in touch with skaters and coaches throughout the pandemic. They unanimously wanted camp to return as soon as it was safe. I originally wanted March 2021, but the Plymouth rink wasn't open to the public at the time, so we finally agreed on November 2021."
MacDonald looked forward to an exceptional return, and an elite roster of guest coaches made that possible.
"Kurt Browing and Alissa Czisny stayed at RiverWalk Resort," MacDonald said. "Kurt noticed the posters advertising the camp in 2020 and commented more than once about Randy Gardner doing a camp. He also expressed interest in doing a camp himself. I smiled and nodded, never dreaming anything would come of it."
Fast forward after several months of pandemic-related shutdowns, many emails and calls, Browning and Czisny both agreed to join the coaching staff of Adult Camp 2021.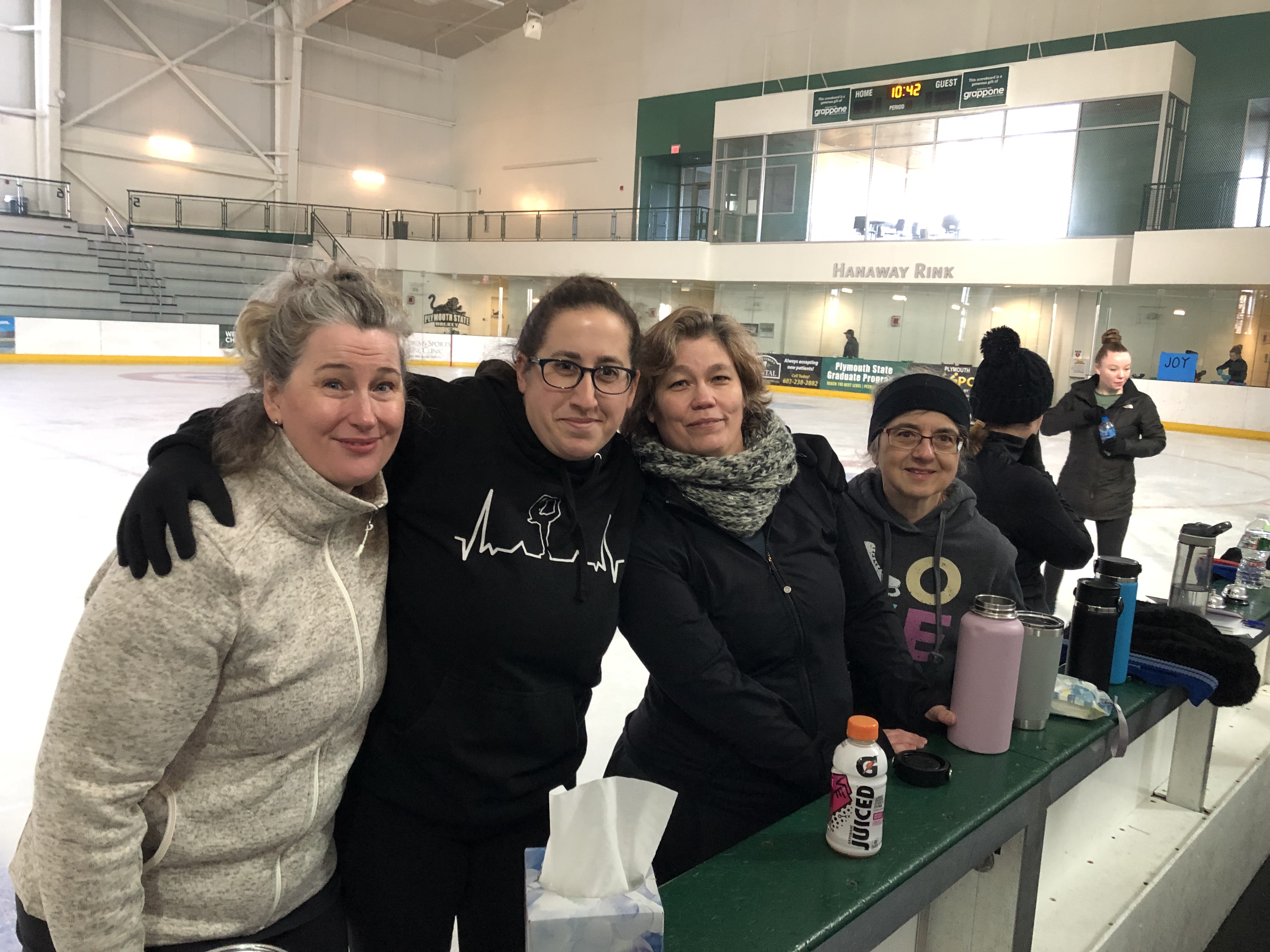 Coaches Doug Webster and Ron Kravette joined Browning, Czisny, Gardner, Mucko and Schran, providing campers with spin classes and Schran's popular Ice Flow class.
"Doug also teaches a wonderful class called Skating 360," MacDonald said. "Randy has a class on combining elements titled 3's Company. John merged his off-ice class with his on-ice classes and Kurt's classes Be Brave and Kurt's Krazy were a big hit. All classes were easily adapted for the skaters' various levels and interests."
The camp provided many lasting memories and one special memory MacDonald and the 23 campers won't soon forget.
"What will stick with me is during an off-ice event, we watched Kurt's Singin' in the Rain program with Kurt," MacDonald said. "He explained how it was filmed, the many costume changes, the rain and the idea. That was a memory to treasure for me. The next day he taught the beginning of the program to the skaters. They skated it together with Kurt. How cool is that? Memories to last a lifetime."
MacDonald worked tirelessly to keep the camp as safe as possible for skaters. Due to the continuing outbreaks, she required proof of vaccination and a negative test within 72 hours of attending the camp.
"We created our own small bubble," MacDonald said. "It helped us be more comfortable and relaxed."
For MacDonald and coaches, providing a fun, safe environment for adult skaters to nurture their passion was paramount.
"Adult skaters skate simply because they love the sport," MacDonald said. "Whether they're competitive skaters or just skating for exercise and the enjoyment of skating. They simply love the sport. So do I. I believe they deserve a safe place to learn, grow and meet new friends who share this passion. I love meeting new skaters and introducing them to this wonderful community we've created."