The Get Up spirit continues to serve as a beacon of light for U.S. Figure Skating members and those whom they inspire.
U.S. Figure Skating announced today the eight Get Up ambassadors who were selected from a list of more than 100 Get Up champions nominated by the members, their friends, family and peers.
The 2022-23 Get Up ambassadors are as follows:
Olivia Alexander

Stephanie Kazior

Kristen McCutcheon

Blake McGee

Caroline Park

Victoria Phillippi

Anya Ramrakhiani

Cole Rohner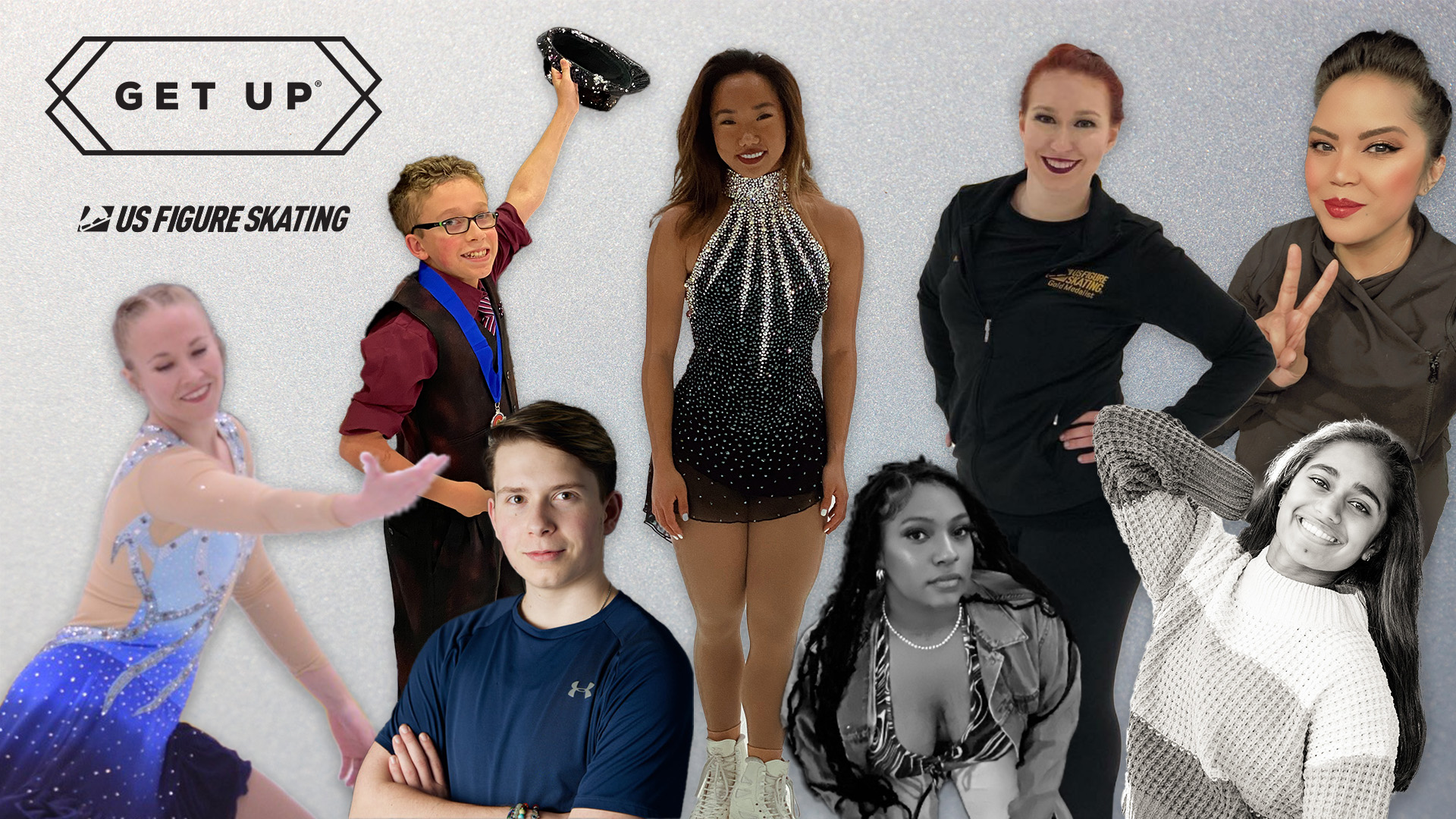 Their stories will be shared in SKATING magazine, on social media and through local media outlets in the coming months in the leadup to Get Up Day on Feb. 1.
Launched in 2016, the Get Up program is modeled after one of the first things taught in every skating lesson: how to fall down, and more importantly, how to get back up again. It's a lesson all participants can apply across every aspect of their lives.
The nominations submitted illustrate the courage and determination within U.S. Figure Skating's membership ranks. They also show how the sport of figure skating takes not only physical strength, but mental toughness as well. Inspirational stories were received about skaters, coaches, officials and club officers, who all contribute to the success of their clubs, communities and U.S. Figure Skating.
Members are encouraged to use #WeGetUp to share their stories and inspire others.
The current Get Up campaign will culminate with National Get Up Day on Feb. 1, 2023. The day, a celebration of those who embody the Get Up spirit, was officially recognized in 2017 by the registrar at National Day Calendar.
The following athletes have been named Get Up champions for 2022-23: Cathy Abdun-Nur Durrett, Olivia Alexander, Alyssa Ardai, Ellen Batson, Victoria Bowen, Jordan Brown, Grace Brunet, Anne Marie Buckle, Giuliana Burek, Sara Calvert, Tabitha Carranza, Stephanie Chin, Samantha Cobb, Eden Cogswell, Fiona Conway, Ashelen Course, Morgan Creech, Beth Delano, Anthony DeLuca, Mischa DiFilippo, AnneMarie Donahue, Abigail Donnelly, Sarah Easter, Ashleigh Ellis, Kristen Ervick, Ellen Fink, Carol Fox, Christin Foy, Katharine Francendese, Izabela Garcia, Fynlee Garcia, Mary Gidaro, Yana Ginburg, Gracie Gold, Hannah Gubanc, Darryl Hall, Iris Hanszen, Mayou Hayashi, Lisa Herrera, Rex Herrera, Gabriella Hoffman, Patricia Jagels, Cynthia Jerrier, Isabelle Jordan, Lamu Kawashima, Stephanie Kazior, Heather Kettle, Ally Kulvatunyou, Sophia Lee, Isabelle Levy, Ashleigh Lewis, Lindsey Lissauer, Alysa Liu, Brooke Lood, Katie Love, Jordyn Lutz, Emily Ma, Erin Mandel, Jennifer Martino, Riley Mathieson, Kristen McCutcheon, Blake McGee, Brooke Mitro, Madeleine Newby-Estrella, Sydni Nikolai, Isabella Obreza, Akari Okada, Natasha Orloff, Mary Paradiso, Caroline Park, Gianna Perillo, Morgan Perrine, Julia Pesek, Samantha Peterson, Victoria Phillippi, Olivia Phillips, Melissa Polizzotto, Liisa Postma, Anya Ramrakhiani, Grace Regan, Emily Renzi, Brynn Roberts, Cole Rohner, Adwyn Roubides, Lily Round, Rolando Rubio, Sophie Ryan, Dawn Sadera-Harden, Paige Sawyer, Elin Schran, Hailey Schwisow, Lotus Shen, Samantha Shoop, Cora Sibulkin, Nichole Soltis, Grace Song, Carley Sullivan, Dave Sweeney, Kerry Tauken, Dia Toussaint-McGaughey, Esther Urffer, Yotam Vainstein, Zoe Villanueva, Claire Walczak, Ruby Weiner, Rosemary Wensley, Carrie York, Audrey Zeng, Vincent Zhou and Brianna Zubatov.