By Karen Rosen

Dick Button was a tough act to follow.
But he left a roadmap.
While Button, the 1948 and 1952 Olympic champion, was dominating and revolutionizing his sport, he was also setting the stage for an unprecedented achievement in 1956: The only Olympic podium sweep in figure skating history.
"Dick introduced a much more athletic style of skating," said Hayes Alan Jenkins, "which I think appealed to the younger generation of American and Canadian skaters, and certainly it appealed to me."
It also appealed to his younger brother, David Jenkins, who once told his sibling, "I skated because you skated; they couldn't leave me home alone."
Years later the Jenkins brothers of Akron, Ohio, stood together on the podium at the Olympic Winter Games Cortina d'Ampezzo 1956, with Hayes winning the gold medal, teammate Ronnie Robertson the silver and David the bronze. 
"Because the Europeans weren't able to skate much, obviously, during the Second World War, it gave us a bit of an advantage," Hayes said. "And we developed really a new school of skating from what the pre-War skating had been. And that's where Dick enters the picture."
Button landed the first double Axel and triple jump in competition while also using music in a more interpretive way. When he retired after his fifth straight World title in 1952 – leading a U.S. sweep -- did Button think he was leaving American figure skating in good hands?
"Brilliant hands," Button said. All three 1956 medalists "had worked with Gustave Lussi, who was my mentor and coach. He was the best teacher."
After Hayes finished fourth at the 1952 Oslo Olympics and won his second World bronze medal, he and David left Lussi in Lake Placid, New York, to train with Edi Scholdan in Colorado Springs, Colorado. Because Jimmy Grogan, the reigning Olympic bronze medalist and World silver medalist, was already training with Scholdan, Hayes asked for his blessing before approaching the Austrian coach.
In 1953, with Button no longer in the way, Hayes edged Grogan to win the first of his four World titles.
"Afterward, Jimmy said, 'You know, if I couldn't win I'm glad it was you,'" Hayes said. "We had that kind of relationship."
By the 1954 Worlds, David was also on the international scene.
"The French judge came up to me during a practice session when David and I were both on the ice and he said, 'Monsieur Jenkins, do you have another brother?'" Hayes said, "which I think embodied the impression that David made, because he was a spectacular jumper already. They were understandably taken aback that we just happened to come from the same family."
And yet, David said, their styles were "very contrasting. I think that was good for us in the sense that people were not comparing us. I'm afraid I had an element of skating a little like a hockey player for a long time without Hayes' style."
David finished fourth at the 1954 Worlds, while Robertson, who was a year younger, placed fifth. Grogan, who had been drafted into the U.S. military, won his fourth straight World silver medal and subsequently turned pro.
"David was nipping at my heels, so I suspect Jimmy felt the heat, too," Hayes said.
In 1955, Hayes led another U.S. sweep at Worlds, with Robertson second and David third.
Going into Cortina, Hayes said, "I knew one of us was going to win the Olympics unless we all three botched it badly. It was a matter of going out and doing your job."
The pressure, he added, was "unlike anything I'd experienced."
David said even the training sessions in the outdoor arena, the Stadio Olimpico del Ghiaccio, felt competitive.
"You know that the medals are largely going to be decided within the team, so it made for a very intense situation," he said.
However, there was no doubt in David's mind that he wanted his brother to win.
"Hayes and I were very close, and Hayes kind of always really looked after me," he said. "It was clear that it was his time and not mine, and that was written in stone for me."
Hayes, then 22, was considered a complete package of style and athleticism. Although he could do a triple loop, he didn't want to risk it in Cortina.
"My landing success on that might be six out of 10," he said. "I didn't want to beat myself."
David, 19, had a triple Salchow and triple loop in his repertoire, while Robertson, 18, was a jumper as well as a phenomenal spinner known as "the Blur."
"I don't think anybody in the history of skating has been able to spin as long and as fast as he did," David said of Robertson, who passed away in 2000.
Hayes took the lead over Robertson in the compulsory figures on Jan. 29. In the free skate on Feb. 1, David fell on both of his triples while Robertson skated well, though not perfectly.
But Hayes didn't know that. He was the next-to-last competitor as the late-afternoon sun dipped below the horizon and it became damp and cold on the artificial ice.
Before Hayes began his five-minute program to "Scheherazade," music he chose because it played well outside, Scholdan told him, "Hayes, whatever you do, don't fall, because if you fall, you'll lose."
So determined was he not to fall, Hayes felt tight during the first minute.
"I had a slow section and-—it's the only time I ever did it in competition—out loud to myself, I said, 'All right, Hayes, you're OK,' because the rest of the program I skated the best I've ever skated in my life."
David was watching from the boards.
"I realized that Hayes needed to skate flawlessly," he said. "I had a knot in my stomach that lasted for a week after watching that."
In those days before computers, it took a long time for the scores to be tabulated, so the brothers sat alone in the locker room awaiting the results.
"David turned to me and he said, 'If you don't win, I'm never going to skate again,'" Hayes recalled. "I said, 'David, you can't mean that.' He said, 'Hey, I mean it. You deserve to win.'"
While Robertson won the free skate, Hayes had enough of a cushion from the compulsory figures, worth 60 percent, to win the gold, 166.438 points to 165.794.
"It was a very close competition, but it was satisfying in that I had not let myself down," Hayes said.
Button was not surprised Hayes was able to win the gold medal without attempting a triple jump.
"Because he had the greatest flying sit spin ever," Button said. "It flew. It was pancaked. Where is it today? No one can do it like he did. The entire audience would lean forward to watch it. And he was elegantly beautiful."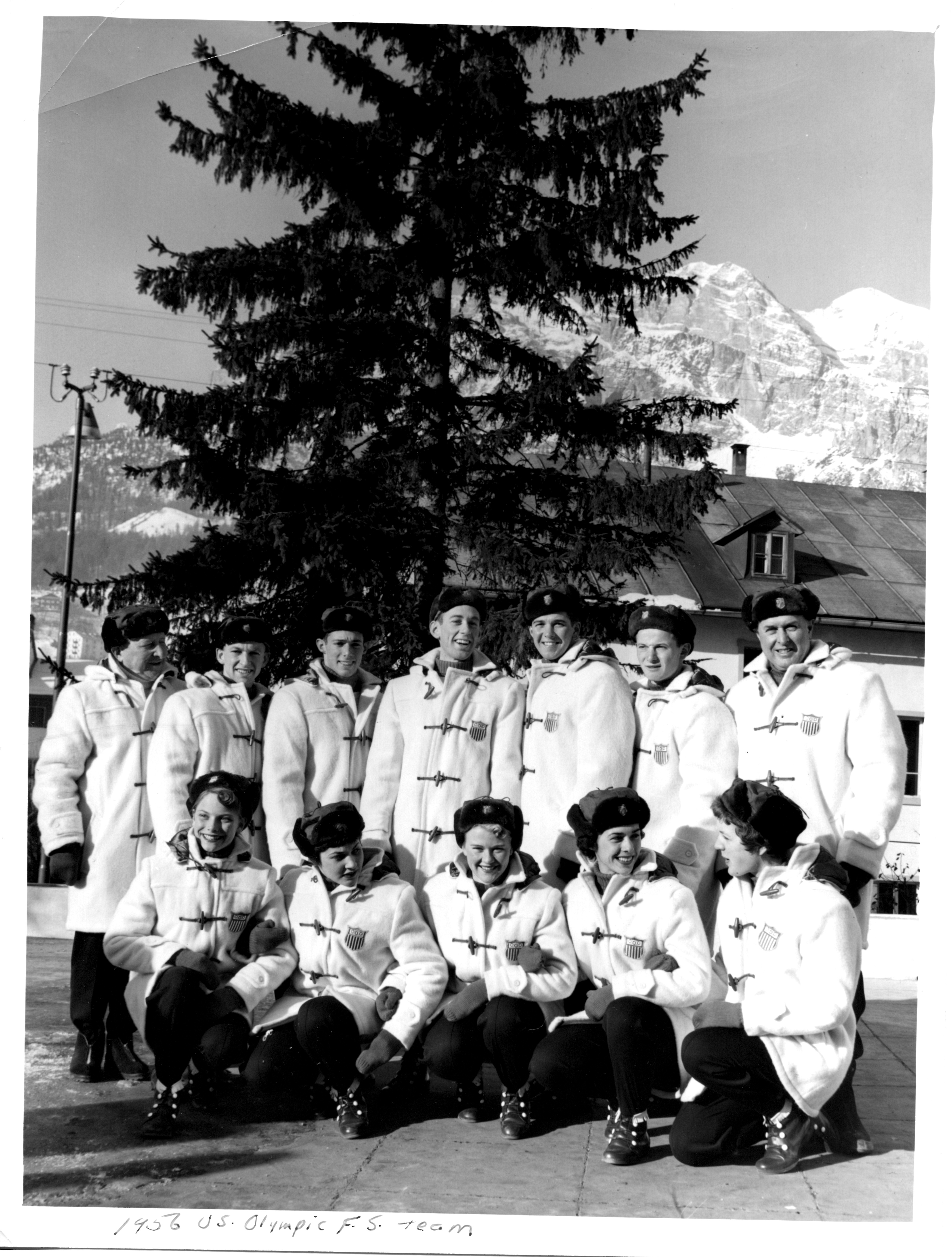 The three medals were the first for Team USA at the Cortina Games, which were more than halfway over. A day later, Tenley Albright and Carol Heiss (Jenkins) earned the gold and silver medals in the ladies competition.
For Hayes and Heiss Jenkins, Olympic rings eventually led to wedding rings.
"We found ourselves spending a lot of time together, and it was sort of the beginning of our relationship," he said.
They both won the World titles in 1956 -- Hayes' fourth and Carol's first – and were married after Heiss Jenkins won the gold medal at the 1960 Games in Squaw Valley four years later.
David, who never fell in competition after the 1956 season, also kept the men's gold medal in the family, winning in 1960 with all nine first-place votes in the free skate.
"David had deep edges, soft knees and was an extraordinary athlete," Button said.
However, David wound up with only three World titles—ending Team USA's streak at 12 gold medals starting with Button in 1948—because his medical school would not allow him to take any more time off in 1960 to pursue a fourth.
"To have David succeed me as World champion and then finally Olympic champion, it proves my point that he was nipping at my heels," Hayes said.
Although countries have often put two figure skaters on the Olympic podium, never before or since has there been a sweep of the medals.
"The medal ceremony and the accomplishment of it all was really very magical," David said. "And for two brothers to be on the stand together ... I think at the time when you're young it doesn't quite register in the same way as it does now. Upon reflection over time, you realize what a remarkable moment that was."

This year, U.S. Figure Skating is celebrating its centennial anniversary as it recognizes those members, clubs and fans who have given so much to U.S. Figure Skating over the past 100 years. Follow along for more stories and content like this on the Centennial Celebration section of our website.