By Kama Stigall
At major figure skating events, the copy center is one of the busiest and most visited, areas. It serves as a bustling hub of information for spectators, media, judges and officials. Longtime volunteers Cheryl and Rob Wood of Millsboro, Delaware, have managed the copy center for several U.S. Figure Skating and international events for years. 
Their connection to figure skating began decades ago.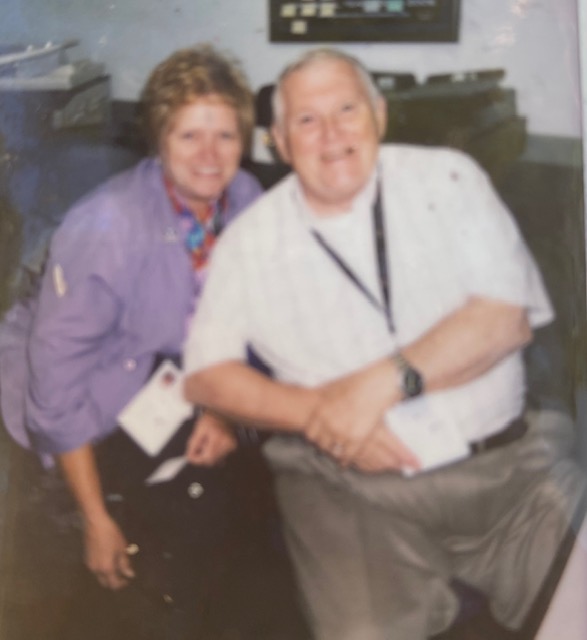 "I have been volunteering for almost 40 years," Cheryl said. "Our home club, the Colonial Skating Club of Pennsylvania, was active with the Philadelphia Area Association, so there were many opportunities to volunteer. The first large competition I volunteered for was the 1992 U.S. Championships in Orlando, Florida, when a friend and fellow judge asked if I would help." 
Her husband began volunteering a few years later. 
"The first big event I volunteered at was the 1998 U.S. Championships in Philadelphia," he said. "I was still teaching at the time, so my participation was limited."  
The couple's first experience volunteering at the copy center was at 2001 Skate America, which was held at the Broadmoor World Arena in Colorado Springs, Colorado. 
"When I retired in 2001, Cheryl encouraged me to become more involved," Rob said. "Al and Joan Brown, who started the copy center, were looking for people to work with them. Cheryl had worked with them before and thought this would be something we could do together. We were to be assistants to Al and Joan, but unfortunately, Al became ill shortly before the event and they were unable to attend. Cheryl and I ended doing the copy center work by ourselves." 
During competition days, the Woods stay quite busy. 
"We print the starting order and result sheets for the skaters, officials and the media," Cheryl said. "We also print detail packets for skaters at the end of each segment of the event. For spectators, we print out a sheet that has the starting order for the current day's events and on the reverse, are the results from the previous day. This sheet has acquired the nicknames of 'spectator candy' or 'spectator snack food.'" 
The copy center is home to a lot of social activity as well. 
"The atmosphere can be chaotic at the end of an event when everyone wants the result sheets but for the most part, it is calm and a place where people often gather to chat and catch up," Rob said.
The introduction of new technology and greater accessibility of online information has shaped the copy center's role as well. 
"For example, at the 2003 World Championships in Washington, D.C., our estimated paper usage was close to 1 million sheets," Rob said. "Now, we use less than 50,000 sheets of paper at a large competition and less than 5,000 sheets at smaller events.
"What we print and how many copies we print has evolved over the years with the use of technology. Much of what we used to print can be found online or can be streamed now. We used to joke about how many trees we needed to cut down in order to provide the necessary paperwork at a competition." 
During their time as volunteers, the couple has collected many memories. 
"I could probably fill a few volumes with the memories I've made," Cheryl said. "Standing rinkside at the 1998 U.S. Championships when Michelle Kwan skated her free skate program was special. At the 2001 Skate America event, we operated the copy center without having had much training in international events. We printed the end of event protocol documents with two small digital imagers, finally finishing up around 2 a.m., with the help of a few friends." 
The Woods have enjoyed their time as volunteers, as well as provided them with many opportunities to connect with other skating fans. 
"The best part of working in the copy center is getting to meet new people and also catching up with old friends," Cheryl said. "Spectators are always waiting for us when we appear on the concourse with the starting orders and we have made many friends among them, too." 
Rob added, "I also enjoy traveling to new places and comparing the different venues." 
The couple plans to continue volunteering with U.S. Figure Skating and encourage others to contribute their time as well. 
"Volunteering provides you the opportunity to meet new people who share your passion for the sport while helping to ensure the smooth operation and success of an event," Cheryl said.
For Rob, his time in the copy center has provided a deeper appreciation for the sport. 
"It's a way to enjoy figure skating in a whole new way," he said.