By Kama Stigall
Karina Manta and her partner Joe Johnson found themselves hitting their stride in the U.S. ice dance ranks during the 2018–19 season. The fan favorites capped off a strong campaign with a seventh-place finish at the 2019 GEICO U.S. Figure Skating Championships in Detroit.
What many fans remember from that season is the team's electric free dance to Annie Lennox's "Sweet Dreams (Are Made of This)." As they struck their final pose, the audience greeted the cutting-edge team with a standing ovation. It was a storybook ending to the team's competitive career.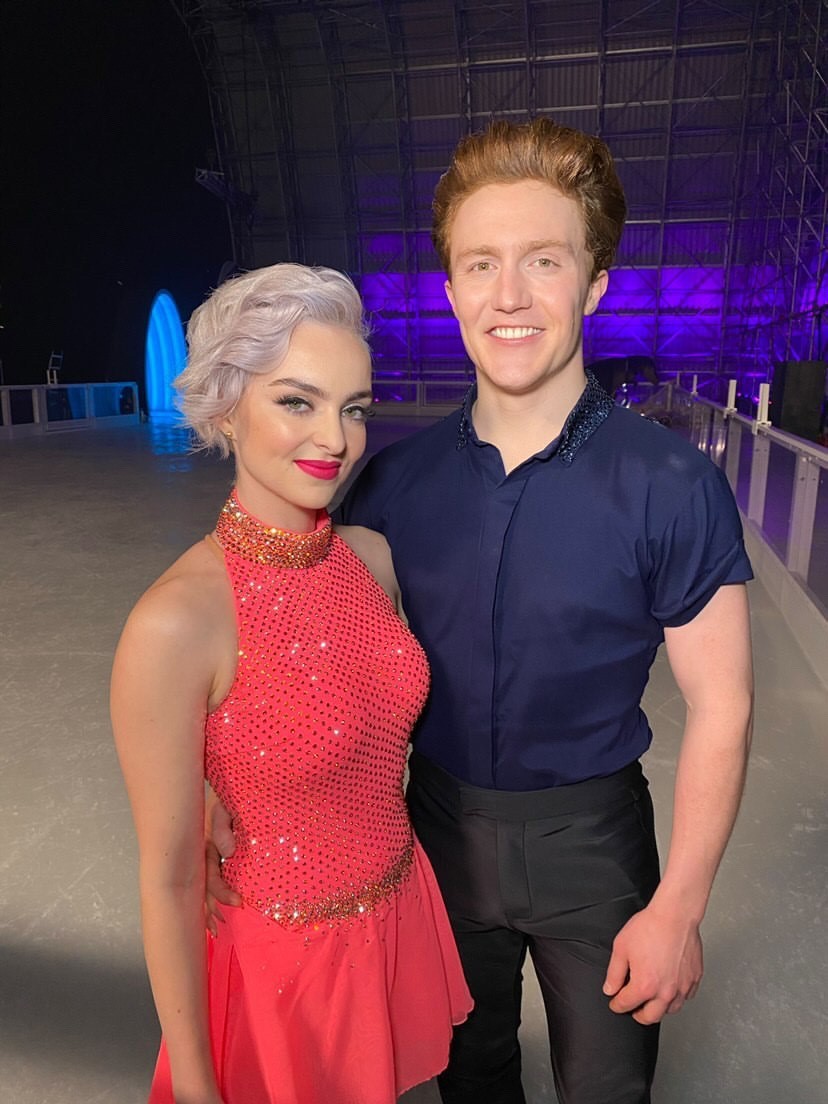 The season proved to be pivotal for them in many ways. After retiring, Manta and Johnson shifted to new opportunities in the professional skating world. 
"After the 2019 national championships, Joe and I were contacted by casting at Cirque Du Soleil, and it just made sense for us to take our career in that direction," Manta said. 
The team joined the show "AXEL" and spent several months on the road. Their rigorous training schedule gave Manta and Johnson a solid foundation to build upon as they transitioned to the professional level. 
"We performed up to 10 shows a week, and we wanted to bring every audience the same commitment to the performance, so the consistency of competitive training definitely helped with that aspect of touring," she said. 
Earlier this year, Manta and Johnson participated in ITV's "Dancing on Ice." The popular reality-style competition show features celebrities partnered with professional figure skaters. Manta collaborated with Graham Bell, a former Olympic skier, while Johnson partnered with 2016 Olympic gymnast Amy Tinkler.
The show, which is filmed in the United Kingdom, was a rewarding experience. 
"It was such a joy to watch the celebrities fall in love with skating," Manta said. "For me, it was a good reminder that it's never too late to learn a new skill." 
The show also gave the pair the opportunity to work with two of the greatest ice dancers of all time — 1984 Olympic champions Jayne Torvill and Christopher Dean. It was a reunion of sorts, as Manta and Johnson had worked with Dean previously during their competitive career. 
"Christopher has been such a singular influence on us," Manta said. "It was also really special to get to work with Jayne Torvill for the first time. I've looked up to her forever, and I couldn't believe I finally got the chance to share the ice with her." 
Later this year, Manta will add a new title to her list of accomplishments — published author. Her first book titled On Top of Glass will be released in October.  
"I've always loved writing, and for a long time, I saw it as an interest of mine that was separate from skating," she said. "I imagined myself writing coming-of-age stories. However, the more I wrote, the more I realized that almost everything in my life traced back to skating one way or another." 
The book, which is available for pre-order wherever books are sold, tackles issues that many young adults face. 
"I want people who read the book to recognize that there are a lot of ways that the skating world and the regular world can be isolating for people who are seen as different, but I also hope readers walk away feeling hopeful about our capacity to change for the better," Manta said. 
The transition from competitive athlete to professional can be challenging for many figure skaters, as they worry about how they can stay connected to a sport they participated in for so many years. Manta wants others to know that it's possible.  
"I want everyone to know that life exists after competitive skating," she said. "I think it can be scary to branch out, but there are lots of really wonderful opportunities for skaters post-competition, and there are so many ways to stay involved in the skating community." 
As she continues to carve out a new path, Manta is grateful that professional skating has provided a roadmap. 
"In a lot of ways, I feel like professional skating has allowed me to rediscover my love of skating," she said. "I've been able to appreciate the sport from new angles."