In honor of our Centennial Celebration and Women's History Month, U.S. Figure Skating is looking back through the past 100 years to highlight a few of the many remarkable women who have changed the sport of figure skating in the United States. 
Who would you highlight from U.S. Figure Skating's 100 years? Use #USFigureSkating100 on your social platforms and tell us!
1920s: Theresa Weld Blanchard
Theresa Weld Blanchard earned 21 U.S. titles, the most in U.S. Figure Skating history. She won six ladies, nine pairs (with Nathaniel Niles) and six ice dance titles (with Niles). Her total could have been higher, but there were no U.S. Championships between 1915 and 1919 due to the impacts of World War I. (A ladies event was held in 1918). Weld Blanchard and Niles were a winning team off the ice as well, co-founding SKATING magazine in 1923. After Niles' death in 1932, Weld was the sole editor until 1963.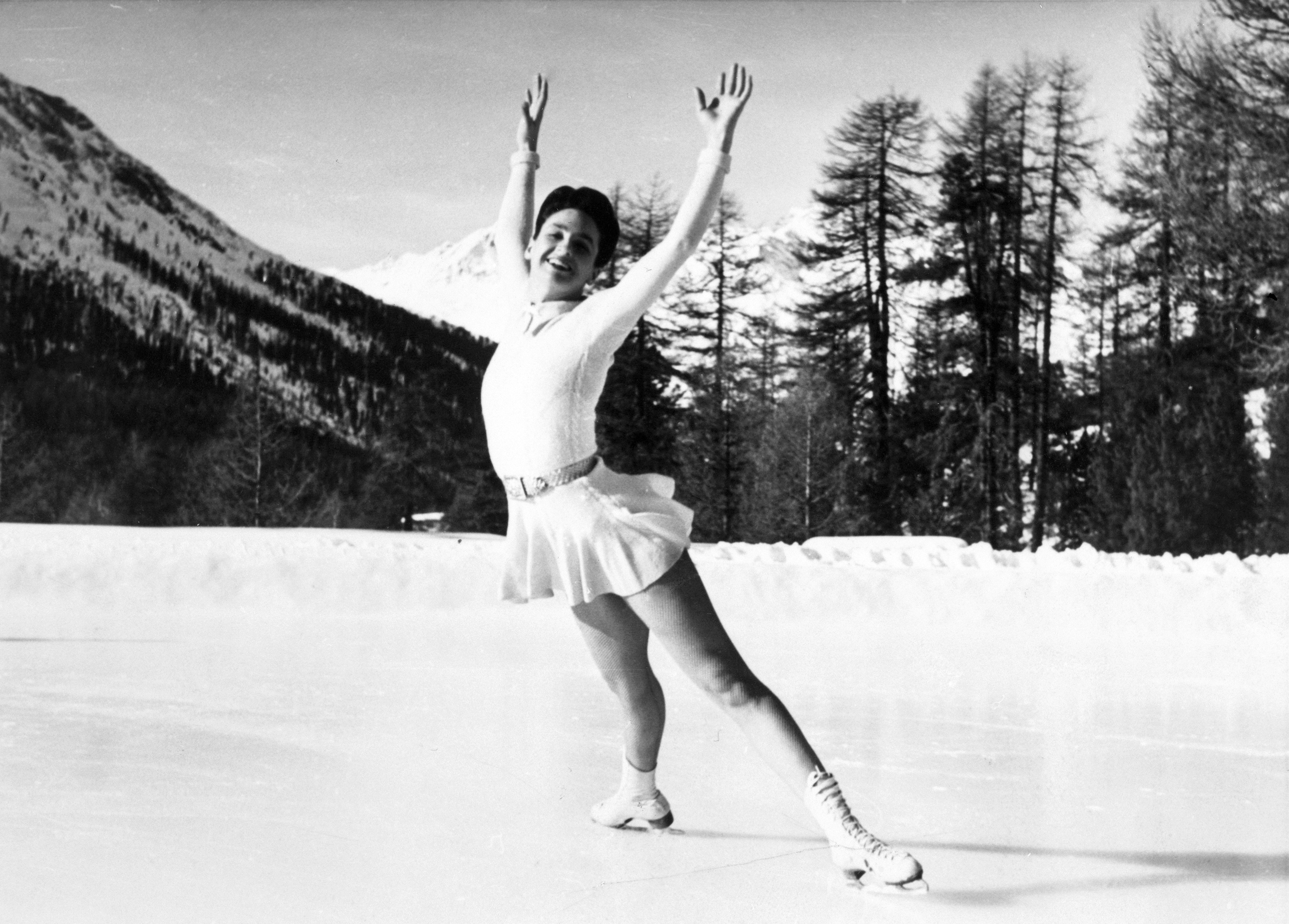 1930s: Maribel Vinson Owen 
Maribel Vinson Owen is the only person inducted into the U.S. Figure Skating Hall of Fame as a singles skater, pairs skater and a coach.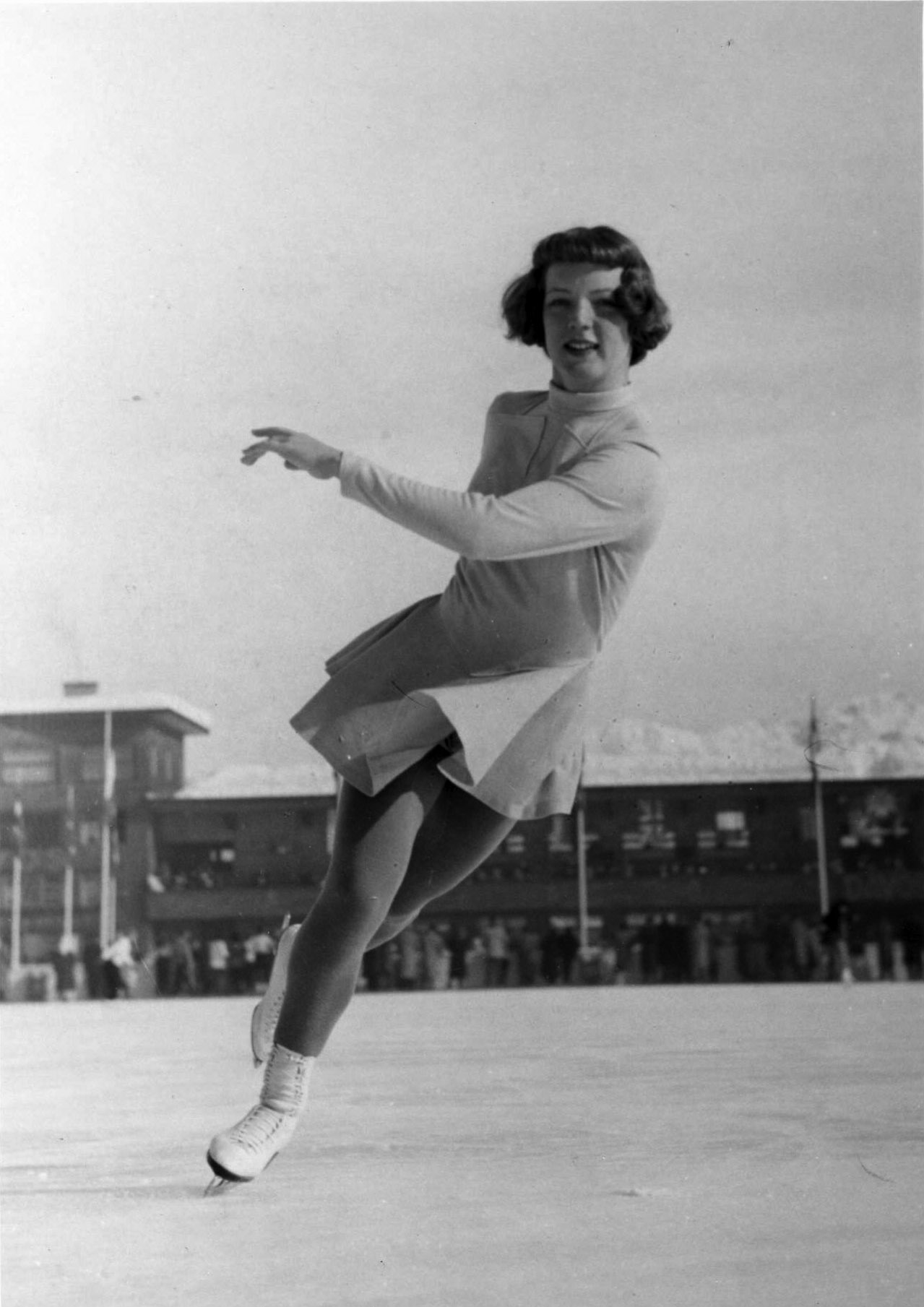 She is an Olympic bronze medalist, two-time World medalist, nine-time U.S. ladies champion and six-time U.S. pairs champion (four with partner George Hill). While still competing, Vinson Owen became the first female sportswriter at the New York Times. Her feat of nine U.S. ladies titles was later matched by Michelle Kwan. Vinson Owen died while traveling to the 1961 World Figure Skating Championships when Sabena Flight 548 crashed just outside Brussels. 
1940s: Gretchen Merrill 
Gretchen Merrill was a six-time U.S. ladies champion. She was the 1947 European silver and World bronze medalist. Merrill became the second and final U.S. woman to win a medal at European Championships, which the following year allowed only skaters from European countries.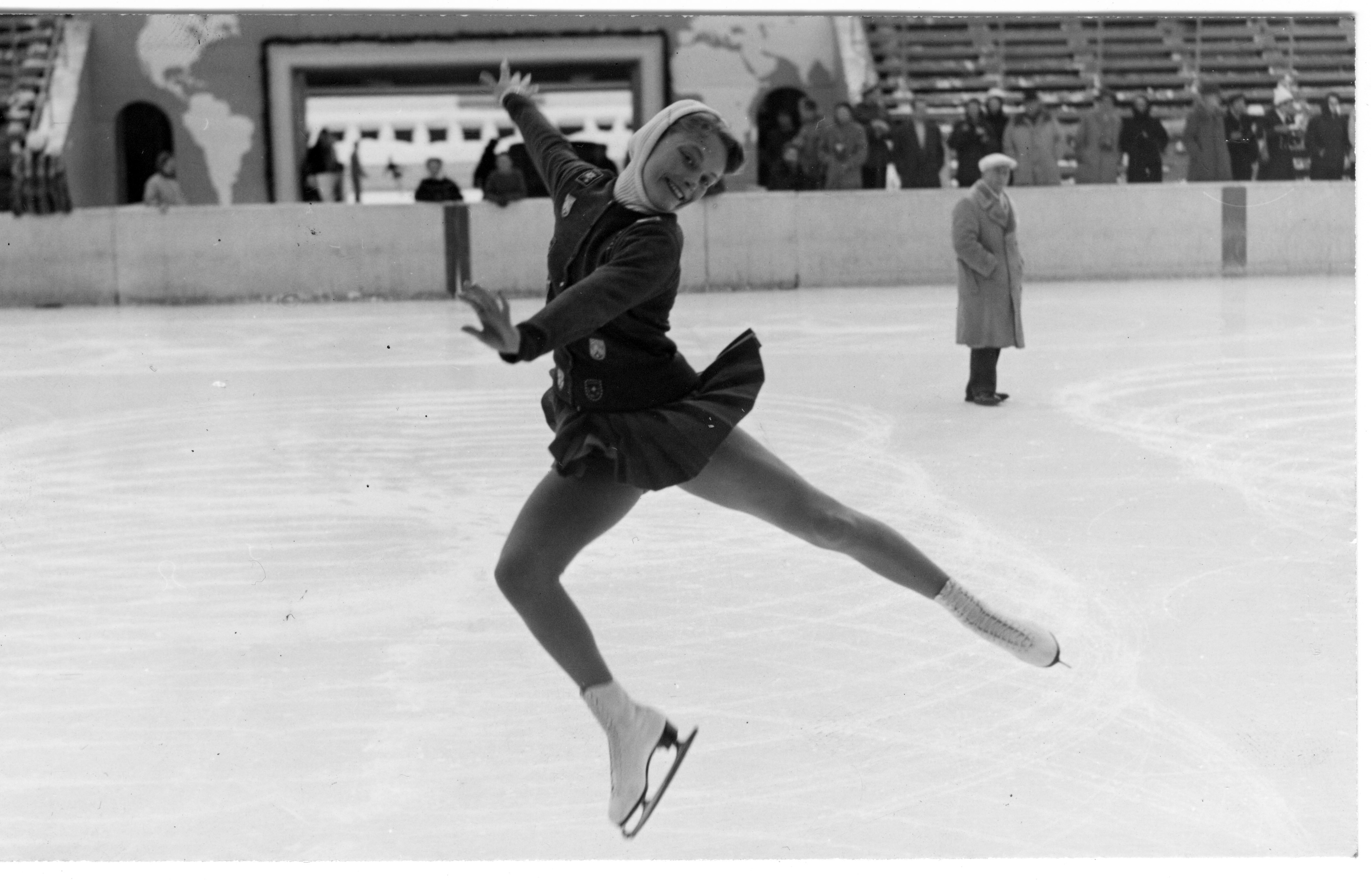 1950s: Dr. Tenley Albright, Carol Heiss 
Dr. Tenley Albright, who was inducted into the International Women's Sports Hall of Fame in 1983, is the 1956 Olympic champion, 1952 Olympic silver medalist, two-time World champion and five-time U.S. champion. Albright was the first American female figure skater to win an Olympic gold medal. She retired from the sport after her Olympic gold in 1956 but has continued to stay involved with sport. After her prolific figure skating career, Albright attended Harvard Medical School where she became a renown surgeon. In 1976, she was the chief physician for the U.S. Winter Olympic team.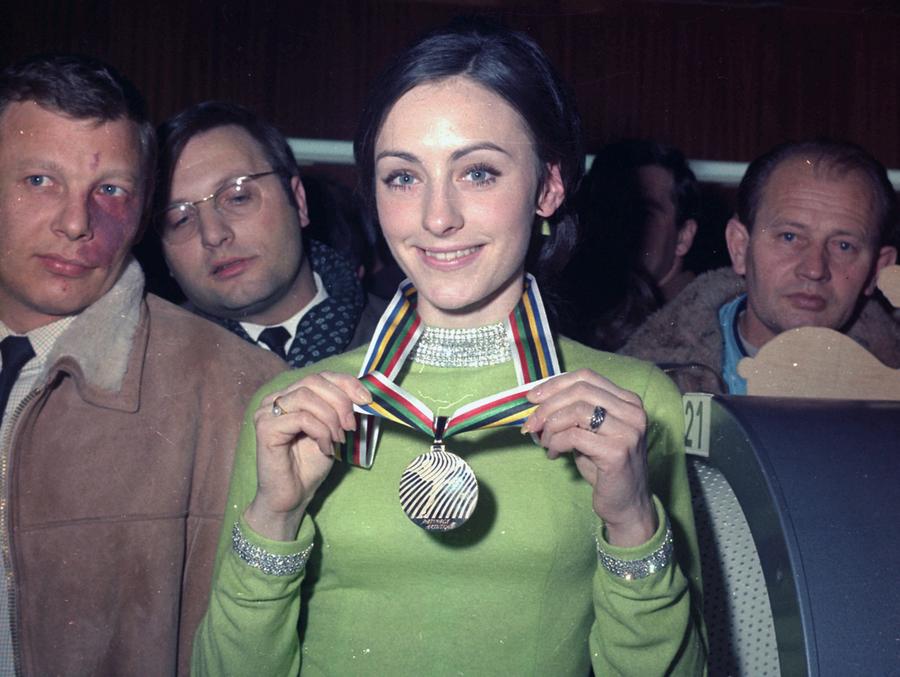 Carol Heiss is the 1960 Olympic champion, the 1956 Olympic silver medalist and five-time World champion. Heiss, one of only three women to win five consecutive World Championships, became the first female figure skater to land a double Axel. After her retirement from the sport, she played the female lead in the 1961 film Snow White and the Three Stooges. She has coached U.S. and World medalists. 
1960s: Peggy Fleming 
Peggy Fleming was the only U.S. athlete at the 1968 Olympic Winter Games in Grenoble, France, to bring home a gold medal. Her victory signaled America's return to the top ranks after the entire U.S. World Team was lost in the 1961 Sabena Flight 548 plane crash. A three-time World champion, she became a figure skating commentator for ABC Sports in 1981 and covered multiple U.S. and World Championships, along with the Olympics. Today, Fleming and husband Dr. Greg Jenkins are still involved in the sport, hosting the Peggy Fleming Trophy, a competition focused on the artistic ability of a skater. The Peggy Fleming Trophy will hold an interesting historical note: It was the first virtual competition amid the COVID-19 pandemic.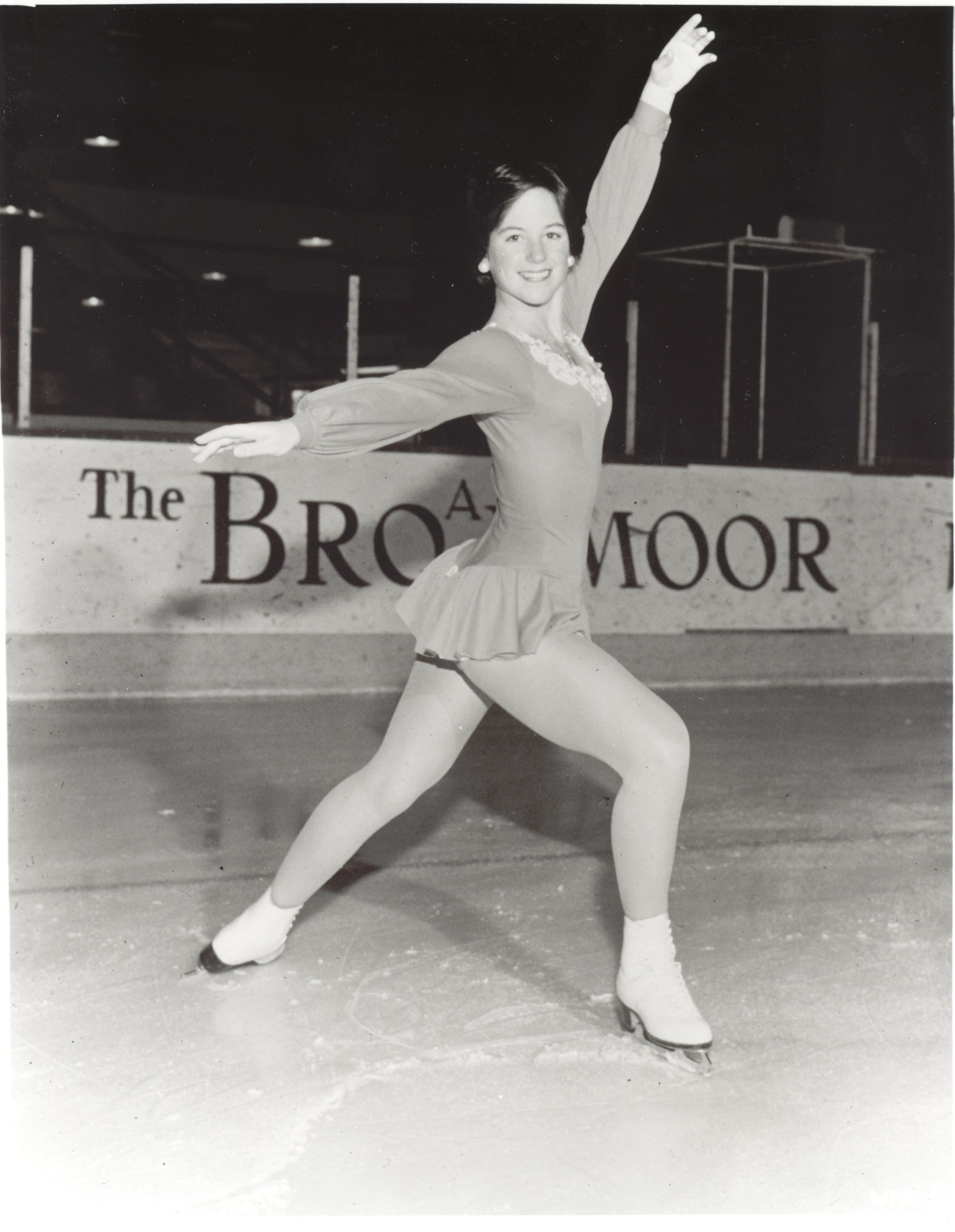 1970s: Dorothy Hamill 
Dorothy Hamill won the Olympic title in 1976 and continued with a World title later that season. She was the last female skater to win the Olympics without a triple jump and is credited with creating the Hamill Camel. In 1993, she was named the most popular athlete in America.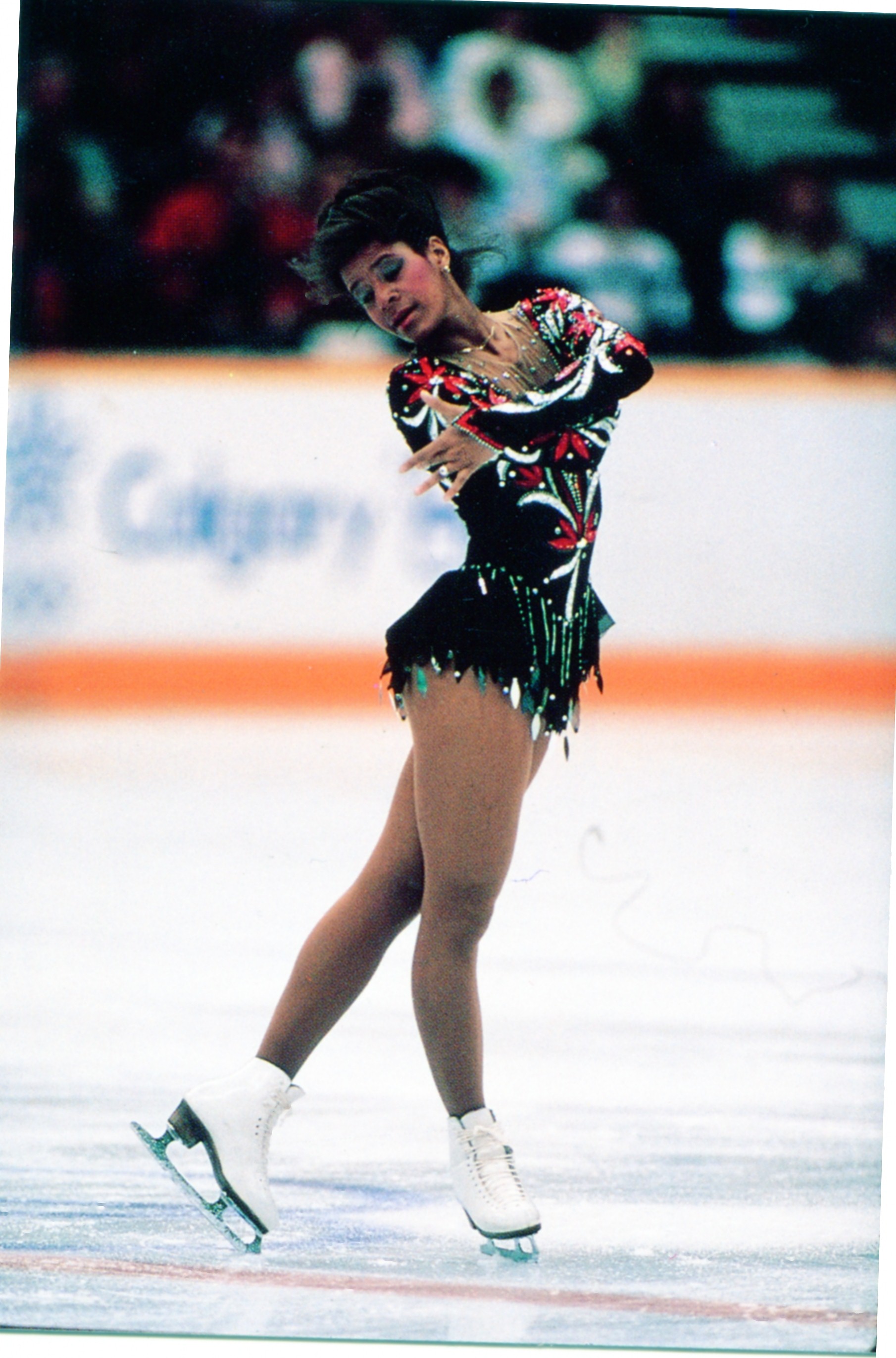 1980s: Dr. Debi Thomas 
Dr. Debi Thomas is the only African American ladies U.S. champion, and first Black figure skater to win the World title (1986) and medal at an Olympic Winter Games (bronze, 1988). Thomas, a three-time World medalist, and East Germany's Katarina Witt skated their long programs to the music from "Carmen," prompting the infamous "Battle of the Carmens." Thomas, who studied engineering at Stanford University during her competitive career, earned her medical degree from Northwestern University in 1997.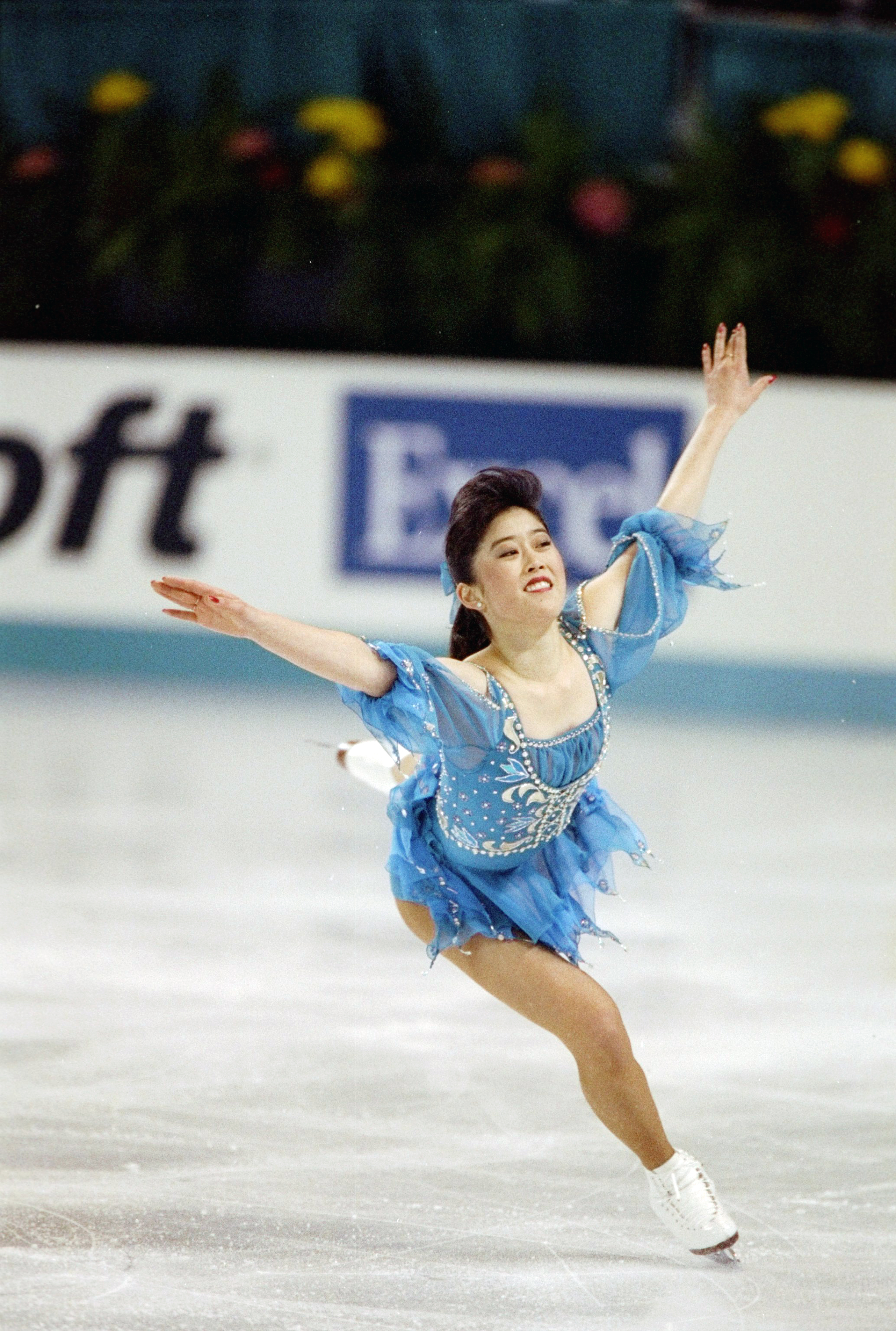 1990s: Kristi Yamaguchi, Tara Lipinski 
Kristi Yamaguchi is the 1992 Olympic ladies champion, a two-time World champion and the 1992 U.S. champion. As a pairs skater, Yamaguchi and Rudy Galindo are two-time U.S. champions. In 1991, she led the U.S. ladies sweep at the World Championships.
Yamaguchi, Tonya Harding and Nancy Kerrigan represent the only nation to sweep a ladies World podium. In 1996, Yamaguchi started the Always Dream Foundation, which focuses on childhood literacy. The foundation, in its 25th year, also provides underserved communities with afterschool programs, computers, back-to-school clothes and summer camps for children with disabilities.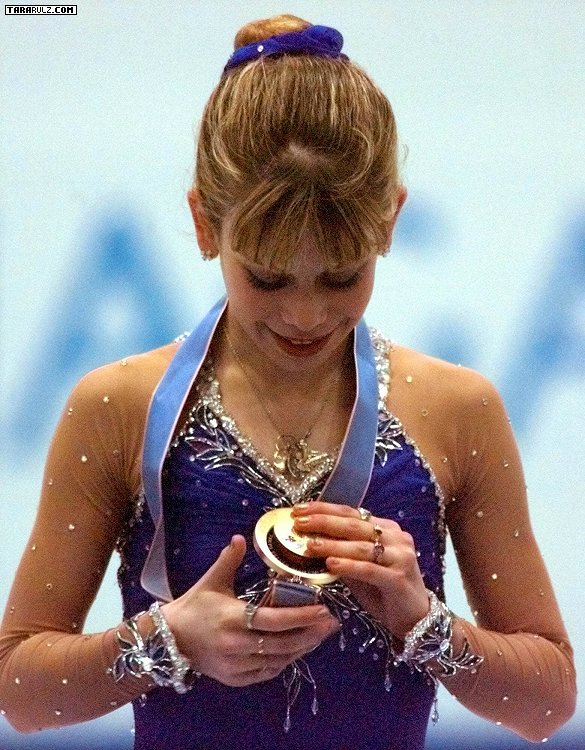 Tara Lipinski is the 1998 Olympic ladies champion, 1997 World champion and 1997 U.S. champion. Until 2019, Lipinski was the youngest skater to win a U.S. title, along with the youngest to win a World and Olympic title. In 2006, she became the youngest inductee into the U.S. Figure Skating Hall of Fame. Lipinski was the first woman to complete a triple loop-triple loop combination in competition. Today, Lipinski serves as a figure skating commentator for NBC Sports.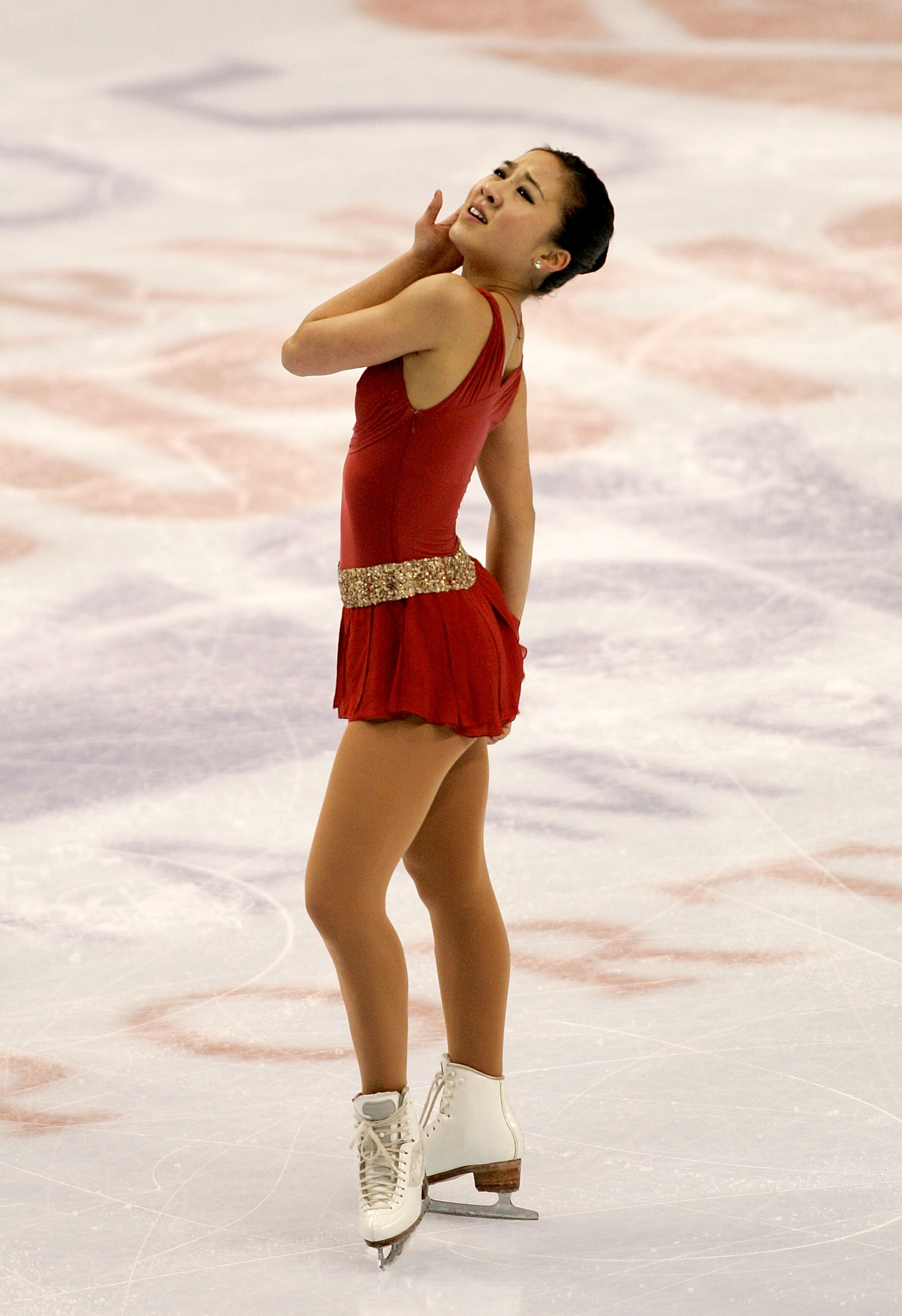 2000s: Michelle Kwan
Michelle Kwan is the most-decorated athlete in U.S. Figure Skating history. She is a two-time Olympic medalist, five-time World champion and nine-time U.S. champion (tied with Maribel Vinson Owen for the U.S. ladies record). After winning U.S. Figure Skating's annual Readers' Choice Award an unprecedented seven times, the award was renamed "The Michelle Kwan Trophy." Among her many awards, Kwan became the first figure skater since Dick Button in 1949 to receive the James E. Sullivan Award, given to America's best amateur athlete. She is a longtime supporter of the Special Olympics and was the U.S. Department of State's first public diplomacy envoy, working with two presidents and three secretaries of state.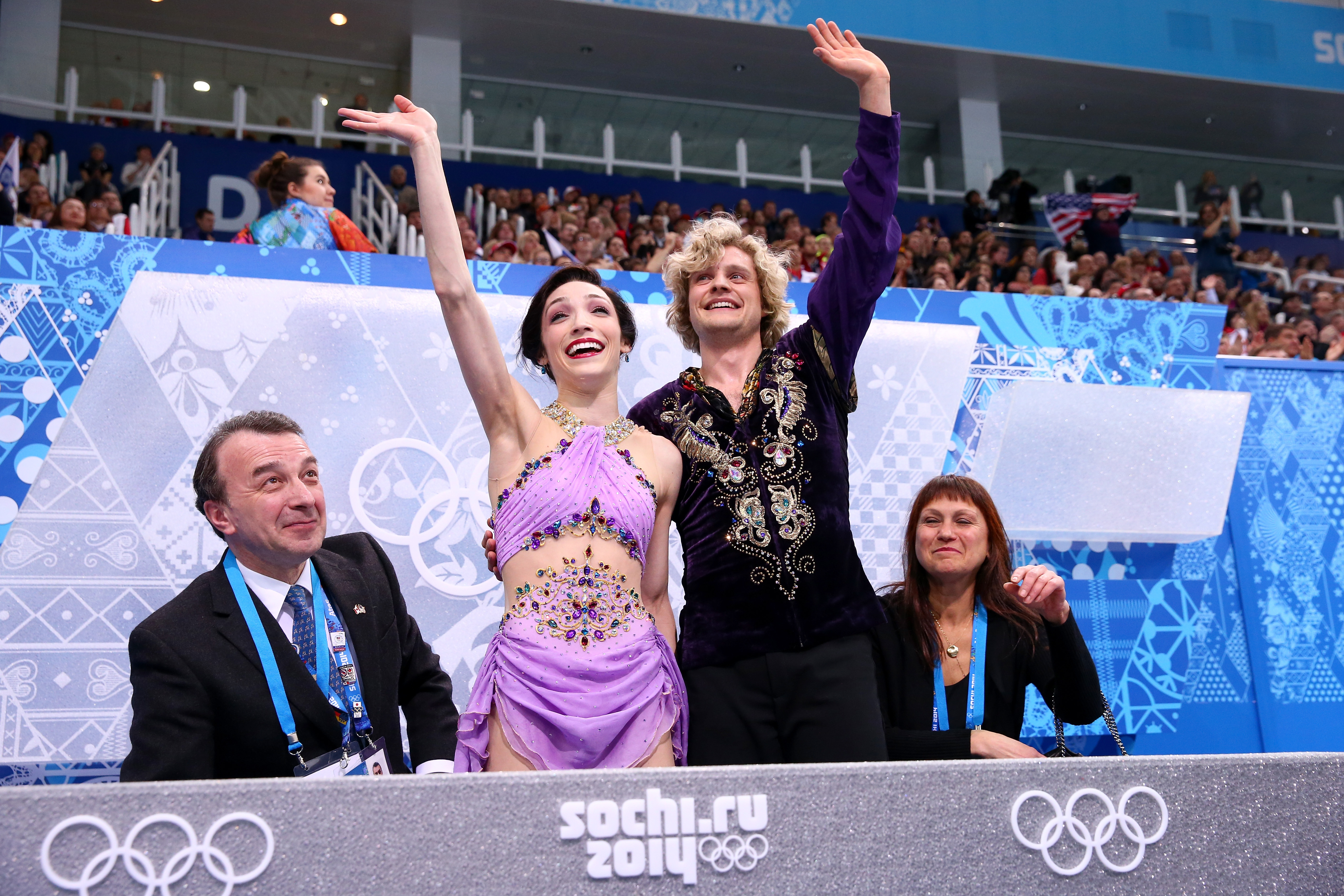 2010s: Meryl Davis 
Meryl Davis is the 2014 Olympic champion, 2010 Olympic silver medalist, two-time World champion, and six-time U.S. champion in ice dance alongside partner Charlie White. Davis and White also led the U.S. to the 2014 Olympic bronze medal in the inaugural team event. They are the first Americans to win ice dance titles at the Olympics and World Championships. They are the first ice dance team to earn all Level 4s. In 2014, she was named the Women's Sports Foundation Sportswoman of the Year. Davis serves as an athlete adviser for the Women's Sports Foundation and is on the leadership team of Figure Skating in Detroit.
This year, U.S. Figure Skating is celebrating its centennial anniversary as it recognizes those members, clubs and fans who have given so much to U.S. Figure Skating over the past 100 years. Follow along for more stories and content like this on the Centennial Celebration section of our website.