By Elvin Walker
American men have been a staple at the top of the leaderboard in international competitions for nearly three-quarters of a century. In that time, they have amassed a whopping 66 World Championships medals—26 of them gold, and have captured seven Olympic titles, more than any other skating nation. From compulsory figures to grades of execution, American men have always found a way to rise to the top.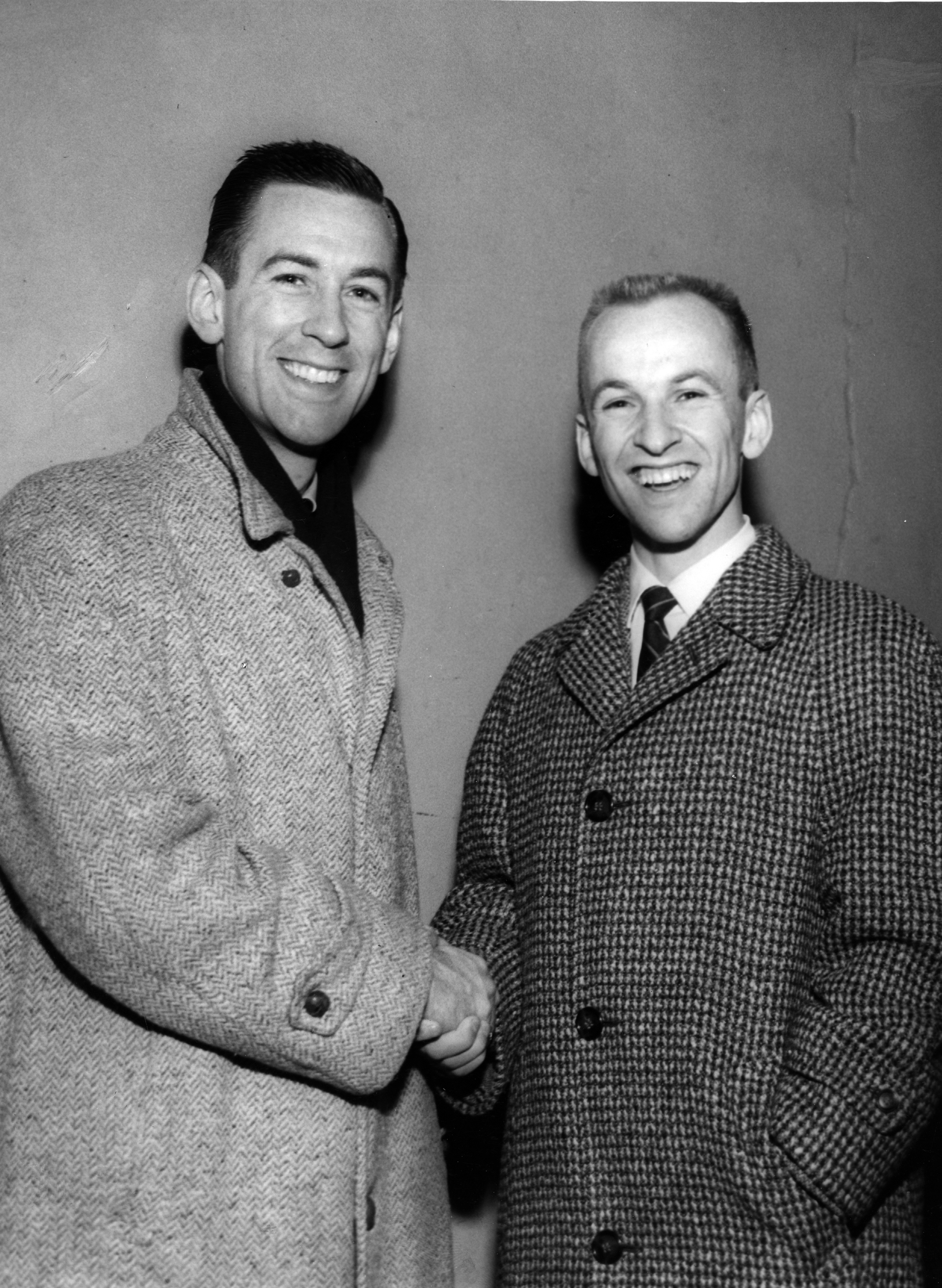 Long before there were quadruple jumps or even a short program, there was Dick Button. The seven-time U.S. champion did not just set the stage for an American revolution in the sport, he built a new one and figuratively jumped over it. Coming into prominence after World War II, Button was the first who represented what the Europeans called the "American School of Skating." Not so much a brick-and-mortar institution but an approach, Button showed up with jumps that were higher and rotations that were faster than ever seen before.
The only two-time Olympic champion in U.S. history, Button set the world ablaze in the 1948 Winter Olympic Games by landing the first double Axel in competition. In winning again four years later, Button was the first athlete to land a triple jump of any kind—a loop, in competition. 
"When you see footage of his programs, you can really see the athleticism in the height of his jumps and the speed of his rotations," 1988 Olympic champion Brian Boitano said of Button. "It makes you realize how legendary his athletic prowess was. And keep in mind he competed outdoors in all kinds of conditions. I have no doubt that he would have been an infinitely better skater than he already was had he competed indoors."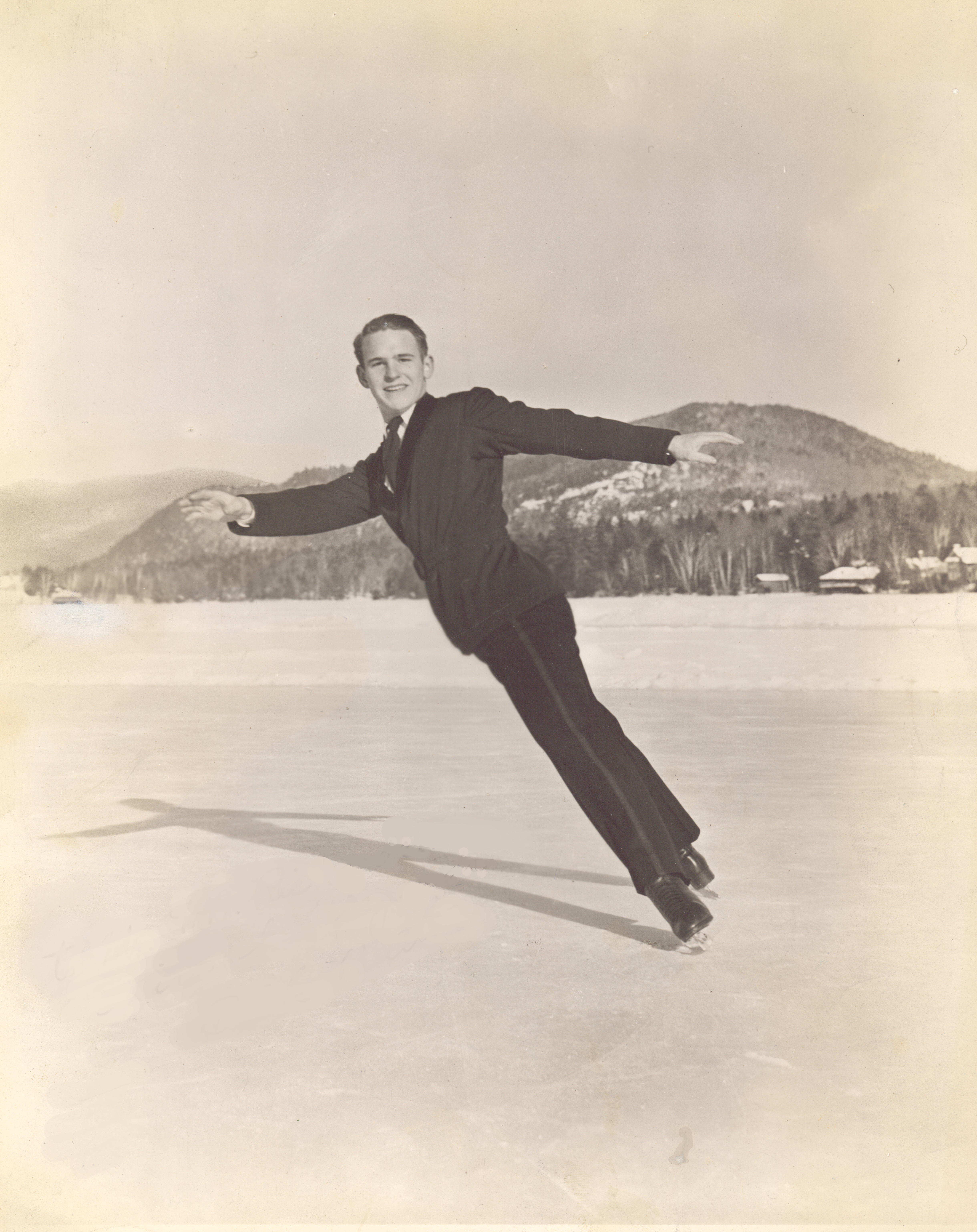 Button began what was Golden Age for American men on the international stage, kicking off a string of 12 consecutive victories at the World Championships beginning in 1948 and extending to 1959. Button handed off the baton to Hayes Alan Jenkins, who won five World titles of his own and the 1956 Olympic gold medal. Right on the heels of his brother's victory, David Jenkins won the next three world titles and captured the fourth consecutive Olympic championship for an American man in 1960. 
Twenty years later, Scott Hamilton emerged on the scene as a master of compulsory figures and armed with a triple Lutz, a rarity in those days. The 1984 Olympic champion, Hamilton strung together four consecutive World Championships titles from 1981-1984. 
"I was an average or below average competitor," Hamilton recalled. "I wasn't really into the technical side of skating and was more or less into the entertainment aspect of skating. If I could figure out how to get a hand or a laugh, I was in heaven. I realized that was my calling, but that didn't really do much for competition."
Hamilton sought out a series of coaches to help create a body of work that would warrant an invitation to perform in the shows in which he desperately wanted to skate. He settled on legendary coach Carlo Fassi, who he partially credits for transforming the trajectory of his career.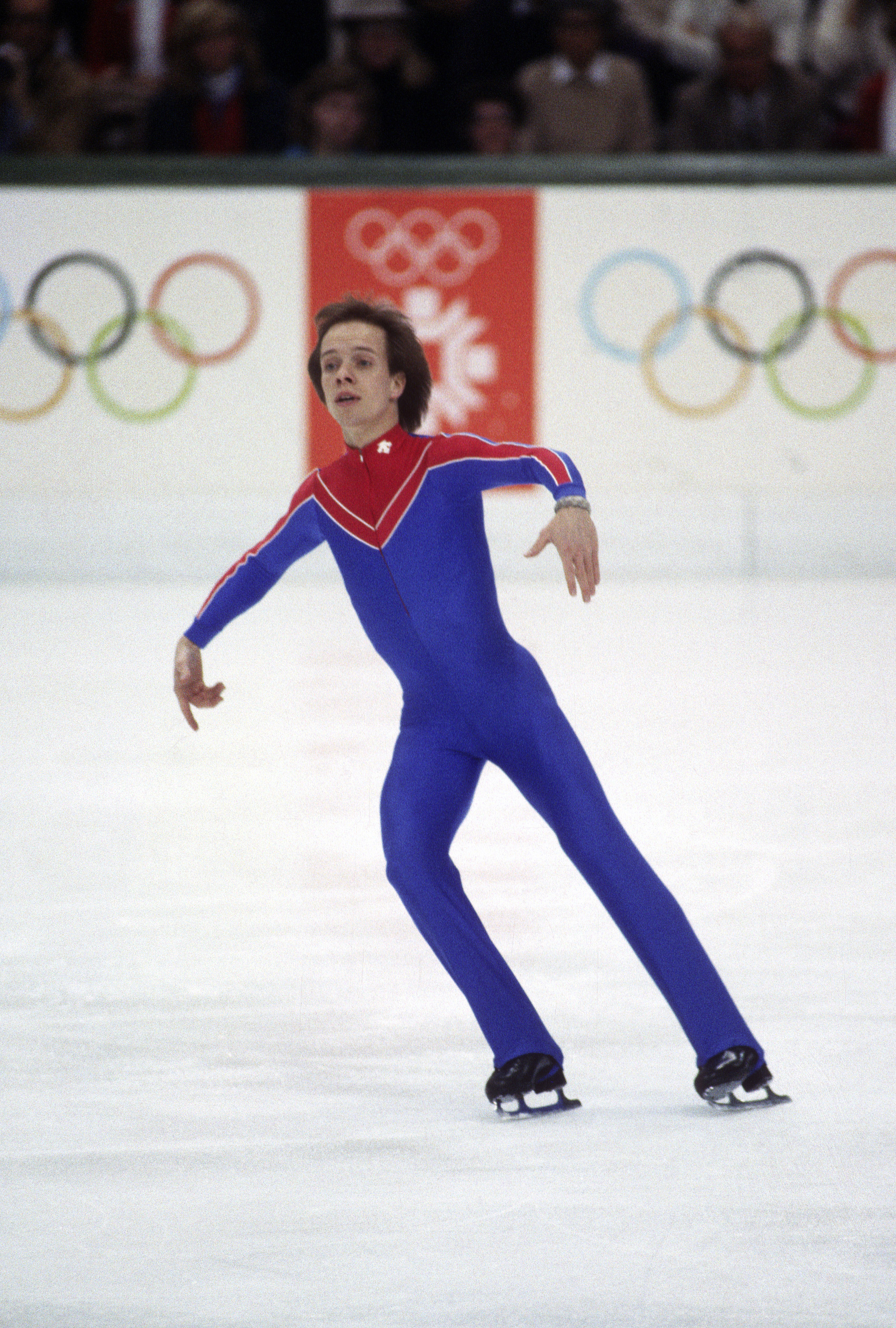 "Figures were really boring to me at first, but I knew that I had no chance to win if I didn't fall in love with them," he said. "Carlo taught me about body awareness and how they relate to the quality of edge and carriage."
As a competitor, Hamilton had hope to transform how male figure skaters were seen in the eyes of the media and the public.
"At that time, the ladies were athletes and men were the artists," he explained. "I wanted to open the door for men to be seen as athletes, too. Artists didn't carry the same credibility as the athletes, so I set out to change minds." 
The heir apparent to Hamilton's dominance was Boitano, who became the first man to land all six triple jumps in one program at the 1983 World Championships. Boitano was inspired by 1976 U.S. Champion Terry Kubicka, who was able to land all of the triple jumps except for the Axel.
"I idolized him," Boitano said of Kubicka. "He set a standard for me, and I wanted to be just like him."
As more men began to experiment and start to land multiple triple jumps, Boitano set out to find something new to separate himself from the competition. Borne out of that desire was the Tano Lutz, a variation of the jump with one hand above the head which is still seen in skating today. He also began working on the quadruple toe loop.
"I thought that I would need it to have a chance to win in 1988," he said. "I tried it at the 1987 World Championships, and it didn't work out. In the end, I didn't need it in 1988, so I didn't put it in my program." 
But Boitano was on to something— as more men were mastering all the triple jumps, the next logical progression was a quadruple. Two-time World silver medalist Timothy Goebel was a pioneer in that regard.
"Learning quads was a natural progression for me," Goebel said. "When I competed on the Junior Grand Prix circuit, there were at least five men hitting quads in their programs, so I knew that this was going to be the future."
Goebel landed his first—a Salchow in 1998 at the Junior Grand Prix Final and began to train the quadruple toe loop. At Skate America® in 1999, Goebel was credited as the first man to hit three quadruples in a single program—a solo Salchow, another in combination and a solo toe loop. When he won the bronze medal at the 2002 Olympics, he landed a total of four in the competition.
"It sounds a bit silly, but it's really just another rotation," he said. "To be able to do it, you had to get into the rotation sooner than skaters had done in the past. I knew that I was one of the fastest rotators in the world, and so it became a matter of physical strength, timing and starting the rotation as quickly as possible."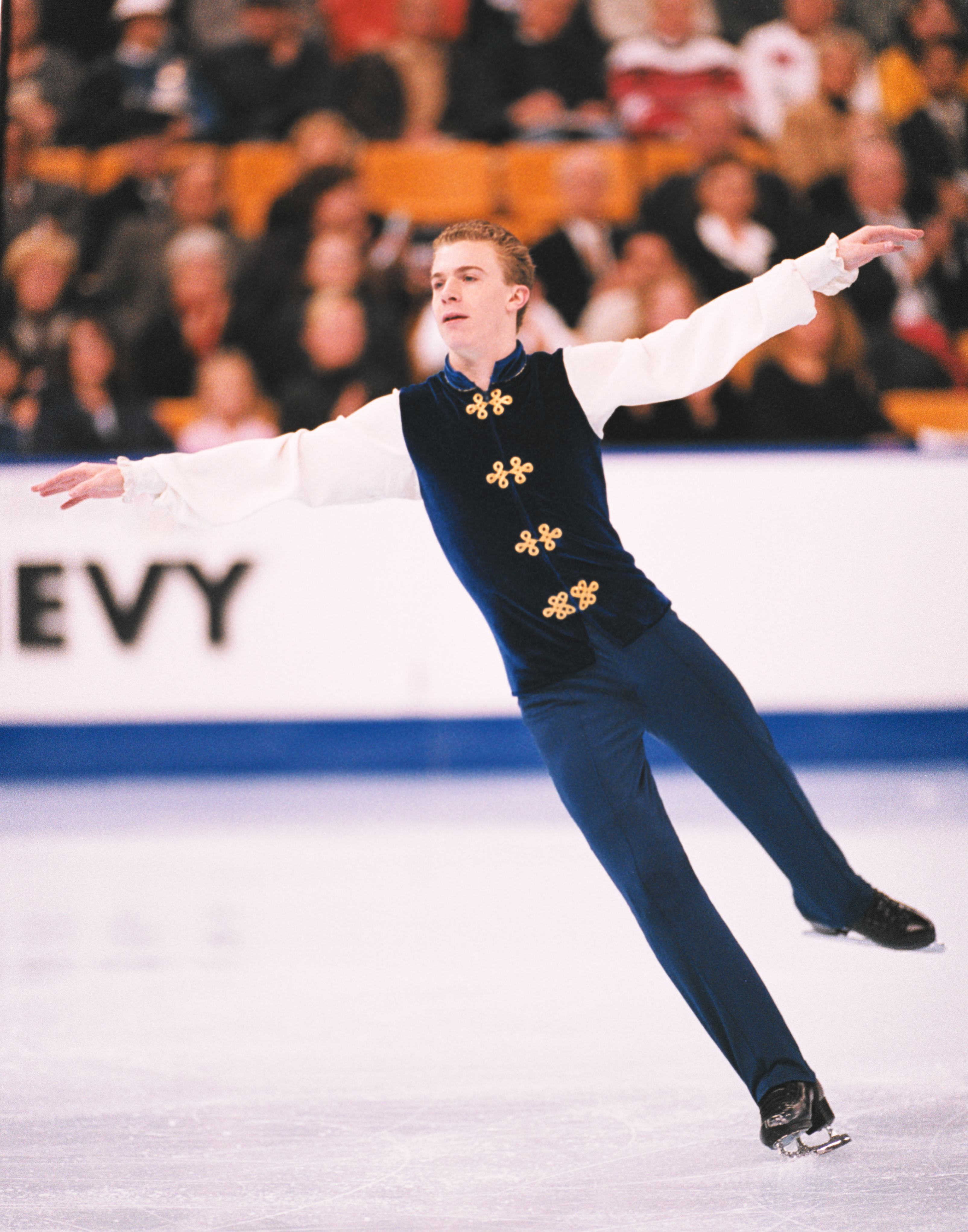 Boitano and Goebel are part of the legacy that has led to the current U.S. Champion, Nathan Chen, who is replicating what Boitano did with triples but instead with quadruples. Chen is the first man to land five different quadruple jumps—all but the Axel. 
"I am not the first American man to attempt these quads—other U.S. men have done it," Chen said. "Brandon Mroz did a quad Lutz and Michael Weiss was trying them. And a bunch of quad toes and Salchows were thrown around before I even considered a triple. Having knowledge of these things allowed me to see that it was possible and that I could succeed in doing them."
And if there were a perfect complement to Chen's skill in landing quadruple jumps, it might be Jason Brown, who has become a program components virtuoso.
"I fell in love with skating because of the performance aspect of the sport," Brown said. "I remember seeing Matt (Savoie), Evan (Lysacek) and Johnny (Weir) in 2006, and they are three very different athletes. They helped me realize that there are different paths to success and that I could make my own way in the sport."
 
Looking to what could be on the horizon, Team USA has great role models for the next generation to emulate. Whether it be the technical wizardry that has propelled Chen to be a favorite for the Olympic podium next year or the artistic genius that has led Brown to four top-10 World Championships finishes, there is a blueprint for pushing beyond what was thought to be possible.
More on men's figure skating from the archives: 
This year, U.S. Figure Skating is celebrating its centennial anniversary as it recognizes those members, clubs and fans who have given so much to U.S. Figure Skating over the past 100 years. Follow along for more stories and content like this on the Centennial Celebration section of our website.