Above: Figure Skating in Harlem's Ashley Prentice teaches a young woman from the 9Miles Project how to balance on skates. 
By Taylor Dean
What do figure skating, surfing and boxing have in common?
If you asked 17-year-old Ashley Prentice before July, she wouldn't have had an answer. But now that she and 10 of her fellow Figure Skating in Harlem peers have tried all three sports, she can tell you with confidence.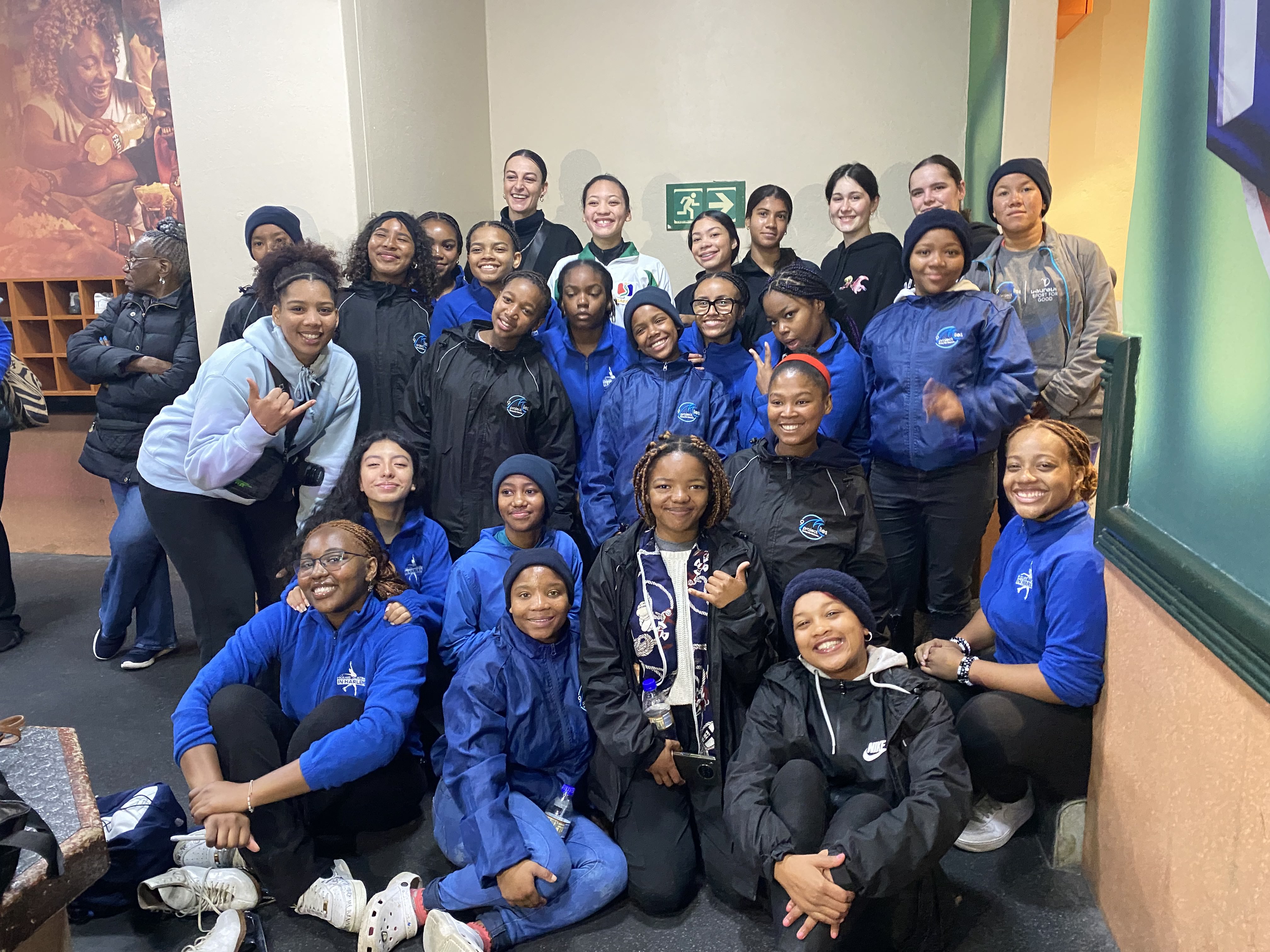 "They all have this element of resilience and persistence that they hold as core values," she said. "With surfing, you wipe out a few times and the water's in your face, and with boxing, you fall and get hurt. What I found admirable with both is that you use that resilience to push yourself and keep trying, just like in skating."
The skaters tried their hand at surfing and boxing during a life-changing trip to South Africa July 9-19, organized by FSH in conjunction with South African organizations Fight With Insight, the 9Miles Project and the Laureus Foundation. In addition to learning new sports and leadership skills as they taught skating to girls in South Africa who had never tried the sport, the girls from Figure Skating in Harlem had an opportunity to engrain themselves in their South African peers' culture, and discover a little more about themselves. 
The idea to take FSH overseas came about as CEO Sharon Cohen was discussing ways to provide educational opportunities for the skaters beyond their day-to-day. A close friend to the organization is from South Africa, so that seemed like a great place to try out a new venture.
"We always had this dream to be able to have our students become the teachers, go somewhere where skating hadn't blossomed yet and introduce it peer to peer," she said. "Many of our students have roots in Africa and feel a connection there, so we thought South Africa would be a fantastic place to start."
Originally planned for 2020, the trip went on hold while the world paused during the COVID-19 pandemic. Finally, this year, everything aligned and FSH got the green light.
The main mission of the trip was for the girls of FSH to act as international ambassadors for the sport and bring skating to a continent where it's not as well-known. The Laureus Sport for Good Foundation, an organization dedicated to using sport for social change, connected the group with 9Miles and Fight With Insight, two organizations with similar missions to FSH using very different sports. Together, these groups organized an 11-day trip, matching each of the girls with a peer to make a new friend and learn from each other's culture.
Upon arrival, the girls — many of whom have never stepped foot outside of New York — immediately noticed the unique geography, delicious foods and entirely new world they would experience.
"I don't know what they put in the apple juice, but the apple juice there was amazing. I drank it every day," Prentice said. "We also tried samosas and these coconut donuts that were absolutely delectable."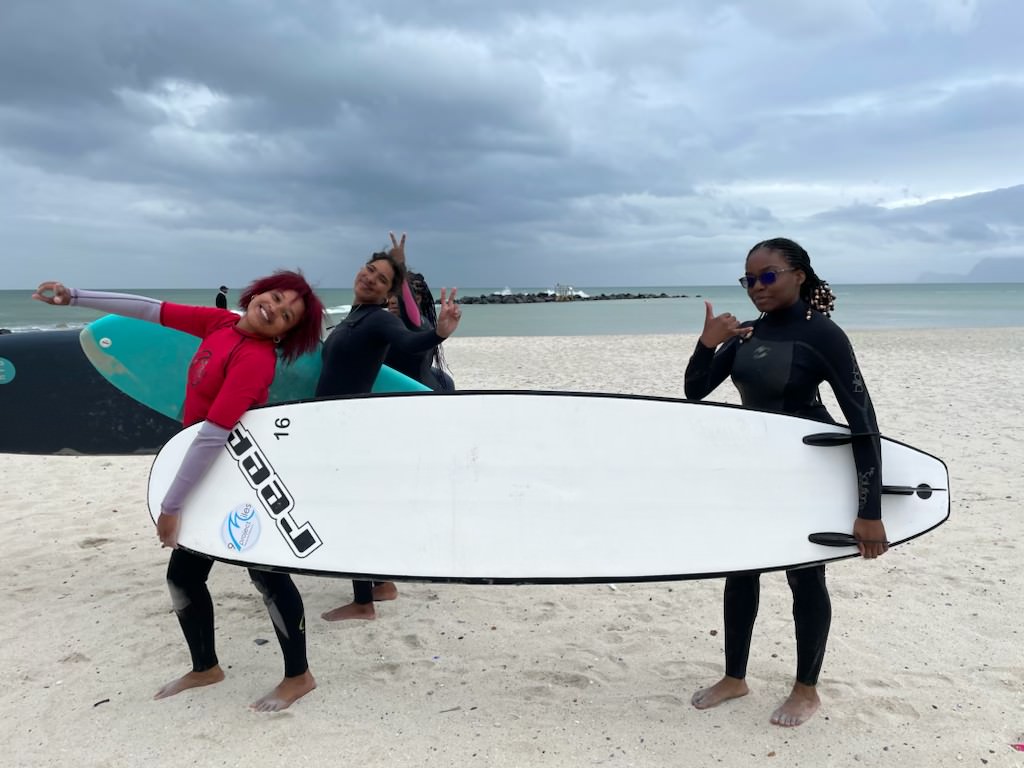 After meeting their peer matches, the group was whisked away for an adventure in Cape Town and Johannesburg. They visited historical and geographic landmarks, and their peers invited them into their homes, where they experienced their way of life.
"That just connected us so much more," Prentice said. "It wasn't like the average tourist experience. This trip was so impactful and so important to me because we actually got to see who they are and try something that the average person who visits a different country might not." 
Fifteen-year-old Zayda Rojas enjoyed simply being in the continent of Africa. She grew up hearing stories from her grandmother about her ancestors and things they experienced in a land she never thought she would visit.
"Just being able to touch the sand, feel the water between my fingers, be in contact with the nature and the people, it was a completely different reality that I was not accustomed to," Rojas said. "There's just so much that we can get from here, but there's so much more that's out there in where we came from. Having that experience and being there in person is just really touching."
FSH's Assistant Director of Skating Ila Epperson accompanied the girls on the trip, observing the girls' life-changing experiences and having a few of her own.
"When you go into these different spaces, you have to have a level of empathy to be able to open your ears and your heart to understand that even though this person's story may be different than yours and most likely will be," she said. "And so you need the ability to empathize with this person or sympathize if you haven't been able to experience that yourself. I saw the girls really put that into practice. I'm sure that they did take that home as a lesson to go through their lives now post-trip."
The girls also received letters from their families telling them how proud they were, not only for being a part of FSH but for earning this chance to go overseas, beyond everything they've ever known.
"A young person can see another culture, and it's life-changing," Cohen said. "And you sort of think your world is the world, but in fact, what was so beautiful was that human connection. So as different as the cultures may have been, the human connection was familiar as well as being able to relate to one another through sport."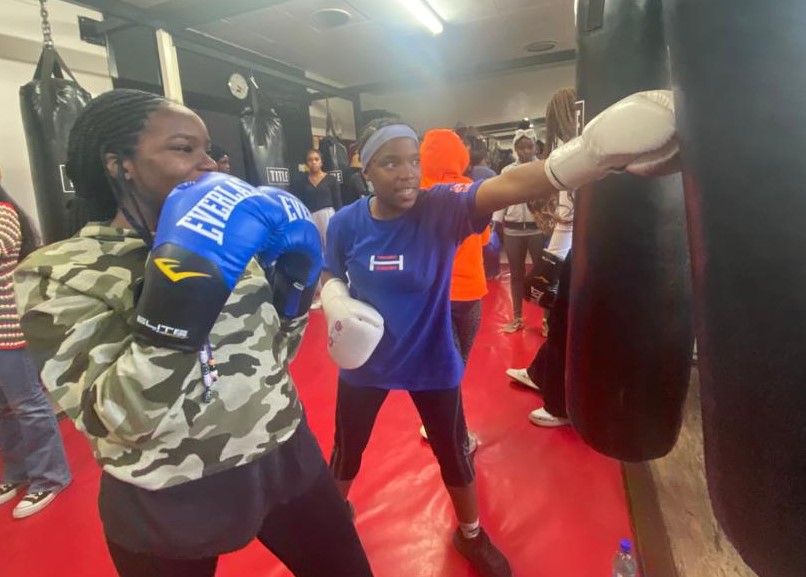 9Miles founder Sher'Neil Savel was witness to how the cultural exchange instilled important life lessons in the girls – both at FSH and 9Miles.
"I think it's so important because vulnerable youth (especially girls) need to be exposed to different cultures and experiences which broaden their horizons, allow them to dream and create a vision for their lives beyond their current circumstances," she said. "I saw our girls open up like beautiful budding flowers during this exchange and it was incredible to see their confidence and them living out the things we teach, instill and impart into them."
To create an authentic learning and teaching experience, the organizations took turns teaching each other about their sports. For the girls of FSH, this meant gliding on a different state of water and bringing out their fight through surfing and boxing. The 9Miles Project outfitted each young athlete with a wetsuit and lent them surfboards. They learned how to watch the waves and work with the ocean to ride the surf.
"The water was so cold I thought I was stung by a stingray when I got in," Epperson said. "But I think it was really good to do something new that's challenging and causes you to be a little uncomfortable and a little scared. This board is twice my size. These waves are three times my size. But to be able to push that barrier and push the envelope for myself to then be able to know how to better serve my students in that way was what I took away from it."
Despite the frigid winter water, the group went out there anyway.
"Our girls were fearless," Cohen said. "They got in the water on their surfboards and were ready to be coached."
At Fight With Insight, the girls learned the rhythm and pace it takes to be a boxer, something all too familiar to the figure skaters.
"They have the same techniques for balancing that we use in figure skating," Prentice said. "I thought that was really interesting, and now I know how to fight."  
Sheri Errington, a consultant involved with Fight With Insight, highlighted the importance of social cohesion in promoting peacemaking, hope and opportunity. Through learning about other sports, they were able to have this essential cultural and social exchange.
"Our girls got to experience that girls from all over the world are girls," she said. "There is a perception that everyone in the U.S. is better than people in South Africa at everything. Our girls experienced that despite their backgrounds, they have skills and knowledge to share with others, even young people from the U.S."
While on the outside, these sports look completely different from each other, they all share common traits of teaching tenacity and bravery.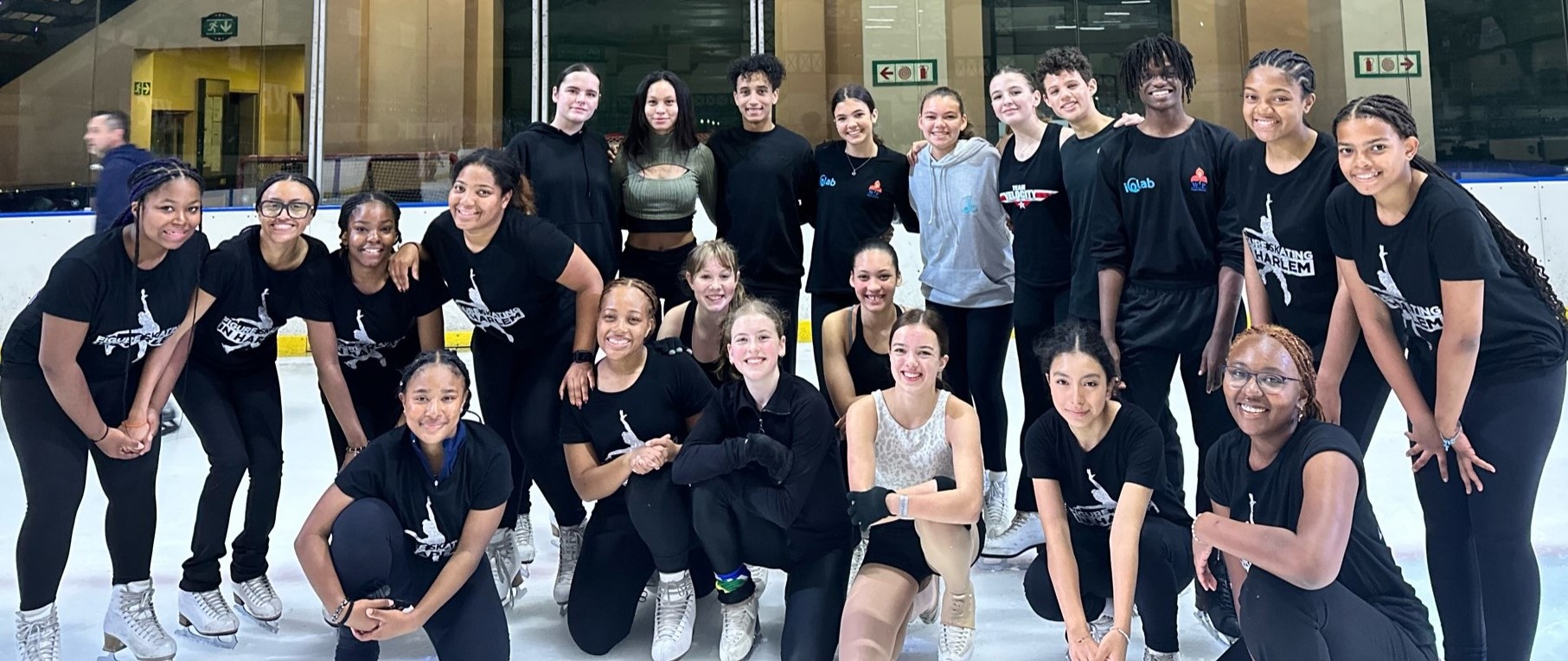 "They were just as passionate about their sports as we are in skating," Cohen said. "Nelson Mandela believed that sport could change the world and change lives, that it could break down barriers. And we go to see that come to life with our wonderful students and the folks that they met."
When it was the FSH skaters' turn to break down barriers on the ice, they had the chance to become a teacher for the first time in their young lives. They took to rinks in Cape Town and Johannesburg and showed the athletes from 9Miles and Fight With Insight how to skate and how their sports might translate on the ice.
"Even though we only knew them for a few days, it was nice seeing them come out of their shell," Natalie Momperousse, 16, said. "Skating is a part of us and our lives, and to share that with someone we just met is a very powerful moment."
For FSH staff like Cohen, it was a moving experience watching the girls be the experts, becoming leaders and teaching someone something new.
"I'm never really a risk taker, but with my partner, even though she was scared, she was still having a good time," Rojas said. "Seeing her smile and try something that she's never done before, it was so moving. It put a smile to my face seeing them happy, doing something that they'd never done before."
Now that the group is back in New York and a few weeks removed from the trip, FSH is already looking to plan another overseas excursion. Epperson saw the importance of trips like this during her time in South Africa as nothing but getting out of your comfort zone will teach those important life lessons.
"If you look at the students we have – inner city kids living in New York – it's a lot of hustle and bustle," she said. "There's not a lot of vacation time, and it's important for students to get out there to meet people. Sometimes that looks like getting out of your geographical comfort zone – your neighborhood, city, country, your continent.
"I think it's important for organizations to cultivate these holistic human beings as they grow up. It's important to provide them opportunities that will put that process into motion, and I think travel is a big thing that can help that."
If there's anything Cohen hopes the skaters learned from the trip, it's about how values can bind our connections, no matter where we're from.
"Breaking down barriers is really the heart of this," she said. "Whether it's cultural, racial, in sport, outside sport – we're all human. We share the same values, and those feelings of friendship are what sustain us and that connection."