Above: Brian Boitano with Kristi Yamaguchi and Polish artist Agnieszka Pilat. (Larry Anderson Photos)
By Troy Schwindt
Olympic champion Brian Boitano has donated his time and talents over the years to various causes within and outside of the figure skating community. In March, he and his partner, Broadway star Franc D'Ambrosio, took on a desperate situation that has gripped the world: the Ukrainian refugee crisis.
Millions of women, children and elderly have fled their homeland because of a Russian military invasion, finding safe haven in neighboring countries such as Poland.
To help ease this humanitarian disaster, Boitano and D'Ambrosio held a fundraiser March 18 at their Bay Area home. The event, a cocktail reception with hors d'oeuvres, featured a private concert by D'Ambrosio, who starred in The Phantom of the Opera. Renowned Polish artist Agnieszka Pilat also donated a painting that was auctioned off.
The event raised more than $300,000.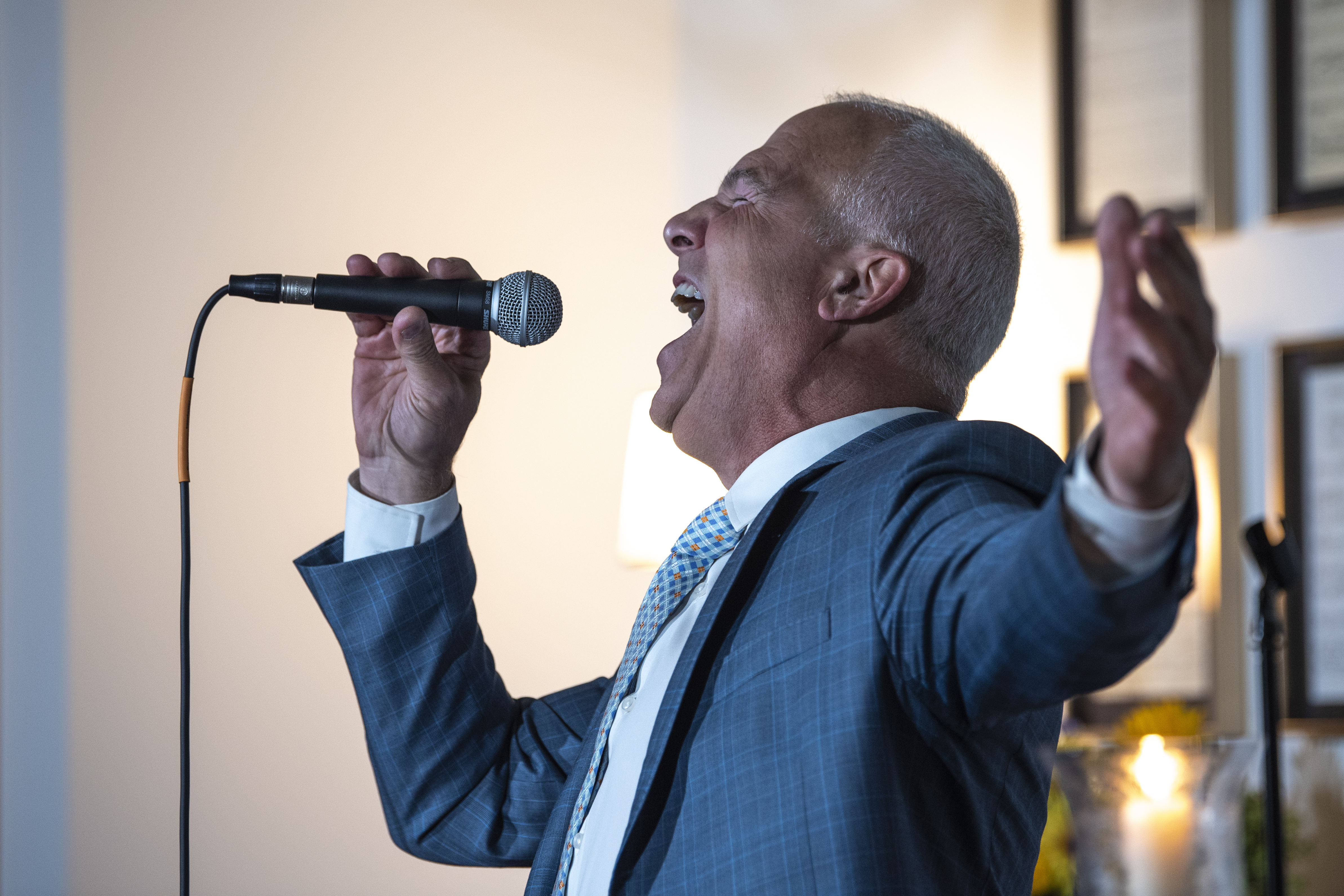 "It really started with Franc, because Franc is friends with the Dominican Friars in Poland," Boitano said. "He was talking to the brothers, asking, 'Are you OK?' They said, 'We are being besieged with 1 million refugees coming over the border in Poland and we are trying to help them, but we need money. We are so busy providing medical help, food, shelter, psychological relief, especially for the children who are being taken away from their homes. We need so much help.'
"So Franc got off that phone call and said we need to do something next week. We need to get the money and send the money."
In just 10 days, Boitano and D'Ambrosio rallied their closest friends, colleagues and neighbors who donated everything from flowers to candles to professional chef help in the kitchen. An event planner sent out invitations and people immediately sent in their RSVP acceptance.
Olympic champion Kristi Yamaguchi, among Boitano's close friends, was the first to purchase a ticket. A total of 60 people paid $2,500 each to attend the evening's festivities.
"It was an incredible event," Boitano said. "I did the food and created a cocktail, which is based on a Ukrainian liqueur with fruits and herbs and such called the New-Lyvka. We went upstairs for a concert where Franc performed. It was really successful. It's the first time we've done something like this, so it was really nice."
Five of the Dominican Friars from the Western Dominican Province, which encompasses the entire West coast, Hawaii, Alaska and other neighboring states, attended the event and spoke about the dire crisis and need for donations. Consulate generals of Ukraine and Italy also attended.
Boitano and D'Ambrosio emphasized that 100 percent of the funds raised from the event would be transferred to the Polish Dominican Province, which is on the front lines providing refugees with food, clothing, housing and medical care.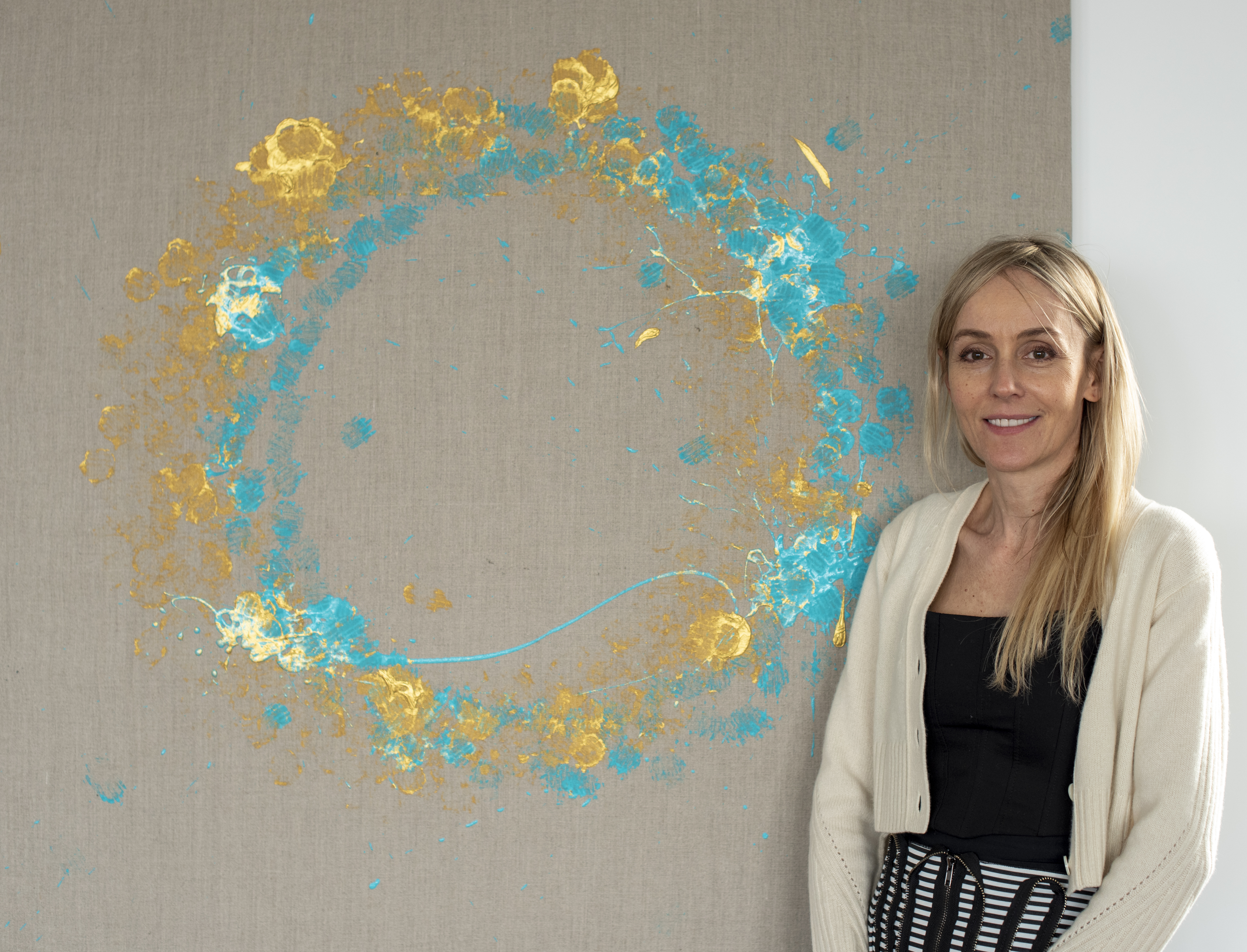 The auction of Pilat's painting was also a highlight, raising $40,000. The painting, using the country's colors of blue and yellow, is titled Sunrise March. Pilat, whose work is very coveted in Silicon Valley, created the piece using a robotic dog's marching feet to stamp yellow and blue paint on the canvas. Meant as a lyrical metaphor, these tiny footprints represent of the vast numbers of refugees making their way toward Poland.
Boitano and D'Ambrosio also auctioned off a dinner for eight people at their home.
The Dominican brothers told Boitano and D'Ambrosio that Poland's budget for taking care of people for an entire year is $1 million, emphasizing how far the dollar goes in that region. The Dominican Friars had already raised $500,000 before the Bay Area event.
"So when you add our $300,000, it's significant," Boitano said. "It's almost a year of helping people."
"Honestly, this has united the world," Boitano said. "[Ukraine President] Volodymyr Zelensky is a hero and has grabbed the heartstrings of the world. We want to do anything we can to help him."                
Editor's note: Brian Boitano's recipe for the Ukrainian cocktail the New-Lyvka (based off of Ukrainian nalyvka), appears in the May issue of SKATING magazine. The cocktail was served at Boitano Lounge at the Kindler Hotel in Lincoln, Nebraska, with all proceeds going to the refugee fund.
You Can Help
The Dominican Friars continue to seek donations on their website.