By: Elvin Walker


It was one of the most spectacular showdowns in the history of the figure skating — two men, both named Brian, competing for Olympic gold in arguably one of the tightest decisions that the sport has ever seen. The stage was the Olympic Saddledome in Calgary, Alberta, Canada, host of the 1988 Olympic Winter Games, and the stars of the show were Team USA's own Brian Boitano and Canada's Brian Orser.
As the reigning Olympic silver medalist and World champion, Orser seemed poised to become the first Canadian men's figure skater to win gold in an Olympic Games. Boitano, the 1986 World champion and second to Orser a year later, knew that he would have to be flawless to have any hope of staving off his rival for the Olympic crown.
"I knew that it would not be easy," Boitano said. "It was his turn, and I knew that I had to convince people for the whole year before that I might be able beat him even though it was his turn. Having your turn in those days meant that you would get it, and to change the judge's minds to bypass someone's turn was hard and I knew that."
With Orser playing the role of the hunted and Boitano the hunter, the rivalry began to take shape. And as he captured his only World title in Cincinnati, Orser began to feel like the matchup was gaining traction in the mainstream.
"I think it started to build up at those (World) Championships," Orser said. "Heading into Calgary, there were three World champions — Boitano, me, and (the Soviet Union's) Alexander Fadeev, who won in 1985. It created such drama."
Boitano was somewhat unaware of the groundswell of interest in he and Orser's rivalry, and it was as he was departing for the competition that he realized that it was going to be one of the big stories of the Games.
"In the airport as we were heading to Calgary, I saw the cover of Time magazine in one of the newsstands," Boitano remembered. "They billed it as 'The Battle of the Brians.' I thought, 'OK, this is how they are going to sell this?' I realized that it was going to be intense."
The competition began with the compulsory figures in which Boitano finished in second behind Fadeev. Orser was third.
"I always struggled with compulsory figures, so I worked on them nonstop," Boitano explained. "I knew that I had to do well in order to stay in contention. My last figure was probably the best of my career."
Four years earlier at the Games in Sarajevo, Orser struggled with the compulsory figures which cost him a shot at the title. In Calgary, however, he was determined to not let history repeat itself.
"I knew that I had to be in the top three to have a chance, and I was thrilled that I was able to do that," he said.
In the short program Orser would skate first followed by Boitano, giving the judges a direct comparison between the two. This time Orser came out on top with Boitano finishing in second. Fadeev faded to a distant third place after a big error on his combination jump.
"I just wanted to get it done and move forward," Orser said of his rousing Sing, Sing, Sing program. "I had a lot of stress because I skated first in the last warm-up, and I did a triple Axel-double loop for the first time in competition. My marks were OK, but I felt confident that I would be first."
Boitano, primarily known as a technician to that point, skated to a playful yet refined program to Giacomo Meyerbeer's "Les Patineurs," and finished in second place.
"It was really tough to skate after him. I knew that he had done really well," Boitano recalled. "His short program was so great that year — it was right in the ballpark of what he does so well. It was really apples and oranges that night."
After the short program the men had a day off, giving Orser and Boitano the opportunity to recover from the wear and tear of the competition.
"Looking back, I wish that we didn't have that day off," Orser admitted. "I let my guard down a little bit. I went out to dinner with my parents and then went back to the Olympic Village. I think that allowed me to lose focus a little bit."
Boitano, however, remained focused and made sure not to allow any distractions to enter his world leading up to the free skate.
"The only people allowed in my bubble were me and my coach," he said. "I didn't let anyone, or anything distract me."

Heading into the free skate, Orser and Boitano had lived up to the pre-competition hype to that point and set the stage for a riveting finale. With both men skating military themed programs —Orser to Shostakovich's The Bolt and Boitano to Coppola's Napoleon soundtrack, the two were ready to head into the final battle.
"The electricity was so dynamic — it was like firecrackers," Boitano said of the arena. "It was like when you have static cling in your laundry, and you pull the clothes apart you see sparks. You could almost move your hand in the air and feel sparks."
Boitano skated first, and despite an inauspicious moment of doubt, laid down a stellar performance that put him at the top of the leaderboard.
"I remember retying my skates with one minute left to go, and then having a voice come into my head that said, 'You're going to blow it tonight,'" he shared. "I had from the time they called my name until I took my starting position to turn that around and to get into the zone."
Boitano says that he remembers every moment of that program as if it were yesterday and that it unfolded exactly the way he had dreamed.
"By the third jump I knew that I was on, and the triple Axel was probably the best of my career," he said. "I kept telling myself to stay focused and don't celebrate until it is over. In my last position, I realized that everything had come to fruition, and it was exactly how I had visualized. It was very surreal."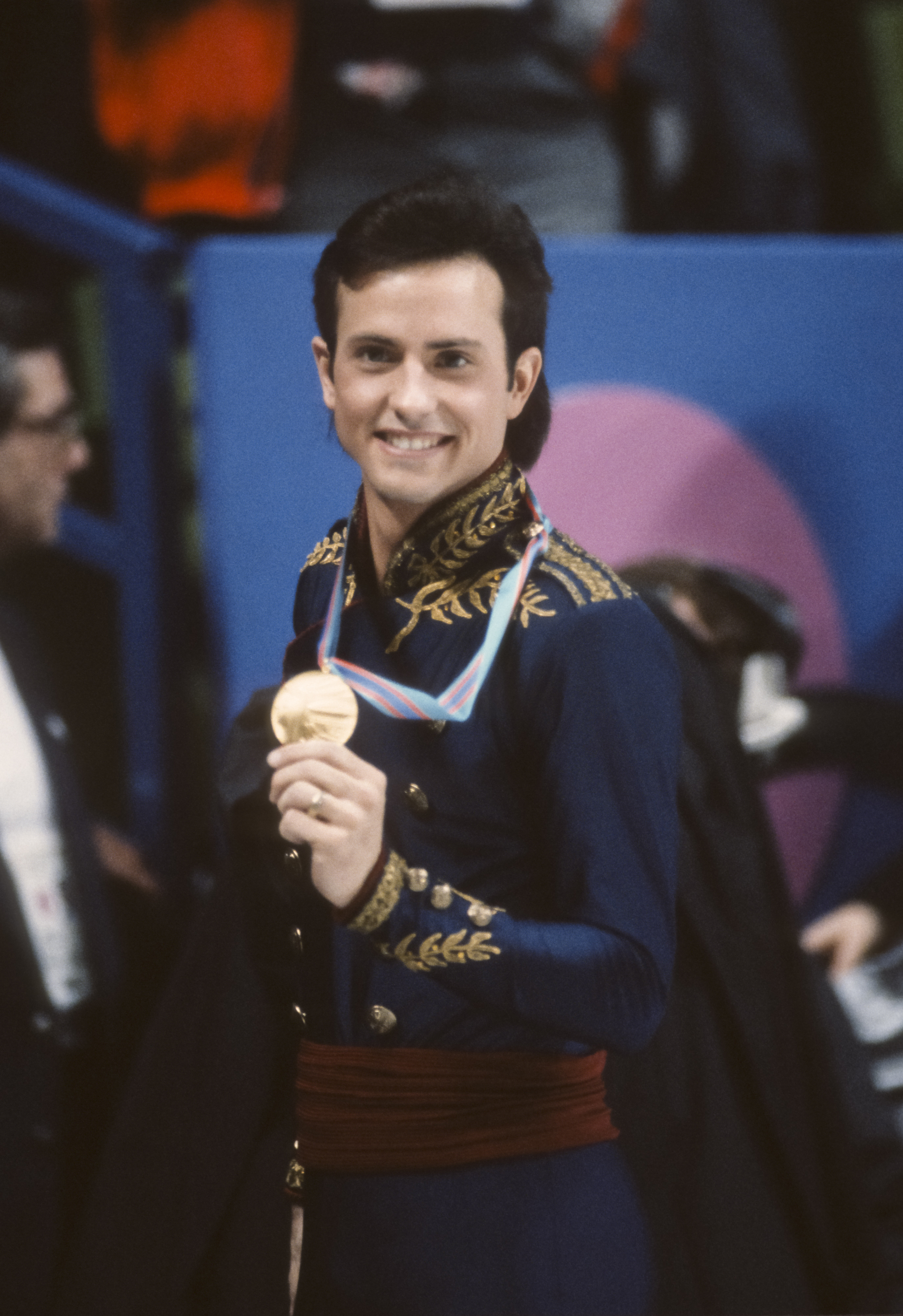 When Orser took to the ice for his turn, Boitano retreated to the locker room and took refuge in one of the toilet stalls.
"I waited for Brian to be announced and then I put my Walkman on so I couldn't hear what happened," he said. "I knew that it would take about seven minutes for him to skate and marks to be read, so I timed it so that I wouldn't hear anything."
Orser, meanwhile, was giving a solid performance of his own, and landed seven triples to Boitano's eight. A step out on a triple flip was inconsequential.
"I was talking with a commentator after practice, and she had Brian's element list for the free skate on her lap," Orser said. "I saw that he didn't have a second triple Axel, so I planned to double my second one. I thought that what I did was enough."
Boitano removed his headphones just as Orser's final score was announced.
"It was a 6.0, so I started to give myself a pep talk in the stall," he said. "I figured that I would come back in four years to try again."
In the end, Boitano won a 5-4 split with multiple tiebreakers going his way to capture the title.
"It was the team doctor who actually told me that I had won," Boitano shared. "When I came out of the locker room, I saw the results on the television feed. I then saw Linda [Leaver, his longtime manager], who is usually very calm, and she let out a celebratory scream for the first time that I can remember."
Orser was understandably disappointed in the results, but was very proud of the way in which he competed nevertheless.
"I didn't let anybody down or throw in the towel," he said. "It came down to one tenth of one point, and all I needed was one of those to go my way and the results would have been different."
Months after the competition and while on tour, Orser invited Boitano out for a drink to talk about their shared experience.
"He just wanted to talk about what happened," Boitano said. "Nobody else can understand what kind of pressure that we were under, and it was really good to talk with him about it."