By Paige Feigenbaum
Adult skater Eva Meyer was born in Taiwan in the late 1970s and immigrated with her parents to the United States before she turned one. Her dad was given what was supposed to be a three-month job opportunity in America, but they never returned to Taiwan, except for visits, with her family spending four years in New Jersey before settling in Delaware.
Growing up, Meyer struggled feeling different, admitting she felt like a "banana" due to her skin color and features.
"I looked yellow on the outside, but I felt white inside," she explained. "I felt ashamed of who I was and I always wanted to be a Caucasian person."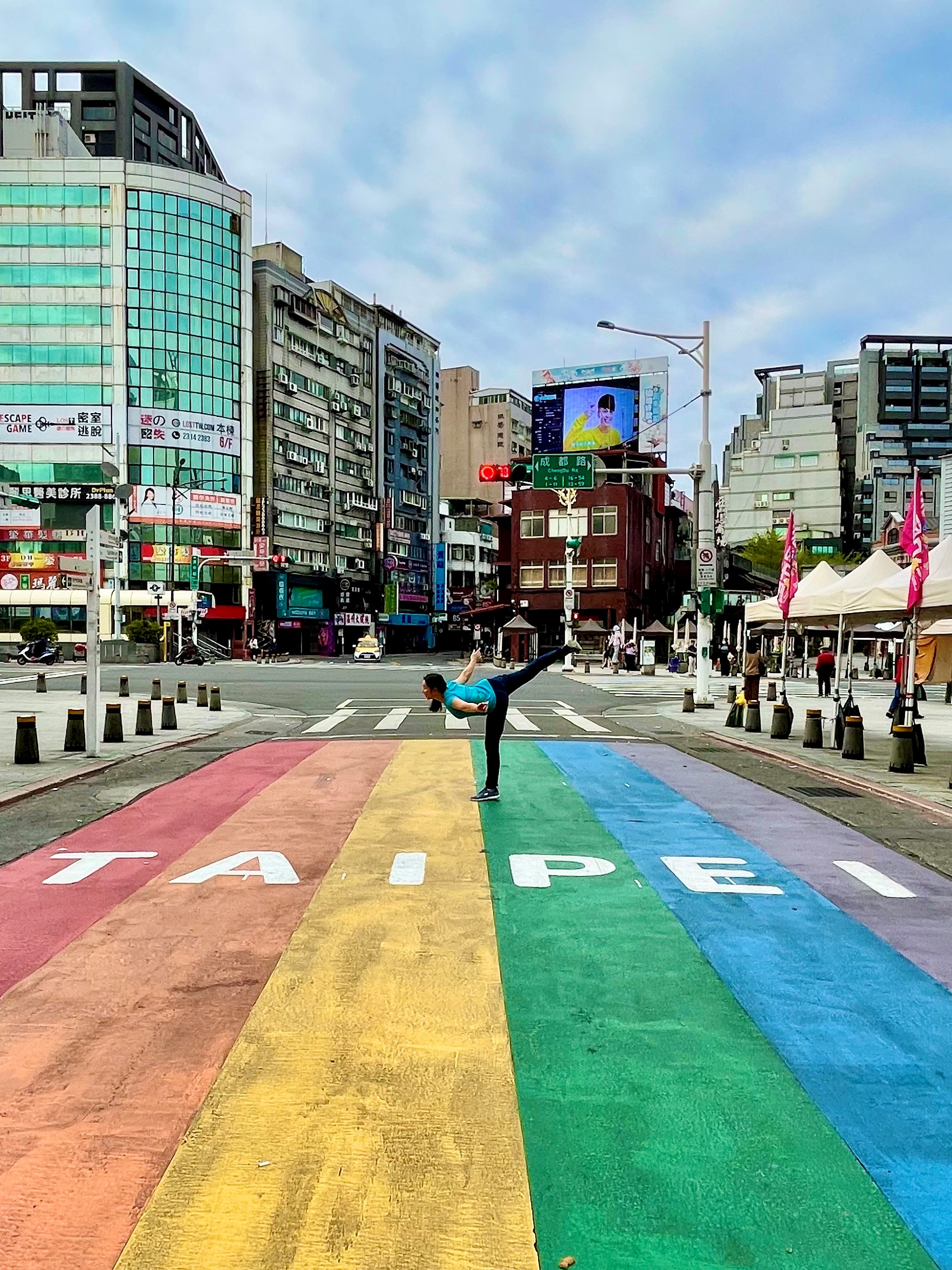 Seeing the color yellow as a racial slur, she never wore an ounce of yellow until she had a "revelation" after reading an article written by Crazy Rich Asians director Jon M. Chu, who wrote that he was initially turned down by the band Coldplay when he asked for permission to use their song "Yellow" in the film. Not accepting no for an answer, he wrote a heartfelt letter to the band further explaining the derogatory nature of the term "yellow" and that he wanted to change that notion and make it something people would be proud of.
The musicians greenlit It and gave their blessing for singer Katherine Ho to record the Chinese version of the song in Mandarin. Meyer, who is fluent in the language, decided to skate to this piece of music at the 2022 U.S. Adult Figure skating Championships presented by Prevagen and wore a, you guessed it, bright yellow dress!
"I felt like my skating really changed for the better after I made that revelation and decided that this is my time to shine and I'm not going to be scared anymore," she proudly said. "Although we may look different on the outside, we are all humans (and skaters). The color of one's skin should not matter when it comes to your ability or capability … It took me 40+ years to embrace my identity and own my Asian-ness. I hope that I can help at least one other person learn to love themselves as who they are."
One fond memory Meyer does have of her culture as a child is receiving a red envelope full of cash to celebrate the Chinese New Year, a tradition she has continued with her daughter. Meyer connected with her heritage even more deeply on a recent family trip to her home country of Taiwan to visit her 95-year-old grandmother, aunts, uncles, cousins and her dad.
She also made time for sightseeing. They went to Taipei 101, the world's tallest skyscraper; Chiang Kai-shek Memorial Hall, a memorial built in honor of the first president of the Republic of China; and Ximending, where Meyer posed for a photo in a spiral position on the rainbow-painted crosswalk.
Seeing more Asian American representation on the ice has also helped Meyer embrace her culture. As a child and young skating fan, she didn't see a lot of people who looked like her on TV.
"Whenever I saw Tiffany Chin, my whole family would sit down and we would just be mesmerized and watch her. Obviously, Kristi Yamaguchi and Michelle Kwan came along after that and we were just transfixed by watching these skaters who looked like us and they were doing phenomenally at the sport," she reminisced. "Now there's lots of Asian Americans who are doing well and I look to them as our beacons. If they can do well, I can do well. If I can do well in my job, perhaps I can be a beacon for a younger child who someday might want my job or something similar to it."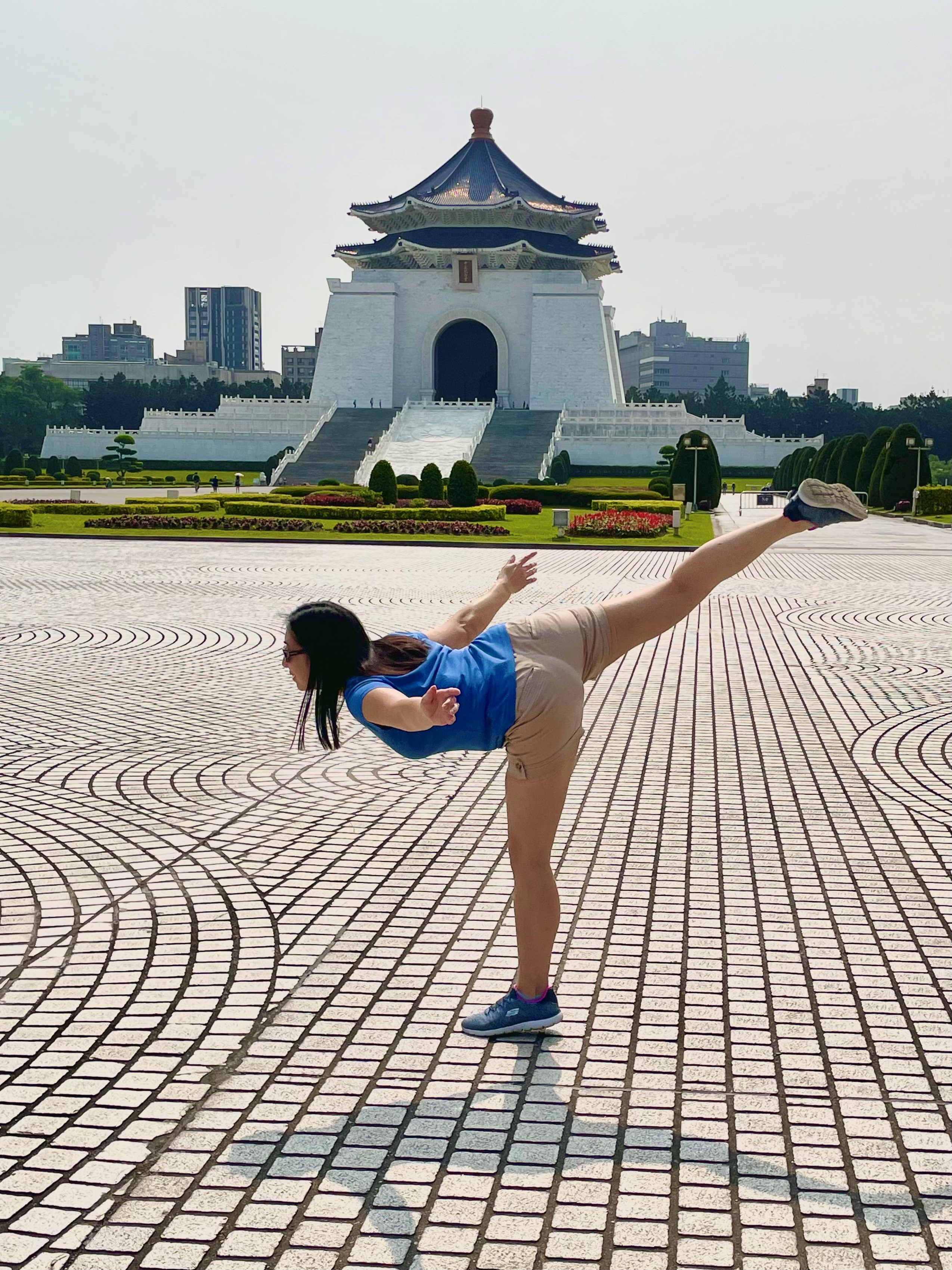 Professionally, the UNC Chapel Hill alum holds a degree in business administration and works remotely at her home in Richmond, Virginia for Barclays, overseeing the Gap Inc. credit card. She is grateful her current employer allows her to be herself. Her former manager at her previous employer of 22 years told her, she'd "never be a leader" because, as an Asian, she was "a quiet rule-follower." After 20-plus years of staying quiet, Meyer let her voice be heard and "started breaking free from that stereotype."
"As an Asian female, I had to shatter both a glass ceiling and a bamboo one," she added.
Meyer frequently goes on business trips and is always sure to have her skates in tow. She is keeping count and has skated at 39 rinks so far. She'll wake up early to get at least one hour of practice in before her first meeting. Even when she's at home with her husband and their 13-year-old daughter, Meyer consistently skates five days per week and coaches private lessons at SkateNation Plus in their nearby suburb of Glen Allen, Virginia.
Although Meyer took weekly group lessons as a kid, she didn't take the sport seriously until after college when she re-enrolled after a long break. Meyer's hard work and dedication to training is paying off. She takes in-person lessons from main coach Olga Mudrak and since before the pandemic, began taking FaceTime lessons with Nick Perna who lives two hours away and spin specialist Kim Ryan in Seattle.
Meyer swears by the effectiveness of FaceTime lessons, crediting Perna for helping her land her first double Salchow without ever using a harness and Ryan for helping her improve her camel spin. Now at the adult gold level in freestyle, Meyer continues to work on getting her double Salchow consistent and hopes to land a double toe loop one day. Additionally, she recently passed her novice moves-in-the-field test and also skates adult silver pairs with partner Kenneth Ressler.
Meyer took this season off from competing, but at the 2022 U.S. Adult Figure Skating Championships, she skated away with a silver medal in the adult gold ladies 2 freestyle event and bronze medal in the adult silver pairs division.
"It was the very first time that I medaled at Adult Nationals," she said excitedly. "I'd been trying since 2014, so it was so amazing."
Meyer is currently working on choreographing a brand-new singles routine to "I'll Never Love Again," performed by Lady Gaga in the film A Star is Born.
"This is continuing the coming out party," Meyer explained. "Last season was all about embracing who I was, being proud of my heritage. This year, a star is born. I'm here to show everybody that I belong here."
The other incentive to skating so much is "working off the calories," she said. Meyer is an avid baker and began a cooking blog in 2011 called "Eva Bakes" to document recipes to pass down to her daughter. There's even a weekly dose of skating sprinkled in every Friday!
"I can't get rid of my sweets because that's my Achilles' heel," she admitted. "I like the challenge of baking, being able to create something beautiful, just like skating. I like the process of trying to learn a new element or learn a new program and at the end of the day be able to show off something."