Above: Ann Fauver, Matthew O'Toole, Lisa Insley and Lauren O'Toole
By Darci Miller
When Ann Fauver was growing up and making a life for herself and her young family in Cleveland, she was a member of the Cleveland Skating Club. When there was a need for more judges, the numerous high-level judges at the club approached her about becoming a judge herself. She agreed.
That was more than 70 years ago.
Fauver celebrates her 100th birthday on Aug. 8, and she is yet to stop judging.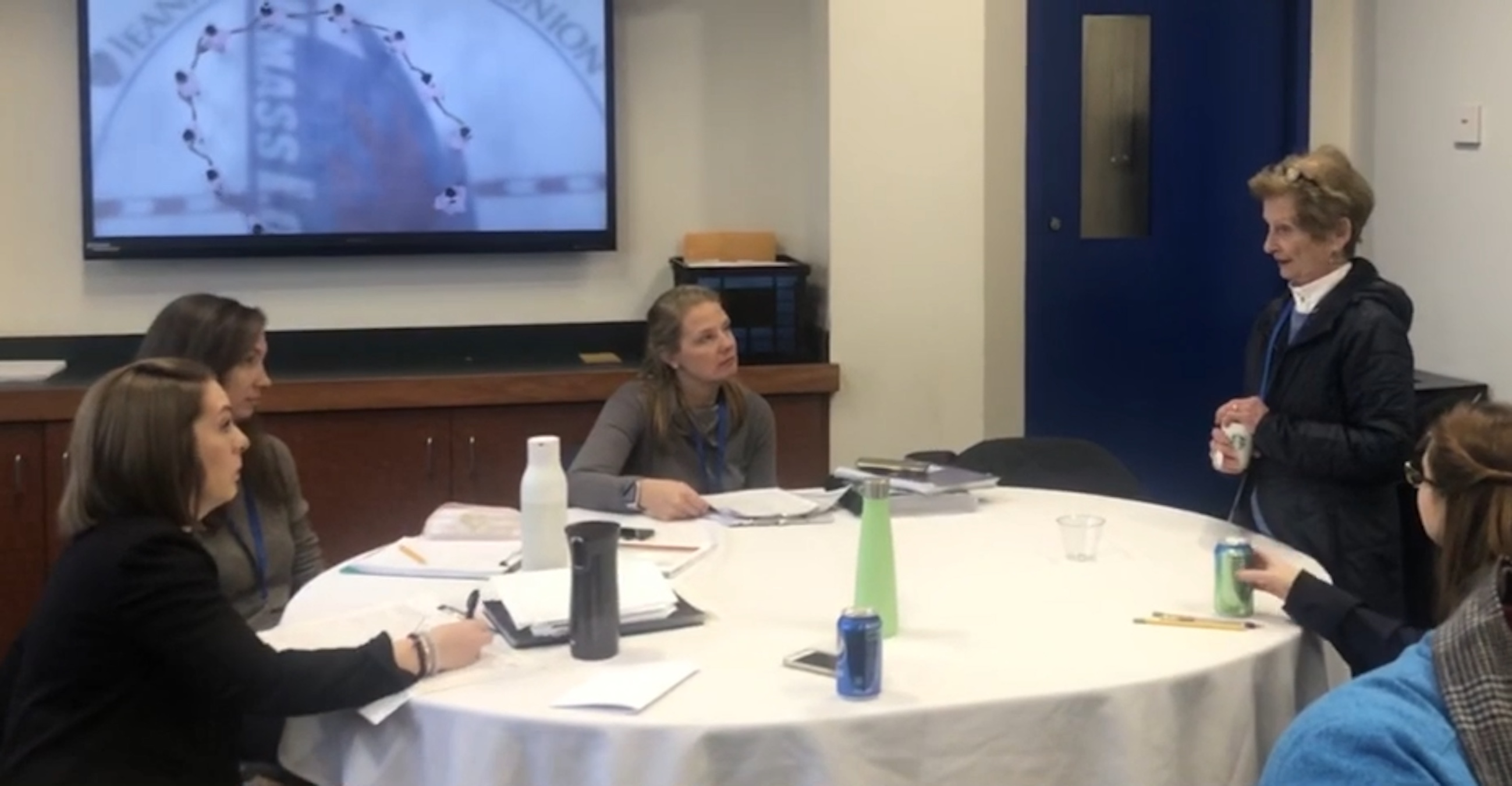 "She's not slowing down," her son Bill Fauver, himself a former pairs skater and Olympian in 1976 and 1984, says. "I think she is the oldest active judge — she must be — in U.S. Figure Skating. And probably in the history of U.S. Figure Skating."
When Bill looks back on his youth, he says that skating permeated the whole family. He and his three sisters all skated — three of the four siblings went on to teach skating — and Ann and her husband, Benjamin, produced the Cleveland Skating Club ice show for many years. Ann herself skated on synchronized skating teams in the Hayden program until her mid-70s alongside her daughter Jane.
"She's actually a technical specialist for synchronized skating," Bill says. "So not only does she judge regular figure skating and figures and dance, but she's also a specialist, a caller. Synchro is really her love now, and calling synchro is very complicated. You're looking at 16 bodies instead of one or two. But she loves it, and she keeps up every year with the changes. So every time the ISU changes, like everybody else, she has to study up, and I think that helps her keep sharp."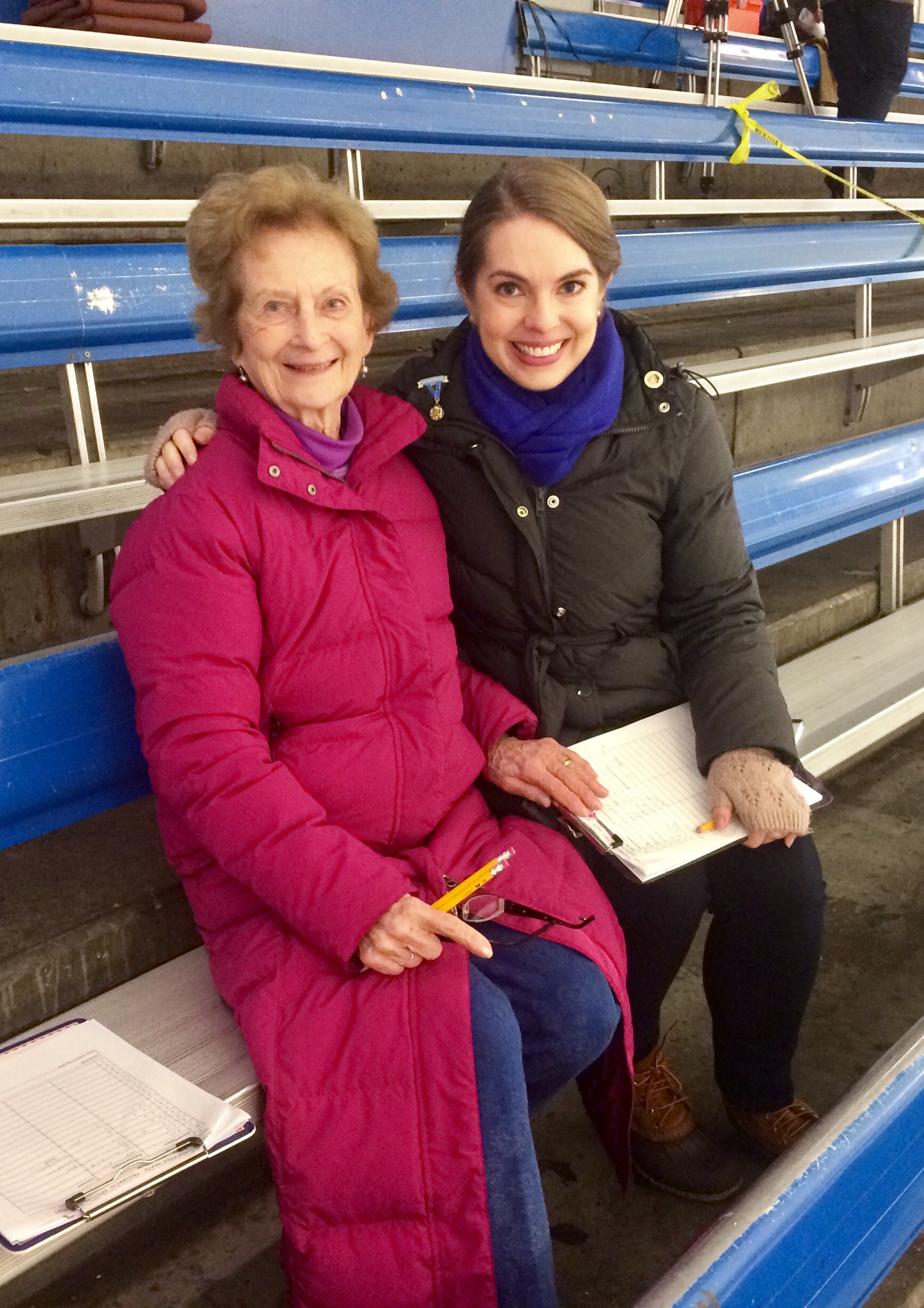 "Sharp" is perhaps the best way to describe Ann. Fellow judge Matthew O'Toole, who has known Ann since 2010, says she's sharp as a tack.
"She is incredibly devoted to skating and has the energy and enthusiasm of someone half her age," O'Toole says. "Ann and I have started many of our competition days at 7 a.m. or earlier, followed by hours of officiating. I would be yawning around 5 p.m. and Ann would be as energetic as she had been in the morning."
Ann has used her considerable judging experience for the greater good as she's gotten older. After herself being mentored by more experienced judges when she first started, she now does the same. Most of her figure skating colleagues and friends are considerably younger than she is, and she's taken a number of them under her wing.
"Ann has always been an amazing supporter of young officials," Lauren O'Toole, Matthew's wife and fellow judge, said. "I would not be where I am today without her mentorship."
"It can be intimidating to walk into an officials' room as a new judge or technical panel official, but Ann always goes above and beyond to make everyone feel welcomed and valued," Matthew said. "Ann was so kind and welcoming and immediately made me feel like a member of the officiating family."
Bill admits that there isn't always high demand for older judges, but Ann is still in the regular rotation. Every year she gets invited to do nonqualifying competitions, and she judged synchronized skating sectionals this year.
It may sound like a lot for a centenarian, but Ann's health is as good as ever. She stepped down from her job in the Portland, Maine, public school system when the COVID-19 pandemic hit in 2020, but she's still not slowing down.
"Her love of the sport absolutely (is what keeps her going)," Bill says. "It's changed radically from when she started — the skating, the judging, synchronized skating. She actually was one of the first people involved with what was called precision skating back then, and it's just changed tremendously. And she loves the sport, and she loves everything about it, and she wants to stay active."
Ann has adapted right along with the sport, even mastering video replay and the computer system alongside colleagues decades her junior. Each summer, she retreats to her beloved cottage on Lake Winnipesaukee in New Hampshire to study up on the new rules and get her examinations done before the synchronized skating season begins in December.
The cottage is also where she'll ring in her 100th birthday with her friends, children, grandchildren and great-grandchildren.
And then it'll be time to prepare to get back to judging.
"We're lucky to have her, and we look forward to her being sharp for years to come," Bill says. "It's a blessing for all of us."